Borcherding Buick GMC vs. online.cars: Which Is Best for Working Millennials?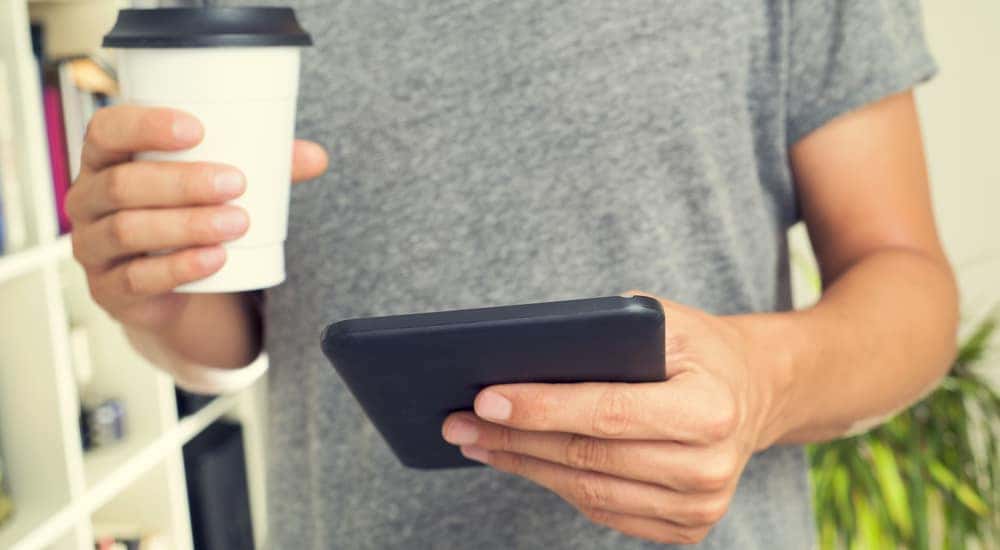 At this point, the more than 83 million Millennials are well into adulthood. It's well-documented that they love their devices, preferring to use them for everything from communicating to learning to shopping… especially for vehicles.
Millennials tend to lead busy lifestyles, which explains their penchant for leaning hard on technology to help streamline their days and evenings. Whether married with kids or single professionals, members of the Millennial generation, or GenY, are definitely opting out of the traditional vehicle-buying experience due to time constraints and convenience.
As we consider the typical Millennial's need for and love of efficiency, we can't help but consider a Borcherding Buick GMC vs. online.cars showdown for Generation Y's patronage. Here, we examine the pros and cons of each option from the viewpoint of Millennials.
Consideration #1: Convenience
If you're in the working world, you won't be surprised to learn that about half of all American workers fall into the Millennial category. Many of them aren't just working from eight to five or nine to five; plenty are knee-deep in entrepreneurship and its round-the-clock expectations.
For these employees, shopping for a car, truck, SUV, or hybrid needs to be as convenient as possible given their shrinking "time for pleasure" hours. Rather than giving up the chance to hang with buddies or get closer with their families by heading to an actual car dealership, they tend to look for simpler methods of shopping.
Currently, Borcherding Buick GMC and online.cars have "open" hours Monday through Saturday. However, there's are two stark differences. First, on Sundays, you won't find anyone at Borcherding Buick GMC. Yes, you can walk the lot and browse to your heart's content, but no one can help if you want to take a test drive or ask a question.
The second difference? online.cars doesn't close — ever. Not for weather, not for holidays. Because it's an Internet-based dealership forum, it's ready and willing to take you to your next vehicle (virtually) at two in the morning on a Tuesday or three on a Sunday afternoon.
Consideration #2: Legwork
Millennials love to look up everything online before they make a purchase. However, once they've made their decision in vehicles, most end up having to head to a dealership. Even if they already are 100 percent certain they want a particular make and model of car or SUV, they still feel the need to waste time and energy on going through the motions.
Yes, if they go to Borcherding Buick GMC in Cincinnati they'll get a decent experience. However, they'll end up eating up precious hours. On the other hand, if they buy their next vehicle through online.cars, they can simply input all the specs they want and allow the leading edge algorithm to find any number of selections. No legwork is needed, which cuts down on precious free time.
Consideration #3: Inventory
At most dealerships, Borcherding Buick GMC included, inventory is limited to the size of the lot and interior showroom. This means if you're trying to purchase a pre-owned vehicle with very narrow specifications, you might have to wait a long time before the dealer can produce it. Yes, the dealer may be able to "call around" to see what other dealers have, but this also eats up minutes.
online.cars rapidly searches through more than 10,000 vehicles. How? Its virtual nature removes the constraints of having a fixed-dimension lot. online.cars can literally pull from vehicles anywhere because it's a clearinghouse of great used cars, trucks, and more.
Consideration #4: Haggling
Everyone realizes that going to a dealership involves negotiations in some form. Even the "no haggle" promises of most dealers is only kind of true, especially if you're trading in your current vehicle for another one.
Millennials are notoriously uninterested in doing these kinds of face-to-face discussions. Instead, they feel more comfortable when they're behind the screen, preferring to talk about something only when absolutely necessary. Thus, they often find that online.cars is a better venue for their needs.
For instance, a car buyer looking for a used Buick on online.cars could quite easily do all her purchasing over the Internet without ever hearing another human's voice. Even the paperwork is directly sent to be signed online, which removes interactions and small talk.
It's not that Millennials aren't interested in being with people; far from it, they are happy to socialize. But they don't want to chit-chat when it comes time to make one of the biggest investments of their professional and personal lives. They just want to select and have a vehicle driven right to their front door by an online.cars representative.
Consideration #5: Financing
Although Millennials have done a decent job keeping themselves out of some types of debt, such as not buying houses they can't afford, they often suffer from credit problems due to heavy school loan amounts. Currently, the United States is made up of people paying back more than a trillion dollars in student loans. And this has affected credit for many otherwise solid professionals who are just trying to rise through the corporate ladder.
Looking at this through a psychological lens, it's easy to see how someone with poor credit would feel uncomfortable admitting the fact to a dealership representative. Honestly, it's very embarrassing to tell another human that your credit score is lower than you wish. Yet it's not as difficult when you can simply input your honest information into a virtual database.
online.cars enables Millennials with rocky credit to comfortably (and anxiety-free) find out what kind of vehicle financing they can obtain. Plus, online.cars deals with a number of financiers of auto loans for those with lagging credit, so they have a better chance of snagging a solid deal for buyers than a dealership might.
Consideration #6: Modernity
Millennials grew up around technology and find it to be completely natural. They're not bound by the old-school traditions of their parents or grandparents. Hence, they're always willing to try anything modern — like shopping for cars online.
Consider this fact: Almost one-third of all Millennials have gone so far as to grocery shop via the Internet. That's a telling statistic and reveals just how eager this generational cohort is to buck the trends in every industry.
Though some Millennials will find going to a dealership like Borcherding Buick GMC acceptable, others will always be looking for a "better" way. It's like that with online.cars, they'll find it.
Are you a Millennial who is tired of the hustle and bustle of standard car buying? Try a different experience that gives you more control over the process and doesn't take huge chunks out of your day.