Choosing a Dealership: Bachman Chevrolet vs. online.cars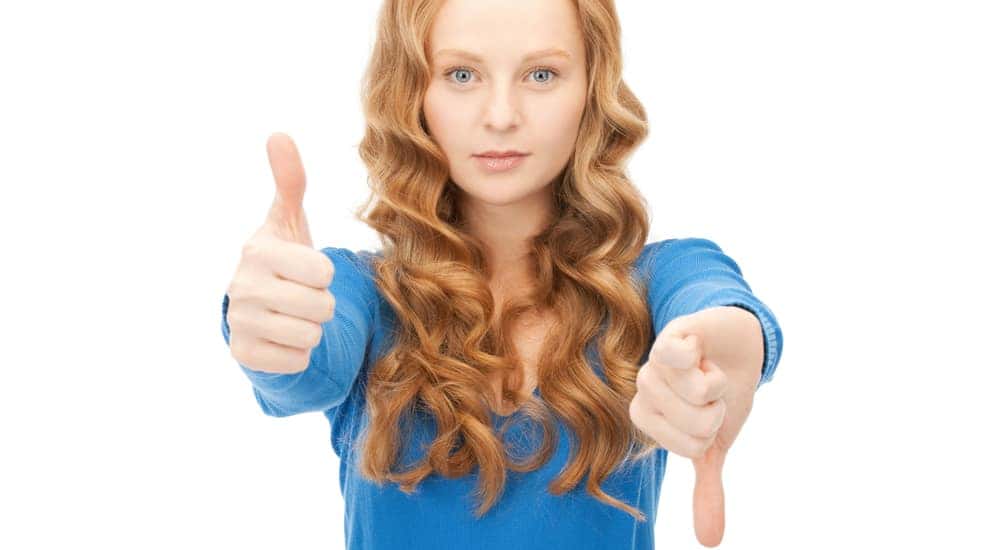 If you're shopping for a car in the Louisville, Kentucky, area, you're probably starting out by choosing the right dealership for you. It's no easy task, with so many to choose from. One of the decisions you might be facing is choosing between Bachman Chevrolet vs. online.cars. Never to fear—we're here to help you break down the differences so you can choose the dealership that suits your needs best.
The Selection
Both Bachman and online.cars offer wide selections of vehicles. You'll probably make your final decision on Bachman Chevrolet vs. online.cars based on other, more varied, qualities—but here's the rundown on each.
Choosing online.cars means going with an automobile finder—and that means you take the lead in identifying the vehicle you want. Our staff will search for a car that matches your specifications and contact you when we find suitable matches.
While Bachman Chevrolet, unlike online.cars, is limited to what's in their parking lots and showrooms, you're still likely to find several vehicles that meet your needs. At Bachman, you can choose among new and used cars and trucks. You can even find used vehicles under $10,000 or certified pre-owned vehicles from Chevrolet, GMC, or Buick, which have undergone a 172-point inspection.
The Environment
While online.cars provides a totally web-based car-buying experience, Bachman Chevrolet is your standard in-person dealership. However, Bachman does offer an internet department that's on call to help consumers who are researching their options. Bachman's internet department can assist by talking with you about the vehicles you're looking at and sending over photos, market price comparisons, vehicle specs, and information on any applicable rebates or other incentives.
The choice really comes down to your own preferences. If you're the type of person who needs that human connection and wants to look your salesperson in the eyes, you'll want to head over to Bachman Chevrolet. However, if you want to avoid the waiting room of a dealership or find you're distrustful of car sales representatives, online.cars may be the way to go.
At Bachman, you'll finish your purchase at the dealership. If you choose online.cars, though, our staff will talk with you about your options and use our patented Nationwide Search software to help you find the best car for you. You can sign paperwork digitally (no printing, scanning, or mailing needed), and once you've made up your mind, the vehicle of your choice is delivered to your door—all gassed up and ready to go.
The Financing
Once you've selected a car, the next major difference when it comes to Bachman Chevrolet vs. online.cars is how your vehicle will be financed. The process itself for both is strikingly similar.
Bachman utilizes an online credit application that can pre-approve you in just a few seconds. You can also complete your financing application totally online at online.cars. The logistics of applying for a car loan will be similar with both choices.
Both Bachman and online.cars offer to purchase your trade-in vehicle and apply the purchase price to the balance on your new car. Note that online.cars can also assist in selling your car even when you aren't purchasing one. In that case,  they'll provide a quote and handle the inspection, then pick up your car and send you a check once it's sold.
How to Make Your Choice
Now that we've given you some basics on Bachman Chevrolet vs. online.cars, the decision is up to you. Still not sure which to choose? Here are a few questions to guide you in selecting a dealership for this major purchase.
Schedule and Availability: Are you the type of person who works nine to five, or are you a night owl? Lack of a flexible schedule—or a schedule that's outside of normal business hours—may mean that online.cars is the way to go. If you're available to shop in person during Bachman's operating hours, your options are still open.
Do Your Homework: As with any major purchase you make, you'll want to check into online ratings and reviews from other consumers. What about local awards? Look each company up at the Better Business Bureau and with J.D. Power and Associates. You can ask friends if they've ever shopped at either of the dealerships you're weighing, too. Take all this information with a grain of salt, as it's subjective, but watch out for patterns in the reports you collect.
Check Prices and Inventory: Likely the most important consideration for a consumer is whether the dealership they're leaning toward has the car they want at the price they want—when they want to buy it. All dealerships will naturally have fluctuations in stock. If you need a car right now, it's best to check that your top choice can help you get what you want quickly at a price you can afford.
With so many options out there, the problem isn't finding a dealership to buy from—it is finding the dealership that suits your preferences best. You're smart not to leave it to the luck of the draw and just pull into the closest parking lot stuffed with cars and signage.
When you're buying a car, there's a lot to consider. We hope this guide has helped you choose a company you're comfortable with. And if you're still not certain, there's nothing wrong with contacting representatives from more than one dealership to get an idea of what's available for you out there on the market, either.