3 Honda Models that Louisville Can't Get Enough Of (& 1 Better Way to Buy Them)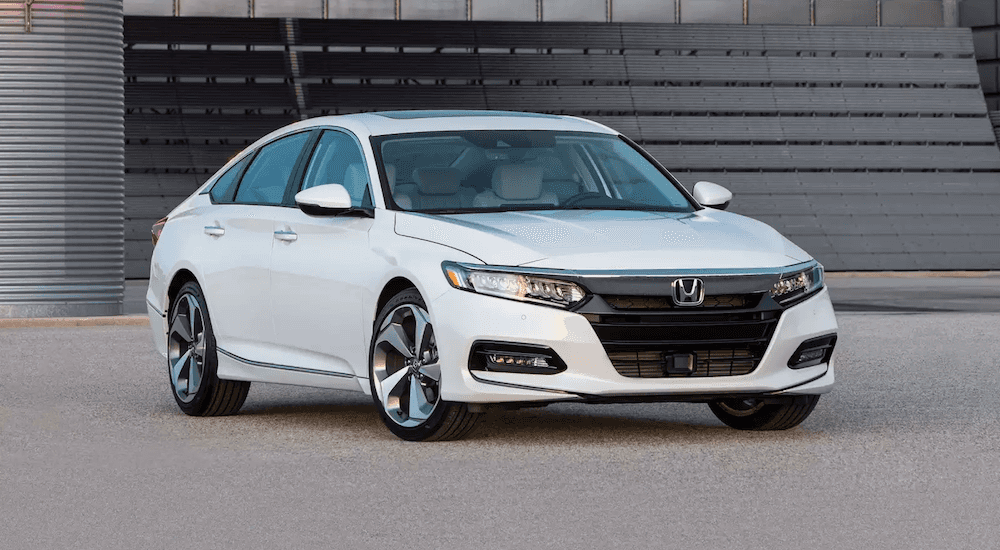 A lot of good decisions have been made in Louisville…like Bud Browning's decision to use a white ash baseball bat crafted by Bud Hillerich. It's the kind of judgment call that creates a lasting legacy, not unlike the decision made by so many Louisvillians to make Honda one of the most enduring popular vehicle makes in the city.
This is of little surprise, considering that Honda offerings represent a perfect blend of style, innovation, and accessible pricing. But the automaker's popularity isn't limited to new model year offerings? Since Honda has always been forward-thinking, earlier model years remain a favorite.
But when looking for used Honda Louisville drivers could still find themselves limited to local dealer inventories. That is until they found a new way of buying cars; a way that allows for greater satisfaction, reliability and a greater overall selection (whether they're looking for Honda or any other kind of vehicle).
But let's not get ahead of ourselves…
Why Buying Pre-Owned Vehicles is Smart
More than any other reason, the decision to purchase a pre-owned vehicle means that you're empowering yourself to get significantly more car for your money.
For example, let's say that you were to purchase a new 2018 Honda Pilot with all-wheel drive. While you'd love to sprint for an EL-L trim, you'd be looking at a price starting around $38,660 which is at least five-grand more than you're interested in. A (base) LX trim is priced to start around $33,000, is closer to your budget, and thus you opt for the lower trim.
Depreciation hits hard and fast, and begins the moment you drive the Pilot off the dealer lot. Before the rear-wheels hit the road, your $33,000 Pilot is now worth about 11% less. This means you could pull right back into the dealership, and the vehicle is only worth about $29,370.
After a year, the Pilot is now worth around $24,750 (a decrease of about 25%) After three years, it is devalued by as much as 46%. And after five years, it might only be worth around 63% of what you paid for it. This makes your exorbitant $33,000 purchase worth around $12,210 (and you didn't even get the trim level you wanted).
With that in mind, it's hard not to see the value in considering a 2015 Honda Pilot, instead. Priced more than 33% lower than what you'd play for a brand new LX, you might be able to score a Touring – which includes more technology. In addition, you'd be saving a substantial amount of money, overall.
But is a pre-owned Honda worth considering?
Why Pre-Owned Honda Remain So Popular
As the longevity of properly-maintained vehicles continues to grow, they are often assessed by a 200,000-mile benchmark (regardless of vehicle make). Recently, an audit of vehicles listed for sale determined that the Honda Accord rated first among all other cars. Also placing within the Top 10 was the Honda Civic, and the Honda Pilot crossover.
Noting that 200,000-mile mark was little more than a qualifier, this speaks to the long-term reliability of Honda. Well-deserving of consideration, each of these vehicle's dependability and longevity serves to increase the value which comes from buying pre-owned.
Honda Accord
Sharing spots on both Car and Driver's '10Best' and Kelley Blue Book's '10 Most Awarded' the Accord continues to be celebrated for everything from design to safety. Carrying a 5-Star Safety Rating, the Accord is favorite of drivers from all walks of life, whether in sedan or coupe styling.
Honda Civic
It's almost hard to believe that the Civic has endured nearly fifty-years. On top of sharing many of the Accord's accolades, the Civic makes for a perfect representation of Honda's continual evolution and endless innovation.
Honda Pilot
Included among KBB.com's list of 'Best Family Cars' the Pilot earns top ratings from both the National Highway Traffic Safety Administration (NHTSA) and the Insurance Institute for Highway Safety (IIHS). Offering comfort and versatility, it's a favorite among crossover SUV.
online.cars
Imagine never having to search for the perfect vehicle. Consider never having to settle for a vehicle that isn't exactly what you want. Whether you're in the market for a Honda, or any other vehicle, online.cars can help.
Providing a concierge service, online.cars will search a nationwide network of dealerships to find the exact make, model, year and trim level that you're looking for. On top of that, they'll offer it with a clean CarFAX vehicle history report, $500 less than any other dealerships, and will deliver it anywhere in the continental U.S. free of charge. And if you need financing, or to value a trade-in towards your purchase, have no worries. online.cars offers guaranteed financing and will arrange for the free pick-up of your vehicle. Factor in a lifetime mechanical warranty and a 3-Day / 150-Mile Satisfaction Guarantee and it's hard to imagine why you wouldn't consider buying through online.cars.
Can you think of an easier way to find that perfect Accord, Civic or Pilot?
Stress-Free Car-Buying. Stress-Free Car-Owning.
There are any number of attributes that people look for in their next vehicle, regardless of whether they're looking for new or pre-owned vehicles. Ask nearly anyone and their list would be the same: accessibly priced, stylish, well-equipped and reliable.
Honda ticks each of the boxes, and then some. It's really no surprise that Louisville embraces this, making the likes of the Accord, Civic, Odyssey, and Pilot so popular.
Now consider how satisfied you could be if you weren't limited to the inventory carried by local dealerships. If you're interested in a pre-owned Honda, visit online.cars and let them know exactly what you're looking for. While others are busy searching and settling, you could be enjoying the perfect pre-owned Honda knowing that your car-buying experience was as stress-free as your car-owning experience will be.