4 Reasons the New 2018 Traverse Kills the Competition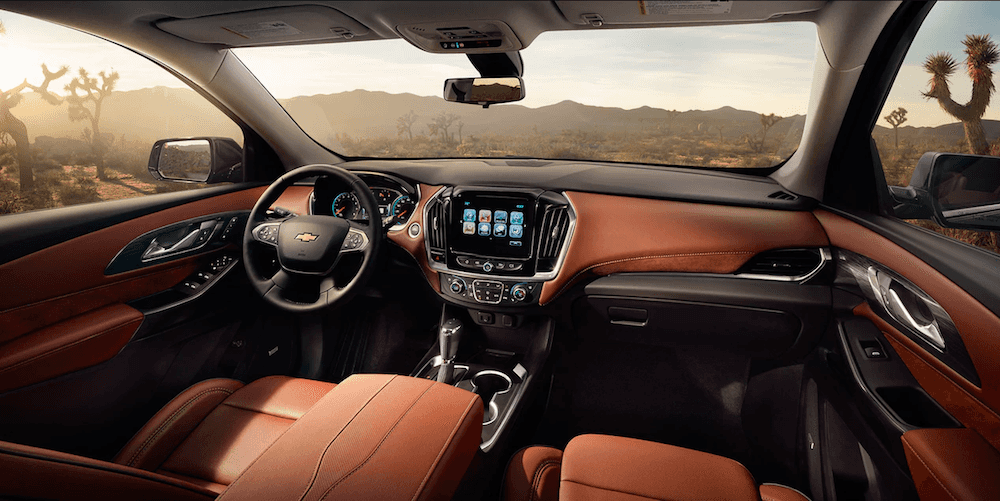 In a world that has become the politically correct nightmare that it is, it is refreshing to see car brands like Chevrolet stepping outside of society's comfort zone with a new SUV. The 2018 Traverse is all new, but not only that – it's bigger, less efficient, and the source of much bewilderment among automotive industry experts. The unapologetically large Traverse is making a major statement as it continues to make its rounds at auto shows across the United States ahead of its upcoming fall release. Still considered a midsize crossover SUV, the 2018 Traverse manages to leave critics and drivers in a trance of mixed emotions that land somewhere between shock and awe. Despite its bold new size and untamed defiance, the 2018 Traverse looks to be shaping up as quite the worthy competitor.
The Competition
As one of the most popular and fastest growing segments in today's automotive world, it's not a complete revelation to say that the competition for the 2018 Traverse is stiff. With every major car manufacturer in on this exceedingly popular vehicle category, the Traverse has more foes than friends. Rather than molding the newest version of the Traverse to fit securely within its segment, Chevrolet has opted to brazenly defy it in every way imaginable. This is the exact reason why Chevy isn't bothered by the growing number of contenders knocking on the door of their headquarters hoping to go head-to-head with the brand new 2018 Traverse. I imagine, that instead of ignoring these challenges by hiding out of visible sight when they approach, that Chevy swings the door wide open in hopes of a true confrontation. Before we dive deeper into why the 2018 Traverse isn't afraid to take on the entire crossover segment one carefully constructed SUV at a time, let's list out some of those competitors:
Honda Pilot
Toyota Highlander
Ford Explorer
Dodge Durango
Mazda CX-9
Each one of these offers three rows of available seating and plenty of attitude as to why they are the best midsize SUV on the market. Alas, the introduction of the newest 2018 Chevy Traverse means that none of these bad boys stand a chance against the newly crowned king of the segment. Lucky for each of the five SUVs listed above, they still have a few more solid months to rack up sales prior to the Traverse arriving at dealerships across the nation this summer. Hopefully, these SUVs and their respective car brands appreciate this head start on sales before the 2018 Traverse is released, because once it arrives – there is no going back.
4 Reasons Why the New Traverse Eats its Competition For Lunch
It's one thing to say that the new Traverse is going to kill the competition, and another thing entirely to back that up with some real solid facts and figures. Take a look at four different ways the 2018 Traverse is slated to stand out among the herd of mediocre options in the exceedingly crowded midsize SUV segment.
It's BIG: While this may be seen as a negative to some, we choose to believe that the larger size of the new 2018 Traverse is going to help the SUV stay ahead of the competition. Other auto brands were likely shaking their heads when they first learned of the Traverse's larger size, but as industry insiders and consumers began seeing this growth as a positive, their head shakes turned into full body tremors. The 2018 Traverse may look massive and abundantly larger than the version it replaces, but it is actually only two inches longer. Those two inches added to the SUV's wheelbase, however, account for an extra .7-inches of added legroom behind each row of seating. To put that into perspective, the 2018 Traverse now boasts best-in-class legroom – how bout them apples?
It's Advanced: One of the most obvious reasons we love the new Traverse is the added tech upgrades it includes. With so many new innovations and advances taking place on a daily basis, it's hard for auto manufacturers to keep up. Thanks to the release of the next-gen Traverse, it's next to impossible for competitors to contend with everything this larger-than-life SUV has to offer. The expected technology inclusions are all there – the newest 4G LTE Wi-Fi connectivity, the wireless phone charging capability, and the latest version of the Chevy MyLInk infotainment system. There are also a few cool innovative additions that we can't help but love. The smart trunk on the 2018 Traverse, for example, features a light-up bowtie emblem that shines on the pavement in order to direct drivers where to swish their leg to activate the system.
It's Powerful and Efficient: Remember how we said Chevy was bold to make the Traverse bigger in a segment that tends to value downsizing? Even with those added few inches and best-in-class legroom, the 2018 Traverse manages to pack a serious punch, and impressive fuel economy numbers to boot. A brand new 3.6-liter V6 engine is paired with a nine-speed automatic transmission and actually ups the SUVs horsepower by ten-percent from 2017. Able to tow an impressive 5,000 pounds, this capable midsize SUV offers up to 25 miles per gallon on the highway.
It's More Versatile: The 2018 Traverse is getting the new Traction Mode Select system from Chevrolet, and it is allowing drivers more versatility from behind the wheel than ever before. The system not only has the ability to disconnect from the rear axle to increase fuel economy, it also gives drivers the option to turn the system on and off when they want. Rather than automatically switch the car from front wheel drive to all-wheel drive, the new Traverse will give drivers a signal when wheel slippage is detected, allowing them to turn on all-wheel drive if necessary. This intuitive system not only gives drivers more control over their ride but also allows them to have the final say in how their SUV will manage on various terrain and weather events.
Learn More About the 2018 Traverse
If you are interested in learning even more about what Chevy has up its sleeve for the newest 2018 Traverse, keep checking back. online.cars is dedicated to providing you with the latest and greatest news surrounding the automotive industry. Whether you are interested in purchasing this capable new SUV when it is released this summer or are simply interested in staying on top of changing industry trends – online.cars has you covered.