Five Reasons Why You Should Pursue the 2018 Chevy Cruze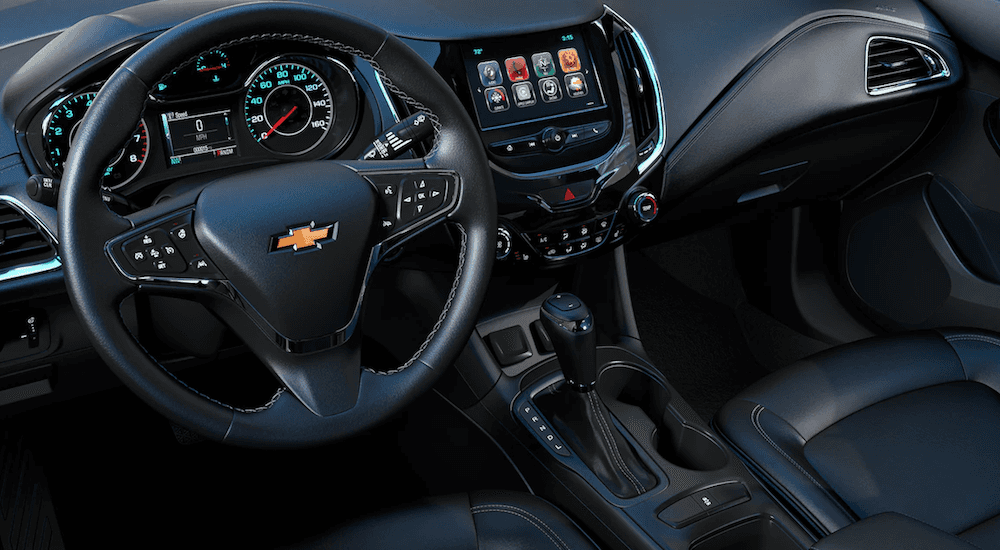 Over the past several years, the Chevy Cruze has proven to be one of the most impressive offerings in the entire industry. Well, this will be true once again when it comes to the 2018 model, as the brand has once again provided all of the features and capabilities that a driver would want from their new sedan. Ultimately, customers can anticipate impressive engines, trustworthy safety functions, innovative technologies, and a host of available options.
Ultimately, if you're in the market for a new sedan, you'd be hard-pressed to find a more impressive offering than the 2018 Chevy Cruze. Below, we've explained several reasons why the nameplate is so impressive, and these factors will convince you why you should be pursuing a Chevy Cruze for sale…
Factor #1: Top-notch Performance
Chevy provides customers with a pair of impressive engine options as they're building their 2018 Chevy Cruze. The 1.4-liter Ecotec turbocharged engine shouldn't be underestimated despite its smaller stature. The unit is still capable of delivering an impressive 153 horsepower and 177 pound-feet of torque. Plus, thanks to inclusions like Continuously Variable Valve Timing, drivers can ultimately anticipate an incredible 38-mile-per-gallon highway fuel efficiency, meaning they can save some extra money at the gas station.
For those seeking a bit more power, then the 1.6-liter Ecotec Turbo Diesel engine is a perfect choice. Drivers can ultimately expect 137 horsepower and a blistering 240 pound-feet of torque, impressive numbers that aren't often found elsewhere. Thanks in part to the engine's diesel configuration, drivers can also anticipate an absolutely incredible 48-mile-per-gallon highway fuel efficiency.
Factor #2: Innovative Technology
The 2018 Chevy Cruze is the perfect commuter, and a big reason for this sentiment can be attributed to the array of technological amenities included in the cabin. The vehicle is equipped with the brand's seven-inch diagonal color touch-screen, which provides easy access to the Chevrolet MyLink system. Thanks to this amenity, drivers will have quick and easy access to a navigation unit and radio. Drivers will even have the opportunity to connect their smartphone thanks to the Apple Carplay and Android Auto compatibility, allowing them to perform many of their phone's basic functions (like calling and text messages). If drivers want to jam out to their favorite playlists, then they can capitalize on either the six-speaker sound system or the Bose premium nine-speaker sound system.
Perhaps the most appreciated function is the 4G LTE Wi-Fi, which provides a strong internet connection for up to seven devices. Therefore, if any of your occupants need to complete work while on the road, they'll have access to the reliable wireless internet. On the flip side, if you're seeking comfort amenities, then the heated front seats are the notable inclusions, and this feature will allow the occupants to escape those cold winter mornings.
Factor #3: Reliable Safety
The Chevy Cruze includes a number of safety functions that are intended to prevent accidents from occurring in the first place. Inclusions like the Forward Collision Alert, Lane Keep Assist (with Lane Departure Warning), and Lane Change Alert (with Side Blind Zone Alert) will be invaluable when traveling at high speeds, as the unit can prevent a potentially devastating collision. Meanwhile, functions like the Rear Cross Traffic Alert, Rear Park Assist, and Rear Vision Camera will reduce the chance that a driver ends up in a fender bender.
In the event of a collision, the vehicle also includes a number of functions that will protect drivers and occupants. The extensive 10 airbag system provides the necessary amount of cushion to all of your occupants, while the high-strength steel safety cage should assure that the vehicle won't be compromised due to a crash. If emergency personnel is necessary, then drivers can rely on the OnStar Automatic Crash Response System, which will connect them with an OnStar Advisor. This individual will contact the proper authorities, and they'll be at the crash site in no time.
One of the most clever technological inclusions is the Teen Driver system. This unit is intended to assist those inexperienced operators, as the unit automatically activates all of the brand's top safety functions when a teenager has taken the wheel. The unit is intended to promote safe driving habits, and it will allow parents to monitor their child's driving tendencies following any trip.
Factor #4: Versatile Packages
While the 2018 Cruze is already plenty stylish, there are several easy ways that drivers can revamp the exterior of their sedan. For instance, the Redline edition of the vehicle (available on the LT with RS Appearance Package) adds a number of cosmetic complements that will have your fellow drivers gawking at your ride. Engineers included intimidating 18-inch black wheels with red accents, as well as black mirrors caps, window trim, grille, and bezels. Ultimately, you'll be driving one of the most stylish vehicles on the road.
Factor #5: Roomy Hatchback Variation
You might be enticed by all of the Cruze's amenities and capabilities, but pursuing a sedan might not be logical for your specific needs. Fortunately, Chevy provides drivers with a chance to opt for a hatchback version of the nameplate, allowing them to access increased cargo space. Ultimately, this variation of the Cruze will let drivers capitalize on an incredible 47.2-cubic-feet of space, which should be more than enough room to fit any luggage or equipment.
Now that you've determined that the Cruze is the perfect target, it's time to start shopping. Well, if you'd rather avoid the hectic and tumultuous experience, then it may be in your best interest to opt for a vehicle via online.cars. The online seller provides customers with one of the most convenient buying experiences, and they even provide a number of services and monetary incentives for opting for their business. Ultimately, you'd be hard-pressed to find a better buying experience from a traditional dealership, explaining why online.cars make the most sense for those seeking a Chevy Cruze for sale.