Used Cars For Sale Online in Cincinnati, OH
These days, it seems like consumers spend more and more of their precious time searching for that perfect used car. Whether it's searching desperately for the exact model you have in mind, cruising from dealership to dealership looking for a good deal, or pulling your hair out over the stress of not finding what you need, used car shopping can be a serious pain without a lot of reward. But luckily, for those searching for used cars in Columbus, OH, one company is working tirelessly to help turn that confusing and difficult process firmly on its head.
That company, of course, is online.cars – an all-new way to find precisely the vehicle you've been looking for, and to have it brought right to you in just a matter of days. Whether you're a longtime pre-owned car buyer or new to the process of finding a quality used vehicle, online.cars can help you get exactly the car you'd like with none of the stress that comes with the traditional car-search process.
Here's a look at some of the biggest benefits shoppers can expect from shopping with online.cars, and just why there may be no better option for Columbus drivers in need of a great deal on a top-tier pre-owned vehicle.
About online.carsView InventoryShop By Payment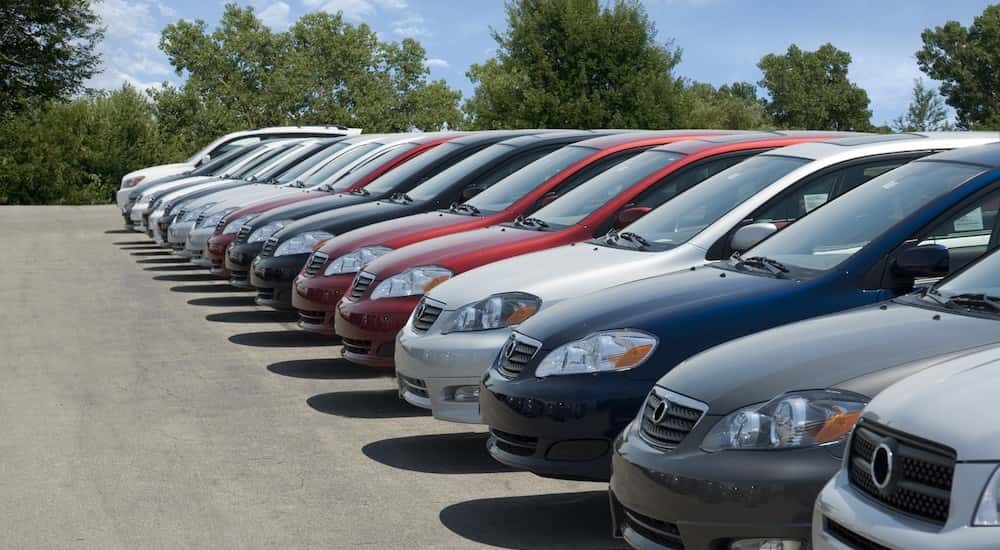 Find Just The Car For You…
We all know the frustrations that come with searching used lots for that perfect vehicle – typically, you'll need to settle for something less-than-ideal, or you'll need to spring for something just above your price range. For many brick-and-mortar dealerships, there's simply no other way – inventories are limited, and the market is only so big. In most cases, drivers leave the lot either empty-handed or having paid too much for an option they don't really want anyway.
For those who choose online.cars, this problem disappears long before it even becomes an annoyance. That's because buyers have the option to do all of their shopping from the comfort of their own homes, offices, and even from the convenience of their mobile devices.
Just check out the Nationwide National Search feature that online.cars offers, which gives customers the chance to find precisely the make, model, and year of the vehicle that they have their minds set on with much less effort than doing so on foot. Simply input your preferences – as specifically as you'd like – and let the Nationwide Search take the reins. It will take your input and search through tens of thousands of cars available at dealer-only auctions – not typically open to private consumers – and return about four of the best matches at the best deals around. That way, you'll never have to settle for "close enough" again – and you'll end up getting the best deal in the process.
Once you find the perfect match for you, you'll be able to set up a test drive if you'd like. That means no more buying blind without knowing what you're getting beforehand – solving one of the biggest inhibitions customers might have about buying online. Now, you can get that great deal, test it out, and even walk away if it doesn't meet your standards – far easier than having to find each model individually at lots.
…And Have It Brought Right To You
Hate having to hitch up your saddle and go find that perfect used car yourself? Need an easier way to get behind the wheel without having to trek across country to do so? Well fret no more – online.cars is here to help, and with easy delivery within 48 hours of your initial order request, you'll never have to jump through hoops for your used car again.
Buyers throughout the Columbus and Cincinnati areas can shop for used vehicles at their leisure on online.cars, and when a decision has been reached those buyers can request a quick delivery to the online.cars distribution center nearest their location. This is where you'll be able to take your selection out for a test drive, inspect the model more closely, and see how well it fits your needs from up close – all without having to drag yourself from dealership to dealership for the same thing.
And did we mention that online.cars promises this delivery service completely free of charge? That's because online.cars understands that consumers spend enough of their hard-earned money on the vehicle itself, and the staff at online.cars would prefer that money go toward making sure you get exactly the car you want and not just the cost of getting it to you.
Plus, you'll find there's no pressure and no obligation on the shopper – even if the car's already been shipped to your nearby online.cars distribution center. That's because the team at online.cars understands that it's hard to pick a vehicle strictly from an online summary, and it's not until you can really feel the vehicle from behind the wheel that you can make an educated decision. For plenty of drivers, this easy, no-obligation system means better options with a fraction of the pressure you'll find at a traditional dealership.
Guaranteed Great Deals
When you choose to buy from a brick-and-mortar dealership, it's on you to make sure you're getting the best price around – and since dealers tend to be incentivized to charge as much as possible, this can be a tricky negotiation to maneuver. That's why online.cars strives to make getting the best deal on your used car easier than ever through competitive pricing and guarantees that you won't find a better deal anywhere else.
Shoppers who choose online.cars for their used car shopping can rely on the $500 Lower Price Guarantee, which ensures all shoppers that the price you pay to online.cars beats any competitors by up to $500. That way, you can know for sure you're getting the best possible deal on your used model, regardless of which brand or model year you end up choosing. For a reliable guarantee that your purchase works best for your budget, there's simply no better place to turn than online.cars – and with free delivery guaranteed as well, you may not even be able to find the same vehicle for a lower price anywhere else.
No Better Place Than online.cars
Ready to cut those annoying trips to the local dealership out of your life? Tired of having to either settle for whatever's on the lot or pay through the nose for pricey delivery form elsewhere? Hate having to deal with the stress of visiting the sleazy used car dealer down the street?
Fear no more – online.cars is here and ready to make your pre-owned purchase easier than you've ever dreamed. Whether you need a reliable cruiser to get to and from work or simply something safe to pass down to the next generation, there's a whole world of excellent options out there for you to get your hands on – but without the right tools, most of those selections always remain out of reach.
Stop settling for less than the best and get yourself on online.cars, where you can have the perfect used vehicle brought to you at the best prices you'll find anywhere. Savvy Columbus drivers know the answer to all that frustration is just a few clicks away – and with online.cars here to stay, we think you'll be more than satisfied with the service for years and years to come.
Get In Touch