Why Shop at a Traditional Dealer When There's an Easier Way With online.cars?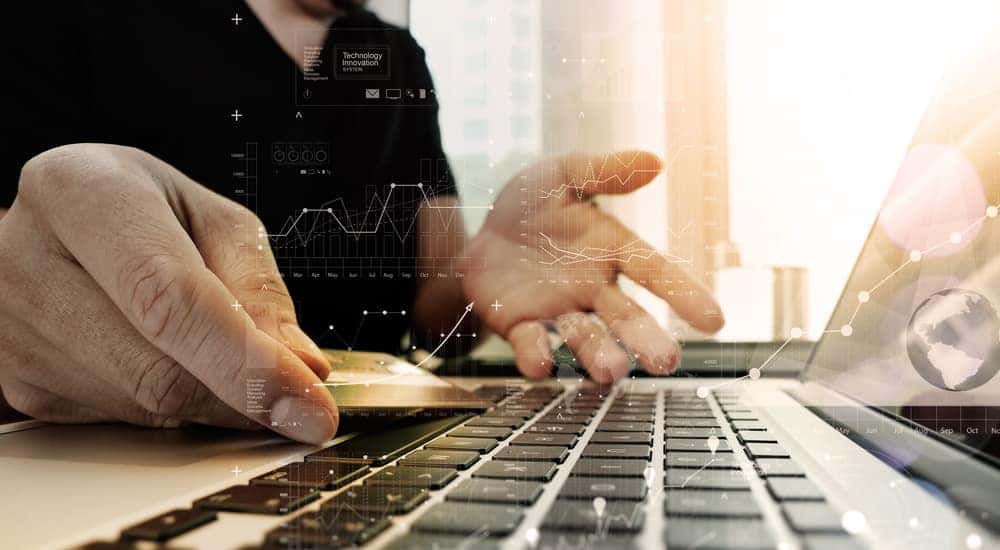 Craving a different type of car-buying experience? Then online.cars is your answer. We're not like the car dealerships that you see on your commute to work. If you were to take a traditional car dealership and compare it to us, like Jeff Wyler Honda vs online.cars, then you'd be surprised to not only see how different we are but also how much easier. Why? Simply because there's an uphill battle when it comes to shopping at a traditional car dealership. It always has been, and that's why we started online.cars. That way, our customers could experience an easier, faster, and much more convenient way of car-buying: through a virtual-based web dealer that has access to cars across the nation.
With the majority of the car-buying process done online – except for the inspection, test-drive, and closing the deal – you can save time and find your perfect car all from the comfort of your home.
With online.cars, It's Just Easier
Find Cars From the Comfort of Your Home
Everything is done in-house on a computer these days. Paying bills, selling items, shopping for items, talking to friends; it's all done online. Why should car-buying be left behind?
With online.cars, you have access to our exclusive nationwide database of cars, where you can browse over 100,000 new and used makes, models, and with any optional features, packages, or amenities you could want.
No Jumping From Dealer to Dealer; Find the Perfect Car in One Shot
What does browsing over 100,000 cars from home give you? The ability to find your perfect car in one shot. No jumping from dealer-to-dealer to find the type of vehicle you want, and no being told that you need to sacrifice a few of your must-have features if you want the model that you're looking for, simply because the dealership doesn't have the model with those particular features on that lot.
Takes Five Minutes to Find the Perfect Car
Worried about wading through 100,000 vehicles? Don't be; this is supposed to be easier, not harder, remember?
It won't take you anymore than five minutes to find the perfect car. How is this possible? Because online.cars does all the leg-work for you. Simply fill out a short form related to the particular vehicle you're looking for, and we'll kick back three suggestions that match your request within the next 24 hours.
Like something from the selection we send? Fantastic! We'll make sure your preferred model is delivered to our physical lot in 48 hours so you can inspect it and test drive it before we close the deal.
Complete the Majority of the Process Online
Since we're a virtual-based car dealership, the majority of the buying process can be done online; including credit pre-approval. With the majority of the financial process taken care of online, you'll be able to save time, and just worry about the important stuff (inspection, test drive, and sealing the deal) when you come by to finalize things.
Inspect, Test Drive, and Close the Deal in Person
Why do you still need to come get the car? Because, unlike online-only car sites, we know the importance of being able to actually see, inspect, and test drive the car before you buy it. Buying a car blindly is never a good idea, whether it's online or from a dealership.
Plus, closing the deal is also part of the experience, and for some, there's no better feeling than driving off a car lot with your new or used model.
Shop Whenever is Most Convenient for You
Since it's all done online, you're able to shop whenever is most convenient for you. Whether that's 3 am or 3 pm, you can visit the online.cars website and start shopping. With us, you aren't confined to store hours.
The Uphill Battle at Traditional Dealerships
At traditional dealerships like Jeff Wyler Honda, you have to slog through everything that has made car-buying in 2017 an uphill battle.
Limited Inventory
At dealerships like Jeff Wyler Honda, you know what you're going to find when you go to the dealership. A limited selection of new Honda models, some CPO Honda models, and a few used cars scattered throughout.
If you don't want a Honda, you're most likely not going to be shopping there. But if you do, then you'll have to deal with trying to find a new model with all the features, amenities, and available packages you want. If you can't, then it's time to look at another dealership. Trying to find a used car would be even harder at a traditional car dealer vs online.cars. Trying to find a quality one that you can test-drive and inspect in peace? Even harder.
Not Ever Finding the Perfect Car
Sure, if you hop from dealership to dealership enough you'll eventually find the right model you want. But, what about it being set up the way you want it? More often than not, you'll end up being told you have to sacrifice a few features in order to purchase the car you want. Now, if you're sacrificing a few features – especially if they're must-have features – then it no longer becomes your idea of the perfect car, right? It doesn't matter if those must-have features are safety features, or if those must-have features are leather seats complemented by a heated steering wheel.
The point is, whether you're looking for a new or used car, you should be able to get the perfect car the way you want it. Why would you settle for less on a big purchase that will be used daily?
The Unfortunate Reality of Unhelpful Staff
Sometimes, car salesmen do more harm than good. That's just the unfortunate reality of the situation. Whether you have to deal with a new car salesman that started that day, one who doesn't know all the information you're looking for about the car, or one who's more interested in talking about how good the car is than providing you any actual information, it's going to create a stressful and convoluted car-buying experience.
Car salesmen are also pushy, so don't be surprised if you find yourself being steered towards a car you aren't interested in because they get a bonus if they sell it. Or, simply because it's been there forever and they're sick of looking at it.
online.cars Avoids All This
For a car-shopping experience void of the negative experiences associated with traditional car dealerships, online.cars is the solution.