3 Great Used Models for Kentucky Drivers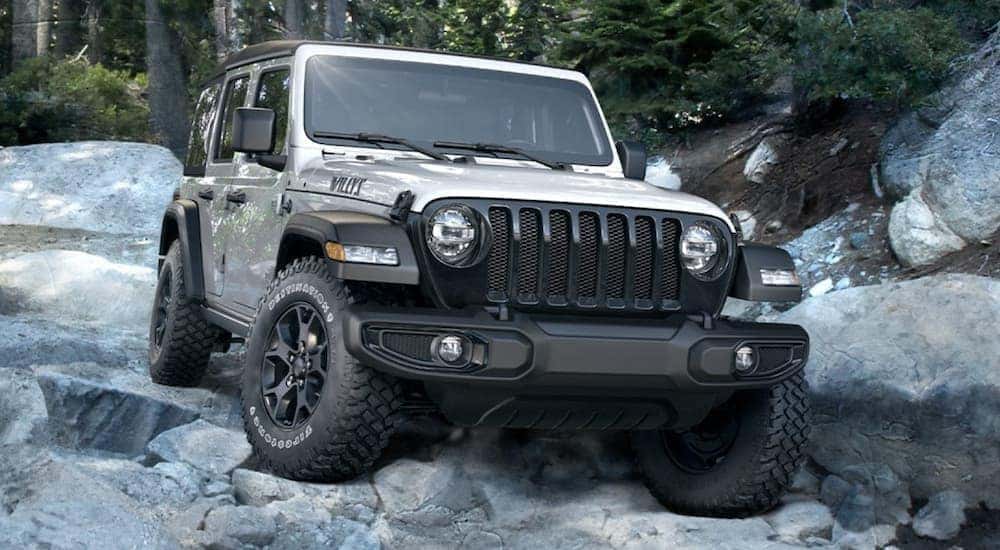 When you type in "Kentucky online car sales," you're going to get hit with tons of used vehicle options. But you already know that there are countless vehicles for sale throughout Kentucky, both online and in-person. What you really need to know is what the BEST vehicles for Kentucky drivers are and why. That is why the team at Online.cars is here to help you out.
The main aspect you need in a vehicle as a Kentucky driver is capability. In Kentucky, you'll encounter a wide variety of weather and road conditions. Ice storms and snow are not everyday encounters, but they do happen 𑁋 and when these natural disasters do occur, they can mess up routines for weeks.
In addition to adverse winter weather, there are also many unkempt roadways, gravel-covered backroads, and lots of potholes to navigate. Long story short, SUVs and trucks are the best bodystyles for Kentucky drivers to consider. More specifically, we recommend three models 𑁋 the 2020 Jeep Wrangler Willys, the 2020 Chevy Silverado 3500 Work Truck, and the 2020 Chevy Colorado Z71. We're excited to give you a closer look at why each model is ideal for Kentuckians.
#1 – The 2020 Jeep Wrangler Willys
There's nothing more off-road capable than a Jeep Wrangler. While the official "Wrangler" title didn't show up until 1987, we've known the Willys since its debut in 1941. What makes the Willys trim stand out from the other Wrangler models is its extra off-roading assets.
The Willys Wrangler comes in close second to the top-of-the-line Rubicon when it comes to off-roading capability, but it also comes with a much lower price tag. While the Rubicon is better for rock climbers, Kentucky drivers are focused more on mud, gravel, and dirt. This model includes standard 32-inch mud tires, underbody armor to protect against rocks and logs, and even the Rubicon's rock rails and shocks 𑁋 a feature not seen on other Wrangler trims.
These rock rails attach the sides of the Wrangler, under the doors, to help prevent off-roading damage. They're mostly there to deflect rocks, but they protect against other offenders such as sticks and debris. And no matter the terrain, the Willys model rides much smoother than the Wranglers of the past, thanks to the Bilstein shocks.
There's also a standard limited-slip differential on the Willys. Essentially, this keeps both wheels spinning at the same speed, preventing slippage and allowing for more torque and better traction on difficult terrain. You'll also get handy and fun aesthetic features such as a black grille, a "4WD" rear sticker, and LED headlights.
The main thing to remember here is that the 2020 Willys gives you much better gas mileage than you're expecting. Thanks to the turbocharged I4 engine, the Willys is rated for 20 MPG combined. Thankfully, those days of getting poor fuel economy in off-road vehicles are over.
Plus, these new Jeeps ride much more smoothly than older Wrangler models. The few downsides to owning a Wrangler are now canceled. Everything about the Willys Wrangler screams "Kentucky," whether you're traveling to work in the winter or heading to Rush Off-Road in the summer.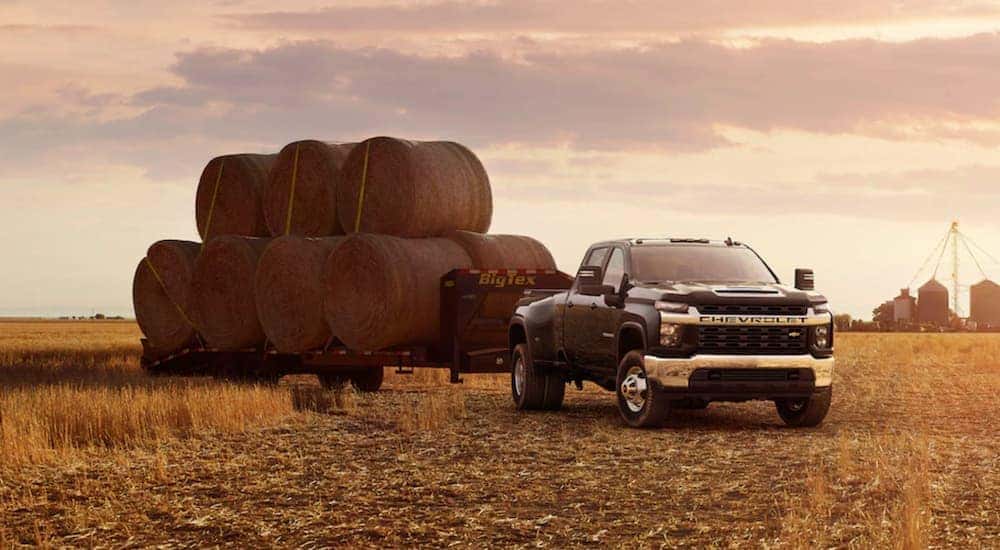 #2 – The 2020 Chevy Silverado 3500 HD Work Truck
Another great option for Kentucky drivers is the 2020 Chevy Silverado 3500 HD. This model is ideal for those who seek incredible capability that includes real towing and hauling power. While there are several Silverado 3500 HD trims on the market, the Work Truck offers all that the average Kentucky driver will need.
Keep in mind that there are three different Silverado variants 𑁋 the 1500, the 2500 HD, and the 3500 HD. Each of them is available in the Work Truck trim, so you'll want to remember this when shopping. We're looking specifically at the 3500 HD, the most tow-capable option.
This truck is our top recommendation for Kentucky farmers, equestrian enthusiasts, and anyone who owns large items such as a houseboat or large camper. The 2020 Silverado 3500 HD Work Truck can tow as much as 36,000 pounds when properly equipped, and it includes standard Hill Start Assist and Trailer Sway Control. Even better, you don't have to go without safety features on this model if you don't want to. The available WT Safety Package includes the following features:
Front and Rear Park Assist 𑁋 alerts drivers when they're too close to an object, both while driving forward and while backing up.
Lane Change Alert with Side Blind Zone Alert 𑁋 monitors blind spots and additional lanes using cameras and sensors. It lets drivers know when it's unsafe to switch lanes or merge.
Rear Cross Traffic Alert 𑁋 ideal for parking lot driving, this feature can monitor aisle traffic that's difficult to see from your parking space. It's also helpful in situations where you must back out of a driveway.
There's also a rear vision camera that comes standard on the Work Truck model, with an optional Rear Camera Mirror. This base-level truck keeps it simple while including options for safety features that may be unnecessary to some Kentucky drivers yet essential for others.
In addition to the 2020 Work Truck's power, we specifically love that it comes with an impressive snow package and an engine block heater. Kentucky definitely doesn't have the warmest winters, so the Work Truck's external engine block heater makes it much easier to stay productive in below-freezing temperatures. Plus, the Snow Plow Package makes it simple to turn your Silverado into a snow scraping machine. Whereas older models require you to drill holes and visually alter your bumper, the new package makes things much easier. All you have to do is remove the air dam and skid plate and mount the snow plow.
Whether you're hauling cattle or going camping, we recommend the 2020 Silverado 3500 HD Work Truck to any heavy-duty driver.
#3 – The 2020 Chevy Colorado Z71
We've already talked about an off-roader and a work truck, but here is a model that offers a nice balance between the two. The Chevy Colorado Z71 has been a popular pickup option for years, and you can find plenty of used versions for sale at affordable prices. This is definitely one to keep in mind when you're online shopping.
You can tow much more with the Z71 than you can with the Wrangler, enjoying a max tow capacity of 7,700 pounds with the diesel engine and up to 7,000 pounds with the V6 engine. However, unlike the heavy-duty Silverado 3500 HD, it's possible to head off-pavement in the Z71, too! This model comes with a lot of fun features that you want in an off-roader, such as 17-inch off-roading tires, a transfer case shield (basically, an underbody skid plate), and even an off-road suspension package.
We also love the Z71's Hill Descent Control system, which is in place to hold the truck back during steep declines. This off-road tech makes it simple to tackle those Kentucky hills without slippage or immense anxiety attacks. You'll also have access to handy safety features such as Lane Departure Warning and Forward Collision Alert–but only if you want them. You can also keep it simple and just stick with the standard rearview camera as well. Teen Driver Mode is standard on this model, so if you're looking to teach your teen how to drive, you can rely on this safety feature to help you properly monitor their driving.
This truck is smaller than the Silverado 3500 HD and even the 2500 HD and 1500. In fact, the Z71 is considered a midsize pickup truck. The 2020 Colorado Z71 is a great fit for folks who like the truck-style but aren't too fond of bulkier models.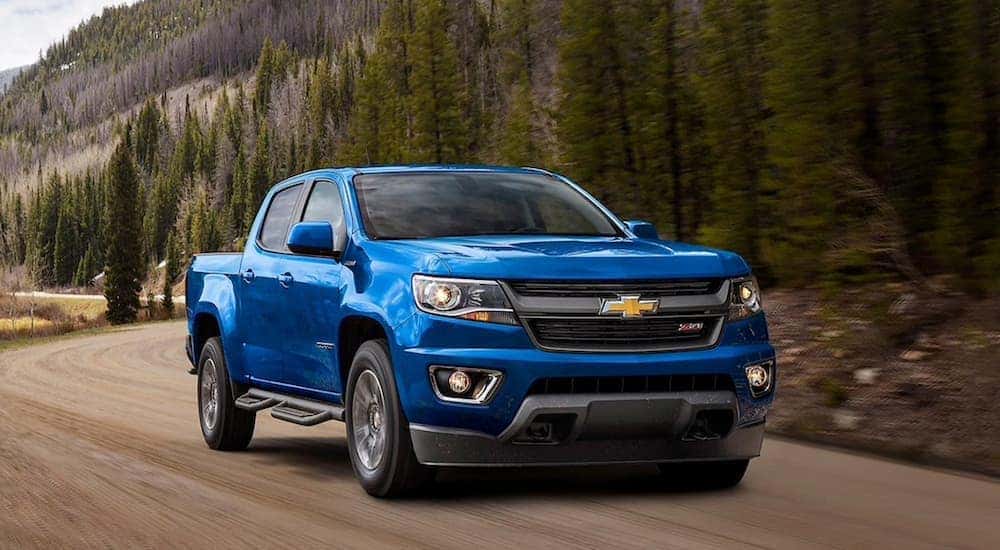 Which SUV or Truck Are You Taking Home?
While city drivers often prefer something small and fuel-efficient, the average Kentucky driver needs to focus most on capability. Many Kentuckians can't afford to settle for front-wheel drive cars. There are just too many backroads to travel and too much work to accomplish for that.
Whether you're more focused on off-roading than towing, vice versa, or you do a little bit of both, we've got a model for you. At Online.cars, we serve the entire Kentucky area with affordable and high-quality used models that we'll deliver right to your door. Our goal is to make sure you take home something fun, capable, and reliable. When you choose one of these three models, that's exactly what you're doing.
When you're ready to take the next step in your adventure, we're here to help. We look forward to working with you!