5 Reasons You Should Buy Your Car From an Online Dealer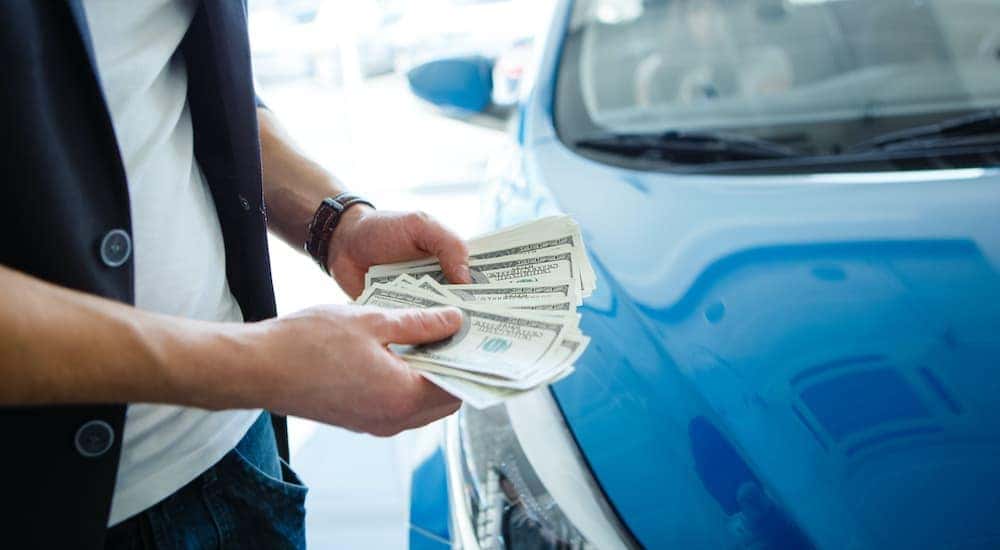 What if we told you that the best Beech Grove Indiana car dealer has no walls, no ceiling, and no physical address? Before you decide we're nuts, consider this: the automotive retail industry has undergone a major shift in recent years. Busy consumers can't and won't devote hours and days to drive all over town in search of a quality new or used vehicle. They're going virtual instead.
Consumers are demanding a more convenient car buying process that prioritizes their time and money. America is quickly moving to a convenience economy. Like most retail industries, the automotive sector is moving to an online sales model. This is great news for buyers who don't relish the idea of spending hours under fluorescent lights in a windowless office while the "manager" crunches the numbers.
Those days are over. Modern buyers are taking the reins and turning to the metaverse for shopping and purchasing tools that make the process faster and more transparent. Why should you buy your next car online? Not only is it more convenient, but online dealers are safeguarding your purchase with return guarantees and other policies that virtually eliminate risk. Here's why you should buy online.
One: You'll Save Tons of Time
If you're old enough to buy a car, you probably remember running errands with your mom on Saturday afternoons. She had to visit several stores – the grocery store, the pharmacy, the mall – to purchase all the items on her list, and it took most of the day to get it all done. Today, we have sites like Amazon and services like Door Dash that allow us to transact instantly online without ever leaving our homes.
After years of stubbornly resisting the evolution to an online sales model, some dealers are finally putting systems in place that let you buy your car this way. It's the same hassle-free shopping and purchasing experience as you enjoy with sites like Amazon, and you can do it anywhere and on any device – even your smartphone. You can browse inventory, apply for financing, fill out your paperwork, and even arrange delivery to your driveway.
The process can take as little or as much time as you need. You can shop during your lunch hour or after dinner and even initiate an online chat with a sales representative to get your questions answered. Click. Pick. Apply. Sign. Take delivery. It's that easy, and it sure beats wasting a Saturday afternoon driving all over town.
Two: You'll Save a Lot of Money
Nearly two-thirds of new and used car shoppers start their search online, but few end up purchasing that way, which is unfortunate because they could be leaving dollars on the table. Online sellers clearly post pricing alongside vehicle data (e.g., trim, equipment lists, mileage) and photos. Buyers don't have to worry about a long, drawn-out haggling session or a complex worksheet full of fees and add-ons.
When you buy online, pricing is transparent. Also, you're working with a specially trained online sales consultant who doesn't live or die by their commission. Gone is the stress and pressure – what you get instead is access to a helpful associate who lets you shop and buy on your time. The entire transaction can happen online, so you won't even have to pick up the phone. When pricing is straightforward, the entire process is simpler.
Because online sellers handle all aspects of your transaction, including financing, they're able to apply any savings or rebates on the spot. For example, if you have top-tier credit, you might qualify for a lower interest rate. The same consultant works with you throughout each stage of your purchase, so they'll always have the full picture, putting them in a better spot to tailor the transaction to your specific financial situation.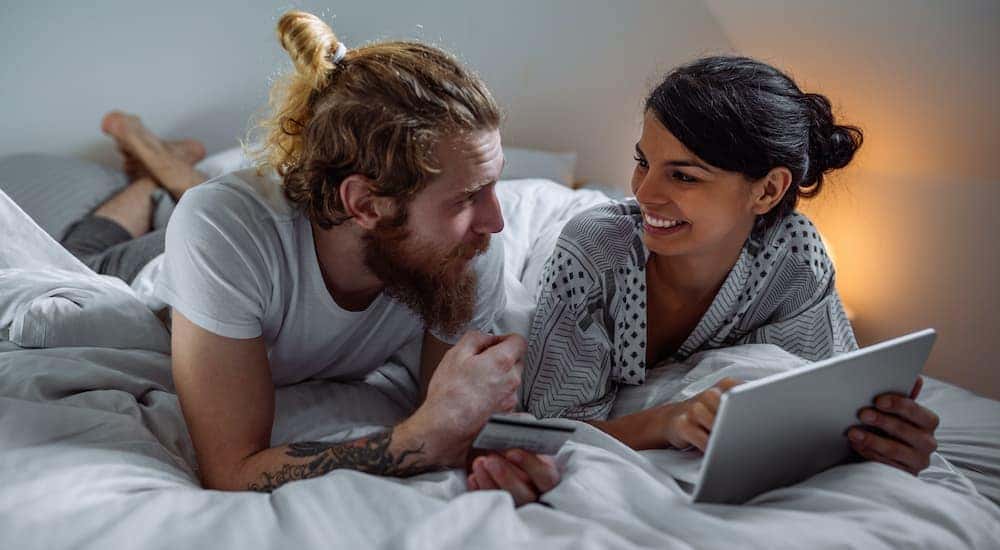 Three: You Can Shop in Your PJs
Have you ever set out to do some weekend car shopping only to find that the dealer is so busy with other customers your wait time is hours? What about car buyers who are limited to shopping in the evening hours? Nothing is more frustrating than a 9-to-5 dealer or one that's understaffed. This opens the door for online retailers to offer customers a far more convenient alternative.
When you buy online, you're driving the bus. You engage at a time that works for your schedule, whether it's during a bout of insomnia at 1:00 am on a Tuesday or from your couch at halftime. Online dealers are always open for business, and they're careful to keep inventory postings updated, so you're always browsing in-stock vehicles. Sadly, many brick-and-mortar dealers are not so diligent because they aren't relying on internet sales exclusively.
Because car buying is a multi-step process, choosing to work with an online seller means you can break it up over time. Maybe you shop for a few days and ask questions about a handful of cars, then start your financing application after that. The bottom line is you're under no obligation to complete the transaction in a day. You can work around personal commitments and other schedule conflicts and go at your own pace.
Four: It's Low-to-No Risk
Buying a car online means you can choose from a big selection of cars, trucks, SUVs, and vans that are vetted for quality. The odds of getting a lemon are slim-to-none, even if you're shopping at a budget price point. Many people wonder if buying a car sight unseen is risky. The answer would be yes, but reputable online sellers like Online.cars offer special protections to essentially eliminate risk.
When you buy a vehicle online, you probably won't have a chance to test drive it. What if you hate it? Quality online sellers like Online.cars offer customers a 10-day/1,000-mile return guarantee for just such a scenario. If for any reason, the vehicle doesn't live up to your expectations, you can have it picked up – no questions asked. It's a safety net that eliminates any worry about getting stuck with the wrong car.
Similarly, all used vehicles sold through Online.cars receive a complimentary Lifetime Mechanical Warranty that covers major components. Additional warranty coverages, including Guaranteed Asset Protection (GAP) insurance, are available to further protect your investment. Also, if the car you buy is still covered under the original factory warranty, that coverage will transfer to you as the new owner.
Five: You'll Receive Extra Perks and Benefits
Perhaps the most unexpected benefit of buying a car online is the extra conveniences. First, most sellers will deliver your new car right to your home or office. Delivery fees are typically waived within a certain geographical area, and scheduling happens quickly after your purchase is finalized. In most cases, Online.cars can deliver within 24-48 hours.
Many buyers wonder about vehicle trade-ins. If you're trying to unload your old car, the best online retailers will have a process for valuing and taking your trade, regardless of its condition. Online.cars offers buyers an easy online process: simply fill out a form and send a few photos. From there, you'll be offered a fair and reasonable trade-in value. It's that easy.
The best part is your trade will be picked up when your new vehicle is delivered. If it can't be driven, a third-party towing company will arrange for a date and time to pick it up on behalf of the seller. Reputable online sellers will always match competitive trade-in offers, so you won't have to worry about leaving cash on the table.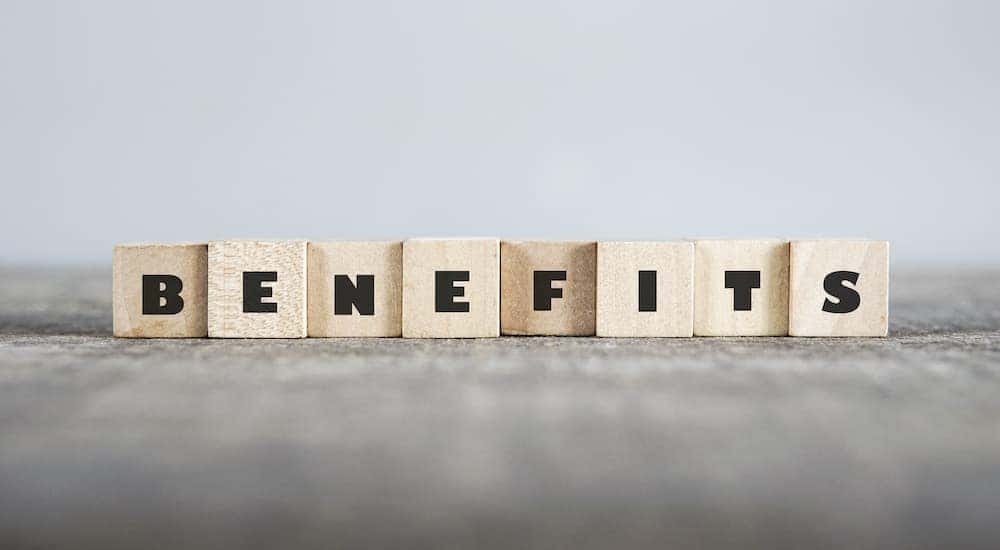 Online Car Buying Is the Future
The shift from brick-and-mortar car dealers to virtual sellers is underway, and it's nothing short of a revolution. Gone are the days when buyers had to conform to an inconvenient process in order to acquire a new car. Today, you're in the driver's seat (no pun intended). You decide when, how, and where your transaction happens.
From shopping through delivery, online sellers have perfected the concept of convenience selling. This is a consumer-driven change that's focused on eliminating headaches and simplifying car buying. Why waste your valuable time driving to multiple dealers or scrolling sketchy online classified ads? Join the revolution and put your trust in an online automotive retailer.