7 Best SUVs to Buy Used for Indiana Weather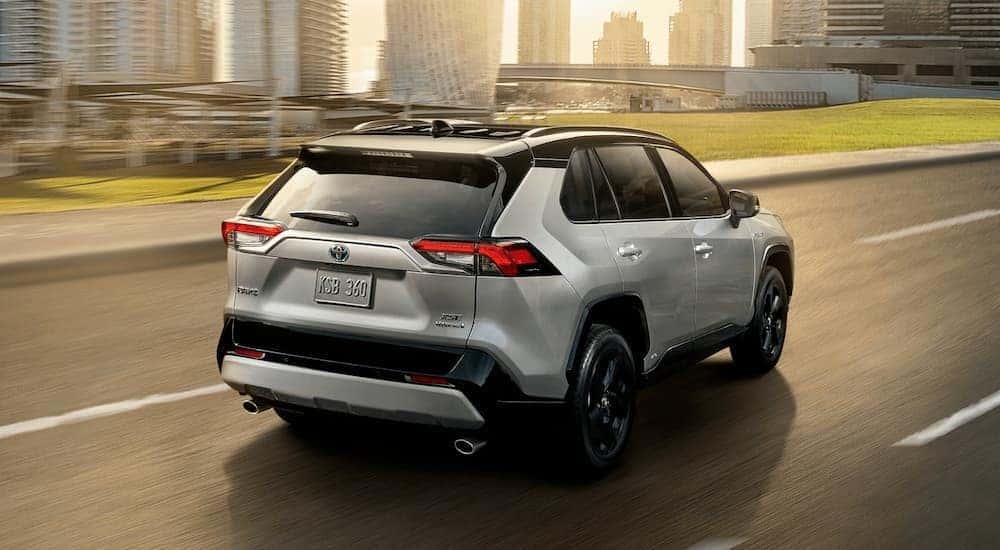 Buying an SUV that can handle the weather in a northern state deserves a little research before you go searching for used cars for sale in Indianapolis. With such wide ranges of temperature and weather, you want an SUV that can handle road conditions like deep snow or slush but will also manage well during heavy rain from summer storms. The wind is another factor to consider from both summer and winter weather, and high-profile vehicles like SUVs tend to suffer from getting battered in the wind on the road. With all this to consider, which vehicles are the best SUVs for Indianapolis drivers? We made a list of 7 SUVs that have features suited to handling northern weather patterns and that also make good city driving with a smaller footprint. Each model included in the following list shows features from the 2019 model year, but you can still find many of these features on older or newer models.
#1. Subaru Forester
One of the best features of a Subaru Forester is the full-time all-wheel drive which comes as standard across all trims. Unlike part-time all-wheel drive, full-time all-wheel drive means every wheel is engaged with torque at all times so the Forester can power through almost any snow, mud, or slush. The Forester also boasts one of the highest ground clearances in this list at 8.7 inches as standard.
It's powered by a four-cylinder engine across its lineup and includes standard safety features like hill descent control, auto emergency braking for both front and rear, and has Subaru X mode for improved traction control. Available features like heated seats in front and rear, a heated steering wheel, and a rear camera washer are found on upper trims. In general, the Forester is nearly as capable as a Jeep for performance in adverse conditions, though it does have a high profile of 67.5 inches which is an issue in high winds. Its length of 182.1 inches is about average for a five-seat SUV, making it fairly easy to park.
#2. Toyota RAV4
The ever-popular Toyota RAV4 delivers excellent performance with its available part-time all-wheel drive, though the standard powertrain is front-wheel drive. With part-time all-wheel drive, the RAV4 will send most of its power to the front wheels, supplying power to the rear wheels only when the sensors suggest they need it. Toyota powers the five-seat RAV4 with a standard four-cylinder engine, but a hybrid system is available.
Standard ground clearance of 8.1 inches is fairly good. Standard LED headlights are great for visibility, along with other standard safety features like hill descent control, a Multi-Terrain Select system, torque vectoring, and all-terrain tires. Available connected services and heated front and rear seats make the RAV4 good for travel in adverse or chilly conditions. Its height of 67 inches makes the RAV4 one of the taller vehicles in this list, which means drivers can expect buffeting in windy conditions, but the length of 180.9 inches means it's average in size for relatively easy parking.
#3. Honda CR-V
Though not as high a seller as the RAV4, the Honda CR-V certainly has its own loyal customer base due to the brand's safety and reliability. Travel with the CR-V in adverse weather should be fairly good with the available part-time all-wheel drive and improved ground clearance of 8.2 inches, though front-wheel drive and 7.8 inches of ground clearance are standard.
The CR-V is powered by a standard four-cylinder engine, with a turbocharged engine available. Safety features like auto emergency braking, front collision warning, and automatic high beams are part of the many features dedicated to the CR-V's performance in adverse conditions. LED daytime running lights make the CR-V more visible, and available HondaLink service means buyers have the option of access to emergency assistance if needed. Heated front seats and remote start are features available to make winter days more comfortable, though the height of 66.1 inches makes the CR-V a higher-profile vehicle that may be affected by high winds. Its length of 180.6 inches makes this five-seat SUV an average length that should be easy to park.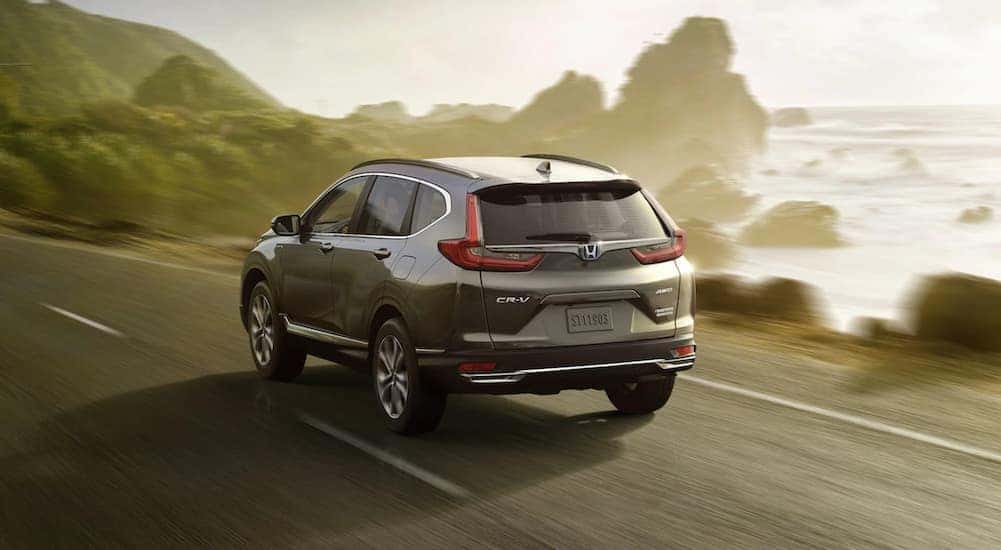 #4. Mazda CX-9
The Mazda CX-9 is another SUV with a fairly high ground clearance of 8.8 inches, which is great for wintery or muddy conditions if equipped with the predictive all-wheel drive system. Standard is front-wheel drive, and even though the all-wheel drive has intelligent sensors to mitigate the loss of traction, power still mainly goes to the front wheels overall. With a standard turbocharged four-cylinder, the CX-9 is a seven-seat SUV with a lot of pep for passing on the highways.
Other standard features like a smart key and all-season tires are great for wintry or rainy days on the road, and available traction assist offers improved performance for more peace of mind. Heated front and rear seats and a heated steering wheel can make cold days more comfortable, and standard safety features like torque vectoring, Smart City Brake, and collision warning are part of a larger system that makes the CX-9 a reliable vehicle for mitigating accidents. At a height of 69 inches, the CX-9 is one of the taller SUVs on this list, and its length of 199.4 inches makes it the longest and potentially most troubling to park. On the other hand, it is a three-row SUV for those who need more space for passengers.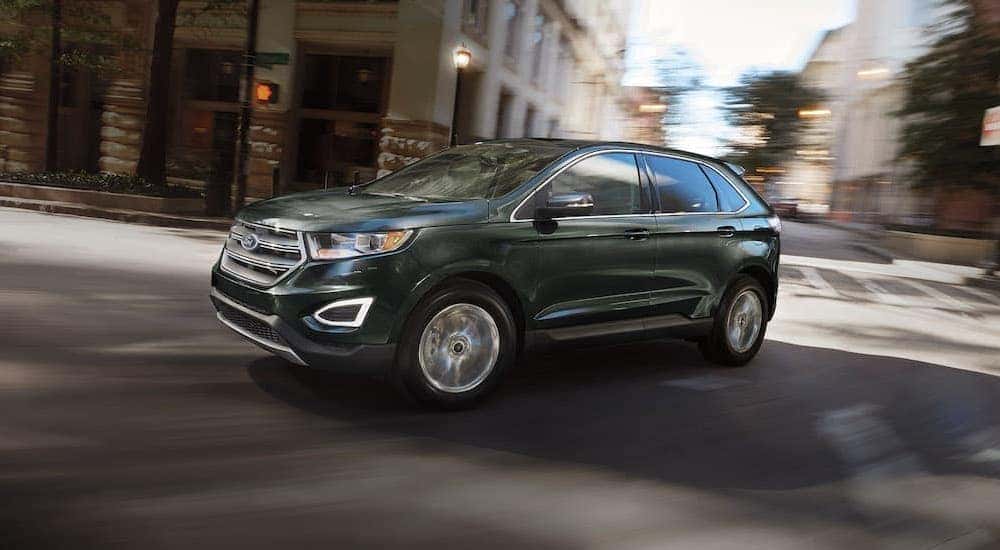 #5. Ford Edge
Ford has a good handle on producing SUVs that perform well, and the Edge is no exception. With a ground clearance of eight inches, the Edge is still high enough to manage snow and mud, and the available part-time all-wheel drive should make quick work of powering through weather-related conditions. Front-wheel drive is standard, along with a turbocharged four-cylinder engine. An available V6 engine is an option to provide more power with all-wheel drive, plus the standard safety features like roll stability control, torque vectoring control, and a limited-slip differential to mitigate the loss of traction.
Available features like a camera washer, heated seats, and connected services offer comfort and peace of mind, and this is one of few SUVs that offers rain-sensing wipers as standard equipment, a plus for those stormy driving days. At a height of only 63 inches, the five-seat Edge is lower profile and less likely to be buffeted by high winds, though it does have a longer length of 188.8 inches to keep in mind for parking duty.
#6. Nissan Rogue
Nissan is a brand gaining ground in the market, and the Rogue is a popular SUV for its many tech and safety features that can be had for a lower price point in comparison to its competitors. Its ground clearance is a little lower at 7.8 inches, but its available all-wheel drive system performs well in snowy and muddy conditions. Front-wheel drive is standard, which is where the power will be diverted most of the time. The Rogue is powered by a standard four-cylinder engine, though a hybrid powertrain is available for savings on fuel.
Standard safety features like a forward collision warning, cornering brake control, and a limited-slip differential make this a robustly equipped SUV for handling adverse road conditions. Available features like heated front seats, remote start, and LED headlights offer more comfort and visibility in upper trims. At a height of 66.3 inches, the five-seat Rogue is still tall enough to be higher profile and could experience wind buffeting, but its length of 184.5 inches makes it average for parking.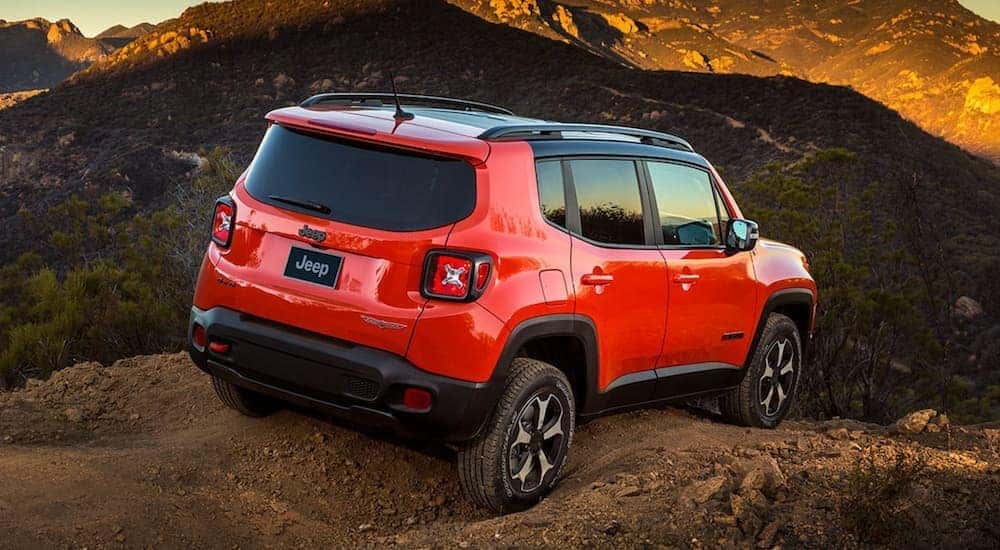 #7. Jeep Renegade
Few SUVs can compete with the performance of the Jeep brand, and the Renegade is a five-seat SUV with off-road capability that earned a Trail Rated badge for its Trailhawk trim. Standard ground clearance for most trims is only 6.7 inches, but the Trailhawk is lifted to 8.7 inches with its upgraded suspension. Front-wheel drive is standard, as is a four-cylinder engine to power the Renegade. Four-wheel drive is available for all trims and is standard for the Trailhawk.
Features like heated exterior mirrors and LED daytime running lights are standard, and available LED headlights, heated front seats, and a heated steering wheel provide comfort for winter days and improved visibility overall. The Trailhawk provides extra equipment like skid plates, a transfer case, and hill descent control as part of the improved performance capability that includes fording water. Safety features like collision warning, roll stability control, and electronic brake force distribution are standard for all trims. The height of 66.5 inches and the boxy frame of the Renegade are likely to make this SUV more prone to the effects of high winds, but its short length of 166.6 inches will make it the easiest of the SUVs on this list to park.