7 Years to Pick or Avoid For a Used Chevy Equinox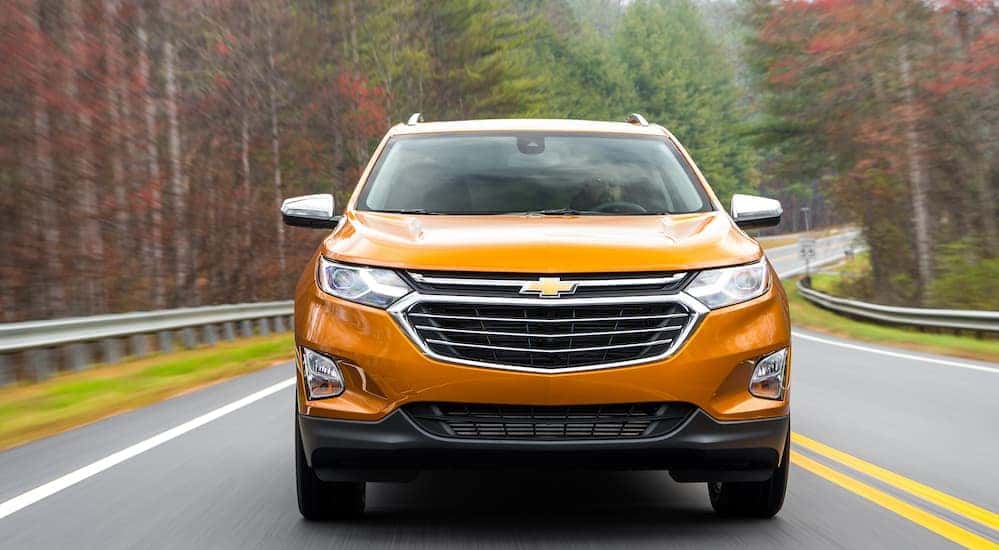 Over the last 15 years, the Chevy Equinox has been one of the most popular crossover SUVs on the market. When you're looking at used Chevy SUVs for sale in Indianapolis, you will no doubt see a lot of Equinoxes out there from a wide range of years and in various trim levels. Figuring out which one is right for you can be a lot of work and often requires careful research and thorough consideration of exactly what you need in a vehicle.
That being said, narrowing down your options to certain years can make your life a lot easier while looking at these vehicles. Whether you are shopping with us at Online.cars or you're interested in buying from someone else, we want to help you make sure you find the right vehicle. So, when you're looking at used Chevy SUVs for sale in Indianapolis, particularly at a used Chevy Equinox, keep these years in mind. We've selected a few of our favorite years that you should watch for and pick, as well as a couple that we would recommend you avoid – or at least consider with caution.
Top Picks – The 2011 Chevy Equinox
Although the second-generation for the Chevy Equinox kicked off with the model year 2010, we suggest going for a 2011 model instead. There were a number of improvements made to the Equinox for its second-generation, which make it a great choice when you're looking at used Chevy SUVs for sale. Among them are impressive engine options that included a 2.4L I4 engine and a 3.0L V6 with surprising horsepower and torque for such a slight vehicle.
Reviews for initial models of the second-generation Chevy Equinox, such as 2011 models, complimented the quiet and spacious interior along with a driving experience that was just plain fun. Since these models are nearing a decade in use, you can find them very reasonably priced, and they often hold up well if they were well taken care of. There were numerous trims available at the time, and while you won't find safety features and tech options like newer models might have, there was still plenty to appreciate about these vehicles.
Top Picks – The 2013 Chevy Equinox
Although it would be a few more years until the Equinox received a mid-cycle refresh, a new engine option was added in 2013 that makes it quite noteworthy. If impressive power and a sporty driving experience are something you're looking for in used Chevy SUVs, then a 2013 Equinox can be a great choice. A powerful 3.6L V6 engine was introduced for that year that offered up to 301 hp and 272 lb-ft of torque. Since this was only an available option, you'll need to pay attention to any used model you look at to make sure it has the engine you want.
2013 models also had a dual-player DVD entertainment system introduced. Impressive safety features like a lane departure warning, forward collision warning, and rear park assist were also introduced for the 2013 Equinox. All of this adds up to a great model that you can often find at a very good price.
Top Picks – The 2016 Chevy Equinox
Our last pick for a second-generation model would be one from 2016. This year saw a mid-cycle refresh for the Equinox, with a new grille, new headlights, and other updated exterior features. The inside also received a once-over with additional storage options, a new gear selector, and the removal of door lock buttons from the dashboard. A new trim called L was introduced as the base model, and the Premier took over as the highest trim level for 2016.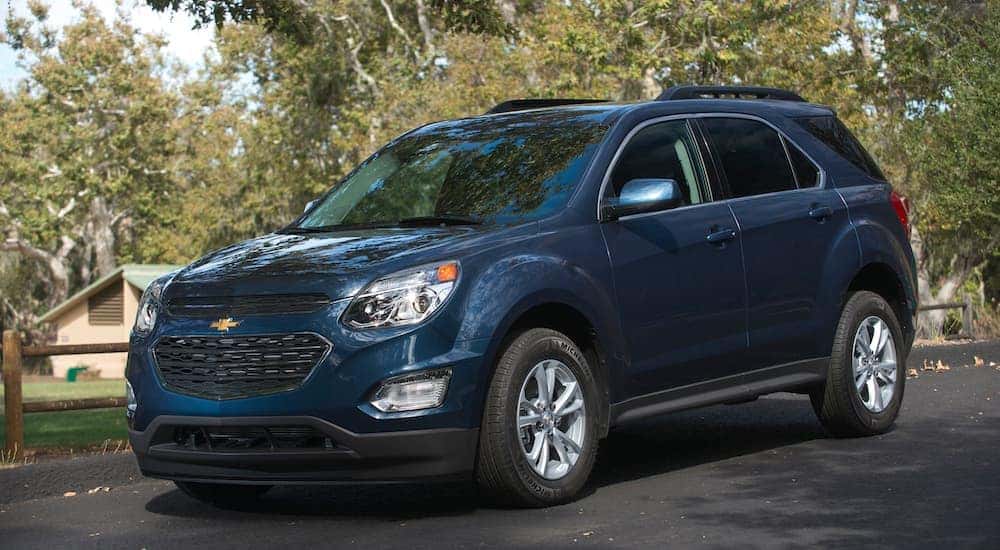 Top Picks – The 2018 Chevy Equinox
If you're looking for a newer model when shopping used Chevy SUVs, then keep your eye out for 2018 models. The third-generation for the Chevy Equinox kicked off with 2017 models, but we like the 2018 a little more. There were a lot of different trim levels available on these models, so keep that in mind as you look at all of your options.
One thing to note is that the 3.6L V6 engine previously available in the late second-generation did not carry over to the third. There were three engines available, including a 2.0L turbocharged I4 that offered excellent horsepower, though slightly less than the older V6. With the third-generation, you gain access to excellent safety features, however, including a surround-view camera, low-speed automatic braking, and a safety alert seat that uses vibrations to warn you of dangerous conditions. Just keep in mind that a 2018 model will still be pretty new and cost you quite a lot more than much older used Chevy Equinoxes.
Top Picks – The 2008 Chevy Equinox
Finally, we have one year from the first-generation that deserves some attention, and that's the 2008 Chevy Equinox. This is about as far back as you should go for used Chevy SUVs unless you're willing to put some work into your vehicle or you find something with low mileage. The first-generation received some significant updates in 2008, making this a good year to watch for. You'll definitely save some money choosing a vehicle that is more than a decade old, but be mindful of models with the 3.4L engine, as these sometimes had issues with the head gasket.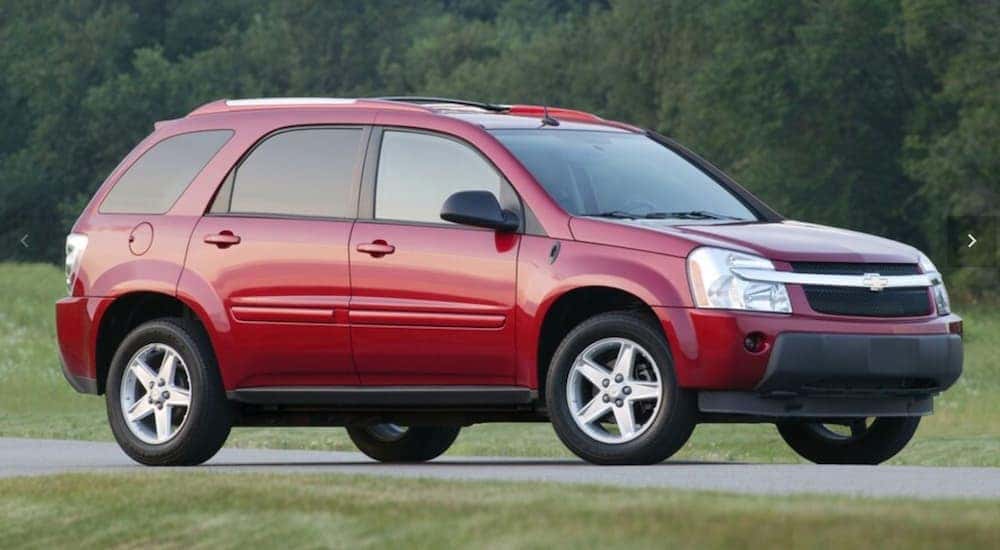 One to Avoid – The 2005 Chevy Equinox
This is the first year of the first-generation for the Chevy Equinox, and there are a number of reasons to avoid this one, or at least to proceed with caution. As the first year of a generation, there are often technical and mechanical bugs that need to be worked out, so later years are usually a better choice. The 3.4L V6 engine that was standard on 2005 models was reported to have issues with the head gasket failing, same with other models with the same engine. If you do choose a model from this time and with this engine, then make sure the head gasket has been replaced – otherwise, plan to do it yourself.
Shopping for Used SUVs for Sale in Indianapolis
Here at Online.cars, we are a completely online dealership meaning you never have to leave the comfort of your couch, desk chair, or even your chair at a local coffee shop. We offer convenient delivery and peace-of-mind guaruntees, so you don't have to worry about purchasing a car online. Companies like Amazon allow you to return items you purchase online, and we do the same. We have a 3 day/300 mile money-back guarantee for every vehicle purchased through us. We also provide a guaranteed clean Carfax vehicle history report and even guaranteed credit approval. At Online.cars are happy to help you with all of your used-car-shopping needs. Please contact us for more information and have a look at the great used Chevy Equinox models we have available.