Best Used Trucks For Louisville Drivers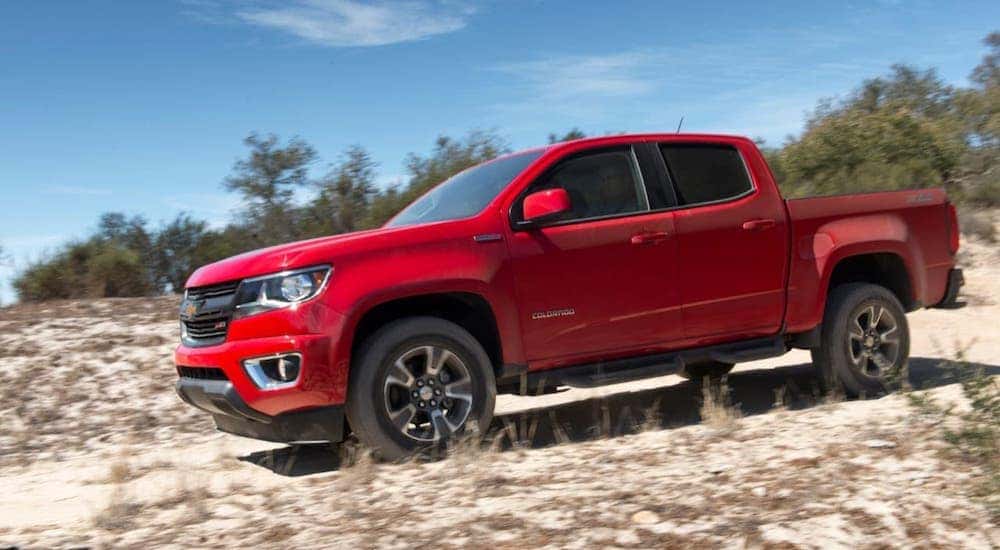 At Online.cars, we have a nationwide search tool so you can find exactly what you're looking for, no matter where you are. If you're seeking used trucks for sale in Louisville, for example, you've come to the right place. Within our selection, we have pickup trucks from all of your favorite big-name brands so you can find terrific automobiles such as the Chevy Colorado or the Ford F-150. Both of these trucks come highly recommended, and we suggest you check out the 2017 F-150 and 2018 Colorado, in particular.
What Trims Are Available?
With the 2017 Ford F-150, there are six trims available, not including the Raptor, along with four ample powertrain configurations. In addition to this, the Ford-150 also grants you three different cabs to select from and three different bed sizes. For the 2018 Chevy Silverado, there are two cab configurations, each with a different bed-size. Additionally, there are three available powertrains and five trims.
The trims for the Silverado include the base model and is then continued by the WT, LT, and the popular off-road-oriented Z71 and ZR2 trims. When purchasing a used 2017 F-150, the base model is XL and then succeeded by XLT, Lariat, and King Ranch, and the venerable Platinum and Limited trims are at the top. This does help to simplify the shopping experience, but you may also prefer the wide range of options that the Ford F-150 will grant you.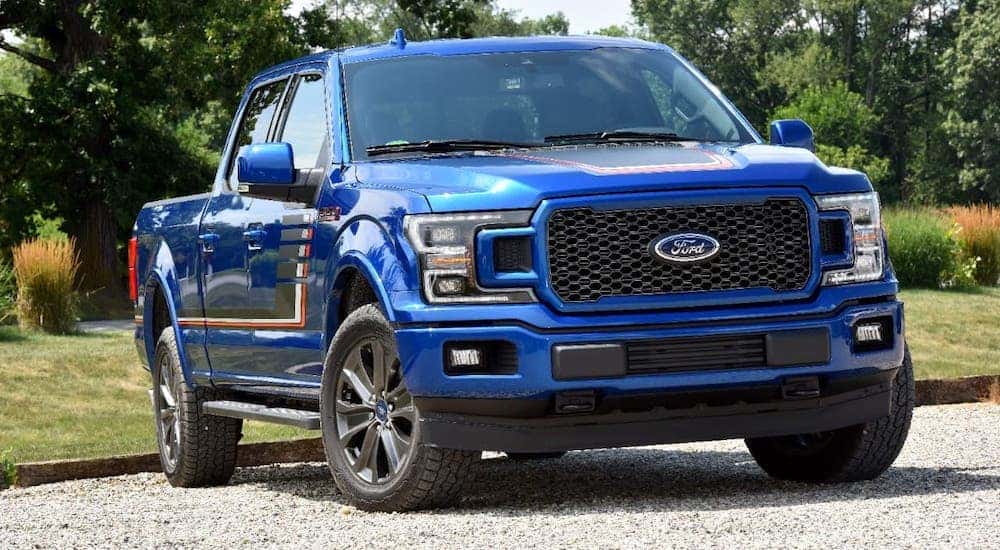 Plenty of Performance
Although the 2017 Ford F-150 and the 2018 Chevy Colorado are not brand new vehicles, they still perform quite well. As previously mentioned, there are three different engines you can equip your Chevy Colorado with and a whopping six different powertrain configurations for the Ford F-150.
Starting with the base engine of the Chevy Colorado, you'll get a 2.5L 4-cylinder engine that produces 200 hp and 191 lb-ft of torque. On the Ford F-150, the base engine is a 3.5L V6 that yields up to 282 hp and 253 lb-ft of torque that is paired with a six-speed automatic transmission. Drivers who are seeking a manual transmission will have the option with the Chevy Colorado's 2.5L engine.
For the Chevy Colorado, a 3.6L V6 is the next available engine and comes paired with an 8-speed automatic transmission. This engine can produce up to 308 hp and 275 lb-ft of torque. If you are interested in towing, this engine allows for a maximum trailering capacity of 7,000 lbs. Additionally, this engine helps to provide the lineup with terrific fuel-efficiency for its class with EPA-estimated ratings of 18 mpg city and 25 highway.
The Ford F-150 offers two EcoBoost V6 engines: a 2.7L and a 3.5L. The 3.5L engine produces an impressive 375 hp and 470 lb-ft of torque. With this engine equipped, the Ford F-150 can tow upwards of 12,200 lbs, vastly outperforming the Chevy Colorado's maximum towing capacity, thus being better-suited for heavier workloads.
The only turbocharged engine on the Chevy Colorado is a turbo diesel 2.8L 4-cylinder engine that can produce up to 186 hp and 369 lb-ft of torque. It's worth noting that there is no diesel-powered engine for the F-150 for the 2017 model year. However, the diesel-powered engine in the Chevy Colorado is highly fuel-efficient with EPA-estimated ratings of 22 MPG in the city and 30 MPG on the highway. Also, this diesel engine assists in increasing the maximum towing capacity to 7,700 lbs.
If you're seeking a truck with a V8 engine, then you're better off purchasing the 2017 Ford F-150 over the 2018 Chevy Colorado. As mentioned, there is no diesel-powered option for the Ford F-150 for this model year, but its available V8 more than makes up for it with 385 hp and 387 lb-ft of torque. This engine comes paired with the same 6-speed automatic transmission as the previous engines.
Interior & Cargo Space
Opting for the standard 2018 Chevy Colorado will only grant you two seats within the cabin. However, depending on your configuration, you can fit a maximum of five passengers. The interior manages to remain spacious, but this will be dependent on which cab size you opt for. For example, the Extended Cab grants 41.4-inches of front-row headroom and 36.8 inches of headroom in the back, while the Crew Cab decreases the rear headroom to 38.3-inches. The Crew Cab offers more legroom than the Extended Cab with 45-inches up front and 35.8-inches in the back as opposed to the Extended Cab's 28.6-inches in the rear-row. For the Ford F-150, the base model can fit three passengers but depending on the build, this truck can handle up to six passengers.
Of course, since both the 2018 Chevy Colorado and 2017 Ford F-150 are pickup trucks, drivers rely heavily on the included cargo beds. The Chevy Colorado will give you two different bed-sizes, depending on which cab size you select. Choosing the Extended Cab will give you a 6'2" long bed, while the Crew Cab allows you to select between the same 6'2" long bed or a shorter, yet still versatile 5'1" bed. With an Extended Cab and the 6'2" long bed, the Chevy Colorado has a maximum payload capacity of 1,566 lbs. Going for the Crew Cab instead will give you a maximum payload capacity of 1,516 lbs with a 6'2" bed and 1,574 lbs with a 5'1" bed.
The 2017 Ford F-150 comes in three different bed lengths. Starting with the smallest of the three, you can fit your F-150 with a 5'5″ long bed that provides 52.8 cu.ft. while the 6'5″ bed grants 62.3 cu.ft. Lastly, the large 8' long bed gives you a large 77.4 cu ft of available cargo space. Much like the towing situation between these two trucks, the Ford F-150 offers greater cargo capacity in addition to more towing power. However, the Chevy Colorado remains a fantastic truck that would be a much better fit for someone looking for a smaller truck.
A Hassle-Free Shopping Experience
By shopping with us at Online.cars, you'll have an extensive catalog of vehicles to choose from, including sedans, SUVs, and of course, trucks. In addition to our nationwide search and our competitive prices, we also offer free home delivery to make the entire process that much easier. Our website is a quintessential online shopping tool that allows you to filter out your results to better match your interests, and you can even apply for financing directly through our site. You never even have to leave your home to find your next new vehicle.
Driving around Louisville in either the Colorado or the F-150 will provide you with an unforgettable experience. However, we offer makes and models of all kinds, so you will have an endless list of options right at your fingertips.