Best Used Vehicles: Made In Texas Edition
They say everything is bigger in Texas, and that reputation certainly extends to the state's automotive industry and Dallas online car sales. While it can't quite compete with the historic manufacturing strength of states like Michigan, Texas has been on the come up in recent decades as more and more automotive brands set up shop in the state. A business-friendly environment, vast pool of skilled workers, and centralized location have made Texas one of America's new automotive hotbeds. It's the country's sixth-highest when it comes to automotive manufacturing employment and second in terms of transportation equipment export value.
While those numbers are slightly padded by the presence of some more niche automotive equipment manufacturers like Peterbilt and Caterpillar, the passenger vehicle market holds its own with three major automakers currently setting up shop in the Lone Star State. General Motors and Toyota have long maintained a strong presence in the state, and electric vehicle trailblazer Tesla made waves in 2020 with the announcement that it would set down roots in Austin with the new Gigafactory Texas.
The presence of these major brands means that Dallas drivers looking to get behind the wheel of a homegrown vehicle will find no shortage of great used vehicles to check out from GM, Toyota, and even Tesla, but which model is right for you? Let's delve into each brand's history in the state's manufacturing industry and see which models offer the best value for drivers looking to show their longhorn loyalty without breaking the bank.
GM
General Motors is the state's most established resident by a longshot when it comes to automotive manufacturing. GM first came to Texas over 100 years ago, building a factory in the Dallas-Fort Worth area in 1917 to produce the Chevrolet Series 490 and Series F. The factory closed following a flood in 1922, but that didn't sap GM's ambition to operate in the state, with the automaker cutting the ribbon on the Arlington Assembly plant in 1954.
Originally designed to produce both automobiles and aircraft, the Arlington plant eventually shifted to focus entirely on the automotive sector, building a range of popular models from GM brands, including Buick, Oldsmobile, Chevrolet, and Cadillac. GM shifted its focus once again in 1997, retrofitting the Arlington plant to produce the brand's increasingly popular line of SUVs. The 250-square-acre plant remains GM's primary SUV factory to this day, producing all of the nation's Chevrolet Tahoe, Chevrolet Suburban, GMC Yukon, and Cadillac Escalade models.
Chevy Tahoe
Built In: Arlington
The Chevy Tahoe and its nearly identical cousin, the GMC Yukon, have long been popular options in the competitive full-size SUV category. The models are noted for their body-on-frame construction, which not only allows the SUVs to perform some of the heavy lifting usually accomplished by traditional pickups but also goes a long way in ensuring reliability over the vehicle's service life. These factors combine to make the Tahoe the best-selling full-size SUV on the market, regularly outselling the rest of the category by almost a two-to-one margin. This level of popularity means that Chevy Tahoes are typically easy to find on the used market, driving down prices and making the SUV an exceptional value.
The fourth-generation Tahoe, which debuted in 2015, was a return to form from GM following its financial woes connected to the 2008 market crash. After a few lean years, the automaker knew it needed to deliver a statement of intent proving that the brand was back and better than ever, and the fourth-generation Tahoe did just that. Outfitted with all the cutting-edge tech of the day, the new Tahoe was anything but an austerity model featuring keyless entry, push-button start, and a refreshed interior that brought a little panache to the cabin. Chevy has since introduced the fifth-generation Tahoe starting in 2021, but for drivers seeking an older model that features many of the advanced features found on some of today's best-selling SUVs, the fourth-generation Tahoe is a solid pick.
The 2019 Tahoe earns the nod when it comes to fourth-generation models, largely thanks to its impressive V8 engine options and a new 10-speed automatic transmission. The 2019 Tahoe comes standard with a 5.3-liter V8 producing 355 horsepower, which can be upgraded to a massive 6.2-liter V8 with 420 horsepower should drivers demand even more power. Chevy has included a new 10LXX transmission for 2019, offering improved flexibility and fuel efficiency over the previous 8 and 6-speed options. The addition of two gears still might not make the Tahoe the greenest SUV on the road, but it's a nice touch that further increases the value of the popular SUV.
Of course, Chevy has provided all the tech one would expect from a 2019 model, including the usual complement of services like Android Auto, Apple CarPlay, and even a WiFi hotspot for on-the-go browsing. These features, along with the SUV's generous three rows of seating, make the Chevy a popular choice for growing families who are seeking plenty of passenger room and the digital distractions necessary to keep kids occupied on long road trips.
The 2019 Tahoe is available in three trims (LS, LT, and Premier), giving buyers plenty of options when searching our online used inventory. Despite being the entry-level trim, the LS comes with a surprising list of standard features that include remote start, a rear seat reminder, and Chevy's Teen Driver technology which allows parents to set speed and audio volume limits. The LT trim steps up the luxury factor with the addition of heated leather front seats, second-row buckets seats, and a Bose premium nine-speaker audio system. Those seeking the ultimate Tahoe experience will want to check out the Premier, which adds ventilated front seats, additional driver safety features, and a Bose Centerpoint surround sound 10-speaker premium audio system.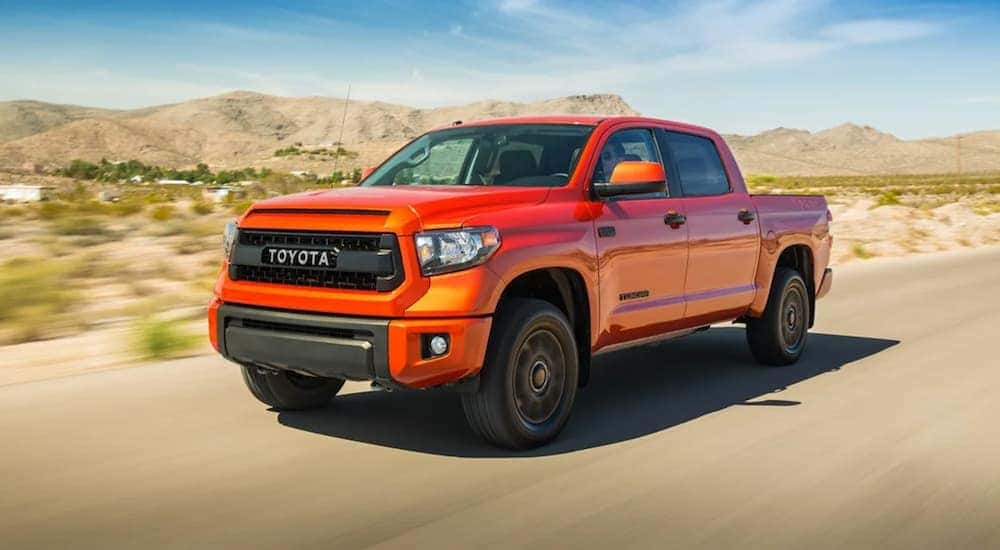 Toyota
When Toyota began the search for a site to house a new assembly plant in 2002, Texas was on the shortlist. After careful consideration and some generous subsidies from the state, Texas beat out the likes of Alabama, Arkansas, and Tennessee to become the home of a new factory focused on producing the brand's second-generation Tundra pickup. The 2-million-square-foot facility, located on the south side of San Antonio, broke ground in 2003 and quickly began to grow beyond Toyota's initial expectations.
While the Japanese automaker had initially planned to build a relatively simple assembly plant on the site, ambitions grew, and before you knew it, the project evolved into a full automotive production side that included several on-site suppliers. This upgrade also meant that the factory, which was initially designed to produce 150,000 units per year, would actually have the capacity to churn out some 200,000 units. After four years of construction, the first Toyota Tundra rolled off the line, cementing the brand's presence in the state and allowing Toyota to boast about its new Made In Texas bona fides.
This was not just another factory opening for Toyota but represented a true sea change for the company, with one executive calling the Tundra debut the "single biggest and most important launch in Toyota's 50-year U.S. history." Early success with Tundra production led Toyota to expand manufacturing to include the midsize Tacoma pickup from 2010 to 2021 and the full-size Sequoia SUV starting in 2022.
Toyota Tundra Platinum
Built In: San Antonio
Named MotorTrend's Truck of the Year for 2008, the second-generation Tundra was seen as something of a minor revolution in truck circles. The full-size pickup was larger than its first-generation forerunner, increasing the Tundra's functionality and making it especially appealing to those seeking a hardy, reliable work truck. Toyota leaned into this appeal, including a number of features that make the Tundra a particularly good pick for those working in construction or the trades. From the extra-large door handle and deck rail system to an integrated tow hitch and headrests designed to accommodate hard hats, the Tundra was designed with the job site in mind.
While many automakers tend to roll out fairly bare-bones work trucks in a bid to keep prices low, the Tundra is a notable exception in the category. The full-size Tundra includes a long list of standard features, including an electronic automatic limited-slip differential, traction control, Vehicle Stability Control, brake assist, tailgate assist, and more. Toyota refreshed the second-generation Tundra in 2014, making some notable changes to the exterior while giving the interior a complete redesign to include all the latest bells and whistles, including new seats, gauges, controls, and dashboard, to name a few.
The Tundra Platinum is a standout in our used inventory for two reasons: luxury features and a reputation for reliability. For drivers who might not want to drop the cash on a new luxury vehicle, the used market offers some real bargains, opening the door to trims and features that might have been well outside their price range. Pickup trucks, in general, are also some of the most reliable vehicles on the market owing to their heavy-duty construction, meaning that the average truck is prone to outlasting some of the smaller vehicles on the road. This is especially true of models in the full-size end of the truck market, where durable body-on-frame construction is the norm. Simply put, trucks like the 2016 Tundra are made to perform some of the toughest tasks known to truck-kind, meaning they're more than capable of weathering a second life as a reliable everyday driver.
Debuting in 2013, the Platinum trim brings a host of high-end luxury features to the traditional working-class category, providing a refined ride that makes no sacrifices when it comes to power and performance. Exterior features include a chrome bumper, 20-inch wheels, and power moonroof, while the interior sees the addition of a JBL sound system with satellite radio, wood grain trim, door sill protectors, leather trim, and heated and ventilated bucket seats.
The 2016 Tundra Platinum is our pick for one of the best Texas-born models on today's used market. The pickup is just old enough to command a reasonable price and just new enough to include many of the safety and security features drivers have come to expect. The Tundra's massive 5.7-liter V8 provides all the power you'll need for towing or hauling, while the luxurious cabin makes the pickup a veritable home away from home. Drivers can access the Toyota Advanced Entune infotainment system via the 7-inch touchscreen and drive with confidence thanks to the inclusion of the Toyota Safety Sense P (TSS-P) driver safety technology. TSS-P features the Pre-Collision System, Lane Departure Alert, Automatic High Beams, and Dynamic Radar Cruise Control––a thoroughly modern suite of safety tech that wouldn't be out of place on some of today's models.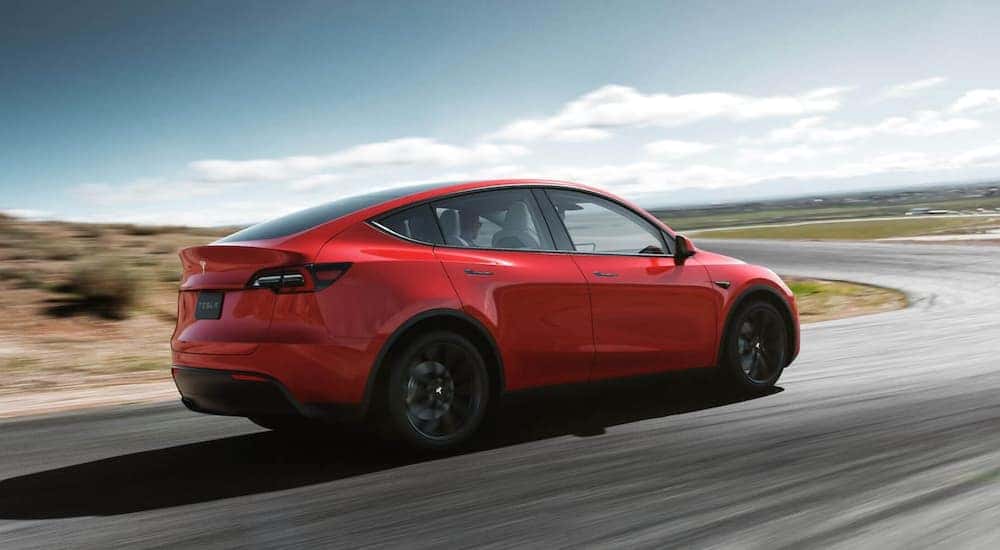 Tesla
Tesla garnered plenty of suitors when it announced plans to build a new facility to produce its Model Y electric vehicles, with Austin, Texas, Nashville, Tennessee, and Tulsa, Oklahoma all making the shortlist. While Tusla seemed like an early leader in the race, with the city going as far as giving its Golden Driller statue a makeover to include an Elon Musk caricature that included changing the "Tulsa" on its belt buckle to read "Tesla," the EV manufacturer ultimately ended up selecting Austin as the home of its fifth production facility. The Gigafactory Texas is notable for the fact that it not only serves as the automaker's new corporate headquarters but is also the second largest building in the world by volume because, as we said, everything is bigger in Texas.
While the plant's production is currently limited to the Model Y compact crossover, Tesla has big plans for the Austin-based facility, where it also intends to produce the Model 3 sedan, Tesla Cybertruck, and Tesla Semi. The first Model Y rolled off the production line in August 2021, but many more Tesla models are sure to follow, with Musk estimating a total investment of $10 billion that will create as many as 20,000 jobs in the Greater Austin area.
Tesla Model Y
Built In: Austin
Okay, so we have to admit that we are cheating a little bit with this one. While it is true that Model Y models will be made in Austin, the ones from 2020 and 2021 that you can find used will have come from the Fremont factory in California. However, it won't be too long before we start seeing some Texas-made models on our site as well, with new ones beginning to leave the factory floor, so we still think it's a fitting pick for our Dallas customers. The Model Y might not be the easiest vehicle to find in our own inventory, but we will help you get your hands on one through our Patented Nationwide Search. The Model S, Model X, and Model 3 are more likely to pop up when browsing pre-owned Tesla (and are all excellent choices for Dallas drivers), but we just couldn't resist the chance to take a closer look at the new model built right here in Texas.
The Model Y essentially serves as the crossover version of the brand's popular Model 3 sedan. It's got the same lightning-quick acceleration, covering zero-to-60 in just 3.6 seconds (4.4 on the Long Range version, which sacrifices power for range) though the higher center of gravity results in a ride that's slightly less responsive than the Model 3. While details are still scant at this time, it looks like the Texas-built Model Y will differ a little from its Fremont, California-built predecessors. The crossover will cover zero-to-sixty in five seconds, feature a new magnetic center console armrest and cargo cover, as well as refreshed styling that includes new black leather seats and Alcantara fabric lining the door panels.
Most importantly, the build quality seems to be an improvement over previous models. Tesla has long garnered criticism for its fitting and finishing abilities, with critics pointing to the wide gaps between panels on many of the brand's vehicles, so the Texas-built Model Y marks a significant improvement in the eyes of many. Moving manufacturing to Texas is making this model better than ever (though the original Model Y is still one we'd recommend to our Dallas friends looking for an EV).
Electric vehicles are often judged first and foremost by their range, and the Model Y excels in this respect. The Performance trim delivers up to 303 miles on a single charge of its 75 kWh battery, while the Long Range trim ups the figure to 326 miles. The Long Range not only boasts improved range, but a host of high-end features to boot that include 20-inch wheels, a lowered suspension, faster acceleration, a selectable Track mode, and an improved top speed of 145 mph. There's also a Standard trim version of the Model Y with a range of 244 miles, but in a move that's less surprising given Tesla's track record for unorthodox business practices, the $60,000 model is limited strictly to Tesla employees.
Get a Texas-Built Used Model
For Dallas drivers seeking a reliable, affordable vehicle that shares their own Texas roots, the online used vehicle market can be a great alternative to the dealership route. Used vehicles are a considerable value given the fact that they've already weathered their most rapid period of depreciation, meaning drivers can get the exact same model without paying a premium for being the first one behind the wheel. Sure, that new car smell might not be quite as fresh as it was when the model left the factory floor, but such vehicles offer a significant discount for drivers who have the patience to search through used inventory.
With so many major auto manufacturers calling the Lone Star State home, there are plenty of models to choose from. Whether it be a practical-yet-capable family SUV, a luxurious work truck primed for a second life as a daily driver, or one of the latest EV creations, there's a Texas-born vehicle out there to fit every driver, and the team at Online.cars is ready to help you find it.