Break the Mold: Buy a Bolt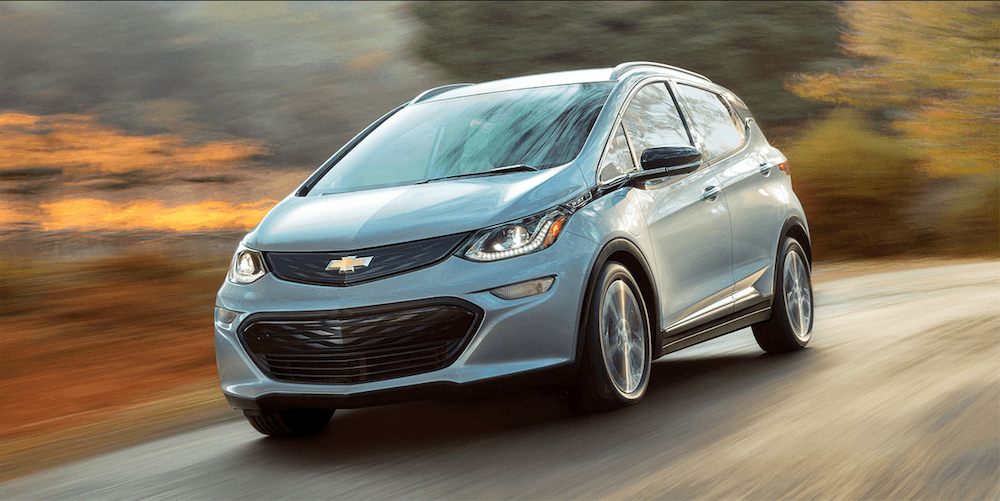 Look, we could beat around the bush all day, but why don't we all just cut to the chase. You want a new car, right? So why waste your time browsing thousands of makes and models, styles and trims? Why not just go straight for the best of the best, the future of the car industry? That's right, savvy shopper – it's time for you to consider the 2017 Chevy Bolt. Of course, there are tons of awesome Chevy cars on the road and sitting in your dealer's inventory… but the future is here – in fact, just ask our friends at Volvo.
Why the 2017 Chevy Bolt, you say? Well, we say, because right now the Bolt may just be the best car on the market. Don't believe us? Okay – well then how do explain the fact that the Bolt has been named one of the 10Best Cars of 2017 by Car And Driver, the 2017 Green Car of the Year, the 2017 North American Car of the Year and finally, MotorTrends' 2017 Car of the Year?
Coincidence?
I think not.
Awesome & Affordable
It's not just that the Bolt offers an affordable option for those looking to get into an electric car – it's that the Bolt offers an affordable option for those looking to get into an electric car with a whole lot of style and luxury thrown in. Is it a Tesla? No, but then again, it also doesn't cost almost $70,000. A base model Bolt (which you'll see is a fully-loaded Bolt) has a starting MSRP of $36,620 – and that's before you factor in any federal or state tax credits. Plus, you know, all that money you'll save on actually gassing up the thing.
We don't want to spend our time with you drilling the benefits of electric – you probably already know that the Bolt gets insane mileage (238 miles on just one charge) and that it's more environmentally-friendly than pretty much every other car on the market. What you probably don't know, though, is just how nice the interior of the 2017 Chevy Bolt is. Let's take a peek inside…
The 2017 Chevy LT: Anything but LighT on Features
Most base models are just that – basic. Not when it comes to the base model Chevy Bolt, called the LT. For starters, the 2017 Chevy Bolt not only seats five passengers, but it manages to do so comfortably – in fact, according to US News & World Report, the Chevy Bolt is "one of the roomiest subcompact crossovers on the market." Thanks to the Bolt's 36.5 inches of backseat legroom, no matter if you're riding shotgun or assuming the role of backseat driver, you'll have ample space to settle in for the ride.
The generous space also extends to the cargo hold, where you'll find 16.9 cubic feet of space in the hatchback's trunk. Fold the backseats down though, and you've just extended your cargo space to 56.6 cubic feet. Not shabby at all – in fact, it's pretty much right on par with the rest of the class.
Creature Comforts
Of course you want to be comfortable in your car, but you also want some of the goodies that make commuting tolerable. Luckily, Chevy has loaded up the Bolt with tons of awesome features, many of which are surprising to find on a base model. For example, the 2017 Chevy
Bolt LT comes standard with Apple CarPlay and Android Auto. It also has the Chevrolet MyLink infotainment system, Bluetooth connectivity, AM/FM and satellite radio, a six-speaker sound system, steering wheel-mounted audio controls, a 10.2-inch touchscreen and two USB ports.
Aside from awesome audio features, the Bolt has a 4G LTE Wi-Fi hotspot, voice recognition, a rearview camera, automatic climate control, proximity keyless entry, cruise control, a push button start, and cloth upholstery. Chevy has also equipped the Bolt with Teen Driver assist, which can be programmed to set both speed and sound limits to help your teen driver from becoming a distracted driver.
Splurge a Little on Serious Safety
We all know it's not just teens that have accidents though, and no matter if it's you or someone you love driving your Bolt, you want to know they are as protected as possible while on the road. That's why it's worth it to purchase the Driver Confidence package for $495. The Driver Confidence Package will add rear parking sensors, lane change assists, blind spot monitoring and rear cross traffic alerts to your Bolt, allowing you to focus on the road ahead of you with a little help from some top-tier technology.
Of course, you can have all the safety technology in the world in your car, but the question really becomes: is the car itself safe? Well, considering the 2017 Chevy Bolt is not only the first, but it's the only all-electric vehicle to be awarded by the Insurance Institute for Highway Safety this year, we feel pretty confident in stating that yes, the 2018 Chevy Bolt is, in fact, a safe car. Actually, the IIHS named the Chevy Bolt a Top Safety Pick thanks to its excellent performance in all five crash categories (small overlap front, moderate overlap front, side, roof strength, and head restraints and seats). When it comes to safety, the 2017 Chevy Bolt is undeniably holding its own across both the electric and the compact car class.
Reliable Ride
With a 3.5 out of five predicted reliability rating from J.D. Power and Associates, you can rest easy knowing your ride is reliable. It's slightly more reliable than most other cars in its class. Many people who are considering driving electric are worried about the battery dying, but with an eight-year/100,000-mile warranty on the battery pack and electric motor, you really have nothing to worry about.
Best Buy: Bolt
We know there are a lot of amazing cars on the road today, especially when it comes to Chevy cars. But with a big push towards electric vehicles driving the industry, we think the 2017 Chevy Bolt has staying power (read: high resale potential) and is truly one of the best cars to come out of this model year. Don't waste your time looking at the same old models that have flooded the market year after year. Give something new a try – check out the 2017 Chevy Bolt and see for yourself what all the hype is about.