Buy a Used Chevy Silverado 1500 Online: Top 10 Interior Features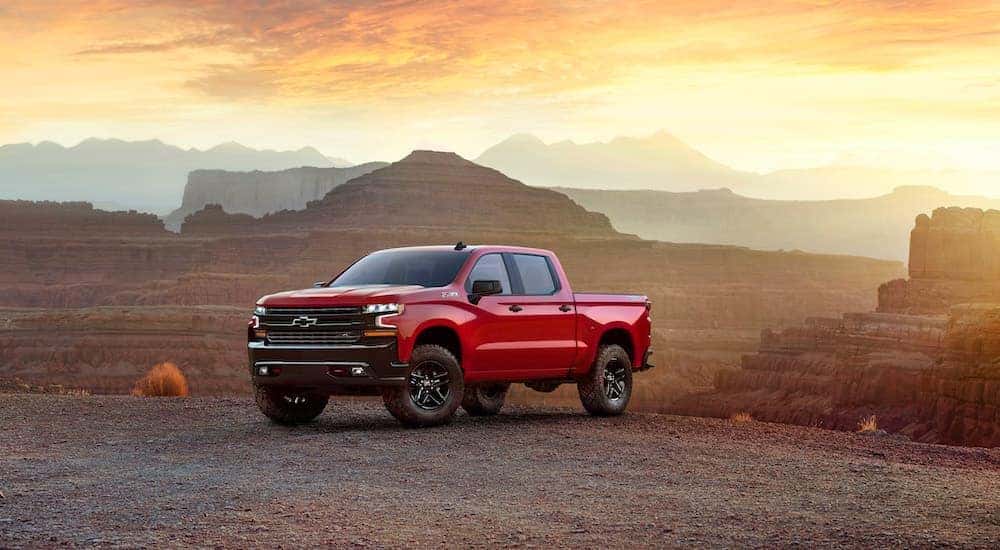 If you are looking to buy a used Chevy Silverado 1500 online, then you have come to the right place. Online.cars make it easy for you to peruse through our pre-owned inventory to see which vehicles match your specific requirements. As for used Chevy Silverado 1500 trucks, we highly recommend searching for 3rd generation models. Produced from 2014 until 2019, these pre-owned pickups are equipped with advanced technology and are much more affordable than new models. You'll be surprised at just how many cool features you'll find on these trucks. That's why we put together a handy top 10 list of interior features that you'll find on 3rd-generation used Chevy Silverado 1500 trucks.
#10 – Bluetooth
Every trim level from the 3rd-generation comes with Bluetooth connectivity. This is something that may be harder to find on other competing trucks, especially on the base trim level. However, the engineers at Chevrolet know just how important hands-free technology is. It not only allows you to make and receive calls, but it also enables you to answer text messages and stream your favorite music straight from your phone. Whether you are taking the family on a weekend adventure or heading to a job site, you can stay connected at all times.
#9 – OnStar Telematics
Another incredible tech feature that you will find on every 3rd-generation Chevy Silverado 1500 truck is OnStar telematics. This doubles as both a safety and security system. If you have an accident, the system will notify emergency services and first responders immediately. You won't have to rely on strangers to call for help. Also, if your truck is lost or stolen, the OnStar system can be used to track it down. This can save you from a massive headache later on.
#8 – Wifi
If you are hoping to take connectivity services to the next level, then you are in luck. Every used Chevy Silverado 1500 from this production run also comes with an in-vehicle 4G LTE Wifi hotspot. Yes, this includes the base Work Truck trim! You can send emails or update your friends on social media. Having your own hotspot means that you'll get high-speed internet access wherever you go, so you don't have to keep using your data for everything.
#7 – Satellite Radio
For even more entertainment options, you can tune in to satellite radio on any trim level as well. Of course, every model comes with the standard AM/FM radio, but everyone knows that those old school stations aren't reliable everywhere. There is nothing more annoying on a road trip than being forced to listen to static for half an hour until you get back into range. With satellite radio, this is no longer a concern.
#6 – Rearview Camera
Now, we are getting into separate features. While newer used models will all have a rearview camera, some of the older ones (like 2015, for example) don't have the rearview camera on the base trim. However, it can be found on the second trim level and above. This handy feature allows you to see what's directly behind your truck before you back out of a crowded parking lot. You won't have to worry about fender benders anymore, and this feature can also be used to help you hitch to a trailer.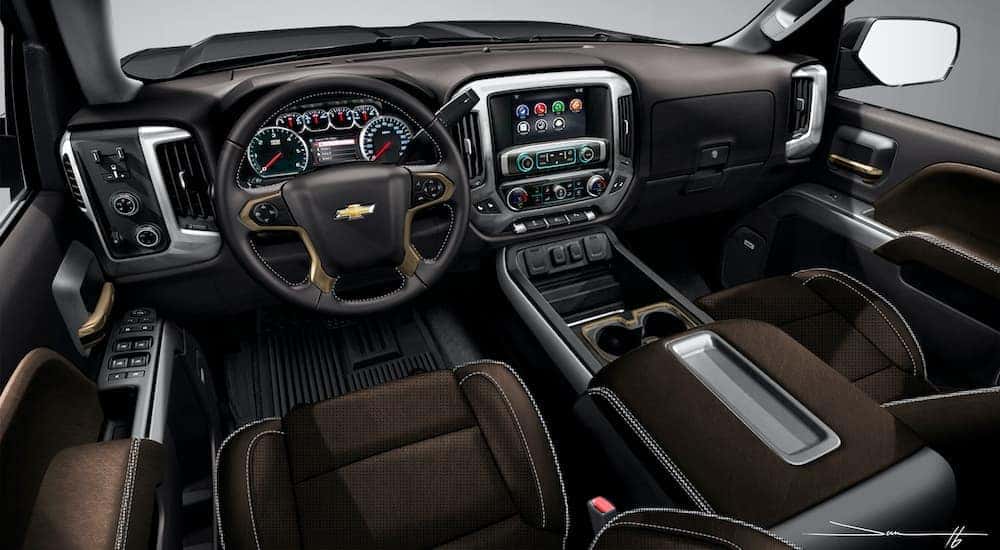 #5 – Dual-Zone Climate Control
Also available on the second trim level and higher, dual-zone climate control is a wonderful comfort feature to have. It allows you and the front-seat passenger to control your own heating/cooling settings. Essentially, it's like having your own personal bubble at just the right temperature. Most people find this feature to be more useful for long trips. You won't have to argue about the A/C again!
#4 – Heated/Cooled Seats
Some trim levels come with only heated front seats, and others come with both heated and cooled seats. This very much depends on which trim level you choose. However, temperature controls for the seats are quite a nice thing to have. You can stay warm in the winter and cool in the summer. It's even more ideal on trucks with leather upholstery. You won't have to worry about slipping onto scalding or frozen seats anymore.
#3 – Forward Collision Warning
Some higher trim levels are equipped with advanced safety features like forward collision warning. Using front-mounted sensors and a camera, this system will monitor the road ahead for any oncoming obstacles. If one is detected, the system will alert you to take evasive action. If no action is taken on your part, it will trigger the automatic emergency braking feature. This will bring the truck to a stop before an impact is made.
#2 – Lane-Departure Warning and Prevention
Another nifty safety feature that you might find on high-level Chevy Silverado 1500 trucks from the 3rd-generation is lane-departure warning and prevention. Using a series of sensors and cameras, this operation will monitor the lines on the road. If the truck begins to drift outside the designated lane, the system will alert you to correct the problem. If you do not get the truck back into your lane, the system will take control of steering briefly to bring you back into your lane safely. This advanced function was designed to help prevent side-swiping accidents.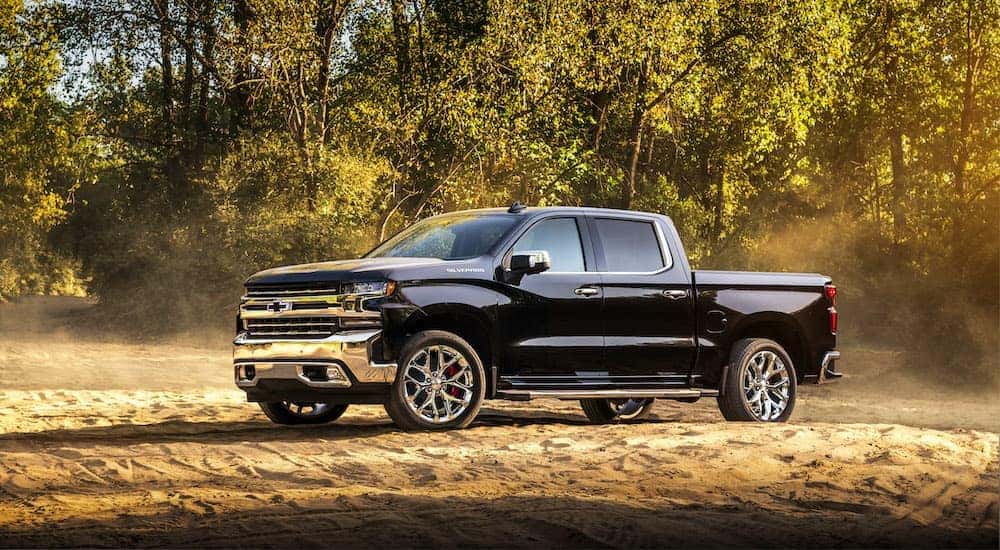 #1 – Cruise Control
There are two types of cruise control that you may find on a used Chevy Silverado 1500 from the 3rd generation. First is the regular cruise control function. This allows you to set your desired speed, and the vehicle will remain at that speed until you turn it off or press the brakes. The second type is the adaptive cruise control. While it still allows you to set your intended speed, it works a bit differently.
Adaptive cruise control uses a series of sensors to monitor the traffic ahead. If the vehicles in front of you begin to slow down, the system will automatically slow the truck down as well. This will help prevent accidents when traffic flow changes and still allows you the freedom that cruise control provides. This particular feature is equipped on higher trim levels on newer used models.
Find a Used Chevy Silverado 1500 Online
Are you interested in buying a used Chevy Silverado 1500 online? Our experts are here to help. We have the best online selection of used vehicles in the country, and we don't just list everything we find for sale. We have a very rigorous selection process that only allows the best used vehicles to pass through into our inventory. You don't have to worry about lemons or salvaged models finding their way into our vehicle selection.
If we don't currently have the specific make/model/year/trim you are looking for, the search doesn't end there. We will use our patented Nationwide Search software to find exactly what you are looking for. Our program enables us to scour the country, looking through over 200,000 used vehicles to find the perfect match. Once we've found it, our team will organize delivery to bring the new-to-you vehicle right to your home or office. Get in touch with us today to get started looking for your dream ride!