Buy Here Pay Here (But Why Bother?)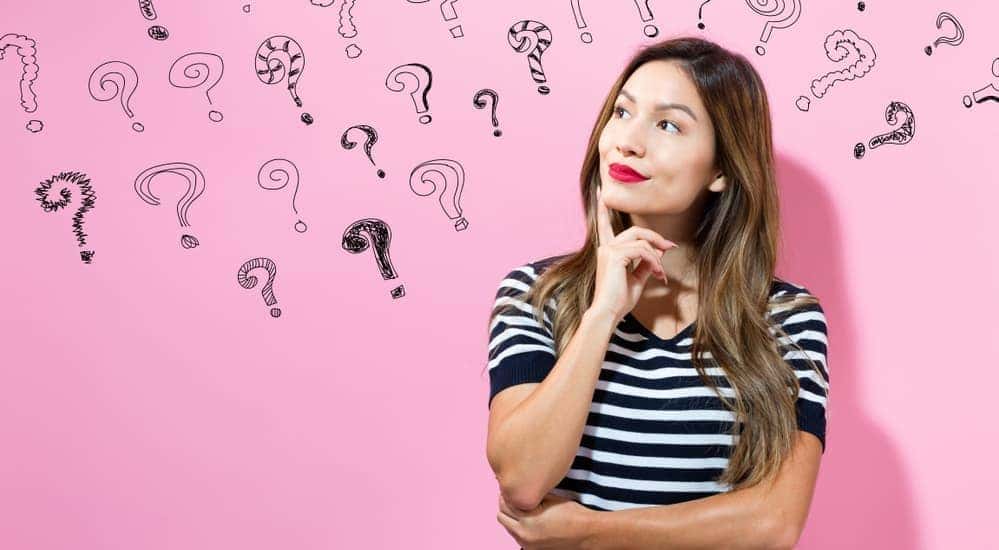 At one point in history, the "buy here pay here" financing availability that was offered by car dealerships was a great way for someone with less than stellar credit to get access to a reliable vehicle. Nowadays, both motor vehicles and alternatives to buy here pay here have come a long way. To ensure that everyone knows all of the options available at their fingertips, we'd like to take the time to explain some of the merits of the alternatives you have to the buy here pay here program in Columbus, Ohio. Spoiler alert: there are modern solutions that make the buy here pay here program a thing of the past.
What is Buy Here Pay Here?
For those of us that need to get caught up to speed, "buy here pay here" is a marketing tactic that car dealerships used to help get new customers into their dealership. The campaign was specifically targeted at consumers that were worried that their credit history might affect their ability to secure a loan.
Through the program, dealerships are usually able to secure credit based on other factors that the dealership deems reliable. On paper, and to a lot of Americans with no alternative, this process worked smoothly for years and helped plenty of people get to work on time. The consumer benefitted, and the dealership benefited, so that's a win-win right? Let's take a quick look at the negatives before coming to a final conclusion.
When it comes to just about every buy here pay here campaign, the consumer is at the complete mercy of the dealership. While a dealership could potentially secure you a loan without checking your credit, you can bet your bottom dollar that they are going to ask for every other facet of your life to compensate.
You'll be handing over pay stubs, explaining your bills and handing over any other information that the dealership wants. Once the dealership knows absolutely everything about you and your situation, they have all of the ammo that they need to put you in a car that is in the dealership's best interest, not your own.
When you walk into a dealership with nothing but good credit or a massive down payment, you get to make the dealership work at your pace. When the dealership knows everything about you, they know what vehicle they can put into your driveway.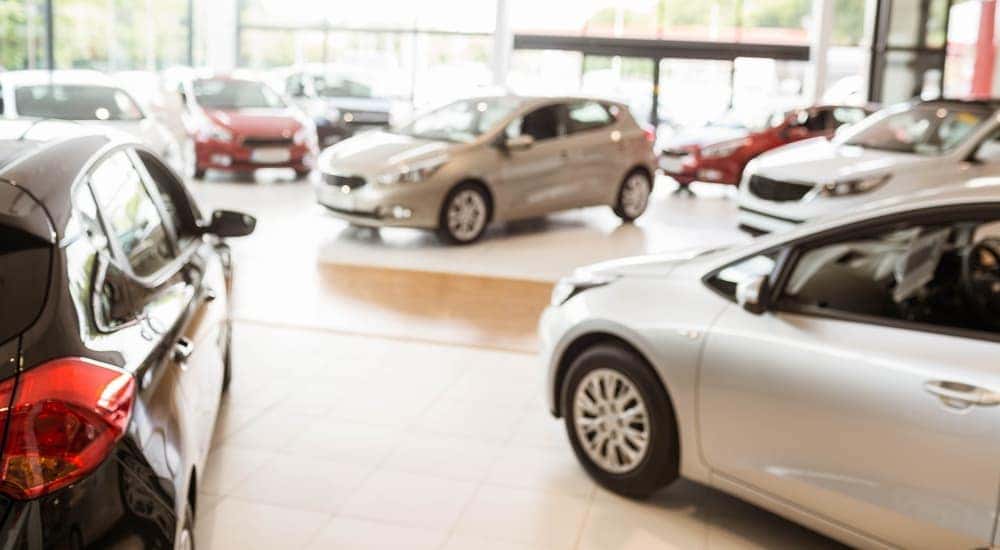 So What Are The Alternatives?
If you are going to replace a system that appears to be a "win-win" for all parties involved, you better have come up with something truly special. Amazingly, here at Online.cars, we've managed to do just that.
All of the negatives that we just reviewed in regards to the "buy here pay here" program have been solved.
Our solution allows consumers to view all of our inventory before they apply for a loan directly on our website. We also have many tools available, so that you can run plenty of numbers yourself prior to submitting any paperwork or speaking with any representatives.
If you enjoy doing some of the legwork yourself, our website has plenty of features to give you all of the information that you need. You can check our inventory at any time, we like to keep our prices transparent, and you'll never see a price change just because you allow us to pull your credit. We have plenty of filters available, allowing you to find the exact style and color that you want.
If you're not sure what you can afford, we have two major features that you can take advantage of to determine if a vehicle is in your budget. If you already have the vehicle that you wish to purchase in front of you, you can use our "payment calculator" to determine if that vehicle is in your budget.
If instead, you don't have a specific car in mind but want to know what options are in your budget, you can try out our "Shop By Payment" tool to see a list of all of your potential options. Know that you can afford a payment of $150 a month? We'd love to show you what we currently have in stock to accommodate you.
The advantages don't stop there either. In addition to seeing all of your available options without the need to submit any information, you'll eventually be given access to your own representative, endure other exciting perks, and your purchase can be delivered directly to your driveway.
That's right; once you've come to the conclusion that Online.cars is the right option for you, you can begin to submit your information either on our home page or on the webpage where your desired car is hosted. As soon as one becomes available, a representative will reach out to you to make sure that all of your questions have been answered and to help streamline you through the whole process.
With each Online.cars purchase you make, you will receive a lifetime mechanical warranty at no charge, your vehicle will come with a clean Carfax, and you can save yourself some money through our exciting referral program.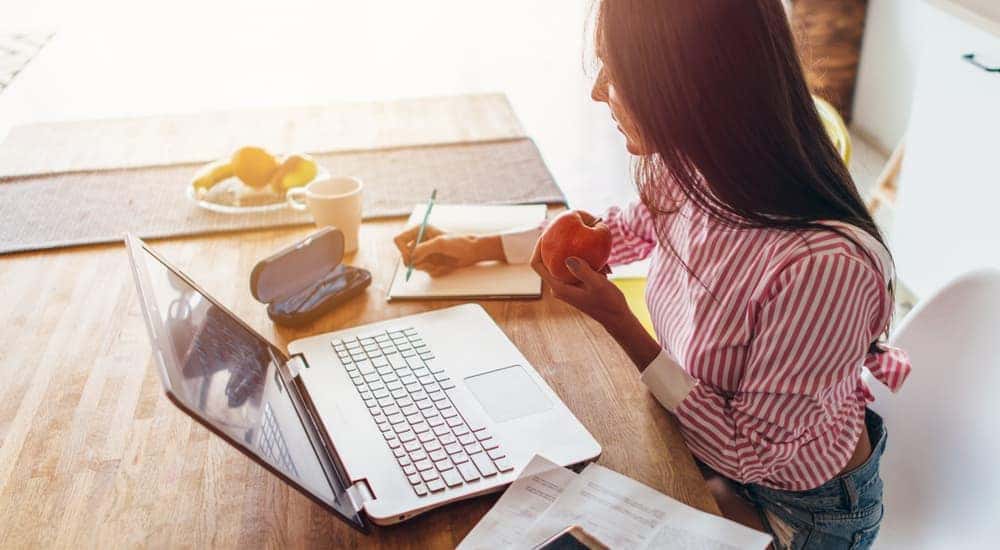 Finally, when all of the paperwork has been signed, and everything appears in order, you can become the talk of your neighborhood when we drop off your new vehicle in our mobile showroom. That's right; every vehicle we sell has the option to be delivered in a large glass trailer with a bow atop the roof of your car.
Why Would Anyone Choose Anything Less?
As established, the buy here pay here method of purchasing a vehicle from a dealership was a great option back before the time of instant information in our pockets. Nowadays, however, there are just simply better and easier options for the consumer. If your credit is less than ideal, then you owe it to yourself to check out the options available to you at Online.cars. Don't hand over all of your personal information over to a stranger that wants what's best for their business. Instead, use all of the tools and resources available to you to make sure that you don't regret your purchase in only a few years.
Whereas other dealers can force consumers out of every available dollar they can, we operate on a different philosophy. We truly want you to enjoy your purchase and have a great vehicle for the life of the car. We know what it's like to need to walk into an uncomfortable dealership to discuss topics you aren't very savvy about. We decided to fix all of these long-standing issues so that consumers can continue to make purchases without worrying about pushing debt into the future.
Allow us to build a relationship with you that will last for decades to come. When you shop with us, you'll always be in charge of the pace, all of your questions will be answered promptly, and the entire process will be as transparent as possible. When we make everything this easy, why settle for the inefficiency of the alternatives? Apply now, and before you know it, you can have your new vehicle delivered right to your front door. Once it's in the driveway, the only limitation for your adventures is your own imagination.