Chevy or Ford? Why Should You Have to Choose?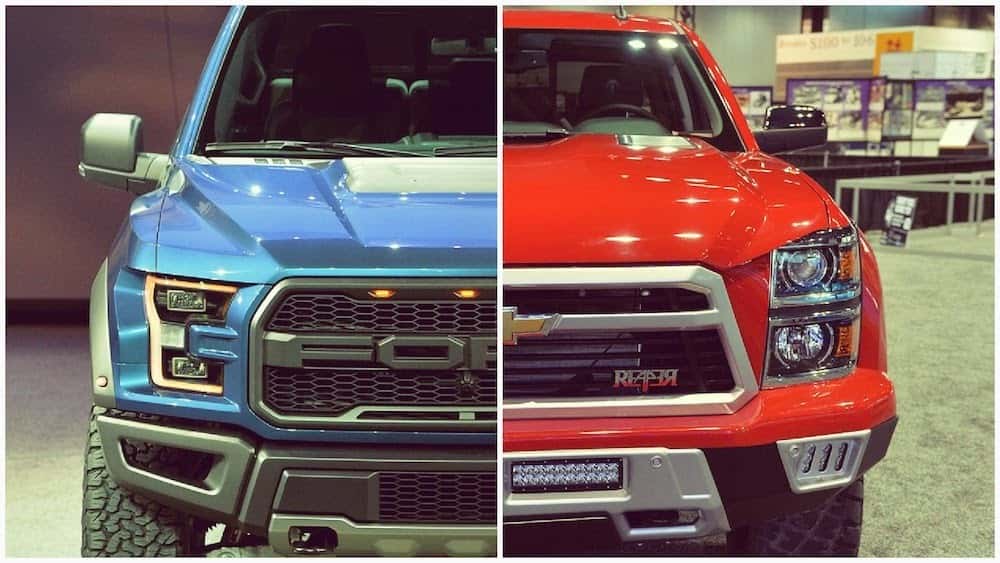 The longest raging war in American history has not been fought with weapons, but with innovation, design, engineering, and technology. While it certainly isn't the most important battle in our nation's history, the war between Chevrolet and Ford has been slowly unfolding for more than one hundred years right here on American soil. Pitting one automotive manufacturer against another, car shoppers are left with the choice between the blue oval and the iconic bowtie. Thanks to traditional dealership setups, drivers have been forced to choose one over the other, before even stepping foot on a showroom floor. But finally, there is a new car buying solution known as online.cars. Rather than pit Chevrolet against Ford, the web-based car finding service is providing a better way to locate that perfect new car. The newest battle in town is Kings Ford vs. online.cars – and all bets are on the future, not the past.
Chevy vs. Ford – Does it Even Matter Anymore?
Since 1908, these two major automotive brands have been head-to-head in a contest to win over the majority of American car shoppers. Sharing a home in the heart of the Midwest, Detroit wouldn't even be known as the Motor City without these two influential brands. Rather than continue the pointless tug-of-war game between two American-made car companies, why not turn our eyes away from the brands themselves, and refocus it on the way people are buying their new Chevy and Ford vehicles?
The very first car dealership opened back in the early 1900s, and while the sticker prices featured on the windows of the new cars for sale have changed significantly over the years, not much else has. While it hasn't been officially studied, we can bet that the car dealership model is one of the oldest surviving sales structures that has not experienced any real evolutionary changes since it was first introduced. At a time in our country when we expect our cell phones to be updated at least once a year, why don't we demand more from the places we purchase our vehicles from? Car dealerships aren't just outdated, they are archaic. Recent polls suggested that more drivers would rather undergo a root canal procedure than spend a day at a car dealership, which apparently shouldn't come as a surprise to the majority of people reading this. The unfortunate truth is that car buyers have been demanding a change for a very long time, and local dealerships like Kings Ford have simply ignored their pleas.
A local automotive group that focuses on selling Chevrolet cars, trucks, and SUVs, has not only heard the grievances of car buyers, but has responded with a real solution. Now, instead of Ford vs. Chevy, the battle has become Kings Ford vs. online.cars.
Choose online.cars for Complete Car Buying Freedom
A local dealer like Kings Ford can't help but be lumped with the majority of area dealerships that car buyers are becoming increasingly unhappy with. Sales tactics that insult the basic intelligence of car buyers are not only hurting those who are forced to sit through these morally loose pitches, but also the local economy. The new and used car industry is a multi-billion dollar enterprise, and serves as essential revenue to cities across the United States. When people would rather drive their current vehicle instead of having to head into a dealership to buy a new car, the local revenue that would have been generated by that purchase suffers.
online.cars not only provides a solution to the lack of current economic stimulation, but also serves as a catalyst for complete and total peace of mind in the car buying process. By embracing the new online.cars model for purchasing new and used cars, buyers are able to experience freedom and complete control throughout their entire car buying journey. Spending hours sifting through a limited inventory, before being placed at the desk of a salesman while sipping stale coffee, is no longer necessary. Thanks to online.cars, buyers who were jaded by a bad past dealership experience can obtain total confidence in their next new car purchase.
Chevy? Ford? online.cars Frees You From Limited Options
One of the major issues buyers have with using a local dealership like Kings Ford for their new car purchase is that they are immediately forced into choosing a side. By opting for Kings Ford, you are closing yourself off from even the possibility of buying a high quality Chevy brand vehicle. Kings Ford is not going to stock the newest Chevy models on their lot, just as a local Chevrolet dealership would not be caught selling a 2017 Ford Focus here in Cincinnati.
Instead of being pulled in one direction over another when it comes to a vehicle brand, consider instead what Kings Ford vs online.cars has to offer. online.cars offers local car shoppers the opportunity to explore every major automotive brand available in America. When a local dealer automatically narrows your search prospect to a single brand, why wouldn't you opt for a solution that is all-inclusive of every current vehicle manufacturer? By heading to the online.cars website and filling out a simple form, the highly inquisitive online.cars team will search through a nationwide database consisting of more than 100,000 new cars, trucks, and SUVs from every brand you can imagine. When you don't know the exact vehicle you are looking for, or when you have laser-focused specifics regarding the next car you want to buy, online.cars provides a tangible solution to both sides of this common equation.
Despite it's nationwide reach, online.cars is a locally run business. When you buy a vehicle through the online.cars web-based service, you are helping to stimulate the local economy, ensuring the future financial stability of the great city of Cincinnati.
Stop worrying about whether you should drive home a Chevy or a Ford, and instead research the importance of how you will buy your next new vehicle. After all, your experience as a satisfied car shopper matters more than anything else.