"Columbus Students: Don't Stress About No-Credit Car Loans!"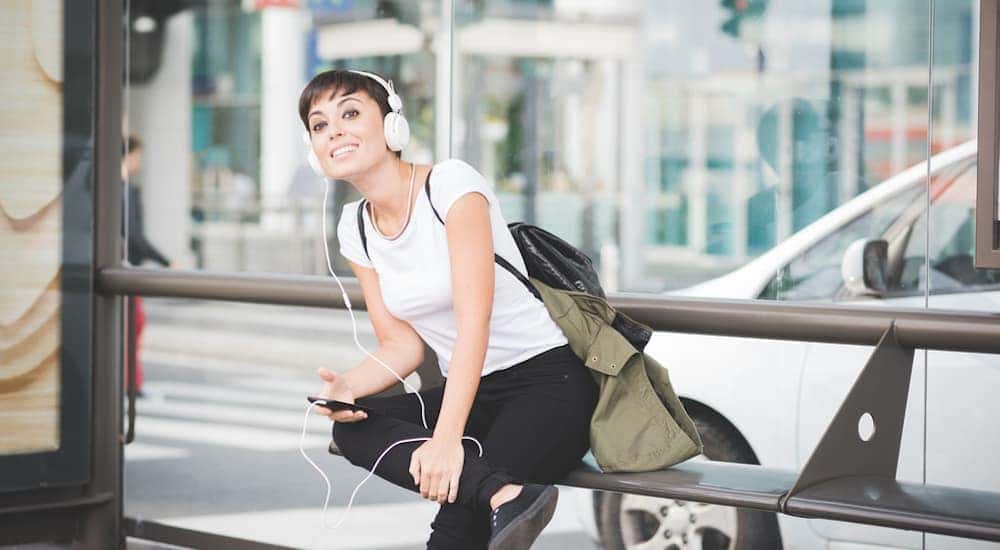 Ohio State University. Capital University. Franklin University. No matter where you attend school in Columbus, Ohio, we're sure you've come across a number of students who don't seem to have any issues affording a vehicle (thanks, parents!). Unfortunately, we don't all have those advantages. As a result, if you're in need of a vehicle in Ohio, you may find yourself seeking no credit car loans in Columbus. While this may sound like a confusing and unadvantageous situation to be in, neither of those sentiments prove to be true.
For starters, the entire concept of no-credit car loans isn't difficult to wrap your head around, and you'll find how you can make your current financial situation a lot more appealing. Furthermore, you'll find that your current financial predicament isn't all that bad. Just because you're in college and don't have any credit, it doesn't mean you can't afford a vehicle. In fact, businesses like Online.cars will be more than willing to work with you during your car-buying pursuit.
To get a better understanding of the no-credit car loan, we've provided some helpful hints below. After all, see why you should be turning to Online.cars for your next purchase…
#1: Establish a Budget
If you're in college or a recent grad, we can assume that you're not operating with an ambitious budget and that's okay! There are plenty of affordable vehicles (whether they be new or used) that will surely fit your budget.
However, since you are a bit limited financially, it's important to stick to a strict and accurate budget before you start hunting around for a car. For starters, figure out what your monthly expenses are, and subtract those from your monthly income. After accounting for any desired savings, you're looking at how much money you can realistically afford on a car.
If you exceed this budget, then understand that you're going to start diving into that savings. If you exceed the car budget and your saving budgets, then you should certainly reconsider. An inability to afford your monthly payments could end up having a devastating impact on your credit score.
When calculating the cost of your vehicle, you'll want to do more than account for your impending monthly payments. Make sure you've considered any necessary down payments, and make sure you've put some money aside for any unexpected repairs or maintenance.
Finally, while financing will provide you with an excellent opportunity to purchase a vehicle, you shouldn't take this advantage for granted. In other words, just because the financing allows you to afford the monthly payments, that doesn't necessarily mean that it's the logical route. Ultimately, these financing deals are accompanied by a solid chunk of interest, and you could be paying for the vehicle for the foreseeable future if you opt for an unadvantageous deal.
We're by no means saying that dealerships and/or financers aren't reputable; rather, we're just warning that this might not actually be the best course of action for you and your budget. It's up to you to understand all of the nuances of your impending transaction, so make sure that you're opting for a deal that fits within your budget.
#2 Do Some Research
This may seem obvious, but you'll be surprised how many of your younger peers head into the car-buying experience with little to no context. There are a variety of factors you'll need to get sorted before you even head out to a local dealership. By failing to do this research ahead of time, there's a good chance that you'll end up costing yourself a solid chunk of money.
For starters, research which vehicles would best fit your needs. If you're currently enrolled at a Columbus college, then you might only need a smaller, fuel-efficient sedan. If you're required to make daily treks through the snow, then perhaps an SUV or pickup truck is a more logical choice. Assuming you're operating on a budget, you should be valuing some attributes more than others. For instance, while the sunroof or infotainment system may be alluring, it's probably not worth the extra price tag. Meanwhile, reliability and safety are a pair of features that should be periodized.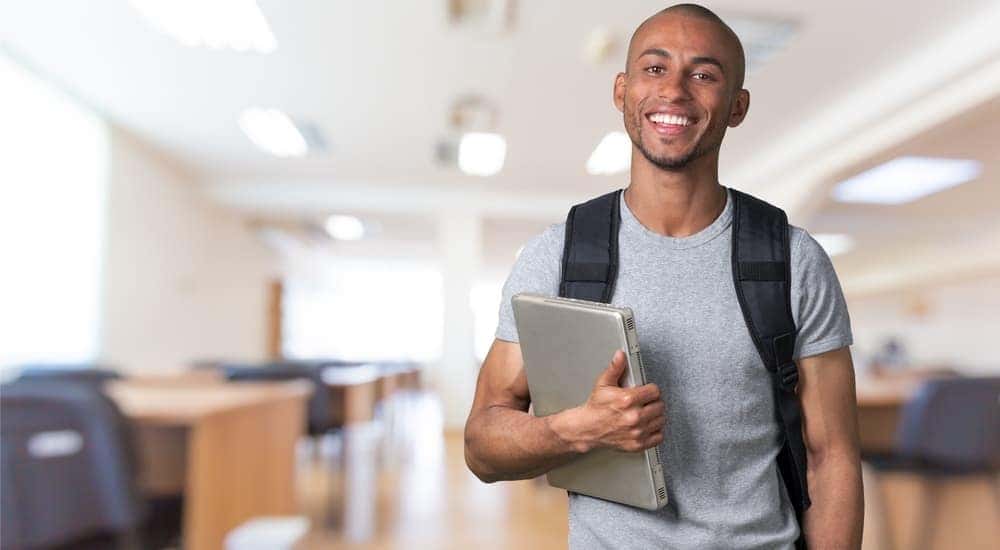 Once you're zeroed in on a specific type of vehicle, you can shift your focus to finding a specific nameplate that fits within your pre-set budget. If you're eyeing a specific make or model, make sure you have a solid understanding of the nameplate's asking price. This information could be vital during your negotiations, especially if you're haggling with a private seller.
Finally, before you decide to put on some pants and actually head out to a local dealership, you'll want to find that ideal seller. Fortunately, regardless of whether you're feeling lazy or motivated, there is one unconventional route that you shouldn't ignore: Online.cars. We'll touch on the advantages that this business provides at the bottom of the piece. However, you should know that the service promises optimal convenience and ease during your car-buying pursuit.
We're not saying you have to write an entire dissertation on your targeted vehicle. However, just a small bit of research could end up saving you a chunk of money at some point down the road.
#3: Prepare for Financing
As we touched upon earlier, you're likely going to need financing on your new purchase, and this can be easier said than done (especially if your current credit score is nonexistent). To review: financing is (most likely) necessary if you want to purchase a vehicle, as it's unlikely that you have all of the necessary money to afford the vehicle upfront.
However, these financing rates are accompanied by interest rates. Therefore, when all is said and done, you'll be required to pay more than the price of the vehicle via all of your individual monthly payments. While this obviously isn't ideal, it's ultimately the fact of the matter, and it's nothing to be overly worried about.
What you should be wary of is any ludicrously high-interest rates. Occasionally, dealerships or financial institutions will attach incredibly high-interest rates with their financing agreement. This is especially prevalent if your credit is in bad shape or is non-existent. While this may ultimately be your only logical route towards purchasing a vehicle, remember that you're still in the driver's seat. When all is said and done, there's nothing stopping you from walking away from negotiations.
New York. Columbus. Los Angeles. No matter where you're located, you can expect an easy financing experience if you opt for Online.cars. The business offers guaranteed credit approval, meaning they'll be willing to take you on despite your lack of credit history. They'll also provide you with a personalized and pre-qualified payment plan, meaning you can better plan your impending financial commitment.
Of course, Online.cars does more than provide financing incentives. Their convenience is unmatched, as customers can sit on their couch while completing their purchase. Meanwhile, Online.cars will be diving into their vast nationwide database to find a vehicle that fits all of your specific requests. If you're looking for a stress-free buying experience while also assuring that you're receiving your picture-perfect ride, there's no better option than Online.cars.
Now that you have a better grasp of no-credit car loans, it's time to check out Online.cars!