Explaining Why the 2017 Chevy Bolt Continues to Rack up the Awards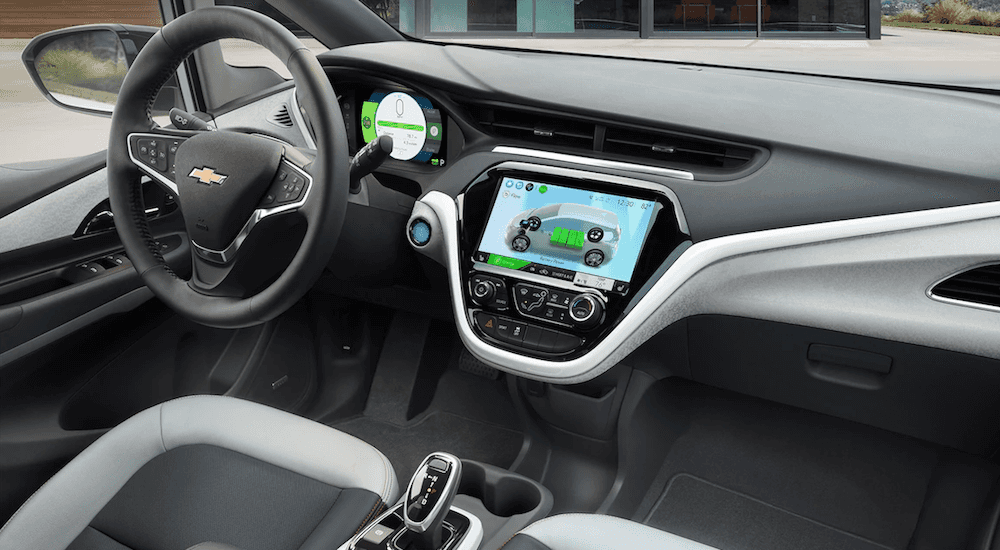 If you're familiar with the electric car segment, then you probably already know that the 2017 Chevy Bolt EV is one of the top offerings available. However, you might not be aware that the nameplate took home a number of impressive accolades over the past year, confirming its spot on the upper tier.
The vehicle ultimately took home an incredible six major accolades, including:
2017 Insurance Institute for Highway Safety Top Safety Pick
2017 Motor Trend Car of the Year
2017 North American Car of the Year
2017 Green Car of the Year (Awarded by Green Car Journal)
2017 Car and Driver 10Best
2017 Kelley Blue Book Resale Value: Electric
Of course, it only means so much when you see these awards listed. Rather, these various accolades are more impressive when you consider how varied they are. For instance, some of the awards recognize the vehicle's safety, while others focus on performance and electric capabilities. This truly just confirms how versatile the model actually is.
Below, we've explored why the nameplate has ultimately received these specific awards. Then, when you're ready to head out to a Columbus Chevy dealer, you'll understand why the Bolt is an ideal choice….
2017 Insurance Institute for Highway Safety Top Safety Pick
You might not necessarily associate an electric car with safety. Then again, the 2017 Chevy Bolt isn't your typical electric car. The vehicle is equipped with a number of notable safety functions that are intended to help drivers avoid accidents altogether. Inclusions like Forward Collision Alert, Low-Speed Forward Automatic Braking, and Front Pedestrian Braking can help reduce the chance of an accident, regardless of whether you're traveling in the city or on the highway. Meanwhile, the Lane Keep Assist (with Lane Departure Warning) and the StabiliTrak electronic stability control system will assure that drivers are remaining in their intended lane. Even inclusions like the Surround Vision technology, Rear Vision Camera, Rear Parking Assist, and Rear Cross-Traffic Alert will play a significant role in reducing pesky fender benders.
In the event that you do find yourself in a crash, the vehicle is equipped with a number of notable functions that should help to keep occupants protected. The 10 airbags should provide passengers with the optimal amount of cushion, while the high-strength steel frame shouldn't compromise during a crash. If help is needed, owners can utilize the OnStar Automatic Crash Response system, which will quickly contact emergency personnel and send them to the site of the collision.
2017 Motor Trend Car of the Year
Now, we're not entirely sure of Motor Trend's singular reason for selecting the 2017 Bolt EV as their car of the year, but we assumed the technological amenities surely played a major role in this decision. After all, the vehicle is equipped with a number of features that will improve the entire driving experience. For starters, drivers can access an array of applications via the 10.2-inch diagonal touch-screen, which proves to be intuitive and driver-friendly. If operators are looking to utilize their phone while they're on the road, then they can depend on the Apple CarPlay and Android Auto compatibility, which will seamlessly connect your smartphone to the unit.
The technological amenities go beyond the touch-screen. Customers can also opt for the brand's 4G LTE Wi-Fi system, which provides passengers with a strong wireless internet connection. With the ability to connect up to seven devices, your passengers will never be fighting over who gets first dibs on the internet.
2017 Green Car of the Year (Awarded by Green Car Journal)
The 2017 Chevy Bolt is the premier electric car, so it shouldn't be all that surprising that the model was awarded the Green Car of the Year accolade. There's no denying that this is well deserved, as drivers are unlikely to find a cleaner driving experience elsewhere. Considering its status as an electric car, drivers don't have to dirty the environment with their accompanying emissions.
Plus, the Bolt makes it so you won't have any issues charging that new ride. There are a number of charging docks available, providing drivers with whatever strength they're seeking. The offerings include
240-volt/32-amp charging unit
25 miles per hour of charge time
DC Fast Charging unit
90 miles in 30 minutes of charge time
Location-Based Charging unit
Flexible, can schedule charging to best fit your needs
Plus, thanks to the inclusion of the 25-foot-cord, drivers will never have issues accessing a public charging station. Alternatively, the vehicle includes a ChargePoint card, meaning you can keep your vehicle fully juiced following a similar visit to the station.
2017 Car and Driver 10Best
We're sure one of the major reasons why the 2017 Volt EV earned the 2017 10Best accolade from Car and Driver had to do with the vehicle's surprising amount of cargo space. Ultimately, when the rear seats are folded down, drivers can capitalize on an incredible 56.5-cubic-feet of space, which should be more than enough room to fit any projects or equipment. There's also available false cargo space, which provides owners with additional room to hide their more valuable cargo.
2017 Kelley Blue Book Resale Value: Electric
The 2017 Chevy Bolt EV is known for its reliability, and this attribute can be attributed to the vehicle's dependability (especially when it comes to the car's mechanics). However, another reason why used variations of these cars tend to sell well had to do with the extensive warranties that the brand adds to their vehicles. As a result of these inclusions, these used-car buyers can expect few issues with their purchase.
The Chevrolet Complete Care warranty automatically includes a pair of maintenance visits, as well, as eight years or 100,000-miles worth of battery/electric coverage. Best of all, there's a five-year, 60,000-mile 24-hour roadside assistance, meaning previous owners (or subsequent owners who can capitalize on the remaining warranty) will never have to worry about being stranded on the side of the road.