Find Your Fantastic Used Ford Sedan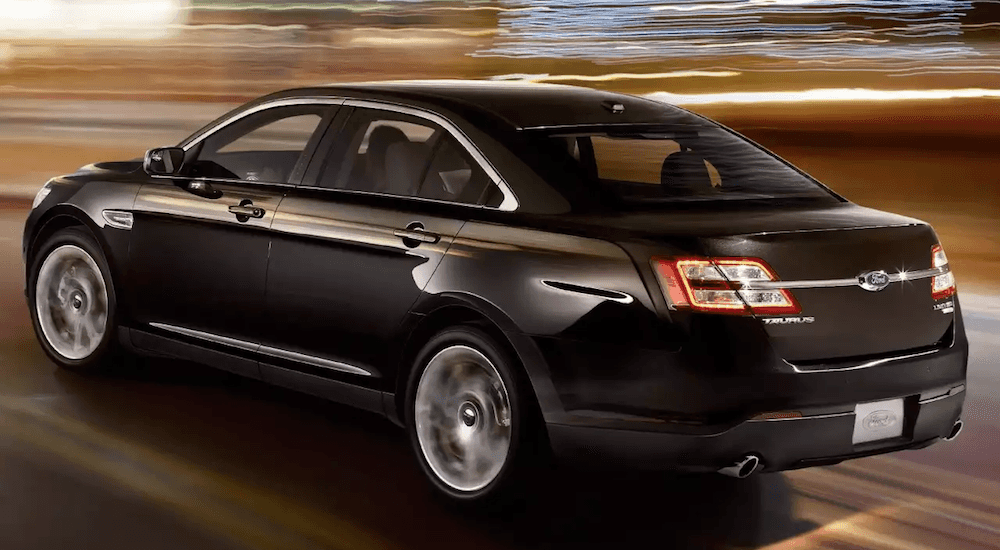 It's no surprise that you want to buy a used Ford in Columbus – after all, Ford's are some of the most popular cars in America. From the Ford Focus to the Ford Explorer to the Ford F-150, the entire family of Ford automobiles offer car shoppers a tremendous amount of value in addition to style and safety. Obviously choosing to shop Ford is an easy decision, but when it comes down to deciding which used Ford is right for you – that's a much trickier thing to figure out. Two used Ford sedan models that should be on any shopper's list are the 2013 Ford Taurus and the 2016 Ford Fiesta, which is available as either a sedan or a hatchback. Both models are extremely well-equipped in even the base model trim, although for the money you'll save simply by buying used, you should consider buying one of the higher-level trims for an even more luxurious driving experience. Ultimately, if you're in the market for a used Ford in Columbus, you'll absolutely want to take time to check out the 2013 Ford Taurus if you're considering a full-size large sedan while if you're looking for something a little smaller and easier to wedge into tight city parking spots, consider the subcompact 2016 Ford Fiesta.
The 2013 Ford Taurus
Performance: The 2013 Ford Taurus comes standard with a 3.5-liter V6 engine that gets an impressive 288 horsepower. It gets an EPA estimated 19 miles to the gallon in the city and 29 mpg on the highway in front-wheel drive. If you need a sedan with a more powerful engine, you can always opt for the 2013 Ford Taurus that has the turbocharged 2.0-liter four-cylinder engine. That engine gets up to 240 horsepower and enjoys an EPA estimated 22 miles to the gallon in the city and 32 mpg on the highway. If you're really feeling the need for speed, shop for the 2013 Taurus SHO and you'll get a sedan powered by a 3.5-liter V6 that churns out 365 horses.
Trims & Interiors: The 2013 Ford Taurus comes with a choice of four trim levels: the SE, the SEL, the Limited and the SHO. The base model SE comes well-equipped with cruise control, a CD player, and auxiliary jack, a six-speaker sound system, automatic headlights, LED taillights and an exterior access keypad, in addition to many other quality features. Of course, with the money you'll be saving buying used, you'll have the flexibility to shop around and possibly purchase a 2013 Ford Taurus with extremely luxurious features such as a sunroof, a navigation system, a blind-spot warning system with cross traffic alert and even an automated parking system. There are many different options and packages, so you should be able to find an extremely well-equipped 2013 Ford Taurus at fraction of the price that you would have to pay if you bought the car brand new. The 2013 Ford Taurus is a great option for those who require ample cargo space: the trunk measures 20.1 cubic feet, which is one of the largest cargo holds available in the large car class.
2016 Ford Fiesta
Performance: The ideal car for those who don't need to haul a lot of cargo or squeeze in many passengers, the 2016 Ford Fiesta is a city-dwellers dream car. It is powered by a 1.6-liter four-cylinder engine that gets up to 120 horsepower. Sure, it's not a speed demon, but it's perfect for a city commute. It also gets outstanding fuel economy estimates. The EPA places it at 27 miles to the gallon in the city and 37 mpg on the highway, which is certainly extremely impressive.  There are two other engine options that you can consider: the EcoBoost turbocharged 1.0-liter three-cylinder engine or the turbocharged 1.6-liter four-cylinder engine.  No matter which engine you choose, you'll be pleased the 2016 Ford Fiesta remains a fuel-sipper.
Trims & Interiors: Available as both a subcompact hatchback and sedan, the 2016 Ford Fiesta is certainly not the car you want to be driving if you're taking a bunch of your pals on a long-distance road trip. However, for you and a buddy sitting shotgun, the 2016 Ford Fiesta offers three excellent trim levels: the base model S, the SE, and the Titanium. There is also the ST trim, which is the high-performance trim only available in the hatchback model. However, many buyers will be more than satisfied with the base model 2016 Ford Fiesta S. It offers power locks and mirrors, air conditioning, remote keyless entry, Bluetooth, a six-speaker sound system, a USB port, an auxiliary jack, a CD player, Ford's SYNC infotainment system and a rear spoiler on hatchback models.
Of course, if you want to go all out, you can always opt for the 2016 Ford Fiesta in the Titanium trim. You'll be riding in serious style thanks to a long list of features that includes rear parking sensors, a rearview backup camera, leather upholstery, an eight-speaker sound system, keyless entry and ignition, a chrome exterior trim, a black grille, heated front seats, HD radio, satellite radio, heated mirrors, automatic climate control, Ford's SYNC3 infotainment system, a 6.5-inch touchscreen display, smartphone integration, and two USB ports.
Additionally, if you are into performance vehicles, you won't want to overlook the 2016 Ford Fiesta ST, which is the high-performance model only available as a hatchback. Choose the 2016 Ford Fiesta ST and you'll get sport-tuned suspension, upgraded brakes, a large rear spoiler, dual exhaust tips and of course the hatchback will be powered by the turbocharged 1.6-liter four-cylinder engine.  Just as the 2013 Ford Taurus offered drivers a large array of available packages and additional options, so does the 2016 Ford Fiesta. Savvy shoppers will begin browsing for their used Ford Taurus or Fiesta with a comprehensive list of amenities that they would like to own – chances are extremely good that there are models out there fully equipped with all of the features topping any buyer's wish list.
You Can't Go Wrong with a Used Ford Sedan
Of course, if you find that neither the 2013 Ford Taurus or the 2016 Ford Fiesta quite meet your needs, there are plenty of other fantastic used Ford sedans to consider. Take time to comparison shop the Taurus and the Fiesta to other models such as the Fusion and the Focus – while the models may share many similar features, the differences between the models are substantial enough to warrant serious contemplation. No matter what you finally decide to purchase, you can rest assured that the perfect used Ford sedan is out there just waiting for you to find it.