Follow These Tips for Finding a Great Used Toyota Camry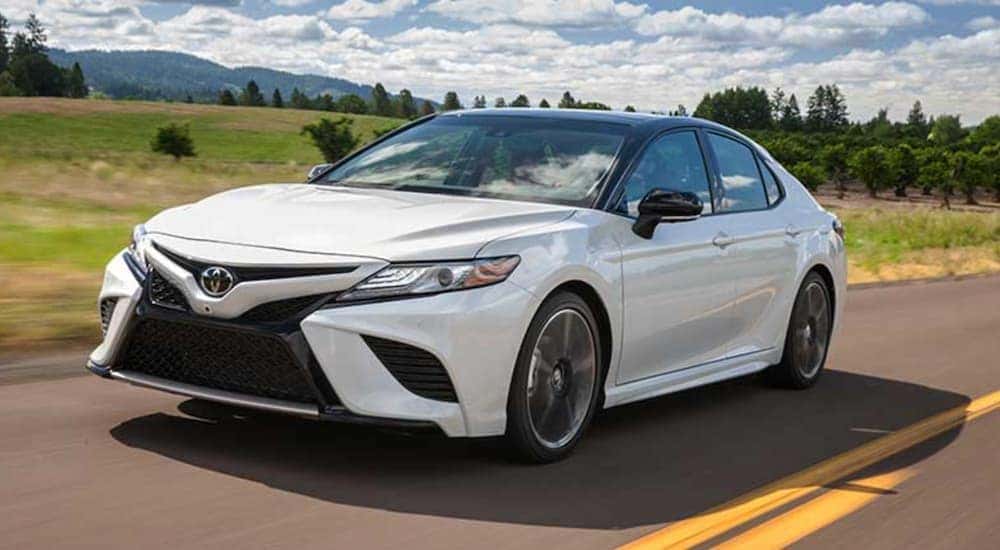 So, you're interested in a used Toyota Camry for your next commuter vehicle. It's a budget-friendly vehicle that can save you even more money when you buy a used model. Plus, it's built with the reliability Toyota is known for to ensure this vehicle will be with you on the road for many years to come. However, when you choose to buy used, you're expanding your vehicle search to a much broader range of model years and trims, making for a more complex search if you're looking for specific features. Fortunately for you, as online Toyota Camry sales specialists, our friendly team of experts has created a used Toyota Camry buyer's guide with tips to help you get behind the wheel of one of the best-selling passenger cars in the United States that will meet all of your vehicle needs, no matter where it's located in the country.
First and Foremost, Choose a Dealership That's Right for You
Of course, one of the first things to consider when looking to buy a used Toyota Camry is where you should purchase it from. For those searching for a great used Toyota Camry model at an affordable price, we welcome you to take a look at our extensive selection of Camry models on Online.cars. At Online.cars, our goal is to make the car buying experience easy and stress-free by enabling you to search for the perfect vehicle from the comfort of your house. Online shopping has revolutionized the way we buy products, and the same can be said for cars.
Taking your Toyota Camry shopping online is a hassle-free experience that will save you valuable time by avoiding multiple trips to different dealerships in search of a suitable model. Searching the web allows you to look for a vehicle, research reliability ratings, and hunt down a vehicle history report, which some dealerships might not provide. At the same time, all of this can be done from the comfort of your home on your smartphone or laptop when the time's right for you. No longer will you be pressured by pushy salespeople and less-than-trustworthy sales tactics. Shopping for a vehicle online puts the power back in your hands.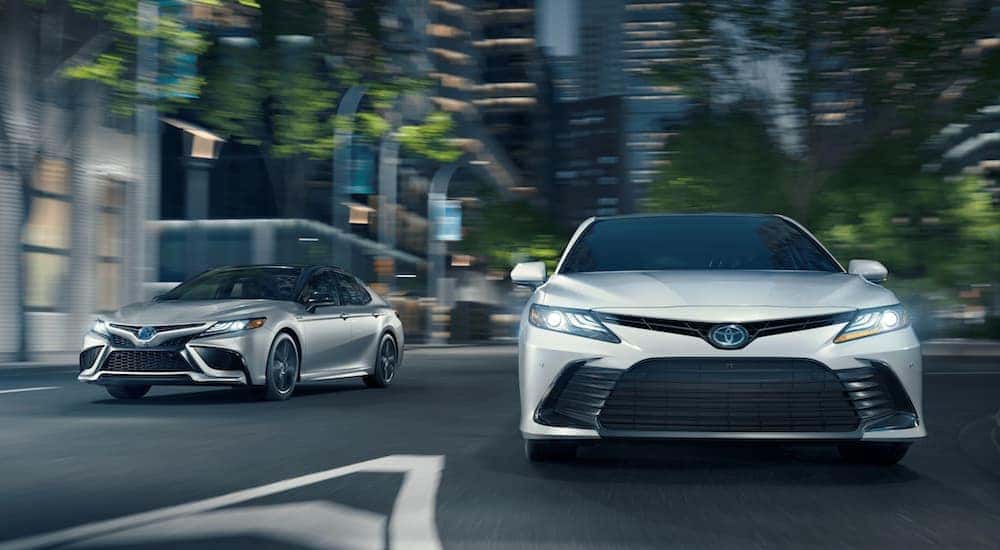 Don't Just Settle. Find a Used Camry That Appeals to You
Shopping for a used Toyota Camry can be daunting, and shopping online expands your used Camry selection substantially, which is great but can also seem overwhelming at first. However, finding the right used Camry can be much easier than you might think if you know what to look for during your search. With any vehicle, whether new or used, you will want to find a model that appeals to you regarding style, features, ratings, and, most importantly, price. Searching for a suitable Camry is no exception.
Because the Toyota Camry has been on the market since the 1983 model year, it has gone through quite a few transformations and upgrades through the decades, leaving you with an immense amount of options to pick through with several body styles, ample trim levels, and plenty of performance, comfort, safety, and tech features available with each of the Camry's eight generations. Granted, depending on what you are looking for, you might have a harder time finding the right model, but in the used market, your chances are increased.
For example, the Camry's most popular and longest-running body style, which will also be the easiest model to find with modern features, is the midsize 4-door sedan. If you're interested in a sporty 2-door Toyota Camry coupe for yourself rather than the family's commuting needs, your selection will be greatly limited to earlier model years, which will be hard to find since its second rendition of the coupe was dropped in 2008. Even the 5-door Camry wagon will be more complicated to find since it was also eliminated from the lineup, even before the Camry Solara coupe in the early 2000s. On the other hand, since all-wheel drive was introduced in 1988 and a hybrid variant in 2007, you'll have no trouble finding a Toyota Camry as old or new as you want that can deliver the specific performance you're looking for, whether it's confidence during inclement weather or the exceptional fuel efficiency.
As for the price, that's determined by the used model's age, desirability, condition, and history. So once you have an idea of the style of Toyota Camry you're interested in, you will want to dig into its history. Not only will you be able to learn which model years are favored over others, but you can work on narrowing down your results to model years that are considered the best based on ratings while possibly even finding the perfect model with a clean history report and a warranty. Better yet, if you choose to buy from Online.cars, we'll take one less thing off your search criteria since we offer a lifetime mechanical warranty with every vehicle.
Choose Your Camry Wisely
Besides your model preference, determining which Toyota Camry models are the most reliable with the least amount of recalls and complaints is the second most important thing you need to consider when looking for a used model. A good rule of thumb is to avoid the first model year of a redesign, especially if it's for a new generation. Many redesigned models are equipped with the latest features and technology on the market, most of which end up needing adjustments and tweaking before being perfected. It is also good practice to research the recalls and complaints of any used model you are interested in buying. The National Highway Traffic Safety Traffic Administration is a good resource for this information. They are a great database in regards to getting more detailed information about safety features and how well they perform in the event of a collision.
In regards to Camry models worth looking into based on their minimal complaints and their reliability, the 2004 Camry, seventh-generation models (2012-2017), and eighth-generation models (2018-2022) are all great options. Of course, the newer the model, the better it will be since you'll be getting more advanced features. Ultimately, the decision is up to you. We recommend that you do your homework before you choose.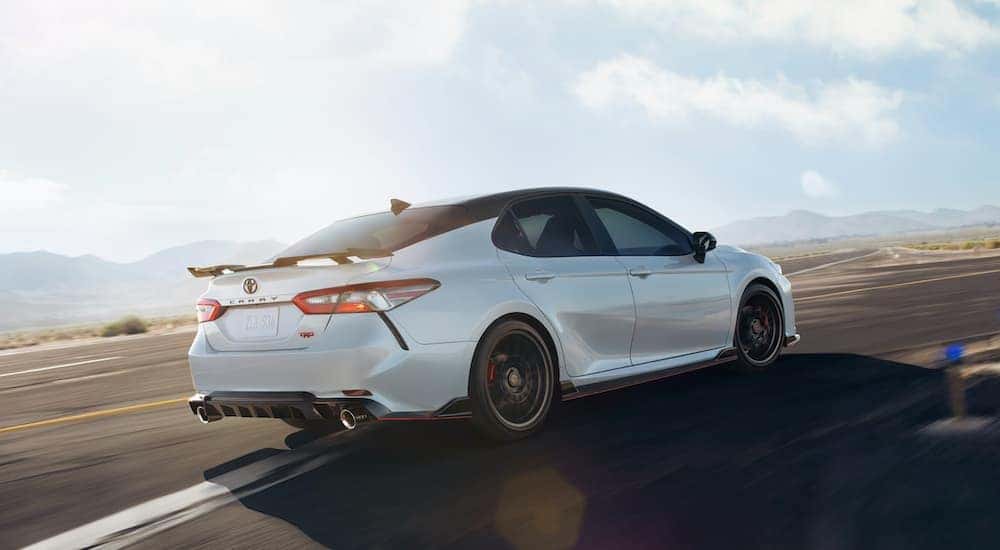 When Finding the Perfect Used Toyota Camry, Research Is Key
Toyota's midsize sedan has remained at the top of the best-seller list for the majority of its life for a reason. Ultimately, no matter which used Toyota Camry model you choose, we assure you that you won't be disappointed. Additionally, when you opt to buy a pre-owned Camry, you're expanding your selection of models, thus giving you a greater chance of finding the perfect style, performance, and price. If you prefer even more opportunities for finding the rarest or most desirable Camry models from around the country, your best bet is to search online, beginning with our great selection at Online.cars. We invite you to take a look at our impressive selection of Camry models whenever and however you want. Buying a great used vehicle online shouldn't be an overwhelming process. We're here for you, step by step, and will help get you behind the wheel of a perfect used Toyota Camry.