Here Are Three Used Trucks That Are Perfect for Denver Drivers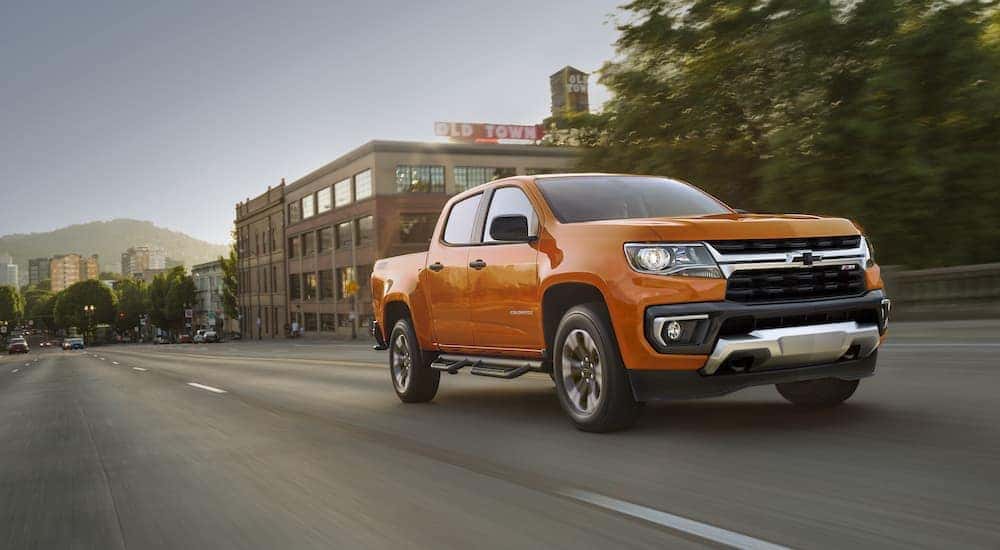 Denver is a unique place. You didn't need us to tell you that, of course. The presence of a large city amid a mountainous landscape makes not only for great views but for dynamic terrain and unique driving needs. Your average city cruiser may not be realistic for those who want to hit the mountains frequently, while the traditional off-road vehicle may be too much for navigating the more urban areas of Denver. A great vehicle that balances downtown maneuverability with rugged capability would be a midsize truck; able to handle tough terrains but can still be parked on the street. Plenty of options are available, and you can easily find one by tapping into some Denver online car sales. You want to ensure you're educated before making a vehicle purchase, especially an online one, so let's talk about some great used trucks.
The Chevy Colorado
The Silverado tends to get all the noise when it comes to Chevy trucks. The Silverado certainly deserves its earned attention, but don't let the amazing Colorado get lost in the mix. It's a highly-capable, well-designed midsize truck with top-notch off-roading capabilities. On the market since 2004, with almost twenty years of road time under its belt, it has made some innovations along the way to ensure it meets the needs of its drivers. The Colorado ZR2 is a great truck for those looking to find a healthy balance between urban and mountain driving. The ZR2 takes the already-capable Colorado and transforms it into a true off-road truck. The great part about the ZR2 is that it maintains the compactness of the Colorado's midsize body but decks it out with the accessories and equipment it needs to navigate its way through the mountains. The Colorado ZR2 first hit the market in the 2018 model year, so the combination of it being a more recent model and having all the power and capability we expect from the Colorado make it a slam-dunk for Colorado drivers looking for a reliable off-road-ready used truck.
The 2018 Colorado ZR2 offers great engine options, with either a 3.6L V6 or a 2.8L Turbo-Diesel engine at your disposal. There are great arguments for both, as the V6 produces an impressive 308 hp, while the Turbo-Diesel offers more torque with a powerful 369 lb-ft and more bang for your buck thanks to the diesel component. In terms of the specific off-road architecture, the ZR2 offers higher suspension, Multimatic Dynamic Suspensions Spool Valve dampers, and cast iron control arms. One special feature that will benefit mountainous off-roaders is the presence of functional rock sliders, making for better obstacle clearance. The 2018 Colorado ZR2 is an ideal truck for hitting the trail while still being able to park in the garage, on the street, or even drive around town without being overwhelming to other drivers.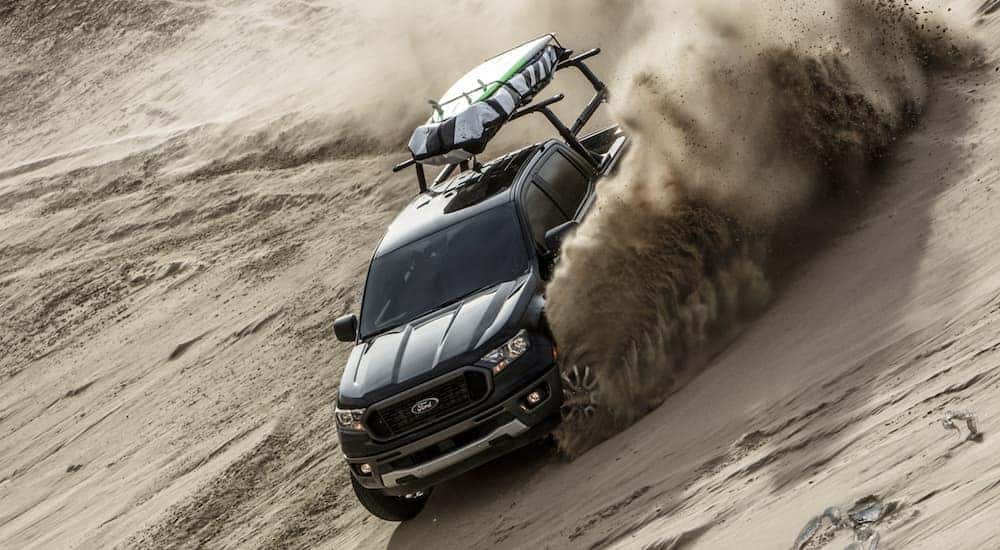 The Ford Ranger
Ford is a classic. If you're looking for a reliable American-made vehicle, Ford and Chevy are your go-to brands. The F-150 continues to have a leg up over its competitors year after year, but you'll be glad to know that the F-150 has a younger brother: The Ranger. The Ranger is in a unique position, as it comes from the brand which has the savviness to craft the F-150 and has condensed that brilliance into a midsize pickup truck. This is evidenced by the Ranger being the only vehicle to bear the sought-after Built Ford Tough title. Being Built Ford Tough, the Ranger is in a good position to traverse both the city streets and the woodsy trails.
As of 2021, the Ranger added the Tremor Off-Road Package, making the Ranger even more designed for this dynamic combination. This package has proven its high-performance capability in the F-150, and it is certainly a significant asset that the Ranger now boasts this rugged off-road package. For those of you looking to go a little further back in the model years, though, older Rangers offer the FX4 Off-Road Package, which includes off-road-tuned suspension, all-terrain tires, skid plates, a front bash plate, and a rear locking differential. Another significant feature of the FX4 package, and one which is especially helpful in transitioning between different terrains, is the Terrain Management System, which offers four different driving modes covering a variety of terrains, as well as Trail Control.
Built Ford Tough means something. You never want to blindly believe a slogan, but labels do contain meaning, and we think you'll find this label's meaning in the Ranger. Ford's excellence as a brand, the compactness of the Ranger, and the vehicle's great off-road packages make it a top candidate for Denver drivers. With a city whose average yearly snowfall is 56″, reliability is more than just a nice feature; it's a necessity.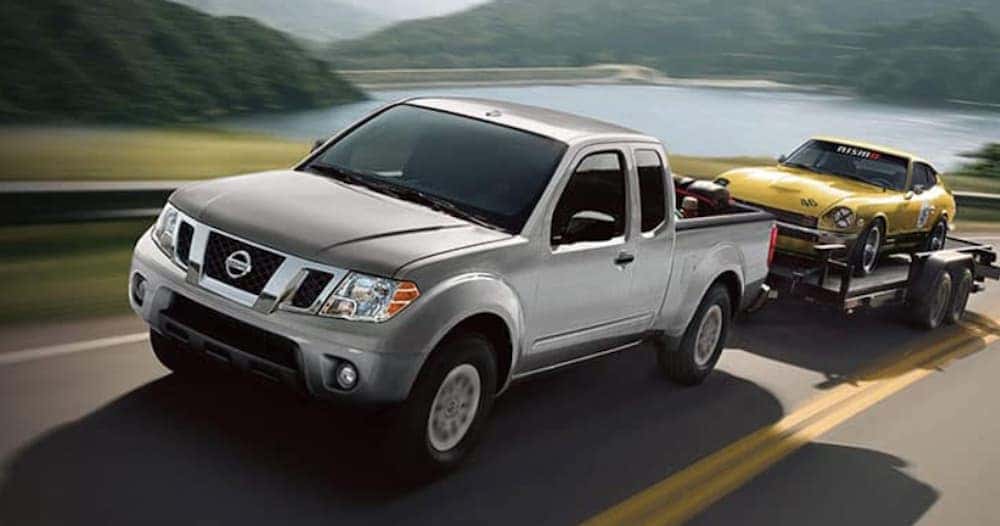 The Nissan Frontier
The Frontier focuses on everything we've been discussing so far in terms of the city and trail balance, but it offers a unique component: luxury design. One of Nissan's many strong suits is design excellence, especially when crafting a refined interior atmosphere. The great news is that performance is also one of Nissan's strengths, so drivers are not exchanging one for the other. With impressive performance specs, off-road grit, and signature Nissan style, the Frontier is ideal for balancing urban and nature. Iconic and elegant seat stitching patterns combined with premium technology make for a luxury interior experience, perfect for a night on the town or a day in the wilderness. Plus, an optional V6 engine, strong design, and durable suspension make it ideal for visiting one of Colorado's 42 State Parks.
Another component of the Frontier that we think is universally likable is the truck being known as "America's most affordable pickup." Now, before you raise your eyebrow in suspicion, let us assure you that the Frontier is by no means a cheap truck; rather, it's one that offers an abundance of value. You'll get leading specs and performance features, design schemes you won't find in any other truck, and top-level technology. You'll just spend less money on it. There's a reason J.D. Power has named it "the highest ranked midsize pickup in initial quality" for several years in a row. Why not get a better product for less money? The Frontier truly is a unique truck in that it prioritizes both performance and design. Many vehicles focus on one over the other, meaning the driver has to make a trade-off. The Frontier saves you from a trade-off and from breaking the bank to get a well-rounded truck.
Get a Truck Built for the Challenges of Living in Denver
Unique areas call for unique trucks. That is one of the exciting things about living in the Denver area. Denver is unlike any other area in the United States, and its adventure-oriented drivers require well-crafted vehicles to traverse the multitude of terrains that the area has to offer. Midsize trucks are a great route for Denver drivers to consider, as they provide the durability needed for off-roading but the compact size necessary for city driving. While the Colorado, Ranger, and Frontier are only a few examples among many midsize pickups, we feel these three have something special to offer, thanks to the high standards set by their brands.
It's hard to say which of the three is the best because they all offer excellent performance and versatility, both of which are necessary for the Denver area. However, the Colorado's focus on exciting performance, the Ranger's durability, and the Frontier's unmatched luxury help drivers with specific desires to narrow down their options and make a well-informed decision. Buying a car online can be difficult. But if you know what you're looking for, there's no reason to be intimidated. With just a few easy steps, you could be trucking around the Denver area in one of these leading midsize trucks.