How to Own the Car of Your Dreams at Online.cars
Everyone deserves a second chance, especially when discussing the subject of finances and credit scores. If you have a bad credit score or haven't yet built up your credit score yet, you shouldn't be chastised or prevented from enjoying great opportunities like buying a car. Unfortunately, far too many potential buyers have turned away from dealerships due to a poor or non-existent credit score, or they end up in bad car loans that don't equate the value of the vehicle they hope to buy. At Online.cars, we have plenty of experience in helping our drivers get bad credit or no credit car loan. To us, no driver should feel excluded from the great feeling and satisfaction of car ownership. As a result, we're an online dealership that are firm believers in equal opportunity for all of our drivers. Plenty of our customers visit our dealership, asking us 'what type of credit score they need to get a car near Columbus, Ohio?' We always respond that with Online.cars, credit scores can be a non-issue in keeping you from getting the car of your dreams. Bad and no credit car loans are our specialty, and we'll ensure that your financial past has a lesser influence on your financial future.
Getting a Fresh Start at Online.cars
To us, everyone should be able to have the car of their dreams. Unfortunately, the typical dealership won't' necessarily treat every driver equally. A credit score is a huge defining factor in whether or not you can get an auto loan at most dealerships. Your credit score is a three-digit number that defines your financial standing, and unfortunately, it follows you wherever you go. It is a score that is either improved or dampened by financial choices, loans, and lines of credit. That said, getting out bad credit or a non-existent credit score can be quite a challenge that not every driver can afford to make happen.
When you apply for an auto loan at a traditional dealership, you're actually applying for a loan from an auxiliary financial institution. This can be a timely process, that, unless you have a great credit score and a big down payment, may end in rejection. If you do get approved for an auto loan with bad or no credit, you can run the risk of getting an auto loan with a shockingly high-interest rate. These high-interest rates can lead to you having to pay far more than the actual value of the vehicle at dealerships like Online.cars, we make applying for an auto loan easy regardless of your credit score.
We firmly believe that credit score should be less of an issue and that each of our customers deserves to drive a vehicle that simply takes their breath away. A huge part of our process is a convenience, and being an online-only dealership, we're possibly one of the most convenient auto dealerships in the Columbus area.
The Car Buying Process at Online.cars
Credit score aside, we make auto buying simple, straightforward, and more importantly, accessible. If you buy a car from any other retailer you'll have to visit the dealership and make face-to-face interactions with the various dealers working there. While this has been considered the 'traditional' route for buying a car, it is far from the most practical. Today we live in an age of advanced technology, where nearly everyone has access to the internet from a powerful computer that can fit in the center of their palm. At Online.cars, we capitalize on that technological advancement, making every step of our car buying process accessible online.
When you visit a traditional dealership, it can be so easy to find yourself overwhelmed by pushy salesmen or complicated financial discussions that can deter any car buyer. While the traditional path has its appeal, it is, in many ways, outdated, having been founded in a time when all business deals were done in person. At Online.cars, we allow you to search for a car in your own time, giving you a complete list of what vehicles are available in our showroom. On top of that, we make it simple for drivers to apply for an auto loan online, all with the click of a button.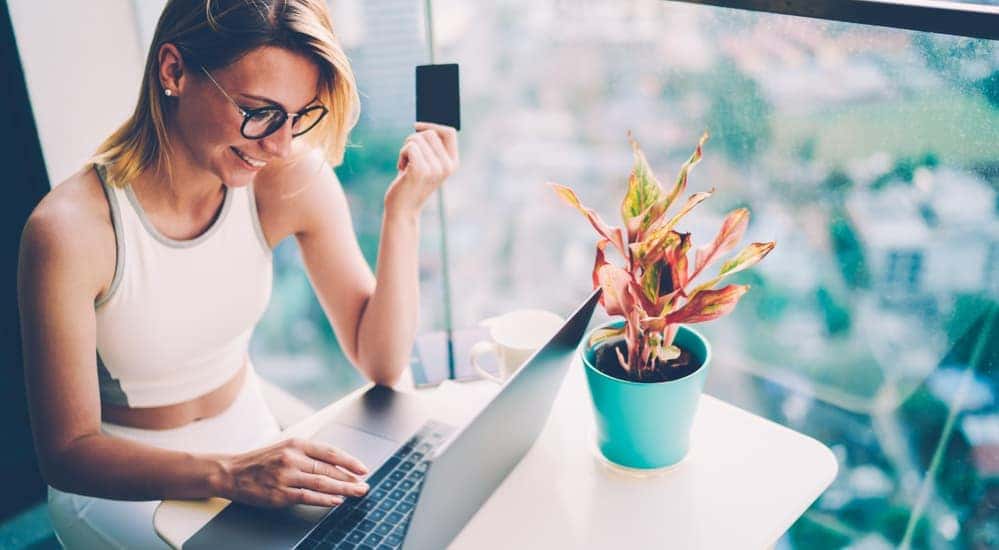 Our digital process makes it easier for drivers with no credit or bad credit to purchase a vehicle. Not only do we provide a highly flexible car buying and approval process, but we remove intimidation from the equation entirely, as we allow you to take as much time as you need thanks to our purely digital format. Whether you're accessing our site via your smartphone or from your home computer, one of our dealers will communicate via chat to guide you step by step through the process. If you ever want to take a break or step away, there is absolutely no pressure to keep you from doing otherwise — our goal at Online.cars, is to create a car buying experience that isn't just intuitive but all your own.
How We Make Car Buying Easy at Online.cars
What makes Online.cars truly unique apart from other traditional dealerships is that we offer guaranteed credit approval providing no credit and bad credit car loans to each of our customers. We provide a variety of paths to our credit approval process, allowing our customers to apply to get pre-qualified before they even buy. On our site, we also provide a trade-in valuation function, allowing you to price out how much you'll get when you trade-in your vehicle to our dealership. Our 'Shop-By-Payment' function takes things to the next level allowing you to search through our collection of vehicles based on how much you want to pay every month. And thanks to our on-site payment calculator, you can easily find out just how much the car of your dreams might cost you. We extend that promise of simple and easy credit approval to all of our customers no matter what their financial standing may be as we believe in equal opportunity to the core.
Our showroom is incredibly diverse, including preowned vehicles from a wide range of automakers. There are no limits to the kinds of cars we offer, and we guarantee that all of our vehicles are ready for the road the moment they roll into your driveway. To show our commitment to the quality of our cars, we extend a 3-day/300 mile money-back guarantee to each of our customers, ensuring that they get a vehicle that they can rely on for years to come.
We disrupt the traditional experience by providing all of our services online. So when you select and purchase a car from our digital shop, we'll ship that car directly to your front door from our mobile showroom. That's right; you can purchase the car of your dreams all from the comfort of your own home. No haggling with aggressive dealers, no credit approval uncertainty, and no stress period. The Online.cars car buying experience is unlike anything else you'll find in Columbus, and we'll ensure that you get the car that you've always dreamed of driving regardless of what your credit score says about your financial history. To us, what is in the past is far less important than how we can help you drive full speed into your future.