It's Way Past Time For These 9 Trucks To Make a Comeback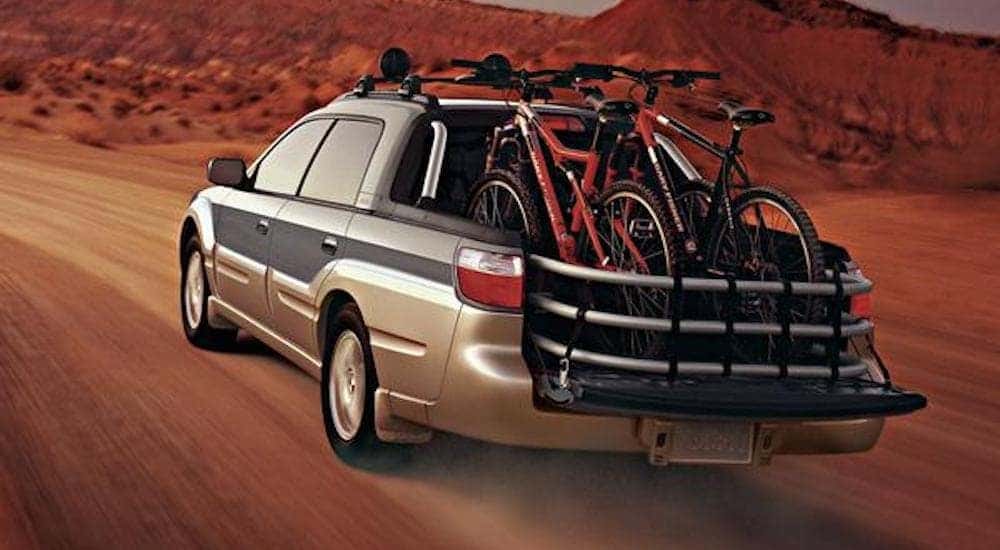 Andy Warhol is famous for saying everyone gets their 15 minutes of fame. That's especially true for trucks since America is truck-obsessed and has been for decades. Drive by a Louisville used car lot, and if you're lucky, you'll find one of our favorite trucks that are sadly out of production. Our recommendation? If you see one, grab it! They're already rare and only getting rarer.
The features of a great truck are definitely debatable; buyer tastes spread across a wide spectrum, from small and fuel-efficient to enormous tank-like vehicles that tower over everything else. Getting your hands on the used truck you want might take a little hunting, but chances are, if you look hard enough, you'll find it.
What are our favorite discontinued trucks of all time? It's a strange list, for sure, but it includes trucks that had their 15 minutes for a variety of reasons. Some were instant classics, and others offered otherworldly performance. They're very different, but they all have one important thing in common: you won't find them at a new car dealership.
Check out our top 9 discontinued trucks and see if you agree or if just seeing the name makes you roll your eyes. It's true that the mere mention of a few of these vehicles elicits a very polarizing reaction, with folks either giving them an enthusiastic thumb's up or saying no way. Maybe that's why they ended up being scrapped!
#9 – Chevrolet S-10
Launched back in 1982, the S-10 was a classic compact pickup truck promoted by Chevrolet at a quarter-ton and an answer to the high fuel prices plaguing drivers during that time. It represented the first American-built compact truck and was produced alongside a companion SUV, the S-10 Blazer. The first generation S-10 came standard with a small and fuel-efficient 83 horsepower 2.0-liter 4-cylinder engine, but as popularity grew, Chevy expanded both the powertrain offerings and cab styles to accommodate a broader range of buyers. The S-10 was eventually discontinued in 2004, but there are plenty still on the road today, thanks to Chevy's high-quality engineering.
#8 – Chevrolet Avalanche
The Avalanche was an interesting vehicle that wasn't quite a pickup but wasn't quite an SUV either. Based on the Suburban platform, it was a full-size offering that made it through two generations before being discontinued. Originally launched as a 2002 model, Chevy positioned the Avalanche as an SUV, but because of its "midgate" truck bed, it performed similarly to a pickup. The biggest difference was its full-size passenger cabin, which it inherited from the Suburban body style. Despite its popularity, especially among Chevy aficionados, the Avalanche only lasted until 2013.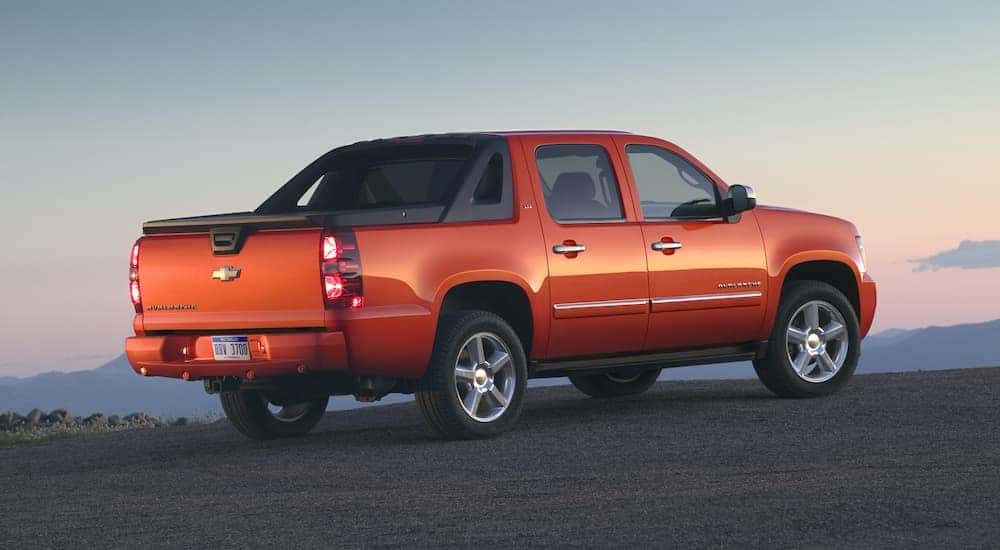 #7 – Toyota T100
This short-lived midsize pickup stuck around for six short years, largely because Toyota missed the mark with available features truck buyers demanded. Namely, the lineup did not include the option of a V8 powertrain, and its "tweener" size positioned it in a no man's land between efficient compact and full-size capability. Launched with only a regular cab body style, the T100 didn't make sense for commuters who preferred the pickup body style, either. While quality was never the issue, a lack of alignment with buyer preferences ultimately landed the T100 on the scrap heap as the larger Tundra took its place.
#6 – Ford F-150 SVT Lightning
The Ford F-150 SVT Lightning (an acronym for Special Vehicle Team) joined the popular full-size pickup's lineup in 1993. Ford executives saw an opportunity to create a niche market for performance-oriented buyers within the pickup category. The F-150 SVT Lightning was also devised to occupy a flagship, aspirational spot in the overall Ford lineup. At its fastest (during the 1999-2004 generation II phase), the SVT Lightning delivered 380 horsepower and 450 lb-ft of torque via a 5.4-liter Supercharged V8. Today, Ford has announced a new F-150 Lighting, but while the electric truck is fast, it can't quite match the rumbling V8 of its predecessor.
#5 – Dodge Ram SRT-10
Back when Ram was still Dodge Ram, the company released a high-performance pickup truck of its own: the SRT-10. Designed as a limited-production special edition, the SRT-10 made its debut in 2002 and contained the same 8.3-liter V10 engine as the Dodge Viper sports car. With the capacity to deliver up to 500 horsepower and 525 lb-ft of torque, the SRT-10 was dubbed the world's fastest production truck in 2004, clocking in at 154.5 mph.
#4 – Hummer
The military's HMMWV crossed over into consumer production in 1992 as the Hummer. Manufactured by AM General, the Hummer lineup included the H1, the H2, and the H3 models during its roughly 18-year run. These humongous trucks and SUVs attracted the interest of buyers looking to make an aggressive statement, but the market eventually moved on because of their poor fuel economy and oversized dimensions. Originally built by the same AM General that built the military's HMMWV, the Hummer brand was later sold to GM before production ended in 2010. Today, GMC is reviving the Hummer as an off-road EV, but we'll have to see if it lives up to the original.
#3 – Subaru Baja
The all-wheel drive Subaru Baja was an interesting body style that crossed into multiple categories, including passenger car, pickup truck, and utility vehicle. Because of its all-things-to-all-people design, the Baja at first seemed like an intelligent way for Subaru to expand its customer appeal and branch out with a more truck-like offering. Unfortunately, the Baja fell short and lasted only four years, not achieving the rally car-oriented appeal for which it was designed and instead creating buyer confusion. Still, it remains a reliable, capable vehicle despite the lack of aesthetic appeal.
#2 – Toyota FJ Cruiser
A fan favorite, buyers are still surprised that Toyota bid adieu to the aggressively-styled Jeep alternative, the FJ Cruiser. The SUV launched in 2003, and Toyota halted production in 2014 for the American market despite continuing to sell the FJ overseas. Lauded as a "purpose-driven" vehicle, the FJ was all about off-roading performance and received high marks from journalists and enthusiasts. Unfortunately, sales went from a high of 56,225 in its debut year to fewer than 15,000 at the end of its run, largely due to competition and the FJ's insufficient fuel economy. Today, FJ Cruisers are still in high demand. We wonder if Toyota will bring it back someday.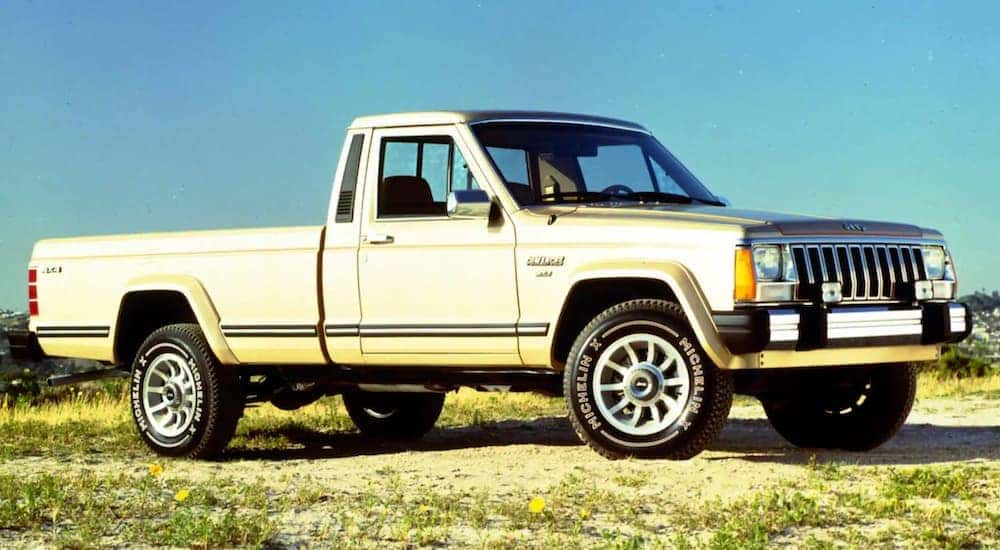 #1 – Jeep Comanche
The Commanche came along in 1984, a time when automotive manufacturers were embracing the idea that pickup trucks weren't just purchased for their capabilities. In fact, plenty of buyers who would never tow, haul, or otherwise need the utility a pickup truck offered were still interested in the body style. Enter the Comanche, Jeep's compact pickup built on the same platform as the Cherokee. Offered in rear-wheel drive or all-wheel drive, the Commanche came with the choice of a 6-foot or 7-foot bed, as well as four different engines over the course of its six-year lifespan.
Out of Production, But Not Forgotten
Does one of these gone-but-not-forgotten trucks sound appealing? We wouldn't be surprised since these trucks represent more manufacturer innovation than their short-run existences might suggest. Hunting down a discontinued truck does make buying a used vehicle a little more complex, however, because once you find it, you still need to ensure it's in great condition, especially when it's an older model.
Part of the fun for niche used car buyers is definitely the hunt, though. There's nothing quite like the thrill of finding a rare vehicle in great condition. It isn't always the mainstream cars and trucks that appeal to buyers; lots of us prefer something with a little more character and uniqueness. Pulling up in a vehicle that causes bystanders to wonder what it is is all part of the appeal.
If you love trucks and you can't find one you like in current production, dig a little deeper into one of these nine contenders. Some, including the Toyota FJ Cruiser, have never lost their popularity, and because of that, demand runs high. Others are more obscure and rare – like the Ram SRT-10 – and designed for niche buyers. Whatever your goal, we hope these trucks get your mind working so you can land on the vehicle that fits your tastes, lifestyle, and desire for individuality.