Looking for A Fuel-Efficient Hybrid in Zionsville? Look No Further.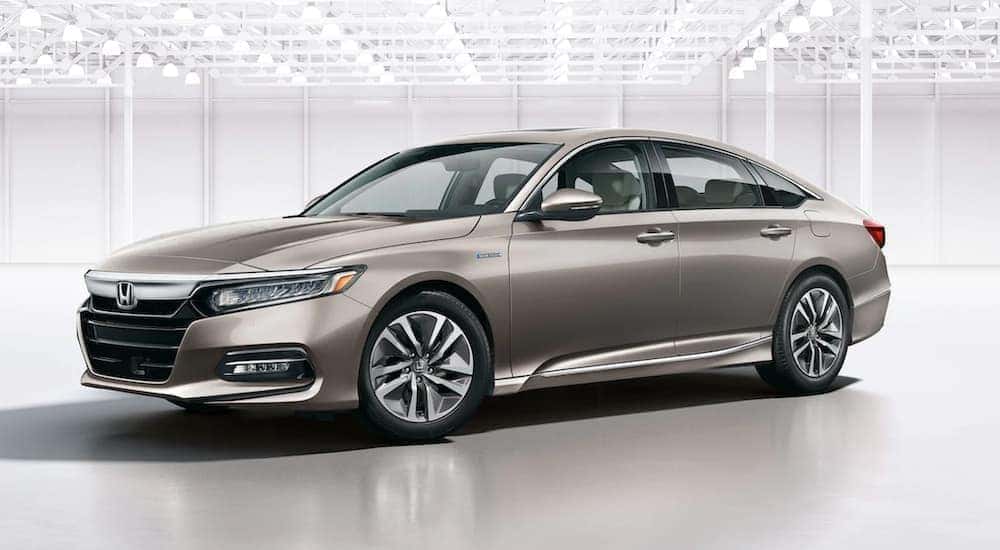 You may have already realized we're living in an era where driving doesn't have to be a costly venture anymore. Aside from your monthly payments, insurance, and all that jazz, the most money you'll throw towards your vehicle goes towards fuel. Depending on which type of vehicle you drive, you may find yourself at the gas station as often as a few times a week. When you're operating a gasoline-powered engine, you'll be somewhat limited in fuel efficiency, especially if you don't purchase a model equipped with a turbocharged engine. This is where the topic of the most fuel-efficient hybrids comes in, and if you're looking for the ideal Zionsville online car dealer, you've found it at online.cars.
The most fuel-efficient hybrids are an important discussion to have, especially as we're turning towards a greener future where more manufacturers have begun to release hybrids and fully-electric vehicles to their lineups. We all want to save money, but you won't be going anywhere if you don't fill your tank. Hybrids benefit from pairing electric motors with the engine, resulting in a significant boost in fuel efficiency.
Zionsville drivers adore their cozy nook north of Indianapolis, and with the right hybrid vehicle, one tank of fuel can last you more than a few days with varied usage. Best of all, when you want to take a trip down to Indianapolis, or if your place of employment is down there, you can spend more time driving around the city and less time filling up your tank. We've selected three hybrids: the Honda Accord Hybrid, Insight, and the vehicle that needs no introduction, the Toyota Prius. Let's begin.
Honda Accord Hybrid
The Honda Accord Hybrid is, as the name suggests, the hybrid variant of the famous Honda Accord. With the hybrid model, you can expect the same type of quality and features as the regular gasoline-powered Accord, but with the added benefit of exceptional fuel efficiency. Back in 2017, the Accord Hybrid had new life breathed into it, and if you're shopping in the used market, it's worth keeping this in mind. Since its return, the Accord Hybrid has combined a 2.0L I-4 engine with electric motors to create a total of 212 horsepower and 232 lb-ft of torque. Even when keeping with the base model, the Accord Hybrid outperforms the regular model's base engine with its 192 hp and 192 lb-ft of torque.
While the regular Accord achieves very respectable fuel efficiency thanks to its standard turbocharged engine, it still can't compete with its hybrid sibling. The base engine inside the regular Accord earns EPA-estimated ratings of 30 mpg (miles per gallon) in the city and 38 mpg on the highway; however, the hybrid model gives you 48 mpg in the city and 48 on the highway. Let's say you're traveling from Zionsville to Indianapolis for a Colts game during the regular season—then you'll have plenty of fuel for both ways of your trip. It's worth mentioning the Accord Hybrid can't be purchased in all-wheel drive (AWD), but this is no different than the regular model, which also sticks with front-wheel drive (FWD).
Hybrid Accord models come with the same tech you'll find inside of the regular Accord, with features such as the infotainment centers simultaneously evolving. For example, both the 2020 Accord and Accord Hybrid came with a 7-inch infotainment center that included features such as Apple CarPlay and Android Auto, but the 2021 models and beyond all used 8-inch screens instead. This highlights another advantage of purchasing a hybrid model, and it's that manufacturers tend to throw some of their most notable and newest technology into these vehicles. This makes sense, considering that hybrids are conceptually more advanced than your average automobile.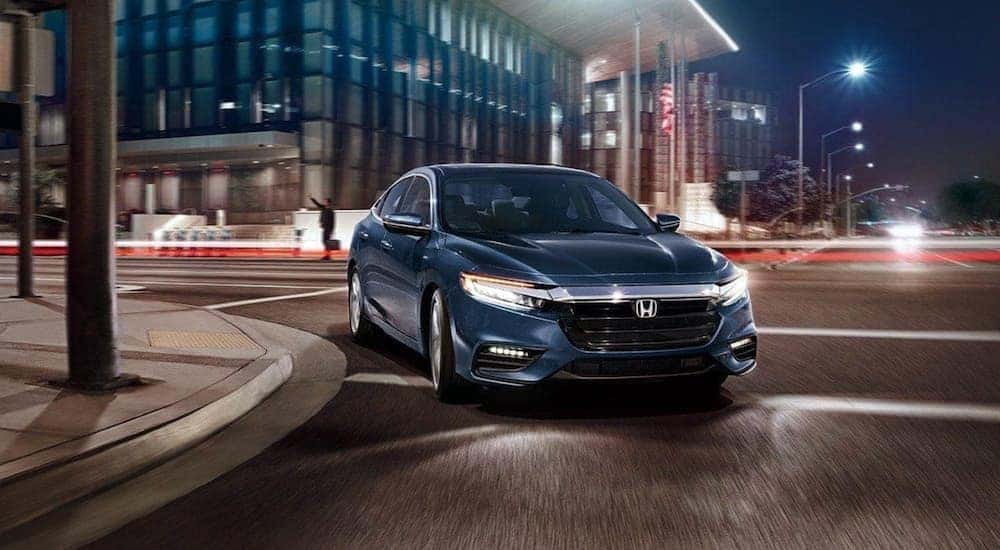 Honda Insight
The Honda Insight is another hybrid by this revered manufacturer; however, its presence in Honda's lineup is a crucial one. Not only is the Honda Insight more fuel-efficient than the Accord Hybrid we just spoke about, but it costs less too. The one caveat, however, is decreased performance against the Accord Hybrid, but the Insight still achieves highly respectable performance regardless. The Honda Insight wasn't available between 2015 and 2018, but the 2019 model improved performance substantially over its predecessor. Inside the Insight is a 1.5L I-4 engine paired with electric motors, and the output is 151 hp and 197 lb-ft of torque, which vastly outperforms the 98 hp and 123 lb-ft of torque you'd find on the 2014 model. Also like the Accord Hybrid, the Insight's powertrain is linked with a Continuously Variable Automatic Transmission (CVT.)
As for drivetrain configurations, the Insight is available in FWD like the Accord Hybrid. However, driving the Insight means you'll be getting EPA-estimated ratings of 55 mpg in the city and 49 mpg on the highway. For the price of the Insight, especially when pre-owned, this is exceptional efficiency, and while it may not reach the same level of performance as the pricier Accord Hybrid, that money you save will go a long way.
Additionally, even with the Insight being a cheaper vehicle, you can still expect features to come standard such as the brilliant Honda Sensing safety suite. If this value wasn't already outstanding, Honda doesn't skimp out on the technology either, as the Insight still includes features such as Apple CarPlay and Android Auto on a wide range of used models. We recommend using these features to find recommendations around town, such as restaurants, movie times, or even look into current traffic conditions and weather forecasts around Zionsville and Indianapolis, among other neat tricks. Ultimately, the Honda Insight is a value-friendly vehicle we recommend to any sedan driver looking to explore what a hybrid can do for them.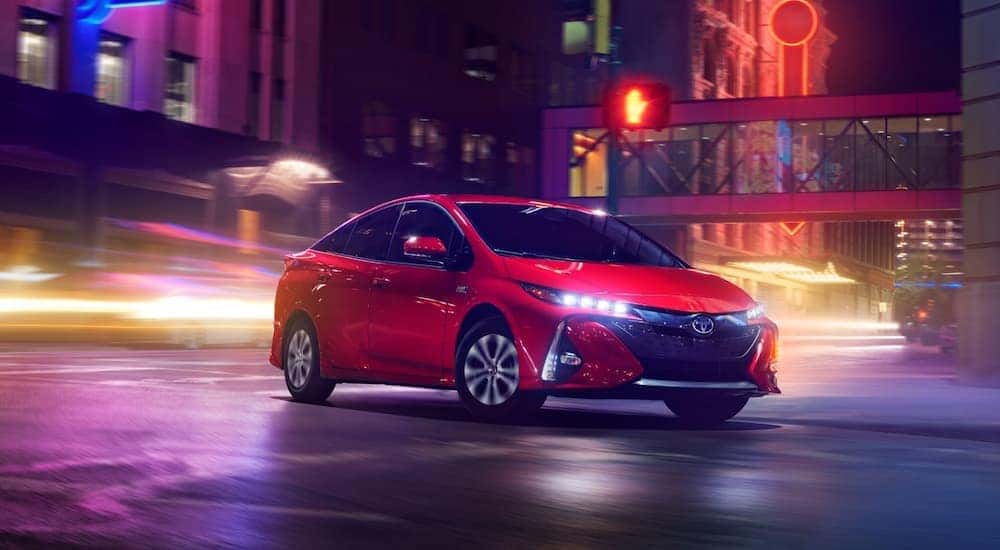 Toyota Prius
What can we say about the Prius that hasn't already been said before? The way we see it, the Prius isn't legendary just because of its stature as one of the most immediately recognizable consumer hybrid vehicles, but because it still has the efficiency to prove why it's still on the market today. Given how influential the Prius was to the concept of hybrid vehicles as a whole, it's only fitting it's one of the most fuel-efficient too. Best of all, it can be found cheaper than the Accord Hybrid and Insight, at least when shopping for a new model, and this should directly translate over to the used market as well. The Prius has been a consistent player in Toyota's lineup since its release in 2001, although its production began back in 1997 in Japan.
If you're shopping in the used market and performance is a concern, then you have nothing to worry about since you can find many used Prius models that perform identically to the latest release. For example, the 2022 Prius has a total of 121 hp and 120 lb-ft of torque, thanks to its 1.8L I-4 engine paired with an electric motor and a CVT. Not only is this powertrain confirmed to be utilized again in the upcoming 2023 model, but an identical configuration can be found in Prius models as far back as 2016. If you invest in the Eco model, you'll get the same fuel economy ratings of 58 mpg in the city and 53 on the highway, which are extraordinary. Out of the three vehicles we've mentioned, the Prius is undoubtedly the most fuel-efficient, but any driver in the greater area of Zionsville should look no further than these perfect examples.