Midsize Pickup Truck Wars: Colorado vs Tacoma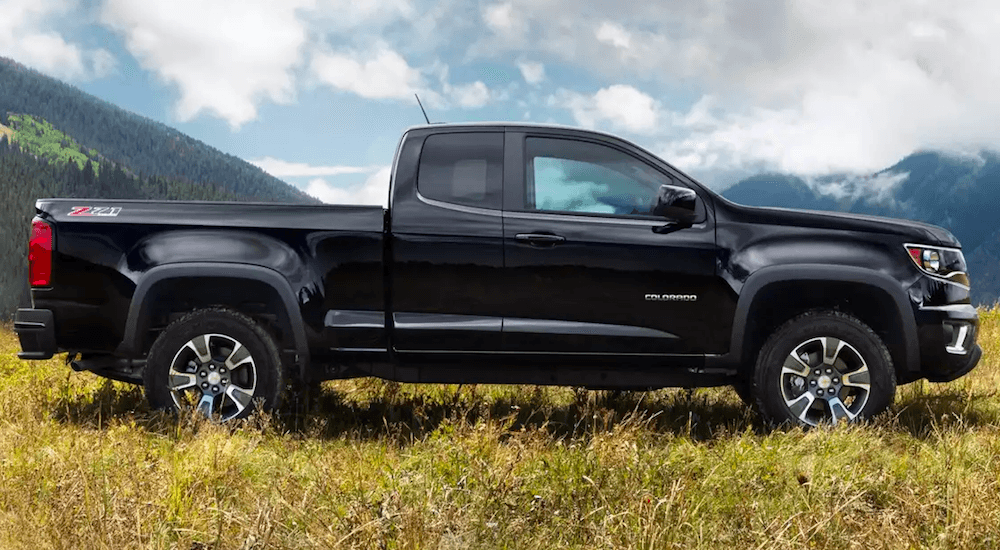 Some car segments are littered with so many options that it can feel impossible to narrow it down to a few solid candidates. Crossovers, midsize sedans, and SUVs are a few of these overly crowded vehicle categories that seem to permeate the marketplace. For drivers looking for a quality and tough midsize pickup truck on the other hand, this is not the case. With only a few viable options currently offered to buyers in this small segment, the midsize truck segment is made even smaller thanks to outdated and unattractive models. The Nissan Frontier and the Ford Ranger are both incredibly out of date, turning buyers off before they even sit behind the wheel for a test drive. That essentially leaves the Chevrolet Colorado and Toyota Tacoma as meaningful midsize pickup truck options for drivers who are currently on the market. When it comes to each of these pickups, which one is right for you? Continue to read on and explore these two great options side-by-side as they battle it out to win your seal of approval.
Chevrolet Colorado vs Toyota Tacoma
Toyota first introduced the Tacoma as a compact pickup truck in 1995. Throughout the entirety of its first generation which ended after the 2003 model year, the Tacoma was the only compact pickup truck offering in the Toyota lineup. Starting with the 2004 model year, the Tacoma was redesigned and categorized as midsize.
The Colorado midsize pickup truck was introduced by the bowtie brand back in 2003, and while it enjoyed tremendous success around the world, the Chevy Colorado was retired in the United States after the 2012 model year. In 2015, Chevrolet reintroduced its midsize pickup truck in the United States which was welcomed with open arms. Earning the Truck of the Year award in 2015 from Motor Trend Magazine, the Colorado has proven itself to be a staple in the Chevrolet lineup ever since.
With both trucks rooted deep in the midsize pickup segment, let's take a look at how they compare side by side in the areas that matter most to car shoppers in this category.
Towing: While midsize pickup trucks aren't designed to deliver the same capabilities as their full-size truck counterparts, they are still expected to deliver competitive towing capacities. The 2017 Chevy Colorado offers a maximum towing capacity of 7,700 pounds, which is more than enough to satisfy buyers in this segment. The 2017 Tacoma delivers up to 6,800 pounds of towing capacity which, while impressive, does not measure up to the Colorado. Simply put, if you need exceptional towing out of your midsize pickup, the 2017 Colorado is the way to go.
Durability: Trucks are made to last, be dependable, and deliver exceptional power. Both the Tacoma and Colorado do well in these three areas, but the Chevy pickup has a slight edge over Toyota's midsize truck. The 2017 Colorado is built on a fully-boxed frame, which ensures increased stability and longevity, while the Tacoma is not. A few other important details that the Colorado offers that are missing on the Tacoma include an EZ-lift tailgate, 4-wheel disc brakes, Duralife brake rotors, and a CornerStep rear bumper.
Efficiency: Fuel economy may not be at the top of the list for pickup truck shoppers, but a highly efficient vehicle certainly doesn't hurt. While the 2017 Colorado boasts an EPA-estimated fuel economy of 30 miles per gallon, the 2017 Tacoma maxes out at just 24 MPG on the highway. One to two extra points doesn't usually matter, but with a rating that bests the Tacoma by a total of six added miles per gallon, the Colorado is the obvious choice.
Available Options: Pickup trucks were once designed strictly for the working man or woman and were built without the creature comforts that satiate other vehicle segments. Today, automotive brands are doing everything they can to change this perception and deliver trucks with as many bells and whistles as buyers desire. While this is true, the 2017 Tacoma falls short in offering advanced technology and amenities over the 2017 Colorado. Chevrolet's midsize pickup is available with a 4G LTE Wi-Fi hotspot, a Forward Collision Alert system, Lane Departure Warning, a remote start system, and OnStar. The 2017 Tacoma doesn't offer any of these features as standard or optional. The Colorado features four USB ports while the Tacoma only offers one, and the touch-screen display in the Chevy pickup is eight inches in size, while the Tacoma's touchscreen is seven.
Price: If some of these categories don't particularly matter to you as you consider a midsize pickup purchase, perhaps the price difference in these two trucks will. THe 2017 Tacoma base model starts at $23,565, while the 2017 Colorado comes in with a starting MSRP of just $20,995. The top of the line Tacoma TRD Pro is also more expensive than the Colorado's high-end Z71 Crew Cab, with the Tacoma topping out at $43,920 and the Colorado peaking at a price of $40,905.
Which One is Right For You?
Deciding between two different pickup trucks is not always easy, especially when reading about them on paper. Taking time to explore each one of these models in person may be exactly what you need to turn your uncertainty into assurance. Be sure to keep your actual needs in mind as you drive both the Toyota Tacoma and Chevy Colorado, as well as your goals as a pickup truck owner. Putting your needs at the forefront of your mind will help you stay focused on purchasing the perfect midsize pickup.
Ready to Buy? Find Your Dream Car with online.cars
When you are ready to make your next midsize pickup truck purchase, whether it be the Tacoma, Colorado, or another vehicle, be sure to check out the web-based car finding service offered with online.cars. online.cars allow car shoppers to initiate the purchase process from anywhere with an internet connection and gives them complete freedom as the online.cars team goes to task finding and securing the vehicle of their dreams.
Finding your next new car doesn't have to be hard, or even stressful. With online.cars, all of the negativity is removed from car buying, leaving you with a straightforward and convenient way to buy your next new car, truck, or SUV. Head online today, and discover for yourself how much freedom comes with securing your next vehicle with online.cars.