Need a Bad Credit Car Loan? Why the 2017 Chevy Cruze Can Be on Your List of Targets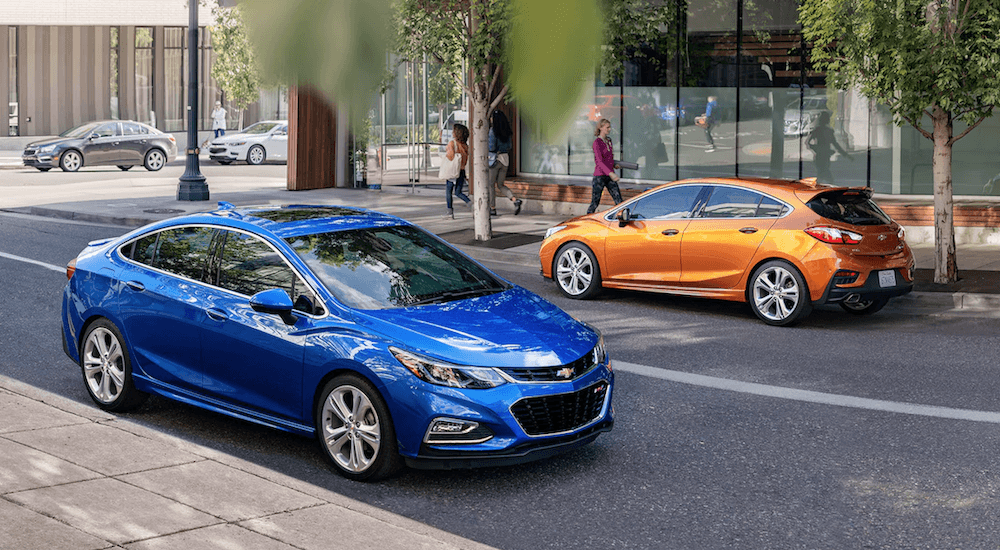 Nowadays, it can be tough choosing between Chevy's incredible offerings. Each of their nameplates provides owners with their own unique capabilities and features, and each of the models leads to a superb driving experience.
However, there is one particular model that manages to impress again and again. Surprisingly, it isn't one of the brand's rugged pickups or SUVs. Rather, it's the stylish and athletic 2017 Chevy SS 4-Door Sports Sedan. The vehicle provides everything a driver could possibly want in a new ride: power, technology, style.
Best of all, the vehicle will soon be hitting used dealership lots, meaning customers on a budget can consider the "outdated" model as the 2018 variation makes its way in. This could even be an option for those seeking a bad credit car loan, although you'll still have to consider the financial ramifications and the accompanying monthly payments.
Below, we've explored several reasons why the 2017 Chevy SS 4-Door Sports Sedan is the brand's premier car. Then, when you're shopping for a bad credit car loan in Columbus, Ohio, you'll know exactly what model you want to opt for…
Performance
Nowadays, consumers generally don't expect a whole lot of power or performance from their sedan. Of course, as you're about to learn, the 2017 Chevy SS 4-Door Sports Sedan certainly isn't in the same tier as many of its competitors. After all, the accompanying engine manages to crank out all of the muscle you could possibly ask for, leading to some impressive performance specs. The 6.2-liter V8 engine is capable of delivering 415 horsepower and 415 pound-feet of torque, numbers that are practically unmatched in this particular segment. This ultimately leads to an incredible 0-to-60 miles per hour time of 4.7 seconds, meaning you can anticipate zooming past your fellow drivers on the highway.
Of course, to accommodate all of this power, the brand's engineers cleverly included several mechanical amenities that will improve the overall driving experience. It starts with the impressive Magnetic Ride Control suspension system, which allows drivers to pick from a variety of configurations (including Tour, Sport, and Performance) as they're looking to accommodate their vehicle for the impending road conditions. Of course, the inclusion also plays a significant role in helping the vehicle deliver one of the smoothest drives among similar powerful sedans.
Meanwhile, the high-performance Brembo brakes will predictably provide drivers with unmatched stopping power, meaning you'll never have to worry about your ability to decelerate. The dual-mode exhaust plays an important role in helping the vehicle seamlessly switch between the various modes, while the six-speed manual transmission or six-speed automatic transmission (with accompanying TAPshift manual shift control) allows owners to truly realize their vehicle's capabilities.
Technology
Of course, while prospective buyers are surely focused on the power that their new sedan can deliver, you're going to ultimately be spending the majority of your time inside the actual vehicle. Therefore, you'll surely appreciate all of the technology offerings that Chevy's engineers crammed into the nameplate.
The star of the interior is the Chevrolet MyLink system, which provides incredibly easy access to an assortment of applications via the eight-inch, high-resolution diagonal color touch-screen. Whether you're looking to access your navigation system, radio, or phone (which drivers can capitalize on thanks to the smartphone integration), it's all possible. Speaking of radio, if you're one who likes to jam out to their favorite tunes during a commute, you should consider opting for the impressive nine-speaker Bose premium audio system.
The innovative Head-Up Display may influence safety more than ride enjoyment, but it's still an appreciated inclusion. The technology will display a host of important information right in front of the driver, allowing them to monitor their speed, fuel, or vehicle diagnostics right on their windshield. Thanks to this inclusion, drivers will no longer have to strain their neck in order to see this information. Finally, the available 4G LTE Wi-Fi will be an especially notable inclusion for those who are required to complete work while traveling. Instead of having to pull over at a business with Wi-Fi, you can instead rely on your own built-in wireless internet connection.
Style
While we're on the topic of the interior, Chevy's engineers also did an admirable job of including a number of classy features to the cabin of the 2017 Chevy SS 4-Door Sports Sedan. The leather-appointed performance seats add a unique combination of athleticism and opulence, while the 10-way heated and ventilated power seats will influence comfort and convenience.
This sentiment also applies to the exterior, as the sculpted sedan is one of the most striking offerings in the class. Highlighted by a striking front fascia and intimidating LED running lamps, you can be assured that your fellow drivers will be impressed as you drive by.
Safety
When you consider all of the power that's under the hood, you'll surely want the 2017 Chevy SS 4-Door Sports Sedan to offer some sort of safety functions. Well, the model more than delivers, as drivers can rely on the vehicle's array of safety features to keep them safe and secure. In fact, these technological inclusions can also play a role in preventing accidents altogether.
For instance, the Rear Cross Traffic Alert, Side Blind Zone Alert, and Lane Departure Warning will all provide the driver with an extra set of eyes, assuring they don't end up in a devastating crash on the highway. Meanwhile, the Forward Collision Alert relies on the accompanying sensors to determine when a crash is imminent. If the driver doesn't respond to the audible and visual cues, then it can automatically apply the brakes to help lessen or prevent the accident. Even the Automatic Parking Assist is a notable inclusion, as this feature should help cut down on those unnecessary fender benders.
If you do end up in an accident, you won't have to worry. The vehicle's strong frame should absorb the majority of the collision's energy, while the reinforced safety cage shouldn't compromise during the crash. Of course, the eight standard airbags will also play a significant role, as they'll provide the occupants with the necessary amount of cushion. In the event that emergency help is needed, drivers can use the OnStar Automatic Crash Response system, which will connect them with an OnStar Advisor. This individual can subsequently summon emergency help to the site of the crash.