online.cars Knows What You Deserve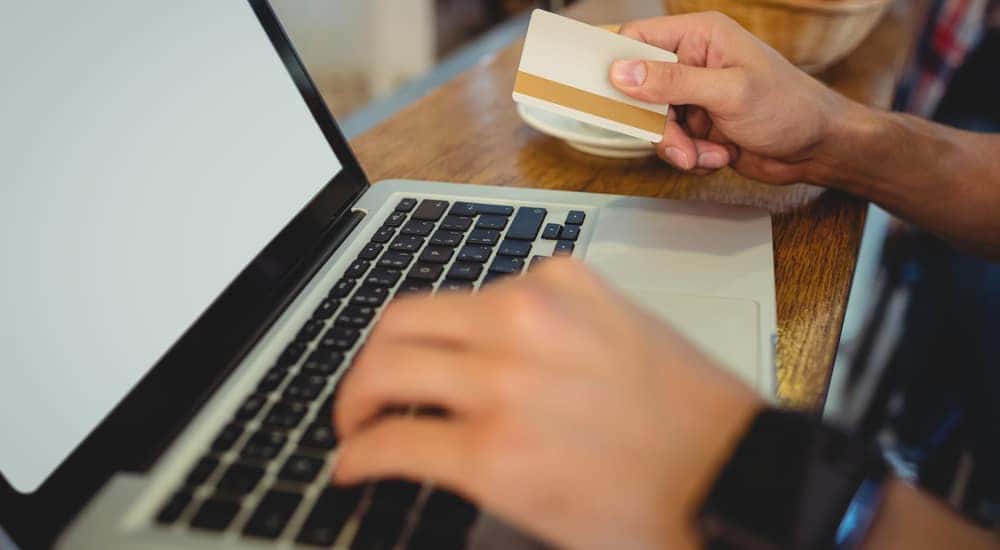 When you're in the market for a new Chevy car, crossover SUV or pick-up, do yourself a favor and refuse to be limited by the rigidity of traditional car buying.
Granted, you may not have even realized that you had other options! You're not alone. You may have been prepared to endure the trappings of searching endlessly through dealer inventories, lot after lot, and dealing with aggressive sales tactics; but all for what? The possibility that you won't end up with the vehicle you actually want, be it a result of limited availability or bait-and-switch tactics?
Listen…a vehicle purchase is a major investment, not only 'of money' but 'in yourself'. It shouldn't cost you more (on top the price tag) in terms of your time, patience and resources. We live in a world where you can complete all of your Christmas shopping with the ease of a finger swipe, why should car-buying be any different?
Maybe you're more comfortable with the traditional method, just as you're more comfortable with a season trip to the mall. We applaud you for your support of Brick & Mortar commerce. But take a moment to consider the inherent stress of working with your local Chevy Dealership vs online.cars ease of use, and you might find a Click & Order approach more appealing.
Hypothetical Situation
You visit your local dealership, interested in a late model Chevy Equinox, preferably within the last 3 model years, and under 50,000 miles. Oh, and in a perfect world you'd prefer a 2015 or 2016 LS trim in Blue Velvet Metallic. It fits your budget, gives you all the features you need (and nothing more) plus, you really like the color.
So the salesperson checks, and breaks the bad news to you: there are no 2015 or 2016 Equinox LS in Blue Velvet Metallic available in the area. Whether or not they actually checked is beside the point, you are now limited to available inventory.
In terms of late model offerings, the dealer has a 2015 Equinox LS on their lot. The mileage is little heavy for your liking, but the real 'deal-killer' is the color: Sea Grass Metallic. It might fit a lot of your criteria, but it's just not what you're looking for.
The dealer does have an Blue Velvet Metallic Equinox on the floor, but its a 2017 model and a Premier trim. You're hesitant. First of all, the cost of a 2017 Premiere versus a 2015 LS means a difference of thousands of dollars. 'But its priced to sell, for 2018 models to come in. Plus, Blue Velvet Metallic is being discontinue for the new model year!' Now you feel pressured. It's bad enough that you can't get what you want, now you feel like you're being to buy something that you don't want.
So what's the solution?
online.cars
First, breathe…
In all fairness, even we got worked up typing that, so if you've ever dealt with that kind of hassle you understand how frustrating it can be. After all, you're already taking on a new expense by purchasing a vehicle. Add in the burden of securing the right financing option, and endless of paperwork and you remember why people hate buying cars in the first place.
It shouldn't be that way. We love our cars, so why should finding them be so difficult?
online.cars Will Search
online.cars makes it simple. First we use our national network of dealerships to help you find the vehicle that you're looking for. If you want a 2015 Chevy Equinox LS in Blue Velvet Metallic, with less than 50,000 miles on it we're here to help you find it. You don't need to search dealer inventories because that's our job. Just relax, and work with us from the comfort of your smartphone, tablet or laptop. It's that easy. Why? Because it should be.
online.cars Will Secure Financing
Finding that 2015 Chevy Equinox LS in Blue Velvet Metallic is only the first step.
Just as online.cars is prepared to find the perfect vehicle for you, our concierge service will find the perfect financing option, as well. Even our customers with challenged credit can find the solution they need, in order to buy the car that they want. Never before has arranging financing for a vehicle purchase been so easy. With every step handled electronically, we make it convenient for you (because your life is busy enough!)
online.cars will Accept Your Trade-in
That's right, we didn't forget about your trade-in. We are able to provide an instant online quote for your trade-in vehicle, and will negotiate that trade-in against the purchase of your new vehicle. But it doesn't end there. Once finalized, we will arrange for pick-up of that vehicle, taking yet another burden off your plate!
online.cars Will Deliver
Never having to set foot on a dealer lot to find your dream car. Never having to spend hours inside the dealership filling out paperwork. Wouldn't it be great if you never had to go to the dealership at all?
No matter where you are in the continental United States, online.cars will deliver your new vehicle to you, at home or at your place of employment! It really can't get much easier than that!
Know What You Deserve
From start to finish, we are committed to our customers. With enough burden placed upon your every day life, your resources are at a premium. You deserve the ability to lend those precious resources to the aspects of your life that are most important to you. All jokes aside, a car dealership does not deserve to be one of those recipients.
online.cars is built around a simple mindset, to make car-buying easy and painless. The world is ever-changing around us, and there's no reason for buying a car to be any different than the everyday purchases that we make on Amazon. Remember this when you search for your next vehicle, and remember online.cars.