Paddle Shift Renaissance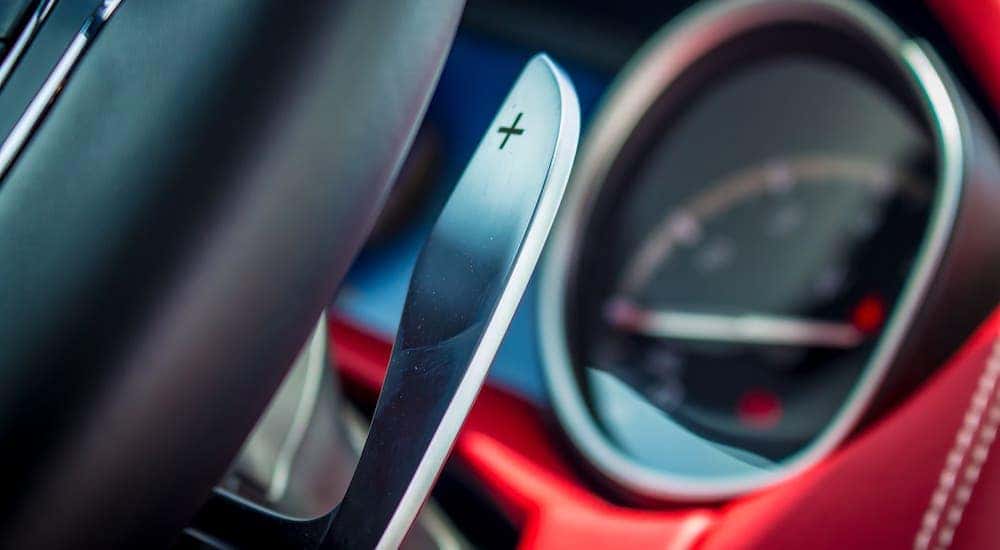 Over the past two decades, paddle shifters have gone from a performance-enhancing device on only the fastest and most single-minded race cars, to a fashionable accessory on supercars, to something one can even find on affordable used cars for sale near you. While passenger cars have only recently begun adopting paddle shifters, many of these vehicles are now available for under $20,000 in used car lots around the country. Paddle shifters similar to those used on Formula One cars are now genuinely a thing.
For the uninitiated, paddle shifters are large switches mounted to the steering column that allow you to select the gear on an automatic transmission. In the past, manual cars were favored for high-performance driving because they gave drivers greater control over the vehicle. Today, paddle shifters give you that same level of control in an automatic car without having to worry about manipulating a clutch pedal or risking stalling the car. Further, you only have to use the paddle shifter when you want to, as the car will still shift normally when you are not in the manual shift mode.
Depending on what kind of car you want, there are several options available with paddle shifters. This includes sedans and sports cars that shift their automatic transmission option with paddles, as well as models that offer a true dual-clutch transmission. Below are a few good used options in all of these categories to give you an idea of where to start your search for a fun used car.
Sedans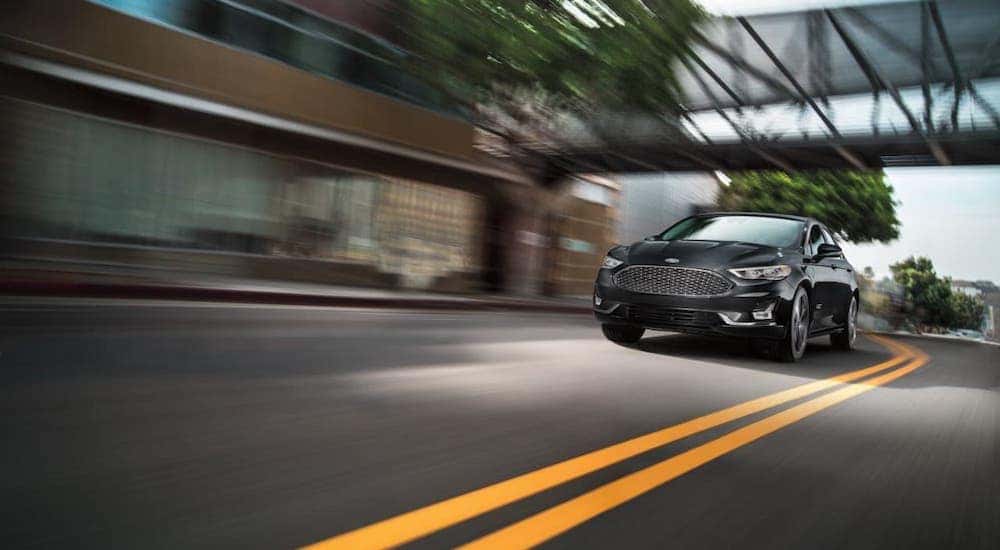 In many ways, the outgoing Ford Fusion was the pinnacle of Ford Motor's sedan line, with a legacy going all the way back to the Model T. This final generation of midsize Ford sedans was sold from 2013 to 2020, and many were built with paddle shifters. These cars used the 6-speed SelectShift transmission, which is an efficient automatic unit. For those looking for the Fusion closest to what could be considered a true sports sedan, the 2017 through 2019 Fusion Sport is the way to go. The Sport uses its paddle shifters to control the extra punch from a 2.7-liter turbocharged V6 that produces an eye-widening 325 horsepower and has standard all-wheel drive.
The name Honda Accord might not conjure up images of serious performance, but recent models have offered powerful V6 engines that turn them into factory sleepers. The Accord's 2015 model year, among others, is available with paddle shifters that offer some clues into how this less than flamboyant machine is capable of some impressive things. The ninth-generation Accord, including the 2015 model year, is available with a 278 horsepower J-series 3.5-liter V6 engine. More than enough oomph to surprise quite a few people at the lights.
Sports Cars
It is common wisdom that sports cars are best experienced with three pedals, but modern automatic transmissions are turning that common wisdom on its head. In fact, many of the fastest modern sports cars no longer come with a manual option because paddle shifters allow even better control.
The Nissan 370Z has had an enormously long production run for a sports car with virtually no major changes or significant updates. This means that brand new Zs are essentially the same basic car as those over a decade old at this point. For those looking for a modern sports car at a low price, this is a prime opportunity, and the automatic versions of the 370Z offer a 7-speed JATCO transmission with paddle shifters. With many used options available for less than $15,000, the 370Z is a great choice for those looking for a hassle-free yet truly inexpensive sports car experience.
Compared to the middle-weight 370Z, the ND generation Mazda Miata is more sports-focused, with a full thousand pounds less weight than the beefier and more insulated Z car. This massive difference in weight gives the two ostensibly similar sports cars fundamentally different characters: the 370Z is more powerful and comfortable, while the Miata is much more nimble and playful. What the two cars do share in common is an automatic transmission with paddle shifters. While the Miata is certainly a car that would be optioned with a manual transmission by most enthusiasts, paddle shifters are available to control a modern six-speed torque converter automatic.
Dual-Clutch Transmissions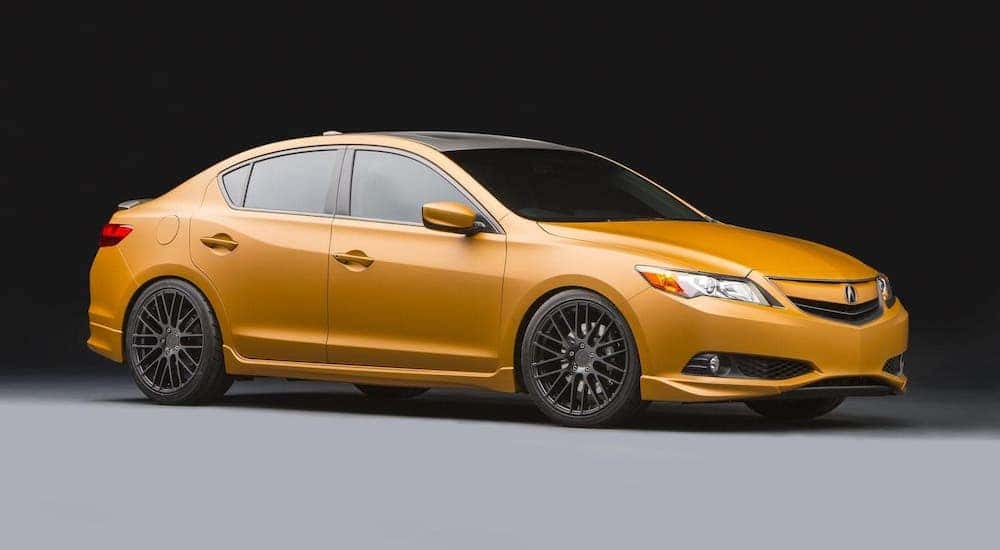 While paddle-shifted automatic transmissions give a more sporty feel than a basic automatic, all these systems are attempting to mimic the Dual-Clutch Transmissions (commonly abbreviated as DCT) found in high-end exotics. Originally pioneered by Porsche, Dual-clutch transmissions function, at least from a driver's perspective, like automatics, in that they don't use a clutch pedal and can shift themselves.
What sets them fundamentally apart from automatic transmissions is that they lack a torque converter and instead have a direct mechanical linkage from the engine to the wheels. This gives them the crisp shifts and more immediate feel commonly associated with a manual transmission. In many cases, modern dual-clutch systems can switch gears so fast that no drop in acceleration can be felt by the driver or even onboard sensors.
True dual-clutch transmissions, virtually all of which are paddle-shifted, have only very recently begun to trickle down into less expensive used cars, but they are most certainly available. The easiest places to find them are in late model Volkswagen and Audi cars. That said, they have also appeared in vehicles like the 2013 and newer Acura ILX, the Mitsubishi Lancer Evolution, and the Hyundai Veloster Turbo.
Good examples of Volkswagen Audi Group cars with fully-fledged DCTs are easy to find. These include the always professional-looking B8 generation Audi A4, a car that pairs that fast-shifting DCT with Quattro all-wheel drive. Audis take a significant amount of care and upkeep once past warranty, but for those who love looking suave and going fast on a budget, the Audi A4 can get the job done for well under $13,000.
The Mk 6 generation VW Golf is not a car most non-car enthusiasts would consider sporty enough to include Porsche technology, let alone previously race-only technology. But sure enough, the hotter variants of the Mk 6 Golf hatchback come equipped with DCTs that swap gears with lightning speed. These boxes are sort of cousins to the original automated gearbox technology for road cars, specifically the Porsche PDK system found on six-figure exotics and mid-engined sports cars.
In terms of non-Volkswagen Audi Group cars equipped with high-performance DCT systems, the Acura ILX is an often overlooked example. This smart-looking luxury sedan comes with an 8-speed dual-clutch transmission, mated to the legendary K24 engine. Packing a surprising amount of torque for a four-cylinder powerplant, this lightweight and extremely reliable engine is just one of many reasons that those looking for a compact luxury car should consider the Acura ILX.
Another rather unexpected DCT-equipped vehicle is the first-generation Hyundai Veloster Turbo. Many of these relatively lightweight hot hatchbacks were built with the quick-shifting transmissions. On the second generation of Veloster, which is also available used, DCTs are even more widespread. The Veloster is an exceptional runabout, with low costs and good performance.
Getting into the more performance-oriented side of the spectrum, the Lancer Evolution X is the renowned final iteration of Mitsubishi's famed rally cars. This final car in the series broke with many of the old rally homologation rules when compared to Evos of the past, resulting in a technological showcase. One part of this showcase is the DCT transmission that came on many Evo Xs.
Enjoy Fast Shifting With a Used Car
Paddle shifters have gone from motorsport innovation to supercar accessory to passenger car feature in a seemingly short period of time. Today, there are plenty of used cars near you that include this motorsport-inspired control scheme, and not just on sports cars. Luxury sedans, rally legends, comfortable cruisers, and awesome little hot hatchbacks have all taken to using paddle shifters, leaving those in the used market with a sea of bargains and good choices to select from.