The Best Month To Buy A Car? It Depends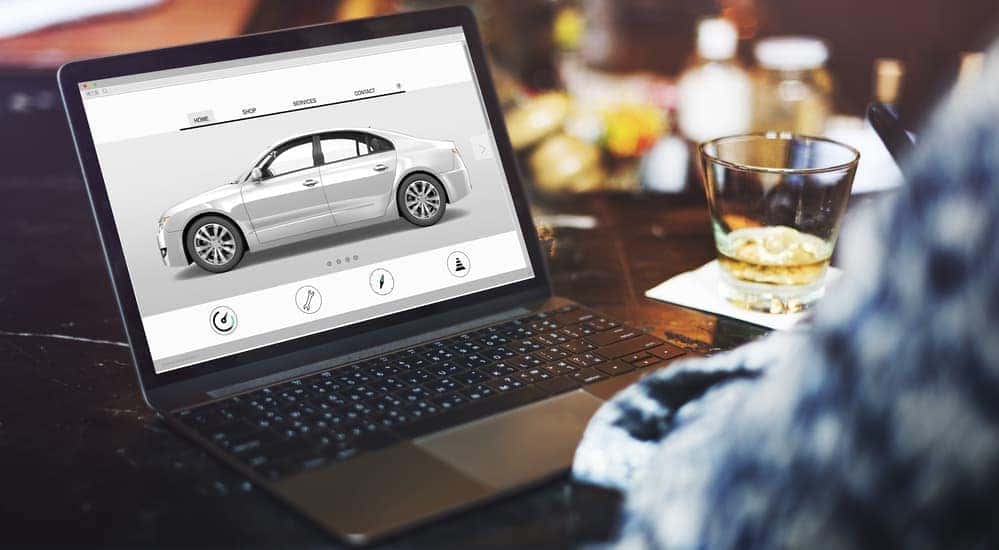 If you're like most people, you're always on the lookout for how to make the most of your hard-earned money. Consumers are always seeking the best deals, no matter the item, and this sentiment is backed up by certain sales events that happen throughout the year. Shopping on Black Friday or around the time of the Super Bowl might get you that huge flat-screen television that you've been thinking about. Cyber Monday is a prime opportunity to upgrade that old cell phone or computer. If you travel, booking flights on weekdays is often far cheaper than weekends. But what if you want to buy a car online? When would be the best time to do that? This can be a pretty open-ended question, and anyone you ask may give you different answers such as waiting until the end of the month or waiting until the new model year vehicles come out.
The truth is, there's no real right answer. The decision ultimately comes down to when you need a vehicle and feel ready to make the purchase, which may not align with a certain time of year. That said, there are some theories out there about when the best time is to get the best deal, so let's take a look at a few of them. As you'll see below, the "right" answer can come down to a few factors.
Best month
Most data out there suggests that December is the best time for a car purchase, as dealers are seeking to fill year-end quotas, resulting in year-end sales. Often times this period during the year also coincides with when new models are due to arrive for the following model year. Dealerships will want to move out their current inventory to make room for the newer models. A pretty consistent trend has shown that buyers can find greater savings on existing vehicles when new models are introduced.
Typically, the least discounted months are January through April, where sales are usually slow with the smallest discounts off a given vehicle's MSRP. Since sales are slower, dealers are going to want to hold onto as much of the price as possible. Things improve during the late spring and summer months of May through September, as the announcements and introductions of new models drive down the prices of existing stock. As we move toward the end of the current year, the deals and discounts improve even more. If you're looking for a car in October, for example, you may want to try and hold off until December to try and get the best deal. This can be a bit of a balancing act, though, as waiting could potentially reduce the available pool of vehicles to choose from. On the flip side, having that extra time allows for doing more research on the specific vehicle you're interested in as well as gather more price quotes.
Best Day of the Week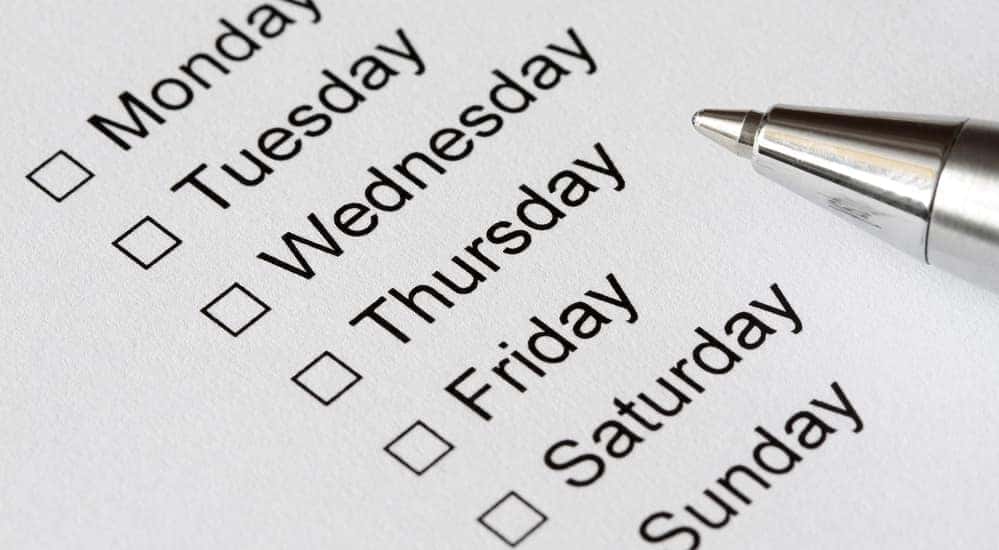 Weekends are typically very busy for car dealers, with salespeople often assisting multiple customers, and the finance department jammed with helping buyers secure loans. If you can buy earlier in the week, say on a Monday or Tuesday, there will be a greater chance of a greater level of personal attention, allowing you more time to ask questions and to hopefully make for a quicker transaction overall. If it's not possible to do this earlier in the week, even mid-week would be a better option than on a busy weekend.
Months with Holiday Weekends
These are the time periods that most people are familiar with, where dealerships are decked out in their finest decorations and colorful attempts to attract buyers. These can be very hectic times, as dealers are sure to be very busy with customers, so it can be helpful to have all of your research ready to go before you decide to make the purchase. Below are the common three-day weekends and what you can expect from each:
President's Day: This holiday lies in February, which as mentioned above, is one of the months where you can find the least savings. Dealers will be offering the smallest discounts during this time, so this is probably an unlikely time to commit to a purchase.
Memorial Day: The traditional kickoff to summer can be a solid time to find a good deal, and can be when you will have the largest selection of outgoing models to pick from. If you're looking for a particular color or specific option package, this might be a good time to find it.
Fourth of July: With summer well underway, there should be a good mix of existing year vehicles combined with upcoming new models. This should provide a good time to fully investigate the dealer's inventory if you're torn between older and newer vehicles.
Labor Day: The traditional ending of summer weekend is a good one if you're seeking the right combination of best selection coupled with competitive pricing. You might not find the best savings during Labor Day weekend, but the selection of vehicles will be greater than if you wait for the end of the year deals.
Best Time During the Month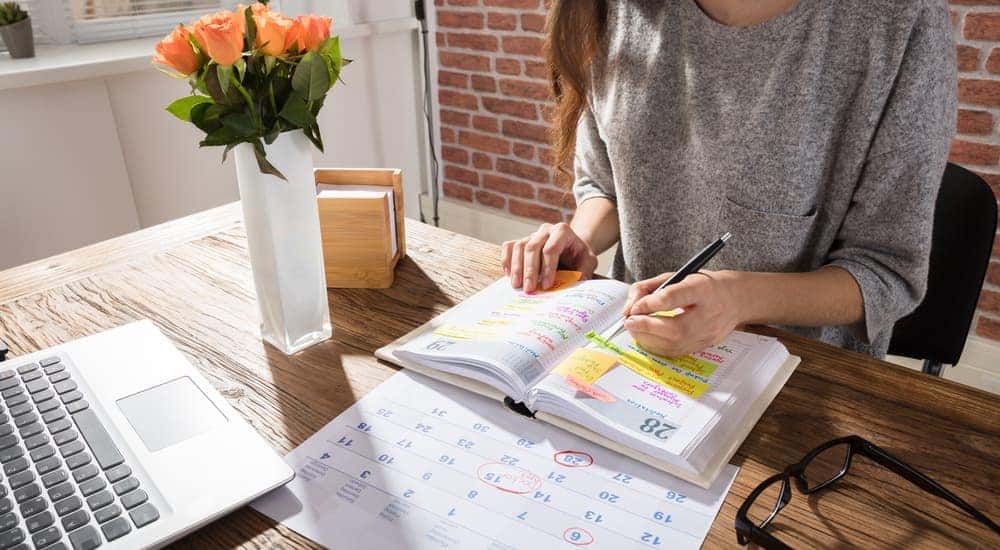 No matter which month it is, you can be assured that car dealers may be looking to wrap up their sales goal for that month, which could translate into big savings for you. Sales staff may be more motivated to make the sale during this time to ensure a bonus and dealers may deeply discount vehicles at the end of the month. At the same time, the dealer may have already met their goals for the month and will be less inclined to offer you a better deal. It's hard to say ahead of time. But if you're in the middle of a negotiation and the dealer comes back to you with a price that seems low, there's a good chance they are willing to sell at a low price in order to hit their goals. In turn, this puts a little more negotiating power in your hands. The dealer will only go down so far, of course, but you may be able to tip the scales in your favor just a bit more.
Are You Ready to Buy a Car Online Through Online.cars?
Online.cars brings a whole new approach to the car buying process by eliminating the traditional dealership experience. If you are ready to purchase your next vehicle, consider Online.cars by contacting us to set up a personalized 5-minute video presentation on what makes us different. In the presentation, one of our professional Market Managers will take the time to go over why purchasing from Online.cars is a much more fun and enjoyable experience than working with a traditional brick-and-mortar dealership.
Online.cars does it all, and when the process is complete, your vehicle will be delivered to your destination of choice—home, office, wherever—in one of our state-of-the-art traveling glass showrooms, then rolled right out for you to start driving. After your vehicle is delivered, you can also enjoy a free lifetime mechanical warranty
To get started, simply contact us to schedule an appointment for a video. You'll learn all about what Online.cars has to offer and what makes us a unique and easy way to shop for your next vehicle.