The Equinox vs. The Tahoe: What's the Difference?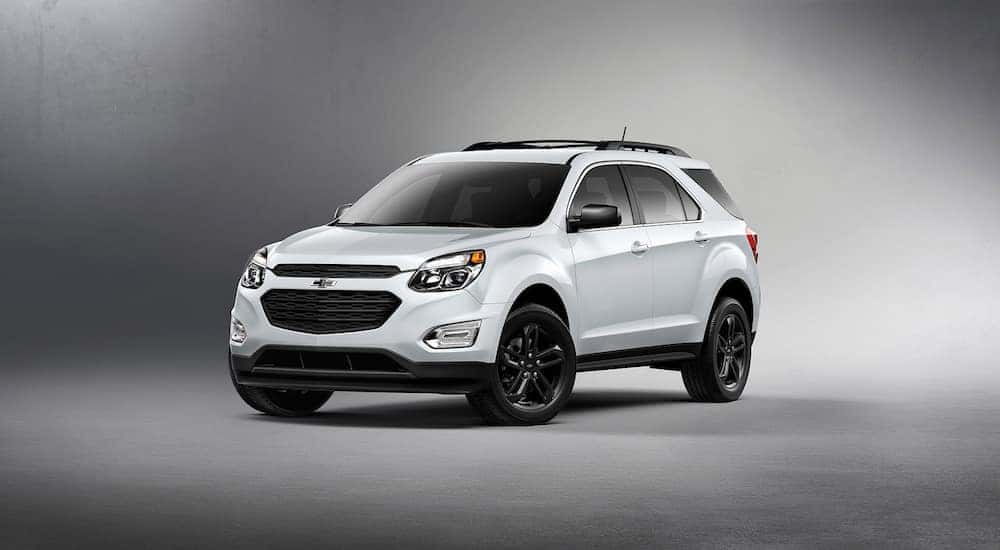 So you've decided that you're going to purchase a new SUV and of course you've made the wise choice to check out Chevy SUVs – after all, Chevy is the most awarded car company three years in a row. Before you get to the dealership and have to muddle through makes and models, take few minutes to acquaint yourself with two of the most popular Chevy SUVs currently available: The 2017 Chevy Equinox and the 2017 Chevy Tahoe.
Does Size Matter?
To start, you should know that the Equinox is a baby compared to its sibling Tahoe. The Tahoe is enormous, measuring in at over six feet tall, 6.7 feet wide (without mirrors) and 17 feet long. Basically, if you have a small garage, you should probably double check that the Tahoe will even fit in it. Why so big? To make room for all its passengers, of course. With room for up to eight passengers, the Tahoe dwarfs the five seater Equinox, which measures in at 5.5 feet tall, 15.65 feet long, and 6 feet wide (without mirrors). Of course, if you're not looking to haul around half of the soccer team and only need standard seating, the Equinox should do you just fine… plus it will be a lot easier to parallel park.
Practical Performance
When it comes to performance, the Tahoe continues to overshadow the Equinox. The Tahoe comes with only one engine option, but that engine is a 5.3-liter V8 paired with a six-speed automatic transmission that gets 355 horsepower and 383 pounds-feet of torque. It can also tow up to 8,600 pounds when properly equipped. The Tahoe is a monster in both size and power, but if you're in the market for something a little more even-keeled, the Equinox comes standard with a 2.4-liter four-cylinder engine that generates 182 horsepower, and it also has the option to upgrade to a 3.6-liter V6 that can get up to 301 horsepower. It's no Tahoe, but it's also not trying to be. The Equinox is the perfect counterpart to the Tahoe in that it while it certainly offers enough get-up-and-go to get you where you need to be, you won't be loaded down with way more engine than necessary.
No matter if you opt for the more powerful Tahoe or the economically-sized Equinox, you won't have to worry about being taken for a ride when it comes to fuel economy. Of course the Tahoe isn't able to compete with smaller cars or SUVs, but it does get pretty solid mileage for its class with an EPA-estimated 16 miles per gallon in the city and 23 mpg on the highway. The Equinox also puts up decent EPA estimates, especially if you stick with the standard 2.4-liter four-cylinder, which gets 21 mpg in the city and 31 mpg on the highway. Of course, if you trade up to the V6, be aware that your splurge will continue at the gas station as the V6 only gets 17 mpg in the city and 24 on the highway. As U.S. News & World Report states, "That may not sound like a huge decrease, but it means that over the course of a year, you could be spending about $300 more in gas money with the V6 compared to the base engine."
As you weigh the pros and cons of each vehicle, be sure to take into account your actual needs versus just your wants, otherwise you could easily end up with much more car than you anticipated.
Appealing Interiors
Both the 2017 Equinox and the 2017 Tahoe offer buyers their choice of trim level – in the Equinox you can choose from four: the L, LS, LT and Premier, while the Tahoe offers the choice of either the LS, LT or Premier.
It might be the base model, but the Equinox L still comes with slick amenities including a seven-inch touchscreen, a 4G WiFi hotspot, a six-speaker sound system, an auxiliary jack, a USB port, Bluetooth connectivity, a rearview camera and OnStar. The L model sits on 17-inch alloy wheels and has air conditioning, automatic headlights, a partial power driver seat, cruise control and a tilt-and-telescoping steering wheel.
Of course, the base model Tahoe LS is also nothing to scoff at, coming standard with a six-speaker sound system, five USB ports, Apple CarPlay, Android Auto, an eight-inch touchscreen display, heated mirrors, a 110-volt power outlet, trizone climate control, a rearview camera, rear parking sensors, satellite radio, HD radio, a 4G LTE WiFI hotspot, roof rails, remote start, and a trailer hitch with a wiring harness… just to name a few features.
Of course, both models only become more luxurious as you move up the trim levels.If you're really looking for a special amenity, such as sunroof, there are several packages that you can add to either the Equinox or the Tahoe to make your Chevy SUV your dream car.
Price Points
Up until now, your decision to buy either a 2017 Chevy Equinox or a 2017 Chevy Tahoe was probably predicated around the maximum numbers of passengers you need to comfortably fit in your car. However, there is another huge metric that you need to consider while picking your next Chevy SUV and that's price.
This will probably be an easy decision for you once we tell you that the base model 2017 Chevy Equinox L has a starting MSRP of $23,100 and the base model 2017 Chevy Tahoe LS starts at $47,215. Looking for the top-of-the-line trims? A 2017 Chevy Equinox Premier starts at $30,040, while the 2017 Chevy Tahoe will set you back $62,140. So unless you really need the extra passenger room and power that comes with a Tahoe, perhaps you should set your sights on the Equinox.
Can't Go Wrong with Chevy
No matter which model you choose, both the Equinox and the Tahoe are unquestionably two of the best SUVs on the market today. With stellar amenities, solid safety scores and decent fuel economy, it's easy to see how it can be tough to choose between the two, but rest assured that there's a Chevy SUV out there for you.