The Main Benefit to Buying Your Vehicle Online? Spoiler Alert, It's Financing!
It's no secret that the car buying process can often be strenuous, to say the least. The research is time-consuming, the dealerships are difficult to choose from, and worst of all finding reliable financing at a reasonable rate makes a wild goose chase seem like a more realistic endeavor. With that all said though, there is a clear solution to these problems, and all it takes is a finger for clicking and internet access. You may think your solution to financing is a Buy Here Pay Here dealership in Columbus, Ohio, but we have something even better!
What is Online Car Shopping?
Online car shopping is a modern and convenient way for drivers to shop and buy their next car from the comfort and safety of their own home. While most dealerships are 90% in-person 10% from home, online dealerships are 90% from home and 10% in-person.
Online car providers often work hard to provide personalized care and detailed information about their inventory to make it easy to shop with them. In fact, these are actually necessary measures for this type of system, which creates a sense of built-in reliability when it comes to buying from them. If you believe that is great though, you will be shocked to hear that that isn't even their main benefit. Car dealers that sell online exclusively such as Online.cars can also help you finance your vehicle with plenty of handy tools, and little to no credit history required.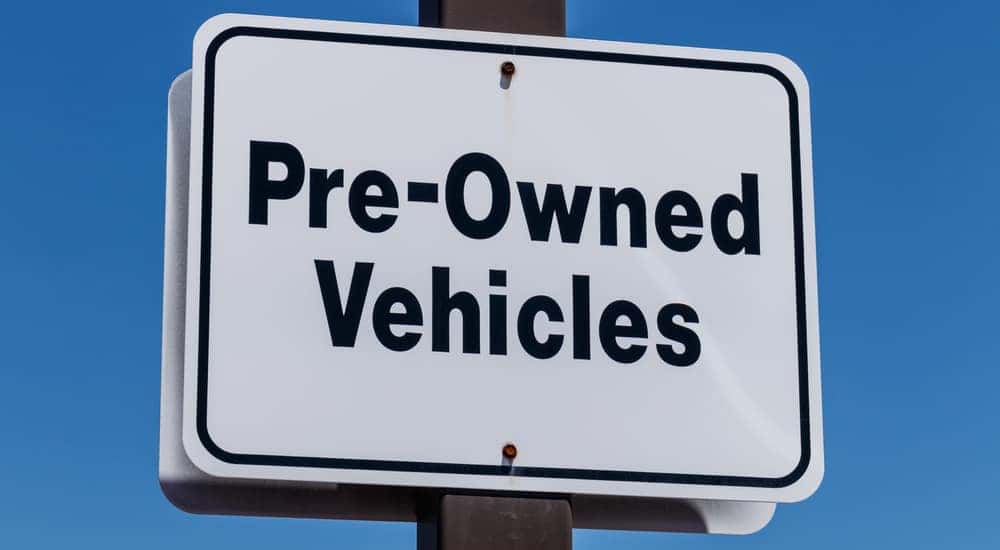 Vehicle Investment Types
When it comes to places that will accept little to no credit information, you will only find places that sell pre-owned vehicles, so it is important to understand the advantages and disadvantages to these types of vehicles.
Used
Used vehicles are what majority of drivers will end up investing in when looking for their first, second, or even last vehicle. This is not a surprise considering they take up a large portion of the market, and are subjectively the best automotive investment option when it comes to long-term and short-term financial value. Here are some advantages and disadvantages of used vehicles:
Advantages
Lower starting cost
Slower depreciation rate
Insurance is less expensive
Model from all years
Any possible kinks have been worked out
Disadvantages
You will need to research the history
Limited customizability while buying
Latest features may not be available
No new car smell
Certified Pre-Owned
While this is more of a sub-category of "used" vehicles, Certified pre-owned vehicles are such great options that they deserve their own special option on the lot. Certified pre-owned vehicles or CPOs are in a way something that is in-between new and used, making it the perfect options for those who are conflicted between the affordability of used and the quality of new. CPO vehicles are newer vehicles that have been slightly used, and since the dealers do not want to waste their potential, they put them through a series of quality tests to assure drivers that they are as good as new. Sometimes it is the manufacturer who does this, and other times it's the dealer, but either way, you are getting a vehicle that has been quality monitored at a fair cost reduction.  Here are some advantages and disadvantages of a CPO vehicle:
Advantages
Newer vehicle
Quality tested
Price reduction
Disadvantages
It is a used vehicle
It will still cost a fair amount
They are less widely seen on the market
Understanding Automotive Financing
Honestly, you could go to a class on automotive financing and still not grasp everything there is to know, but it's still important to get a few of the basics down. When financing a car you will often need to obtain a loan from a provider, and these providers will often look at your credit score to determine if and how much they are willing to loan you for your next vehicle purchase. A credit score is a number from 300 to 850, 850 being the highest, that is based on a number of things, but mostly your past ability to pay back your loans and how much debt you have gathered. Loan providers need this information because it will allow them to determine how much of a risk you will be if they give you an auto loan. While you may feel hopeless if your credit is low, there are some places that are will to help you out, and give you a second chance, and if there is something you should always take advantage of in life, it's financial help.
Buy Here Pay Here
BHPH dealerships in Columbus, Ohio and elsewhere seem like readily available financing for bad credit. These are dealerships that also provide loans to practically anyone who walks in the door asking for it. They may not require much for a down payment, but you will get hit by a high-interest rate as well as some hidden fees if you don't read the contract carefully. These loans rarely have limits, so you need to make sure to control yourself in these situations. Basically, think of a BHPH dealer as your safety net when no other loans will accept what you have. That being said, they are not the only offer on the table, and buy here pay here in Columbus, Ohio can be quite risky.
What Kind of Financing Help do they Offer?
Online dealerships like Online.cars will do anything and everything in their power to get you the financial assistance you need to get you on the road, without making you choose a buy here pay here in Columbus, Ohio program. With Online.cars, you're guaranteed to have a secure, safe, and legitimate auto loan – even with poor credit!  Here are just a few of the ways they do that better than anyone:
Guaranteed Credit Approval
Pre-Qualification
Shop-by-Payment
Trade-in Valuation
Payment Calculator
Other Services of Online Car Shopping
While financial help is a major attraction for many if not all drivers, online dealerships also offer a number of other services that are sure to appeal and satisfy.
Quality Assurance
Every used vehicle has undergone a quality check from CarFax so that you can see directly from the site exactly what this vehicle has been through, and what it has to offer you in the long run.
Personalized Care
While other dealerships may have sales team fighting to have you as their client, Online.cars have the luxury of matching each driver with their own representative that will stay with them the entire time. These trained professionals will lead you through the process and help you locate that perfect vehicle in no time at all.
Referral benefits
For every person you send their way, you will get $250 M-Bucks to show that they care about your loyalty.
Money Back Guarantee
Every vehicle comes with a 3 day or 300-mile money back guarantee so that you know you are respected, and will never be taken advantage of when you buy from them.
Convenience for free
Nothing feels better than shopping in your pajamas and having your car delivered right to your door for no extra fees. This is the type of convenience that the internet was made for.
In beautiful Columbus, Ohio there are plenty of places such as buy here pay here dealerships to help you out when you are struggling financially, but at the end of the day no one can bring about the same level of convenience and security that online car and loan providers like Online.cars can. So, when you find yourself considering buy here pay here in Columbus, Ohio, check out Online.cars instead!