The Stress Free, Car Buying Solution
If you're searching for "No Credit Car Lots" then boy, do we have the perfect solution for you. While going to check out a car lot is a daunting task in of itself, it becomes an even more foreign place when you don't have the best grasp on your credit. Lucky, we live in the 21st century where you no longer need to leave your couch to find the perfect deal for you. Rest assured, we have utilized all of the best technology that we can get our hands on to make sure that you have the most comfortable buying experience possible. When you're in the comfort of your own home, you're able to take the time to make sure that the price is right, the features are what you're looking for, and you can apply for financing in a judgment-free setting. Allow us to go over some of the numerous benefits you'll discover when you purchase a vehicle through our system.
Walking around a car lot can be a confusing and overwhelming experience. You might know what you want, but it can be hard to distinguish between all of the different models. Do you need a "Sport S" or do you need a "Sport S+"? Do you want air conditioning and a sunroof but also a manual transmission? When you have too many choices, it can be hard to make a final decision. It can also become physically exhausting if you want to take the time to review all of your options. Finally, you often have a salesperson breathing down your neck the entire time you browse. While they have good intentions and are no doubt knowledgeable about their product, there is a pressure to make the sale, and they might try to sway you into a decision you're not ready to make.
Not only can we make it easier than ever to find the perfect car, but we also make it easy to finance the vehicle in a low-stress environment. Regardless of whether you know how much you can afford or need some help figuring it out, we have the tools available to put you in the right car. Is your credit less than stellar? It sure is a lot easier to submit your information online rather than explain your situation to a person across the desk. If you never need to leave the comfort of your couch, why would you? You have the power to put a new vehicle in your driveway, why make it any harder for yourself than it needs to be? You never need to worry about being judged, you'll never feel rushed, and you can buy the exact car that you want. Car dealerships are becoming outdated, so get ahead of the curve by acclimating yourself to the future now. One day you'll be looking back laughing at the fact that at one point in time, car buying was an anxiety-inducing process.
Find It Easier
We have a wide variety of continually rotating, used inventory, so there will be no problems finding the perfect vehicle for your situation. When you have all of the information for each car at your fingertips, it becomes easier to make the final decision. At a glance, you can see if a car you're looking at is going to have all of the features that you need. Just because some Honda Accords have heated seats, doesn't mean the one that you test drove at the dealership does. Other car sales associates might try to get you into the car that they have available on the lot, but we'd rather go the extra step to make sure you have everything you need. When it's this easy to purchase the exact car you want, you'll never have a reason to shop anywhere else.
While you will have the pleasure of working with your market manager, you will also have all of the specifications in front of you while you make your purchasing decision. With the cold hard facts in your hand, there will be no confusion if you're purchasing the V6 or the V8 model because the engine model and horsepower numbers will be right in front of you. You'll know if you're getting all-wheel drive or front-wheel drive. The paint color will be typed in front of you, plain as day so that you don't purchase a dark purple when you wanted black. When you have all of the information in front of you, it becomes easy to find exactly what you want. You no longer need to rely on the word of the salesman in front of you. You can take the time to listen to your heart and brain, and with our assistance, you can have your new car delivered to your doorstep.
Financing Made Easier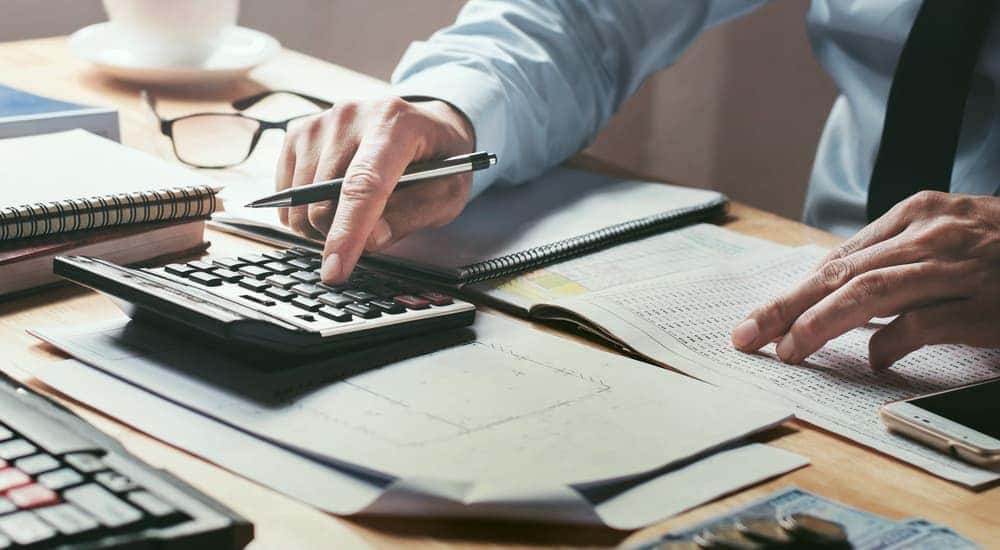 It's embarrassing to get denied for a loan after spending hours walking around the lot looking for the right vehicle. Depending on your credit and your income, you can be approved for one car but possibly not another. The important thing to know is how much you can afford each month because you might be able to purchase a higher-end car than you think you can.
For those that need to figure out their credit situation, we offer four powerful tools that will help you determine what a healthy finance amount would be. Our first tool will help you get pre-qualified by asking you a few basic questions. This allows you to get a rough idea of what interest rate you will be paying without worrying about putting a hard inquiry on your credit report. Another tool that you can take advantage of is our "Shop by payment" feature. It allows you to narrow our inventory by your preferred body style and your maximum monthly payment amount. We have a Trade-In Valuation tool that will let you know how much money you can expect from trading in your current vehicle. Finally, an included payment calculator will let you run the numbers based on how long you want your loan to be. Want to enjoy a lower monthly payment? Go with a longer loan. Want to pay off your vehicle off quickly? A shorter loan will save you a little bit of money on the interest.
We Make It Easier
When you have the tools to make an informed purchase from the comfort of your home, there's no reason to negotiate on someone else's property. You have all of the facts at your fingertips and only have to communicate with your local market manager. Your new car will be delivered to your front door, and you'll never feel pressured during any part of the purchasing process. You have the power to put a vehicle in your life without the pressures from your average car lot. With all of the facts laid out in front of you and little to get in your way of fair financing, you can be sure that you're getting a superior product at a reasonable price. There's nothing left to do but start the process, so when would you like your new car delivered?