Top 8 SUVs for Dublin, Ohio Drivers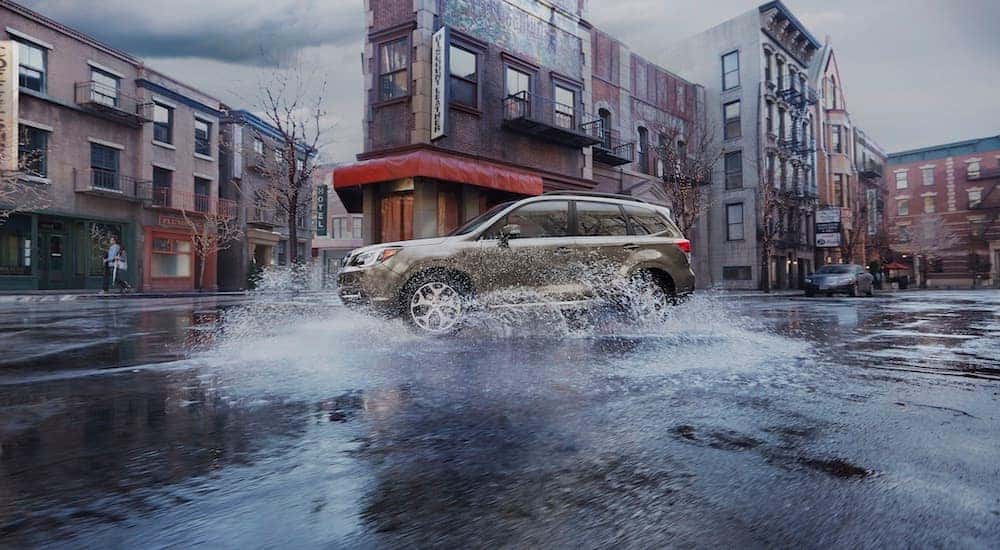 Whether you're riding in the express lane on your way to Columbus or taking the city streets to work every day, if you live in Dublin, Ohio, you need a vehicle that can handle snow and rain. Because we know most people love SUVs, we compiled a list of our eight favorite SUVs for driving in Dublin, all of which can come with convenient features like heated front seats, remote start, and automatic climate controls. To stay busy on your commute, tech features like Bluetooth, Apple CarPlay and Android Auto, and connected services are also available, as well as driver-assist safety features to prevent accidents. We also know it's important for Dublin, OH, online car sales to be available so you can shop around your busy schedule. If any of these models appeal to you, we welcome you to search our inventory now.
One: Subaru Forester
For any adverse weather conditions, the Subaru Forester is a top choice for handling deep snow, slippery roads, mud, or even for driving on poorly-maintained or dirt roads. With standard all-wheel drive, every Forester can tackle the snow as easily as vehicles marketed for off-roading, and yet it still gets excellent fuel efficiency of up to 33 MPG on the highway. Models dating back to 2017 had the option to add the EyeSight driver assist safety suite, and then in 2019, the suite became standard for all models. Features like cruise control, air conditioning, Bluetooth, and a rearview camera are all standard since 2017. Upper trims could have leather seats, push-button ignition, or a panoramic sunroof.
Two: Toyota RAV4
Imminently practical and reliable, the Toyota RAV4 is a solid choice if you want an SUV to offer creature comforts while also being safety-oriented. The RAV4 has long been a favorite SUV in the US for many years due to its quality and longevity. Back in 2017, Toyota made its suite of safety features called Toyota Safety Sense a standard feature across all trims, which includes Dynamic Radar Cruise Control, Lane Departure Alert, and even Automatic High Beams. Fuel efficiency as high as 34 MPG in the city can be achieved with the purchase of a hybrid model, and gas-powered models can get up to 29 MPG on the highway. Standard features like the Entune infotainment system, rearview camera, and Bluetooth are found on models since 2017. Options like a heated steering wheel, hands-free liftgate, and navigation are all available for models within the last five years.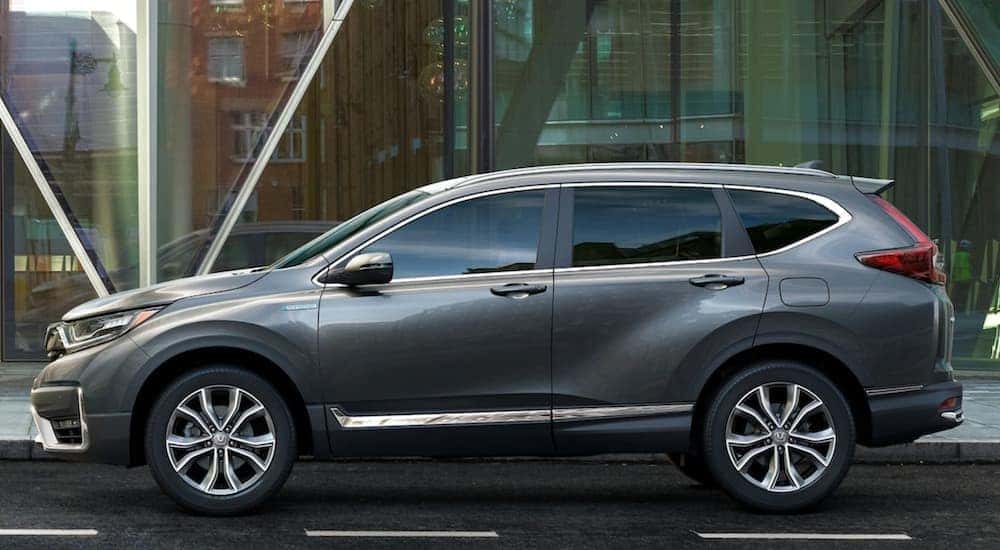 Three: Honda CR-V
In 2017, Honda started a new generation of the CR-V, which received a complete redesign for that model year. That year began the fifth generation of this popular SUV, which remains one of the most reliable and safe SUVs to buy. In that model year, the CR-V gained the Honda Sensing suite of driver-assist features as standard for all but the base trim level, then in 2020 models, it became standard across all trims. Also, for 2020, Honda made a hybrid model available, which offers incredible fuel efficiency of 40 MPG in the city and 35 MPG on the highway. Gas-powered models still get fairly good mileage of 28 MPG in the city and 34 MPG on the highway, especially with the turbocharged engine. Standard features going back to 2017 include cruise control, a small five-inch touchscreen, and a rearview camera. Going with even the second trim level will offer more convenience features, with available Android Auto and Apple CarPlay, a moonroof, or leather seats.
Four: Chevy Equinox
For a family-friendly SUV that makes comfort and a quiet cabin a priority, the Chevy Equinox has roomy seating for five with enough cargo space to pack luggage for a trip. Unlike the options listed in the top three, the 2017 Equinox had a V6 engine option available, and then in 2018 and 2019, it had a diesel option. While the fuel economy isn't as good as other SUVs, it does have a better towing capacity of up to 3,500 lbs, whereas most small SUVs only offer 1,500 lbs. Models dating back to 2017 came standard with seven-inch touchscreens for the infotainment, air conditioning, and the option to subscribe to OnStar for connected service, a feature few manufacturers offer in this price range. Driver-assist safety features in 2017 models were limited to an option for the uppermost trim, and then in 2020 models, the Chevy Safety Assist suite was made standard for all trims.
Five: Jeep Grand Cherokee
If you love the idea of Jeep capability but want a comfortable interior, the Grand Cherokee is a great mix of the legendary Jeep prowess for off-roading with all the amenities you could want in a modern vehicle. Numerous engine options vary in power and fuel economy, and the Grand Cherokee has the capability to tow close to 7,500 lbs. Going back to 2017 models, standard features like dual-zone climate control, parking sensors, and a digital instrument cluster kick off the trim levels nicely. Moving up in trims can mean finding a Blu-Ray entertainment system for the rear seat, the Quadra-Lift Air Suspension system for better ride quality, or a stellar Harmon Kardon audio system. Driver-assist safety features were available for upper trims as an option in 2017 and then features like Blind-Spot Monitoring and Rear Cross Traffic Alert were made standard for all trims.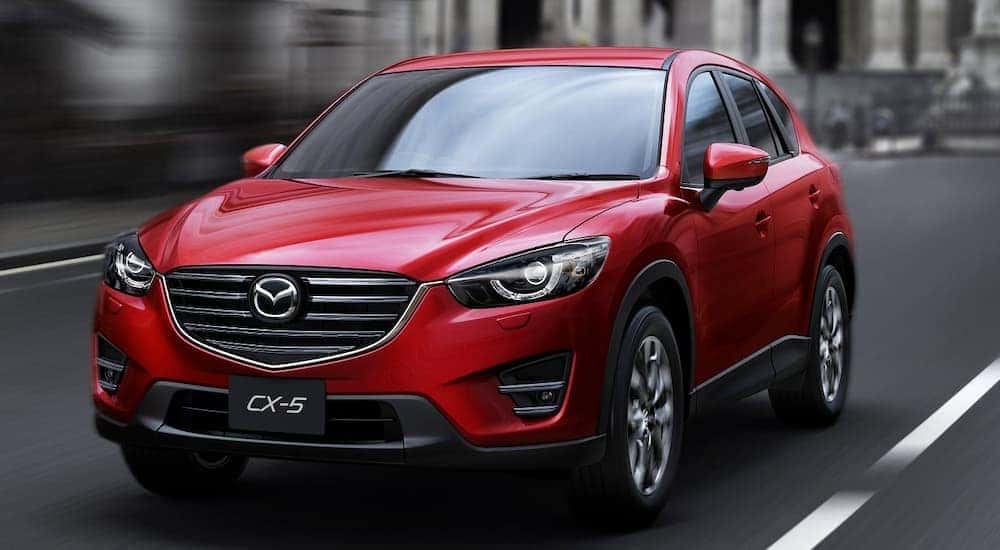 Six: Mazda CX-5
When you want a little verve in your SUV handling, the Mazda CX-5 adds more pep to your commute with the kind of excitement expected from the Mazda brand. For 2017, the CX-5 was redesigned as all-new and made safety features like Smart City Brake Support standard. In 2018, the Touring trim gained the full safety suite as standard, and then in 2020, the safety suite was made standard for all trims. Fuel efficiency is good with up to 31 MPG on the highway, and a towing capacity of at least 2,000 lbs is typical for most models. Standard features like push-button ignition, rearview camera, and a seven-inch touchscreen are all available starting in 2017 models, while upper trims could range into luxurious territory with heated rear seats, leather upholstery, or a Bose audio system.
Seven: Buick Encore
Dedicated to comfort and class, Buick is a brand that will give you that hushed, quality interior with surprising longevity to its vehicles. In 2017, the five-passenger Encore received a full redesign with all-new features and styling. Standard features like a powered driver's seat, Intellilink service for connecting your smartphone to the infotainment, and push-button ignition were found in that year's models. Safety features like a front and rear park assist or Rear Cross Traffic Alert were only available for the uppermost trim in 2017, but then in 2019, most models had a safety suite as standard. Fuel efficiency is very good with up to 32 MPG on the highway, and models offered two engine options within the lineup for more power. Available features become opulent in upper trims, with choices like a GPS navigation system, Bose audio system, or leather upholstery.
Eight: Ford Escape
When you want to marry a comfortable interior with tough capability, the Ford Escape is the perfect match. The 2017 model year was given a refresh to update styling, and buyers who find the uppermost Titanium model of that year will get the SYNC 3 infotainment system which is one of the most intuitive in the automotive market. Fuel economy is fairly good, with up to 29 MPG on the highway in 2017, and those figures improve through the model years. The capability to tow up to 3,500 lbs is available with some engines, and most model years have several engine options. Standard features starting in 2017 included powered accessories, a rearview camera, and AdvanceTrac stability control for excellent handling. The top-tier Titanium trim had features like leather upholstery, a hands-free liftgate, and a driver-assist safety suite. Later models in 2020 gained CoPilot Assist, Ford's safety suite, as standard.