What Cars are Great for Deserts?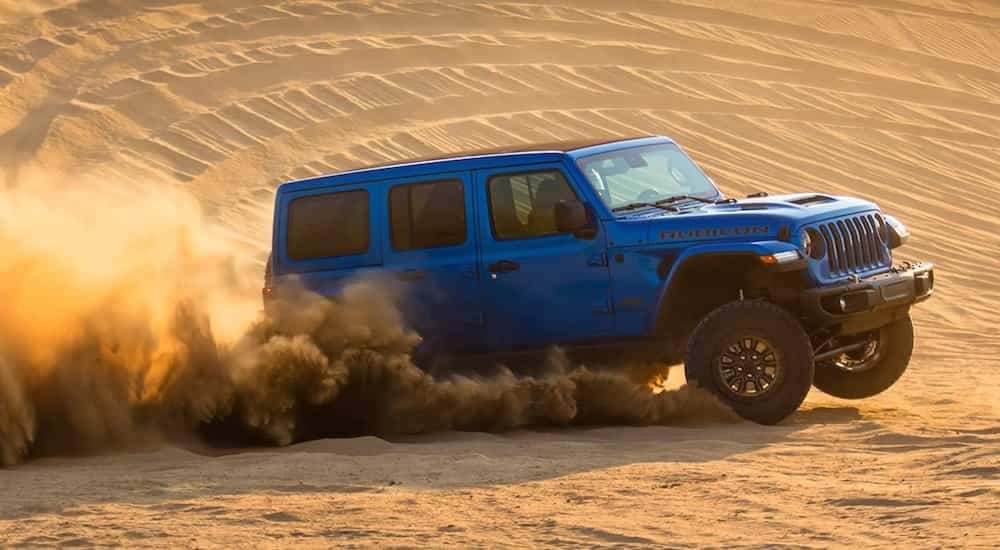 If you live and drive in the sunny southwest, there are an abundance of car problems that you don't have to deal with. You don't need to switch to snow tires for a few months every year, and you don't need to worry about road salt eating away at your vehicle's undercarriage. But, of course, there is a trade-off: desert conditions can cause their own set of issues. The intense summer heat can put a lot of stress on your vehicle, so it's important to have a rugged ride that is up to the challenge. If you're in Arizona and have been searching for "Phoenix online car sales" and wondering which models are right for you, look no further.
You're in luck because there are many cars that are great for deserts. In this article, we're rounding up cars, trucks, and SUVs that are well-suited to driving in the desert. While we've tried to cover a wide range of body styles, they all have one crucial thing in common: reliability. Whether you like off-roading through sand dunes on the weekends or just want a commuter vehicle that can withstand a heatwave without breaking down, there's something here for you.
The Jeep Wrangler
With a history that stretches back to World War II, the Jeep Wrangler has a well-earned reputation for being rugged and ready for anything. It has plenty of ground clearance, which can come in handy whether you're going on an off-road adventure or coming across stray rocks, tumbleweeds, or other debris on rural desert roads. But while the exterior is largely utilitarian with a retro look, the interior has kept up with the times nicely. Go as far back as the 2018 model year, and all trims come with a touchscreen infotainment system and USB ports. The Wrangler also gives drivers plenty of choices, from different trim levels and hybrid powertrains to two-door and four-door versions to the ability to take off the roof and let the sunshine in.
The Subaru Forester
Off-roading may be a popular desert pastime, but most Phoenicians spend most of their driving on paved city roads and need a car that handles well for daily errands and commuting. The Subaru Forester is a practical crossover that offers a refined ride while still being rugged enough to handle a little detour off the beaten path. It has come standard with all-wheel drive for years now, so whether you're looking at a new or pre-owned model, you'll get the traction you need to handle slick or sandy roads. Plus, it's built to last even under tough conditions; according to Experian Automotive, 97% of Forester vehicles sold from 2012 to 2021 were still on the road as of December 2021, so you can expect this SUV to be there for you, summer after summer.
The Ford F-150 Raptor
Whether your work outdoors or love to go camping, the Ford F-150 Raptor is a beast that can tackle rough terrain while keeping the driver and any passengers comfortable and secure. Its suspension gives it the ability to take on rocky trails and sand dunes but also makes for a smooth ride over potholes or uneven pavement. It has the power and cargo space to let you carry large payloads and bring a trailer along for the ride. If you like the utility of a pickup but don't need something quite as intense as the Raptor, the Ford F series offers plenty of other models that have the sturdy build and power to handle desert roads, from the perennial favorite F-150 to the extra capable Super Duty lineup to the all-electric F-150 Lightning. Ford has been crafting impressive trucks for decades now, so whether you're shopping new or used, there's sure to be something that suits your lifestyle and your budget.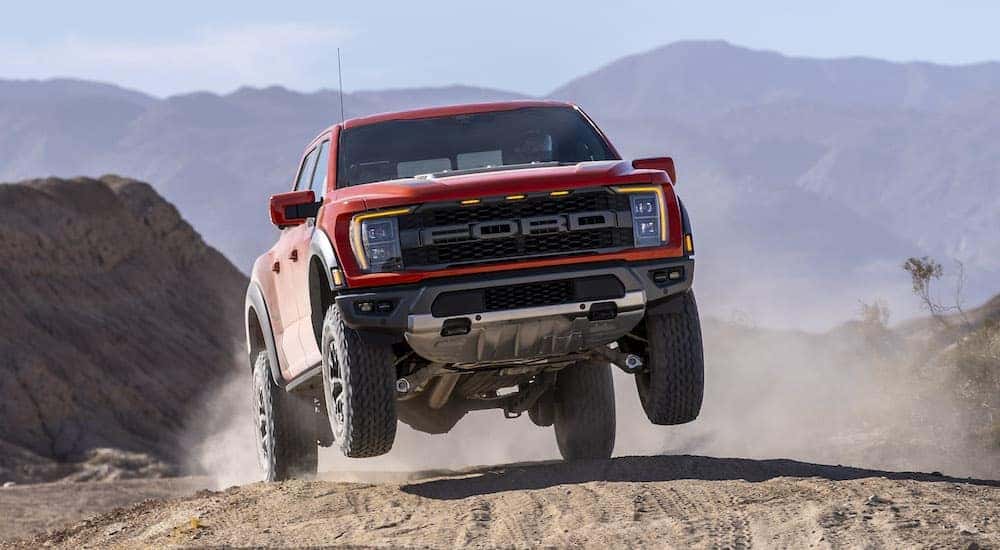 The Chevrolet Trailblazer
Just because a vehicle is rugged and capable doesn't mean it has to sacrifice style. The Chevy Trailblazer has a striking exterior and an attractive cabin that gives everyone plenty of room to stretch their legs. While it takes its name from an older Chevy model, this version of the Trailblazer debuted for the 2021 model year, so even the oldest used models come packed with modern technology, from an infotainment system that lets you connect two Bluetooth devices at once to safety features like lane-keeping assist and automated emergency braking. You can decide whether to opt for the extra traction provided by all-wheel drive or stick to the more affordable and fuel-efficient front-wheel drive. Either way, you'll get a versatile vehicle that can take you all over Arizona.
The Toyota Land Cruiser
A full-size SUV that offers both off-road capability and interior luxury, the Land Cruiser is an iconic model among adventurous drivers. As of now, the most recent model was made for the 2021 model year, so you'll need to buy it used, but this reliable SUV should still have plenty of life left in it. And since it has been on the cutting edge of tech for a while now, older models have plenty of standard features that are usually reserved for higher trim levels or optional add-ons. For example, the 2017 Land Cruiser comes standard with a touchscreen infotainment system, wireless charging, a 360º parking camera, and more. Features like ventilated front seats and four-zone climate control are particularly useful for keeping everyone comfortable during hot desert summers.
The Honda CR-V
Phoenix is a reasonable driving distance from many world-renowned destinations, including the Grand Canyon, Joshua Tree National Park, and Las Vegas. If you love road trips and are looking for something with good fuel economy, consider the Honda CR-V. Honda is known for making reliable vehicles and this compact SUV is no exception. Every model year from 2016 to 2022 has earned both a five-star rating from NHTSA (National Highway Traffic Safety Administration) and been named either a Top Safety Pick or Top Safety Pick+ by IIHS (Insurance Institute for Highway Safety), so you can feel confident and secure behind the wheel. While it's not an off-road capable vehicle by any stretch, it's otherwise impressively versatile with plenty of cargo space, useful tech, and different trim levels to choose from.
The Volvo V90 Cross Country
With a lifted suspension and all-wheel drive, the V90 Cross Country offers some practical features that make SUVs popular in a desert climate while also providing the look and feel of a car. With a luxurious interior and a sleek exterior, this is a great choice for professionals who want a vehicle that can handle tough conditions but don't want to go all in on the "rugged" aesthetic. Packed with a full suite of driver-assistance features, the V90 is fit to handle both highways and backroads in all kinds of weather.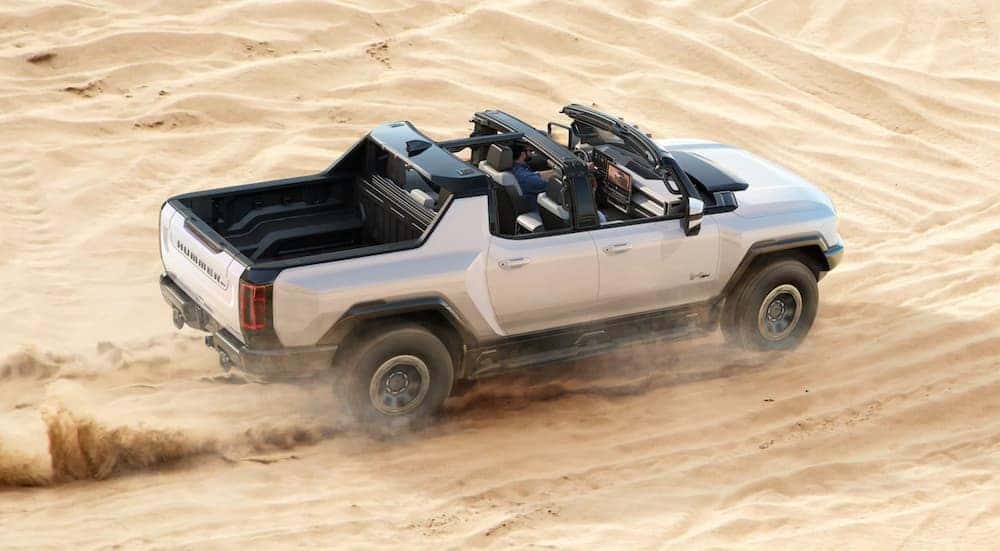 The GMC Hummer EV
With so much sun just waiting to be turned into free power, Phoenix is a great place to go green, especially with your vehicle. If you're looking for an option that's spacious, fun to drive, and off-road capable, the GMC Hummer EV should be right up your alley. Don't think that going electric means sacrificing power; the 2022 Hummer EV offers up to a monstrous 1000 hp when equipped properly and can tow up to 7,500 lbs. With an estimated 329 miles of range per charge, you should be able to venture into desert trails without worrying about running out of power. It also has plenty of cool available features, like removable roof panels for an open-air feel, adjustable air suspension, and a unique setting called CrabWalk that lets you drive diagonally, giving you more options for maneuvering in tight spaces.