What To Look for in Used Off-Road-Ready Vehicles in Columbus, OH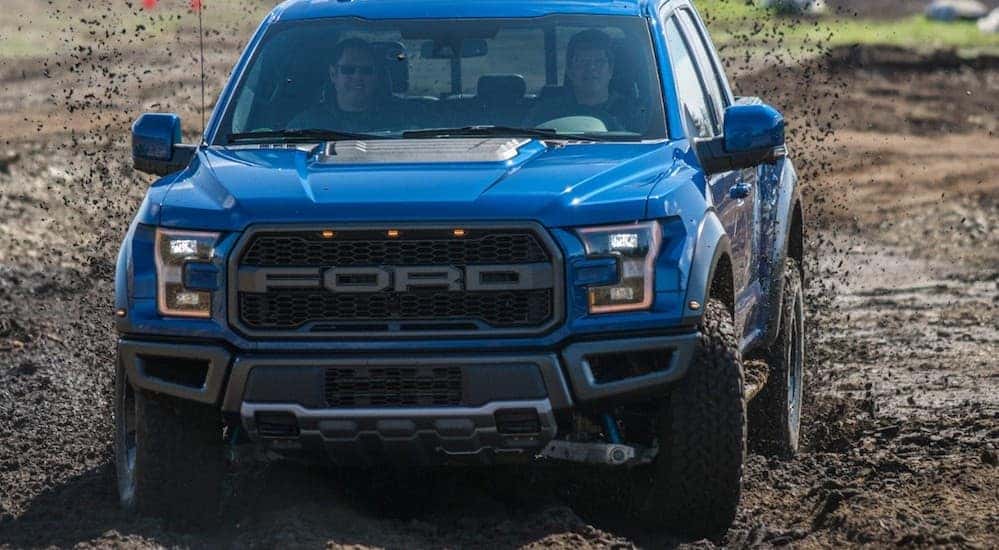 The traditional dealership experience is outdated, and at online.cars, we stand to be the much-needed update to this century-old format. At online.cars, we'll provide you a diverse selection of pre-owned vehicles on our online shop. Our website provides extensive details on each car, and with assistance from one of our online dealers, you can find the vehicle of your dreams with simplistic ease. Once you've selected your ideal vehicle, we'll bring it directly to your home, via our unique mobile showroom. You'd be hard-pressed to find a dealership quite like us, with our services designed to help our customers find a vehicle that fits their every automotive need from wherever they are. That said, some drivers are looking for more than just a form of transportation. Some who hope to buy used cars in Columbus are looking for a vehicle that is fully equipped to take everything the road and the trail can throw at it.
What Does it Mean to Drive a Car that is Ready for Anything
Not all vehicles were created equal. Some are designed to be excellent commuters, sipping gasoline, and giving drivers a comfortable ride from start to finish. Others are specifically tailored to fit the needs of a growing family, equipped with safety features that give parents peace of mind behind the wheel. Then, there are vehicles that were made for adventure. These are the kinds of vehicles that can cross various terrains like snow, mud, rock, and ice with little difficulty. They also are typically fitted with more robust components to ensure reliability when out on a trek. Sometimes, it's worthwhile even to have a highly fuel-efficient engine so you can explore more, and fill up less. Size is a big deal too because you'll want to have a car that can haul all of the cargo, equipment, and travel partners with ease.
So, when shopping at online.cars for a used car, what should you look for? There are a few factors that play a significant role in determining whether or not your vehicle is up to the challenge of the great outdoors.
Tires Make a Difference
It can be so easy to overlook something as important as your tires. While they're an essential component to your vehicle, even the standard street tire can seem particularly durable. However, if you take this same street tire off-roading, or when road conditions are less than fair, you can get a good idea as to why off-road tires exist. The type of tire that you install on your vehicle can make a huge difference in your driving experience and determine what your vehicle is good at and what it isn't.
If you're hoping to purchase a car that leaves our mobile showroom off-road ready, you should ensure that your ideal vehicle is equipped with off-road tires. Off-road tires are more durable than your standard tire and are designed to take the kind of beating that a dirt trail can impose. At the same time, off-road tires have deeper tread, which gives them the ability to take on even the roughest terrain with little issue. If you need more information on a particular vehicle's tire setup, give us a call. While your tires can define the nature of your drive, how power is transferred to these tires can really make the difference in what your vehicle can do.
4×4 and AWD Drivetrains
The central component that transfers power directly to your wheels is your drivetrain. There is a wide range of drivetrains out there, including FWD (front-wheel-drive), RWD (rear-wheel-drive), 4×4 or 4WD (four-wheel-drive, and AWD (all-wheel-drive). The first two, FWD and RWD, are drivetrains that are designed to provide power to only two wheels in either the front or back. Your typical car will be equipped with a FWD or RWD drivetrain. While these two drivetrain types can maybe take on some mild trail-running or light snow, they won't hold up against more rigorous routes out there.
Fortunately, 4×4 and AWD drivetrains exist to cater to this demand. Both of these drivetrains allow power to be transferred to all four wheels, as a result providing far greater capability. For instance, if one of your tires is stuck in the mud, a car with 4WD or AWD can compensate for the loss of this single tire and has a far greater chance at getting unstuck. It is important to keep in mind that although AWD and 4WD are very different, they are both the better option when purchasing an off-road-ready vehicle.
Size Really Does Matter
Sedans, compact cars, and hatchback coupes all serve their purpose, but they aren't meant to be off-road vehicles. For one, they typically don't come packed with engines tooled to take on trail-running. These kinds of vehicles are usually designed for fuel efficiency, which is hardly a problem, but tend to come at a sacrifice to overall power. If you take a peek beneath the hood of an off-road-ready SUV, chances are you'll find a robust package, tailored for high torque and pretty significant horsepower. An off-road vehicle also needs to be higher off the ground. Otherwise known as ground clearance, the higher your vehicle is off the ground, the better protected your undercarriage can be. While you can install a lift kit into any of these vehicles, the results may not be what you expect.
An SUV or pickup truck is the ideal form factor for an off-road vehicle. Not only do they tend to have larger engines and sit higher off the ground, but because they offer significant cargo space. You never know what you might encounter on the trail, and any off-road enthusiast will suggest that you pack necessary equipment like road flares, a 'fix a flat' kit, and recovery straps. That's not to mention any of the extra gear you hope to bring with you on your ride. So, storage space is a must.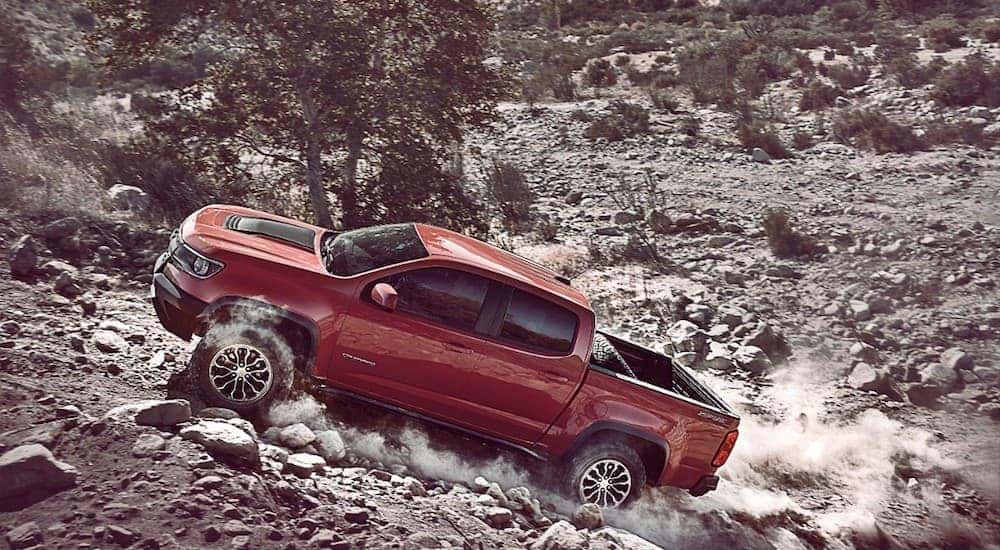 Shopping for an Off-Road-Ready Truck or SUV at Online.cars
At online.cars, we understand the value of having a vehicle that is ready to take on the trail the moment it rolls off our mobile showroom. As a result, we offer a wide selection of vehicles that are bound to entertain plenty of off-road enthusiasts. Take the Jeep Wrangler for instance. A true champion of the trail, the Jeep Wrangler is possibly the most off-road-ready SUV on the market. We often feature a wide selection for you to buy used from our online dealership. Equipped with considerable ground clearance, skid plates, and, in some trim options, off-road grade tires, the Jeep Wrangler is an excellent pick for drivers looking for a rugged, fully capable SUV. We also offer a varied collection of pickups, some of which, come equipped for off-pavement driving. Take the Ford F-150, for example. This pickup is a classic, with nearly a century of excellence behind it. In the Ford F-150 Raptor, you'll find a pickup truck that is ready to take on the roughest trails the moment it reaches your driveway.
We offer a new and convenient method for car buying and stand to revolutionize the way drivers interact with their used car dealership. No matter if you're an off-road enthusiast, or need a practical commuter car, our team at online.cars can set you up with a used vehicle that matches your lifestyle.