Why Do Houston Commuters Prefer Owning One of These Vehicles?
When a newcomer or visitor looks up driving in Houston, they often find articles detailing the aggressive driving, the 26-lane Katy Freeway, and the serious amount of traffic you're likely to encounter. Residents of Houston use the 4,000 miles of highways daily for commuting, running errands, and attending events, and seem, for the most part, unfazed at the hustle and bustle. Both sets of people might wonder what the most comfortable vehicles for commuters are, though only residents will be concerned with finding out what's available for Houston online car sales for vehicles that are worth driving during their commute. That's where this article comes in, to provide residents, whether new or long-term, with a curated list of the vehicles that have withstood the test of time and have a solid reputation for being comfortable, safe, and maybe even a little luxurious. So, sit back, relax, and have some fun considering one of these vehicles for when you need your next commuter.
The Ford F-150: Houston's Favorite Pickup
It's no surprise that one of the most favored vehicles in the Houston area is the Ford F-150. Ford trucks have been utilized for many decades for a variety of jobs, but it functions well as a commuter, especially if you need room for the family and a multitude of must-haves, like sports equipment, baggage, or groceries. While it might have started as a work truck, many people have repurposed it into a luxurious ride, complete with a host of safety features to keep passengers and passers-by as safe as possible.
The Ford F-150 is even offered as a hybrid or a diesel for those who have a long trek ahead of them every day and fear filling up at the pump because of sticker shock. There are seven trim levels optional, from the XL to the Limited, with plenty of options in between for those who need a commuter vehicle but want one that they can also go off-roading with on a day off. The newest generation F-150 is specially outfitted to provide a mini-office for those who are using the truck either at a work site or on the go, with optional touches like a nice, flat workspace that can be had by folding down the shift lever, an onboard generator, and the ability to fold down the front seats, creating a bed for those who are working in shifts, overnight, or will be on the road for a while.
Standard safety features include the Ford SYNC software in the infotainment center, which provides up-to-date information regarding weather and traffic changes, along with automated emergency braking that also tracks pedestrians. Standard tech features include such conveniences as a Wi-Fi hotspot and connection to either your Android or Apple device.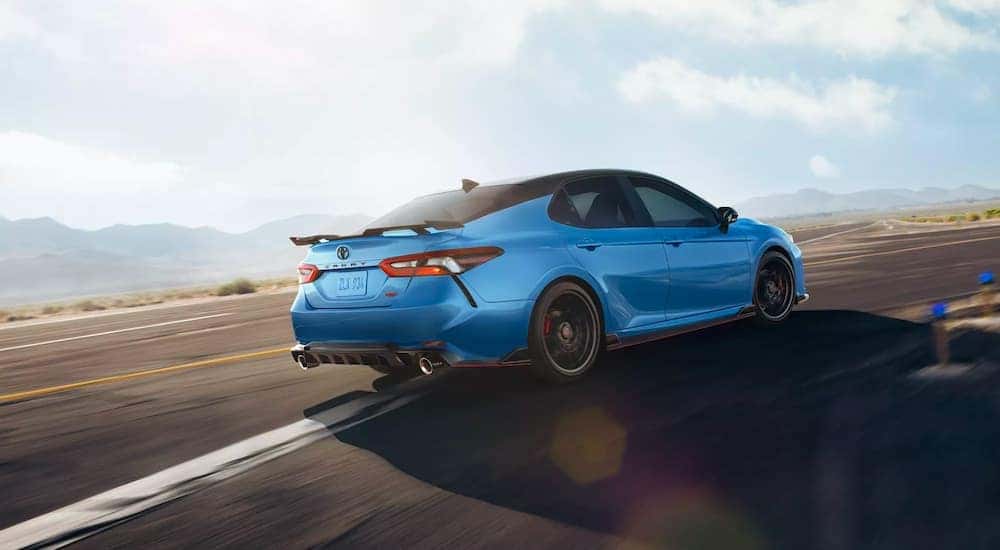 The Toyota Camry: The Most Popular Sedan in Houston
Toyota has maintained a decades-long reputation for its reliable, affordable, easy-to-maintain vehicles. While a sedan might not be everyone's first choice, it works very well as a commuter vehicle, whether you're dropping off kids for school and social events, carpooling, or just driving to and from work every day by yourself. Not only is the Camry reliable, it is also quite comfortable, which means that even in standstill traffic, you won't really mind since you're in a spacious, cool, luxurious interior with up-to-date technology and safety features.
The Toyota Camry is no boring, run-of-the-mill sedan. It has style in spades and isn't afraid to show what it's made of when called on to perform. The four-cylinder engine, if chosen, helps the Camry be more economical, and if preferred, a hybrid option is also available. With nine trim level options, multiple engine options, and a variety of optional add-ons, you can customize the Camry to your heart's content.
The Camry's hybrid models get roughly 50-53 MPG combined, which means you won't have to worry about running out of gas during the morning or evening rush. You'll be able to sit back, relax, and enjoy the space by turning on music, keeping yourself cool, and knowing you've got everything you need since there's plenty of room for cargo. You can also rest assured that with Toyota's Entune 3.0 system, you'll be able to connect your Android or Apple using Apple CarPlay or Android Auto and access your favorite navigation apps, tunes apps, and podcast apps.
Toyota's dedication to providing each customer with a jam-packed suite of safety features means that all Camry sedans, no matter the trim level, have standard safety features that include Dynamic Radar Cruise Control, Lane Departure Alert with Steering Assist, the Pre-Collision System with Pedestrian Detection, and Automatic High Beams. No matter which Camry you take home, you'll be set to drive safely. This is especially helpful for Houston residents who must navigate one-way streets, a multitude of stoplights, and an incredibly diverse commute community, which includes bikers, public transit, and pedestrians.
Honda Odyssey: Houston Families Love This Spacious Minivan
Typically, we don't tend to travel alone most of the time, and when living in a massive metropolis such as Houston, it's a good idea to have a safe, practical vehicle the family can ride in without worrying about fitting everyone inside along with their backpacks, instruments, school projects, luggage, or pets. The Honda Odyssey is known for being a family vehicle, bigger and roomier than a car, while still maintaining a reputation for good fuel economy.
On the highway, the Odyssey gets around 28-30 MPG, depending on the model year, which is excellent for a three-row minivan. The second row is set up to be quick and easy to move with Honda's special "Magic Slide" technology, and in more recent years, all trim levels but the base have an 8-inch infotainment screen that can be linked to your phone via BlueTooth, Apple CarPlay, or Android Auto. If you spring for one of the higher trim levels, you can use the infotainment tech to keep an eye on passengers in the second and third row, who will most likely be utilizing the entertainment system that allows for streaming movies, television, and YouTube videos.
Honda Sensing is what Honda's safety software is called, and many safety features are standard across all trim levels. Things like Adaptive Cruise Control with Low-Speed Follow and Traffic Sign Recognition are great to have for those commutes where you have to start and stop multiple times, like at one of the eleven different tollways, or maintaining a safe distance from the cars in front and behind you as you drive along feeder roads. You also get helpful features like the Collision Mitigation Braking System and the Lane Keeping Assist System.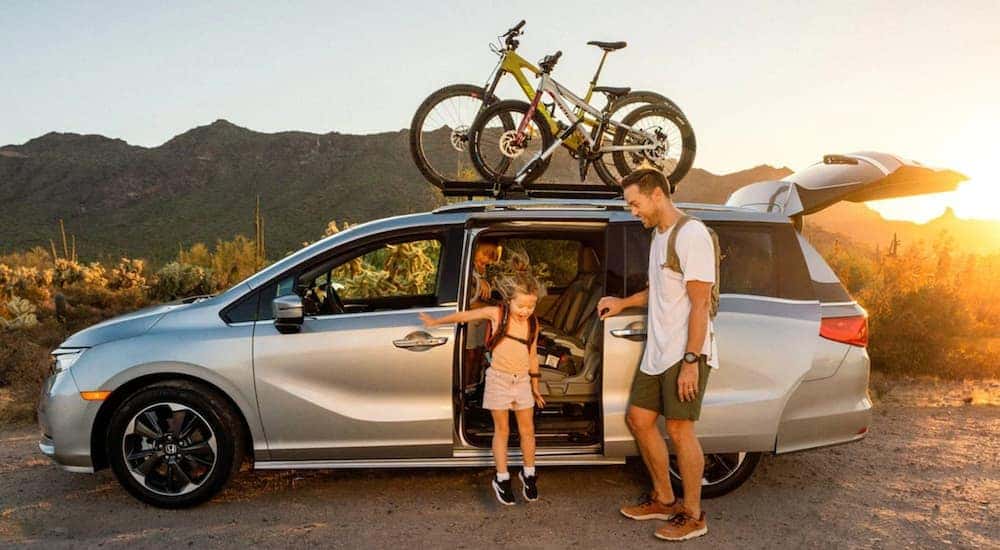 Houstonians, We've Solved Your Driving Problems
These are just a few of our choices for the best vehicles for Houston residents. No matter which one you choose, you won't regret entrusting the safety and comfort levels of you and your passengers to a well-known, highly respected, dependable vehicle. You'll also appreciate the fact that these vehicles are safe but also fun to drive, even if you're stuck in the middle of a traffic jam. You'll remember why you love Houston in the first place. Despite the rather confusing road system and the sometimes aggressive driving, Houston is chock full of wonderful places to experience, with enough space on the road for everyone. So, purchasing one of these vehicles right here online should solve enough of your driving issues that you actually get to enjoy the ride.