Why You Should Visit Hollywood Casino Columbus

A Place To Unwind
When it comes to finding a place to let loose and have some fun in Columbus, Ohio, during the springtime, there is no shortage of places to visit and fun things to behold. Columbus features bountiful amounts of restaurants to dine at and venues to attend live performances by a wide range of favorites such as musicians and comedians. A favorite location which is able to mix both of these together under one roof is certainly a place that shouldn't be missed when you're in the area, this location is the Hollywood Casino Columbus located at 200 Georgesville Road.
Open 24 hours a day, Hollywood Casino Columbus is a place where you can have fun even in the later hours of the night. Try your luck on the slot machines and video poker or join-in at a table to play a variety of classic casino favorites. When it's time to eat some dinner, you'll be presented with some fantastic options ranging from award-winning fine dining experiences, or for the daring, a buffet so huge it even has the word "epic" in its name. Maybe you'd like to catch a live show performed by legends of both the musician and comedian variety at the casino's Event Center for an unforgettable night of fun. All this and more are common at this casino, so there are plenty of reasons to make a trip up to Hollywood Casino Columbus.
Slots & Video Poker
At this casino, you'll find over 2,150 machines ranging from both video and progressive slots and an assortment of video poker machines so you'll have no trouble finding a machine to play on that you'll enjoy and who knows, you might even win some money! If you understandably don't want to play with a larger amount of cash, then you won't have to worry since the machines on offer feature denominations starting at penny slots and go all the way up to $100 machines, so you're bound to find a machine you're comfortable enough to play a little bit on.
According to Hollywood Casino Columbus, their progressive games include "18 video poker progressives and 692 progressive slots, including regular video and reel."
Table Games To Play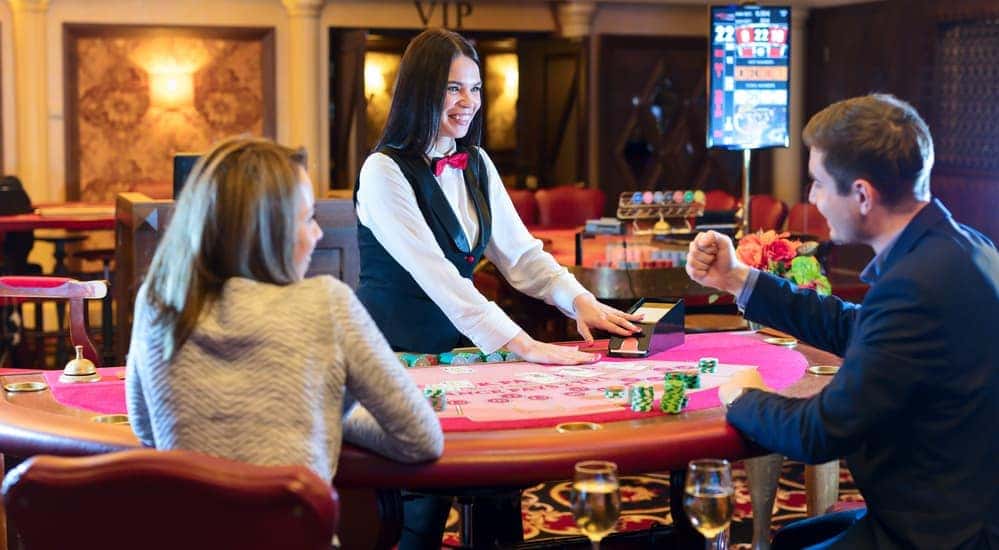 The only place you'll find table games in the entirety of Columbus is at Hollywood Casino Columbus, and they offer a wide variety of casino games throughout their floor of 60+ tables. While you walk around the casino, you'll find classic casino games such as poker, blackjack, craps, and roulette. You'll also be able to find even more non-traditional though widely popular table games such as Zappit, Crazy 4 Poker, mini-baccarat, and Face-Up Pai Gow Poker.
Here you will also find something called stadium-style table games, which are really great choices for playing due to their lower minimum bets and a comfortable lounge to sit in with your own personal table. The dealers are live broadcasted on TV sets within the lounge, and you get to play privately, making this area great for those who desire a more personalized and less intimidating atmosphere to play in and enjoy themselves.
Fine Dining & Entertainment
There are a good amount of places to eat at Hollywood Casino Columbus, all of which serve delicious foods of all kinds. If you're interested in experiencing a fine dining experience, then look no further than Final Cut Steak and Seafood. Final Cut is an award-winning 4-Star restaurant, an award given to them by Forbes. Whether you're in the mood for a large cut of steak or fresh seafood such as wild salmon, lobster, and a variety of different shellfish accompanied by a glass of wine from a choice of 100+ bottles, then you're certainly going to enjoy your experience at this restaurant.
If fine dining isn't what you're looking for and want something more casual, then o.h. Sports Bar and Grill is the place for you. This sports bar is located right in the center of the casino and is the perfect spot to have a seat and unwind. Catch live sporting events on their large-screen HDTVs while eating some tasty appetizers served with a cool cocktail for refreshments to finish it all up.
Let's say you can't decide where to eat due to the amount of options given to you, then we must ask, "Why not a little bit of everything?" and with that question, we redirect you over to the Epic Buffet. At this buffet, you will be treated to an assortment of different foods such as salads, pastas, seafood, and even a carving station. Once you have had your fill, go up to the line once more for a scrumptious dessert to top it all off. This buffet also features a variety of dinner deals to those who have signed up to the casino's "mychoice" membership card.
Entertainment Everywhere
One of the many exciting things to experience at Hollywood Casino Columbus is the live performances they host at the casino's Event Center. Many famous artists stop by year-round and put on incredible performances that you wouldn't want to miss. Among these performances includes Mötley Crüe lead vocalist Vince Neil performing on March 27th. Vince Neil plays a solid set, including music from his solo albums, of course, songs from his Mötley Crüe days such as "Wild Side" and "Home Sweet Home."
On April 10th, you won't want to miss the legendary performance by Chicks with Hits at the Event Center. Famous country singers Terri Clark, Pam Tillis, and Suzy Bogguss take the stage to play from an expansive library of hit songs, including Suzy Bogguss' "Outbound Plane," Terri Clark's "Better Things To Do" and Pam Tillis' "Spilled Perfume." These three artists together have released a total of 36 top 10 singles, they have won multiple Grammy awards, and have sold more than 10 million records making this is one performance that you will not want to miss.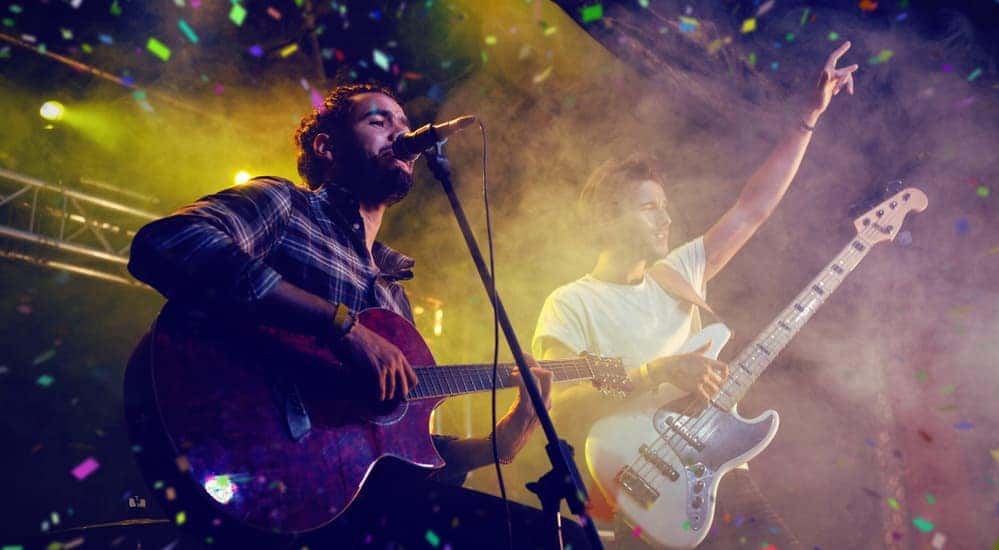 Exploring The Area
Hollywood Casino Columbus, for all the fun it offers, is only one location out of the many things you can experience in Columbus, as our city features a wide and robust selection of things to do and see all year round. Columbus has an outstanding and long history of being home to some great locations such as museums, film centers, breweries, and more. But we must say, the casino certainly is a fun way to spend an evening.
When you visit Columbus, Ohio, we hope you get to experience the fun things you can take part in and experience our city to its fullest extent, whether it be by yourself or with a group. But, of course, everybody needs to unwind sometimes, and for that reason, we do believe a great spot to check out when you are in Columbus is the Hollywood Casino and see what all the fuss is really about. Unwind, have a drink, and, most importantly, enjoy yourself.