Your Used Truck Buyer's Guide: Chevy Silverado 1500 Edition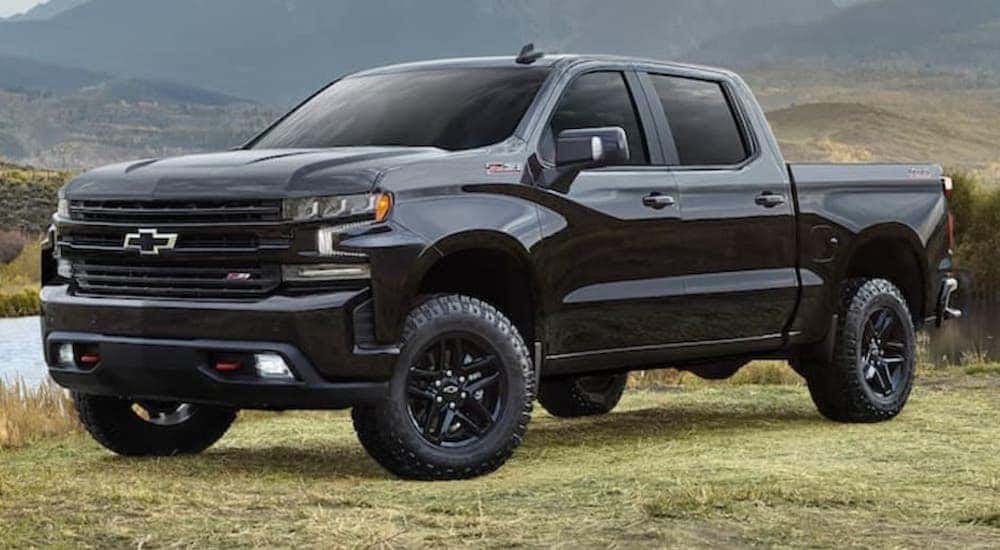 What's one of the most reliable trucks to buy used? While there are an array of truck models on the used market, one of the most enduring models is the Chevy Silverado, known for its power, durability, and overall value. If you are looking for a job site workhorse or a family hauler, the Silverado has you covered, offering something for many types of drivers. So the Chevy Silverado is at the top of your used truck list, but where do you start? It can often be overwhelming to try and find a reputable dealership with an extensive selection, especially when considering online Chevy Silverado sales. Let Online.cars take care of that by offering you an easy and stress-free vehicle-buying experience from the comfort of your own home. On top of our great online shopping process, we have an impressive inventory of used Chevy Silverado models, so you're sure to find that perfect truck that meets your driving needs.
The Silverado 1500 is a remarkable road warrior renowned for its ability to log hundreds of thousands of miles with ease. First introduced in the late 1990s, the Silverado has been a staple in the Chevrolet lineup and continues to impress with its capability, performance, and innovative features. These characteristics make a used Silverado 1500 an exceptional value since you can often find a fully-loaded top-tier trim at a fraction of the price. So, what should you look for to get the best truck for your budget?
First Generation Models: 1999-2006
Chevrolet officially introduced the Silverado in 1999 as a modern alternative to the once-popular C/K Series. The first-generation Silverado made a stellar impression, with its aerodynamic and muscular design giving it an imposing and aggressive stance while optimizing its handling and performance. Chevy also introduced its more powerful Vortec V8 engine, a 5.3L that delivered 270 hp and 320 lb-ft of torque.
The Silverado welcomed several firsts throughout this first generation, including a four-wheel-steering option known as Quadrasteer and the first selective dampening shock system that enhanced performance. Chevrolet also updated the Silverado's multi-engine lineup, increasing the Vortec V8's power output to 310 hp by the end of the generation. With more power came greater capability, with the first-generation Silverado capable of towing up to 10,300 lbs with the available 6.0L engine on the heavy-duty 2500.
While capability is guaranteed in this generation, especially with the debut of high-performance models like the Silverado SS in 2003, technology in the first-generation Silverado leaves a lot to be desired since early models only introduced the driver message center. For drivers looking for premium features, stick with models built between 2003 and 2006. During this time, Chevy gave the Silverado a mid-cycle refresh by adding a new audio system, XM Satellite Radio, a Bose premium sound system, and a six-disc CD player.
Things to consider:
An excellent find for budget-savvy shoppers who need a capable workhorse without the bells and whistles.
Usually have high mileage and are out of warranty, but are relatively easy to maintain due to an abundance of parts.
Models near the end of the generation feature more technology, but even that is dated compared to newer models.

Second-Generation Models: 2007-2014
Chevrolet redesigned the Silverado from the ground up in 2007, slating the workhorse against rivals like the Ram 1500, Toyota Tundra, and Ford F-150. Built on the GMT 900 platform, the second-generation Silverado featured more design improvements, including a steeply raked windshield and a more modern, aggressive design that added to its rugged stance and improved its aerodynamics and efficiency. These updates were striking, earning the truck numerous awards, including the 2007 North American Truck of the Year title at the North American International Auto Show.
Along with improving the design, the Silverado was still a powerhouse on wheels. Chevrolet guaranteed as much by revising its suspension and outfitting its 5.3L and 6.0L V8 engines with active fuel management cylinder deactivation to balance power and efficiency more effectively. The update increased the 5.3L's power output to 315 hp and 338 lb-ft of torque, with the truck's stiffer chassis also adding to its higher tow rating. In addition, suspension improvements made the second-generation Silverado more responsive regardless of the terrain or condition, earning the Silverado widespread acclaim as one of the best-handling trucks in Chevy history.
While the first-generation Silverado focused solely on performance and capability, the second-generation Silverado split this focus with convenience and comfort. As a result, the second-generation Silverado is better equipped regardless of trim level, making every model from the Work Truck and LS to the LT and LTZ exceptional finds. For example, the top-tier LTZ is outfitted with a Bose premium audio system, power sliding rear windows, rear parking aids, rain-sensing windshield wipers, and heated leather seats.
Things to consider:
One of the best-handling Silverados in history because of its retuned suspension, steering, and improved design.
Towing capability is still impressive, with a maximum of 8,500 lbs with the 5.3L V8 engine, depending on cab and configuration.
It offers an exceptional blend of comfort and capability via numerous amenities like heated seats, power windows, and rear parking aids.
Third-Generation Models: 2015-2018
The third-generation Silverado introduced several significant improvements with its debut in 2015. In addition to its squared-off and blockier design, the all-new Silverado extended its lineup from the Work Truck, LT, and LTZ to the Z71 and High Country. The High Country oozed opulence with its telescoping steering wheel, ventilated front seats, Bose surround sound system, and 20-inch wheels. The Z71, with its off-road suspension, was also impressive and made it easy for drivers to venture off the pavement, deep in the woods, and down the trail.
Along with the Silverado's new design and trims, Chevrolet updated the truck's powertrains to include three new EcoTec engines—a 4.3L V6, 5.3L V8, and 6.2L V8. The power plants delivered anywhere from 285 to 420 hp and dramatically improved the Silverado's towing capability, pushing it to a maximum of 12,000 lbs. But more importantly, this capability didn't come at the cost of efficiency, thanks to Chevrolet's eAssist mild-hybrid option that reduced fuel consumption and added 13 hp and 44 lb-ft of torque to the 5.3L power plant.
Beyond capability, the third-generation Silverado introduced a new era of connectivity features. Chevrolet added the MyLink infotainment system to the Silverado in 2015, followed by Apple CarPlay and Android Auto integration on the 2016 model. By the end of the generation, connectivity features expanded to include a WiFi hotspot and OnStar services.
Things to consider:
Chevrolet introduced smartphone integration via Apple CarPlay and Android Auto, an available WiFi hotspot, and OnStar for seamless connectivity and peace of mind on the road.
More powerful and efficient EcoTec engines increase power output and towing maximum to 12,000 lbs depending on trim and configuration.
High Country trim offers the ultimate luxury, while the Z71 is ideal for adventurers looking for a capable workhorse and trail runner.

Fourth Generation Models: 2019-Present
Chevrolet introduced the fourth-generation Silverado in 2019 with a new turbocharged engine, a more spacious cabin, and a suite of advanced technology to keep drivers informed and connected. The fourth-generation Silverado, which marks the truck's current generation, boasts a sculpted exterior with bold LED headlamps integrated into the front grille. In addition, the eight-trim lineup distinguishes itself with unique details and includes models like the entry-level WT, Custom, and Custom Trail Boss to mid and top-tier trims like the LT, RST, LT Trail Boss, LTZ, and High Country.
The Silverado's turbocharged inline four-cylinder engine gives the truck more standard horsepower and earns a place in history as the smallest available engine on a half-ton truck. Of course, the fourth-generation Silverado continues to offer Chevy's renowned EcoTec lineup and Duramax diesel power plants that deliver the broad spectrum of power drivers have come to expect from the Chevy workhorse. This output ranges from 285 to 445 hp and from 305 to 910 lb-ft of torque on the 2019 model.
Beyond the multi-engine lineup, the fourth-generation Silverado also features Chevrolet's next-generation infotainment system that gives drivers access to Apple CarPlay, Android Auto, and in-vehicle apps like Waze. In addition, the truck's multi-angle camera system is one of the most extensive in the segment, while advanced safety and driver-assist features add to the truck's overall value. Newer models even come with Chevrolet's exclusive in-vehicle towing app, making trailering heavy loads less stressful by providing keen insights via the center touchscreen display or a smartphone app.
Things to consider:
Relatively newer models will fetch a higher price than previous generations.
Depending on age and mileage, some models may still be under warranty.
Laden with cutting-edge trailering, connectivity, and driver-assist technology.
Eight trims and several variants make it easy to find the perfect model for your needs.
We'll Help You Find That Perfect Workhorse
What Chevy Silverado 1500 will you choose? Shopping for a used Silverado 1500 is exciting because you know what you're getting with the Chevy name—a reliable workhorse that can easily tackle any job or adventure. Whether you're behind the wheel of a first-generation or fourth-generation Silverado, you know you're in good hands and can set out on the open road with confidence knowing Chevrolet always has you covered. That's what it means to shop for a Chevy, especially one like the best-selling Silverado. At Online.cars, we invite you to take a look at our fantastic online selection of Chevy Silverado models and let us show you just how easy shopping for a great used Silverado online can be!