Get the Best of Your Bah-humbug Credit with online.cars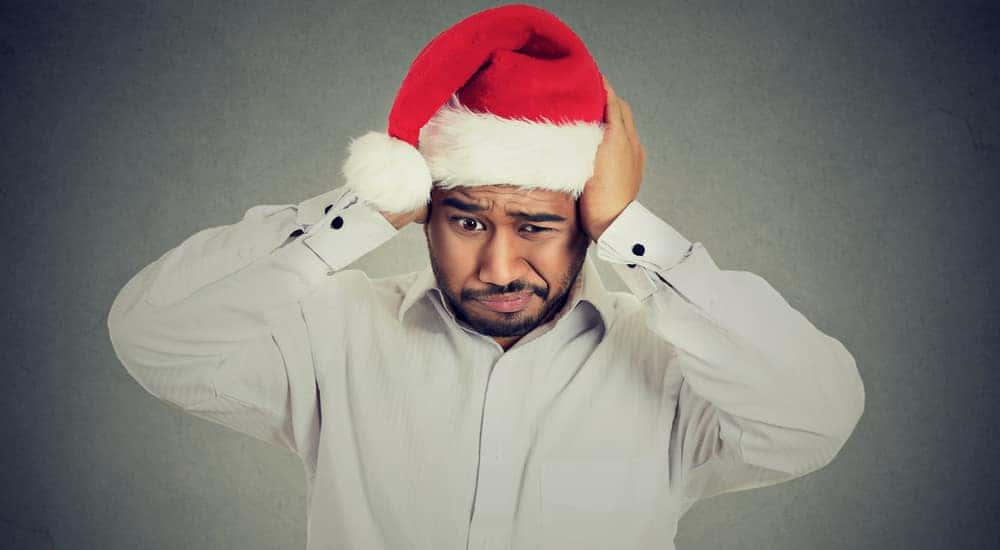 It's so easy to get wrapped up in the holiday spirit – the twinkly lights, the festive trees, the general good cheer and of course, the generous gift-giving. For many of us, it really is true that as we've gotten older it's become much more fun to give rather than to receive… which is all fine and good until January rolls around and your credit card bill lands smack in the middle of your mailbox. Bah-humbug, for sure.
No matter if you're gearing up for a season of spectacular shopping (aka serious spending) or if you're entering the after-holiday slump, it's important to remember that your credit score history last a lot longer than many of your gifts may – in fact, you may already be reeling from the holiday-spending of years past and worried that your damaged credit is going to prohibit you from buying a car that you so desperately need. However, before you stoop to asking Santa to help you find bad credit car loans in the Cincinnati area, simply head to online.cars. We work with all credit types and we're positive we'll be able to help get you into a safe sedan or SUV so that you can start to enjoy the gift of repaired credit history faster.
Busted Credit? Better Buy Used
So first things first: if you're shopping for a car but you have a lousy credit history, you need to ask yourself if you really, really need a car. If you're serious about repairing your poor credit history, then a car has to be a need, not a want. If getting the keys to a new-to-you car is going to help you make improvements to your life that will positively affect your credit score (think: easier access to better job possibilities), then you definitely should consider buying a used car. On that note – you need to buy used. Don't even think about going further down the rabbit hole of damaged credit in order to buy a flashy, new model year car – after all, by the time next holiday season rolls around, you'll already be driving an "old car". So plan to buy a well-loved, pre-owned vehicle that fits within your budget – thanks to online.cars, we can guarantee your pre-loved car will have a clean Carfax history report and a lifetime mechanical warranty, so you won't have to worry that buying used means taking a gamble on purchasing a lemon.
Buying used and staying on a budget doesn't mean you have to settle for a car you hate – at least not when you shop with online.cars. In fact, when you decide to shop with online.cars, all you need to do to get started is complete a brief questionnaire that tells us about what sort of car you're in the market for you. You simply tell us the make, the model, the year, the maximum mileage and the type of transmission you'd like on your car, and we'll get to work… although of course, that's not all we want to know. We also want to make sure you love your new-to-you car, so we ask you tell us the color, the trim type and we even ask you to message us with any additional information you'd like us to know about your dream car. However, the most important thing we ask you to tell us is something very few dealers will ask and abide by – and that's the maximum price you want to spend. Stay within your budget and let our team search for a car that won't break your bank.
Once we have collected the information on your ideal car, our sales team get to work reviewing and researching our inventory… which is a lot of work, considering our inventory spans our nationwide network of dealers. Once they find a few cars that fit your criteria (and, most importantly, your budget!) we'll send you an email with the details on the models that we think you'll love. All you have to do is choose the car that you'd like to call yours and complete the electronic purchase agreement, then we deliver your pre-loved car straight to your driveway…we even include a full tank of gas so that you don't have to waste any time (or spend any extra money) filling up your car.
Get in the Driver's Seat with Our Free Financial Tools
You're probably thinking, "wait a second, this sounds too good to be true. How am I actually going to pay for and finance this car?" That's where our finance team comes into play. To start with, you need to do a little legwork to figure out how much car you can really afford. Be sure to factor in things like insurance, fuel and parking garage costs, if necessary. Once you have a pretty good idea of how much you can spend on your car, head to our website and check out the free financial tools we've built to help our customers. Our tools are there to help you figure out which cars you can afford based on your desired monthly payment, how much money you can expect from a trade-in vehicle and we even have a tool to help you figure out what your monthly payments would be based upon different finance rates. Best of all, you can easily get pre-qualified and find out what finance rates you qualify for right on our website.
We want to put you in control of your car-shopping experience and most importantly, of your finances – and we know that sometimes it helps to talk to a real person. We invite you to call our team of financial professionals at 513-761-1111 if you have any questions regarding financing your used-car purchase. At online.cars, we work with lenders nationwide, giving us the ability to find great rates to fit any credit history, so don't be shy – reach out and let us know how we can help you overcome your bad credit history.
online.cars: Your Car Dealership for Life
Sometimes it feels like you'll never overcome your bad credit history – but we promise, if you shop smart and use your new car to boost your income and start paying down your bills, you'll be amazed at how quickly you can take your credit from the trash to the top. And when that happens, online.cars will still be here for you. We don't only offer a safe, secure alternative to sketchy bad credit car loan dealers, we also offer incredible customer service, including a three-day/150 mile satisfaction guarantee on all of our cars.
Visit online.cars and let us help you turn your lump-of-coal credit history into a shiny, new present to yourself… one that will keep bring you joy year after year.