Shop Stress-Free at Online.cars
When you Google Chevy Dealers in Louisville, you already know that you're going to see the same old dealerships that you've already seen on TV advertisements or driven by on your way home from work. You may have even shopped those very same dealerships yourself – perhaps you've even bought a car from a local Chevy Dealer in Louisville. However, it really doesn't matter though if you bought your last car at a local dealership or at a dealership across the country, because after learning about Online.cars, we're confident you'll never shop for a Chevy in the same way ever again.
 
Or then again, maybe you're dedicated to the old, traditional way of doing things – even if it's less convenient and more time-consuming than shopping through Online.cars. Let us take a minute to explain all of the benefits of buying (and even selling) your car though Online.cars and then we'll let you tell us if you'd rather go through the hassle of working with a traditional dealership.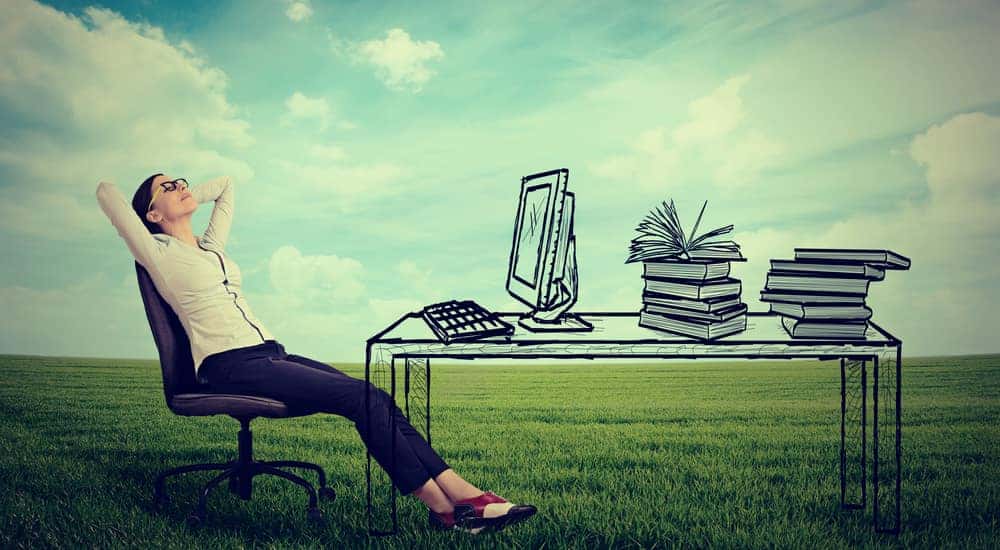 Always Open for Business
For starters, Online.cars is available all day, every day. You never need to worry about visiting us during our business hours, since every hour is a business hour at Online.cars. You also don't need to worry about spending time and gas money to get to some off-the-beaten-path location – visiting Online.cars is as simple as powering up your laptop and visiting our easy-to-use site. No matter if you're at home, on the road or even out of the country – Online.cars can be found anywhere there's an internet connection.
No Pressure Sales Tactics
As if that wasn't great enough, Online.cars also eliminates another source of stress that is virtually synonymous with car shopping – the overly pushy salesperson. You know just the type; loud, brash and desperate to get you to "buy today because there's NO WAY you're going to get such a great deal ever again!" No one wants to be strong-armed or guilted into making such a large financial commitment which is why at Online.cars, we put you in the driver's seat. In fact, we don't even make you scroll through dozens of listings or browse hundreds of cars you aren't interested in – we simply let you tell us exactly what you want to buy. All you have to do it is fill out a short questionnaire on our website that asks for the make, model, year, transmission type, maximum mileage, trim type and color of your ideal car and then our sales team gets to work searching the thousands of cars in our nationwide inventory to find the exact vehicle you've specified. Once they have located a few models that match your request, you'll be able to review the models and choose the one that is exactly what you've always wanted. It couldn't be any easier or less stressful to shop for a car from Online.cars.
No More Wallet Worries
Of course, we know that finding a car you're interested in buying is only one part of the anxiety-provoking challenge of actually acquiring a new vehicle. You still have to pay for the car, truck or SUV, and we all know that vehicle purchases aren't exactly cheap. However, we work to mitigate your worry by first asking you the maximum price you are willing to pay for the car – and we don't go above that number. Additionally, there are an array of tools available on our website to help you feel confident that your purchase is feasible and works for your budget. For instance, you can start your car search by using our Shop By Payment tool, which allows you to see which cars you're able to afford based on what you'd like your monthly payment to be. Additionally, you can use our online payment calculator to see what your payments would be based upon different loan rates – and speaking of loans, you can even get pre-qualified right on our site, with absolutely no obligation to buy from us. You also don't have to worry about your credit taking a hit from using these tools; since we don't ask for your social security number or birthday, exploring your financing options will have absolutely no effect on your credit score.
 
You might be thinking to yourself "well, this all sounds great except for the fact that my credit history is absolutely terrible so I'll never be approved for a loan regardless." We're so happy to share that with Online.cars, you can put that fear to rest. We work with lenders nationwide and it is our goal to get you approved for a car loan whether your credit is excellent, terrible or just completely non-existent. We know how important it is to be able to get yourself to and from work and we aren't going to deny anyone that opportunity because of their past credit history. Our team of financial experts will work with you to find a loan that's just right for you and for your budget, because at Online.cars we know there is nothing worse than being turned down for a loan or being locked into a financial obligation that you just can't meet. We want you to be completely satisfied with your purchase, long after we deliver the car to your driveway.
 
Oh, did we forget to mention that our service doesn't stop when you send in your purchase agreement electronically? We don't want to save you the hassle of going to the dealership to pick out a car and figure out your loan just to then make you to fill out paperwork and pick up your car from the said dealership. No, at Online.cars, we don't want to make you step foot in a dealership, which is why we'll deliver your new car right to your driveway – and we'll even fill up the tank for you. It's just one more reason why Online.cars make car shopping a pleasure rather than a chore.
Selling Made Simple
By now you're probably wishing that there was a way you could use Online.cars to sell your car as well – after all, why should the buyers have all the fun? Luckily, you can indeed use Online.cars to sell your car, and it's just as simple and convenient for the seller as it is for buyers. Here's how it works: simply visit our website and get a free online quote from Kelley Blue Book, then we'll send a member of our team out to inspect your car and pick it up from you. As soon as we received the title paperwork, you then receive a check for your car… which you can then use to buy a new car – straight from Online.cars. Again, you don't even have to visit a dealership in order to make the sale happen; we'll handle the transaction and all of the paperwork for you. Best of all, you don't have to take your car from dealer to dealer trying to figure out which one will give you the best price for your car – you can simply fill out the KBB quote from the comfort of your couch and we'll handle the rest. It's so quick and easy, you can do it during a commercial break!
Better Than the Best Dealership
By now we're positive that you'd be hardpressed to think of any reason to ever buy or sell through a traditional dealership again, but just in case you need a little more convincing, don't forget that at Online.cars, we offer a three-day, 300-mile back guarantee on all of our cars – so if after either three days or 300 miles you decide the car of your dreams is not actually for you, simply let us know and you'll get your money back, no questions asked. Additionally, every car sold through Online.cars has a clean CARFAX and a free lifetime mechanical warranty – and we're pretty sure you won't find that at your local neighborhood car dealership.
 
Before you spend your next free Saturday standing on a dealership lot, why not take advantage of Online.cars and experience the future of stress-free car shopping?