Trucks and SUVs Rule the Roost at the 2017 Chicago Auto Show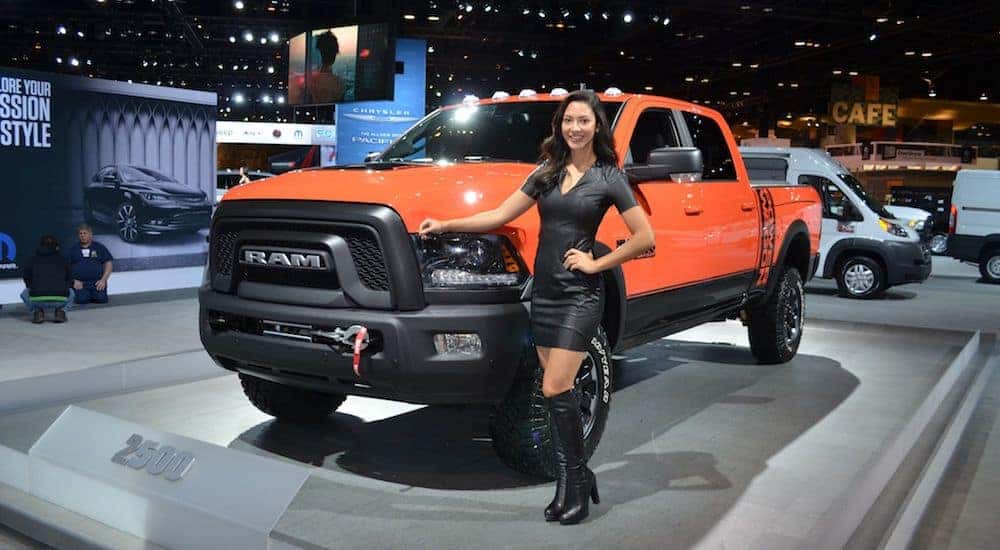 The largest annual auto show in the world kicked off in Chicago on February 11, with attendees coming from every corner of the world in order to get a glimpse of where the industry is headed in the coming months and years. The Chicago Auto Show has grown exponentially over the years, in regards to the number of models debuted, technology showcased, and a number of people who attend. While other auto shows around the world are still highly anticipated, no other automotive show is quite as successful at showcasing what is on the immediate horizon for this exciting industry. As the show amps up in the Windy City mid-February of 2017, there is one surprising twist that is managing to catch dealerships like Kings Chrysler Dodge Jeep Ram and online.cars off guard.
When SUVs Went to the Wayside
A perfect storm began brewing over a decade ago, which had a major effect on the automotive industry. As the financial crisis grew here in the United States, and gas prices escalated across the globe – car brands began placing less of an emphasis on large gas-guzzling SUVs and prioritized fuel-efficient compact cars. American drivers were swapping their crossovers and SUVs for cars that were more cost-effective at the pump, as well as at the point of purchase. Economically priced cars were not only leaving less of an impact on their owner's wallets but also less of an impact on the environment.
It was at this time that SUV and crossover sales were at an all-time low. Car manufacturers were scrambling in order to find a solution to this major shift in sales, which resulted in an increase in compact and subcompact cars being produced and sold to American car shoppers. Right along with the fall of the SUV and crossover segment came the demise of the pickup truck category. Already a niche segment compared to other options in the automotive world, buyers who were once considering a pickup for their everyday vehicle, opted instead for a more practical-sized sedan.
Essentially – cars ruled, and trucks/SUVs drooled
The Big Boys Are Back
Essentially a decade after this major shift in automotive sales took place, American car shoppers are making it clear that they are ready to accept the less-efficient vehicle options back into their lives. While we have suspected this shift for some time now, it was made loud and clear as the 2017 Chicago Auto Show kicked off in the Windy City in mid-February. Rather than one booth after another showcasing hybrid and fuel-efficient compact car options, car brands are bringing the big boys to the big city for 2017. With more trucks, SUVs, and crossovers than in recent years, it is obvious that buyers want more practical options – and that car brands are finally listening. One of the most drastic changes this year in Chicago is more pickup truck options. As trucks become a more mainstream option, with more features and amenities, buyers are finding it hard to resist this type of vehicle for their everyday use.
Nissan is one of the participants at this year's Chicago Auto Show, and the brand took the opportunity to reveal the King Cab version of both the Titan and Titan XD pickup trucks to the world. Fred Diaz oversees light commercial vehicles and trucks for Nissan Motor Company in North America, and he believes that the increased interest in pickup trucks is no accident. "Trucks are now becoming more the main family vehicle. Basically, everything you had in a car, you now have in a truck. You see the entire industry has shifted from an area of dominance with cars. Now you see that trucks are overtaking cars, and that trend is going to continue." Diaz's take on this subject is spot on, and he isn't the only insider who believes that the reign of compact and subcompact cars is over. Stephanie Brinley is the senior analyst with IHS Automotive and claims that "The industry has undergone a long-term fundamental change. They (pickup truck and SUV buyers) like to sit up a little higher, they like a more flexible space inside. They (pickups and SUVs) fit really well into people's lives."
It is clear that SUVs and pickup trucks have always been practical, especially for buyers with large families who need the added space. Jim Morrison is the head of Fiat Chrysler's Ram brand, and he believes that "Everybody needs a truck. Some people need it every day, some people need it every week, so that's America. Combine that need with all of the technology – stuff that makes these trucks incredibly easy to live with every day – the truck segments are going to continue to grow."
Top Truck and SUV Debuts in Chicago
Trucks and SUVs are back, with industry insiders betting on the fact that they are here to stay. Take a look at some of the most exciting truck and SUV debuts that are taking place at the 2017 Chicago Auto Show this February.
2018 Ford Expedition
2018 Dodge Durango SRT
Volkswagen Atlas Weekend Edition Concept SUV
Ram 1500 Copper Sport Special Edition
Toyota Tundra TRD Sport Toyota Sequoia TRD Sport
Ram Heavy Duty Night Edition Package
Nissan Rogue-Wing (Star Wars inspired) SUV
Nissan Titan King Cab
Nissan Titan XD King Cab
While there are other crossovers, SUVs, and pickup trucks debuting in the Second City this February, these are the major players to look out for in the coming year. Whether you are already convinced that the large utility vehicles are the way to go, or you prefer the fuel efficiency that compact cars have to offer, it seems that 2017 is poised to be an exciting year for the automotive world.
For the best selection of new and used cars, trucks, and SUVs, be sure to check out online.cars. The only place where shoppers are easily and effortlessly connected with the vehicles of their dreams, without having to step foot inside of a traditional dealership. Head online today, and unlock the full car search potential available only with online.cars.