Used Cars Cincinnati
Buying used cars in Cincinnati provides some great benefits — especially when those benefits can't be found from buying a new car. Lower prices, increased value, and easier, even cheaper repairs are only a fraction of the advantages buying used vehicles has to offer. Even a vehicle that's only four or five years old will be substantially cheaper than the current model on the market. Why? Because while depreciation hits new vehicles hard, consumers who buy used cars see it as an excellent way to save some money on a great running vehicle. That better value comes from getting a certified pre-owned vehicle, which is a used vehicle new enough to be certified in like-new condition. Why are they easier and cheaper to repair? While there are a few exceptions to the rules, typically older vehicles have less expensive parts, making them more affordable.
Lower Prices
The number one reason a used car is so much cheaper than a new car is depreciation. The very minute you drive a car off a lot, it loses (on average) at least 11% of its value, which is crazy to think about, especially with five-digit prices. During the first five years of ownership, it depreciates anywhere from 15%-25%, depending on the make and model. After five years, the average car is only worth about 37% of what you initially paid for it at the dealership.
This means the resale or trade-in value to the dealership takes a hit immediately, and if you were to drive it off the lot and turn around to sell back to the dealer, you wouldn't get your money back fully. While this is a nightmare for new car buyers, those who buy used cars look at this with money symbols in their eyes. If you find a new vehicle that only has a few thousand miles on it, that means you'll be getting it for a lot less than the current model.
Obviously, the savings rack up more the older a vehicle gets, and the more wear and tear it experiences. Therefore, the trick to getting a reliable used vehicle from someone's yard at a great low price requires a decent amount of knowledge to inspect it for flaws. Or, you could simply buy from a dealer who only stocks good-quality and reliable used vehicles.
Better Value with Certified Pre-Owned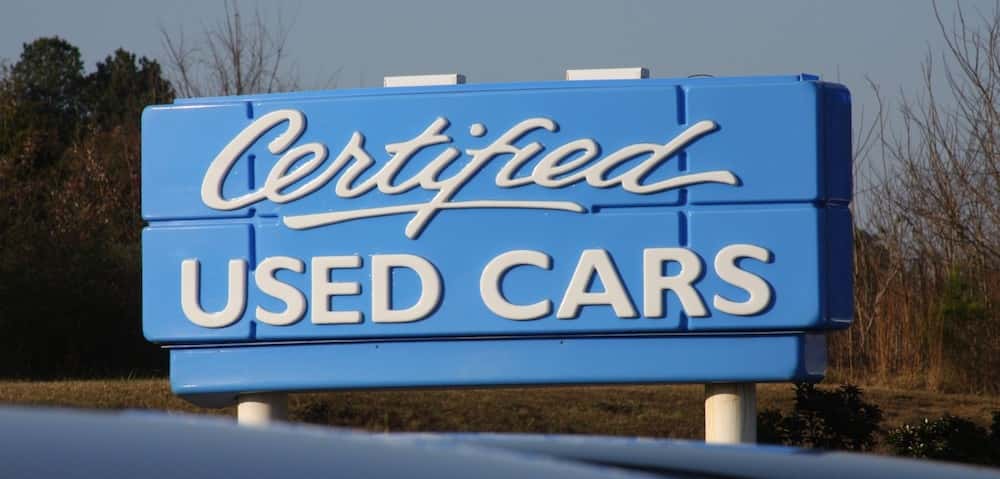 The other alternative to getting that peace-of-mind you need when buying a used vehicle costs a little bit more, but is well-worth the price. Certified pre-owned vehicles are vehicles that meet specific automaker (it differs from company to company) standards, such as age within a certain amount of years, mileage under a certain number, and successful passing of rigorous inspection and reconditioning processes.
For example, Buick and Chevy are produced by General Motors. Therefore, no Buick or Chevy models are allowed to be listed and sold as certified pre-owned vehicle unless they are within five years old, under 75,000 miles, and pass a 172-point inspection and subsequent reconditioning. These 172-points consist of any parts of a vehicle the manufacturer deems necessary to be in like-new condition, and are inspected by authorized factory technicians. If a part is too worn out or broken, it is replaced with a new one. If it can't be repaired or refurbished, the vehicle can't be certified.
The reason these certified pre-owned vehicles get better value than regular cars is because of the built-in-value that comes with the certified pre-owned label. They might cost more than a non-certified used car, but the 6-year/100,000-mile powertrain limited warranty; 12-month/12,000 mile bumper-to-bumper limited warranty; 24/7 roadside assistance/courtesy transportation; and 3-month trials of OnStar services and SiriusXM All Access Package equates to $2,800 of built-in-value. This value is unique to certified pre-owned vehicles, as is the exclusive CPO Scheduled Maintenance Program that's designed to keep your vehicle happy and healthy. These cars also come with a title and a clean vehicle history report to further reinforce they are reliable choices.
Remember, the requirements differ from manufacturer to manufacturer. But, what's guaranteed is that like-new condition and peace-of-mind regardless of what certified pre-owned make and model you choose.
Easier and Cheaper to Repair

While not all certified pre-owned vehicles fall into this category, along with the lower price of a used car also comes lower maintenance costs — and easier repairs. With your average used car, the older it is the cheaper the repair costs. Even if you get it repaired at the dealer. While labor might cost the same, the parts won't. What's going to be less expensive and less time-consuming: repairing a steel frame, or repairing an aluminum frame? The steel frame, obviously. The mechanics who work on steel frames already know the ins and outs of them, so repairing them is like second nature. Aluminum frames are still new in the grand scheme of things, and take special tools and knowledge to fix them – not to mention, the repairs take longer, which naturally increases the labor cost.
While this frame scenario applies heavily to the aluminum vs. steel frame battle in trucks produced in 2016, the concept remains the same with numerous other parts on a vehicle. Parts that will also be cheaper, since the older ones can be found online or from a junkyard and brought to a corner garage to repair. Even a repair at a dealership won't cost as much with an older part.
That special knowledge that relates to fixing an aluminum frame also transcends to other parts of a vehicle. Oil changes, transmission flushes, and replacing tires are all still the same. But for the old-school DIY mechanic who likes to tune-up his own engine or weld his own frame might find him or herself at a loss. With a lot of cars, performance is almost entirely computer-based now, which means unless you know how to change and "work on" the computer in your car that helps control performance (especially on recently used high-performance cars), you'll be at a loss.
McCluskey online.cars: We Have it All

Since choosing what make, model, condition, mileage, and year your used car should be in can be confusing, McCluskey online.cars is here to help. We have everything you need to make a smart and reliable used car purchase, starting with our wide selection of certified pre-owned vehicles and other used cars. With this extensive inventory, you'll be able to find exactly what you're looking for. Our sales staff is eager to help you, and has the knowledge to make your car buying experience effortless. When it comes time for repairs (if you aren't a DIY mechanic), our expert technicians will be able to handle any problems or routine maintenance that comes our way. We also guarantee financing, so even those with bad or no credit will be able to find a vehicle here.
We're experts when it comes to used cars, so let the online.cars team share its knowledge and expertise with you.