Used Cars for Sale in Ohio
Getting a great deal on a reliable, affordable, and enviable used car for sale in Ohio can be a little tougher than simply picking out an option and putting money on the table. More often than any of us should be comfortable with, the used car buying process actually ends up being a nightmare of an ordeal, involving poor selection, too-high prices, and pushy sales people forcing you to choose a used vehicle you may not even really want. It's been like this for years, and customers everywhere have had just about enough – and finally, it looks like things are starting to change.
That's because more and more used car buyers are figuring out that the old way of doing things – picking a used car dealer, quickly browsing the inventory, and either moving on or making a choice – just isn't the right procedure for everyone. Rather than choosing to fall into the same old routine, today's drivers are turning to that most useful of tools to make the used car buying process easier, safer, and speedier than it's ever been: the internet.
Rather than watching your free time (and, later, your hard-earned cash) pass by without so much as a great deal to show for it, why not try shopping at your own pace and on your own terms with online.cars? Built to make finding that next used car as easy as it is simple, online.cars offers an entirely new look at the used car buying process – and it looks like it may just be the better option on all fronts.
About online.carsView InventoryShop By Payment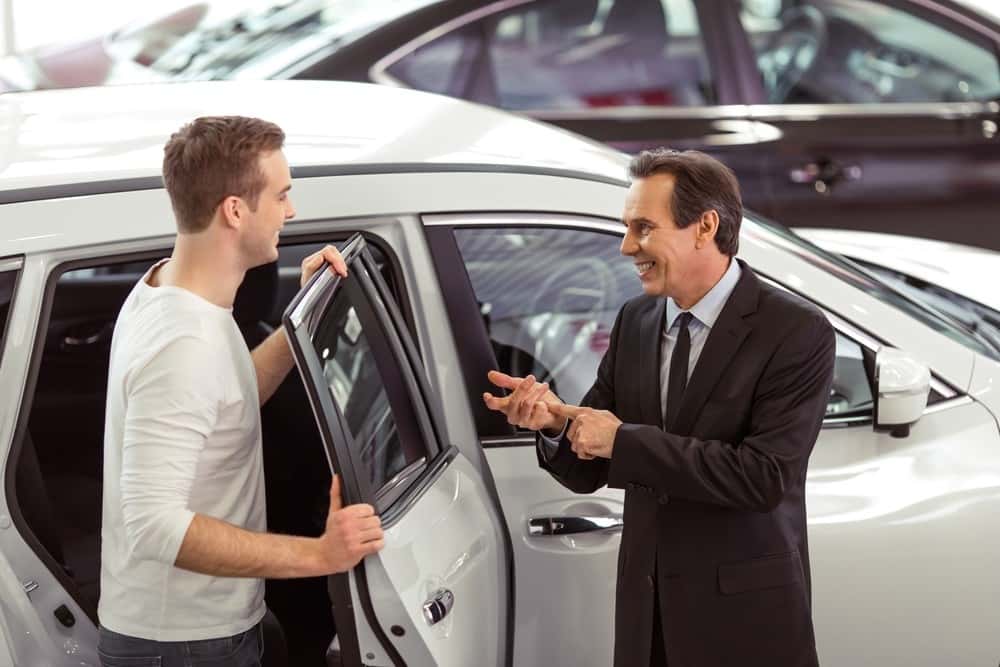 Take Charge and Find Just What You're Looking for
Next time you find yourself browsing some used car dealership in search of a reliable vehicle, take a minute to think about what's actually going on: you're basically at the mercy of the dealer, paying prices you can't verify on vehicles that have already been looked at, picked over, breathed on, and ultimately rejected by some other poor shopper. Choose one of these cars and you're more likely than not choosing a vehicle you won't be entirely pleased with – not to mention, you've got a target sign on your back for some pushy salesman the moment you walk in the door.
Clearly, the system is broken. In a healthy sales market, the buyer is the one in control, with salespeople bowing to the demands and desires of the market. For used car buyers, it can often feel like the opposite is true the moment you walk into a dealership – you basically have to take their prices and their guarantees at face value, with little wiggle room. Plenty of shoppers feel uncomfortable entering into such a transaction, and female shoppers worldwide still insist that shoppers "have to bring some backup along" just to avoid getting hosed and intimidated into overpaying for a lemon.
Fortunately, progress means this is no longer the only option. Shoppers looking to seize control of the buying process can turn to online.cars, a handy online resource that offers so much more than any dealership ever could. Plus, with online.cars, you'll never have to worry about being screwed over on the price again – meaning no more pushy salespeople working to gut you for a commission, and no more having to settle with "the best" among a bunch of bad options.
Choose online.cars, and Choose to Shop at Your Command
Ohio drivers will face the stress and dissatisfaction of the traditional used car dealer no more, thanks to the power of online.cars. Built to revolutionize the way that drivers connect with their next vehicles, online.cars allows you to browse from an enormous national inventory to find exactly the vehicle you like, narrowed down right to the exact specifications you're looking for.
This process takes place entirely online, meaning you can shop when you want, how you want, and for as long as you want without ever having to worry about having a salesman breathing down your neck. And since online.cars is supported by a nationwide network of partners, professionals, and industry experts, you can be sure you'll get the similar quality and price guarantees as what you'd get right from the manufacturer.
Shopping with online.cars is just the better choice – and we wouldn't be surprised if it truly becomes the only way used cars are bought in the near future.
See online.cars in Action
Simply put, online.cars is built to make shopping for your next used car easier than it's ever been – and, arguably, the way it really should be. Say goodbye to pushing off getting that next used car or keeping some old beater on the road just to avoid the stress of shopping – online.cars makes browsing and buying that used car easier, faster, and more user-friendly than it's ever been before. Change is a-coming to the used car market, and it's all in how online.cars makes it happen:
1. Head Online and Start Searching
You don't have to be especially talented online or even an experienced online shopper to make online.cars work for you, because online.cars is made to be easy for everyone, and it's built to be easy to use right from the start. Simply search for online.cars from the comfort of your own home and start your search without having to make the trip across town.
2. Tell Us a Bit About Yourself
online.cars offers an easy inquiry form for users to fill out, which helps us get an idea of where you're located, what kind of car you're in the market for, and what you hope to get out of your online.cars experience. It's just a few questions, and it helps us serve you better than any dealer alone ever could.
Once you've submitted your info, check your email inbox for a response from the online.cars team. There, you'll find a quick welcome, and you'll start receiving your first few vehicle options, collected by your assigned online.cars specialist. These options will come to you one-by-one, meaning you'll be able to lay all your options out at an easy pace – no more running around different lots comparing stickers for online.cars users.
3. Start Narrowing Down Your Choices
The majority of shoppers who utilize the online.cars Car Finding Service receive, on average, three options picked from our nationwide inventory of vehicles. These will match your desired vehicle as closely as possible, filtering through hundreds of options to find the three that most closely align, at the lowest prices.
With each vehicle, you'll also receive a detailed past history report, which alerts you to any prior repairs or damage right up front. You'll also see the vehicle's current mileage, all added features found throughout, a full rundown on the vehicle's safety features and amenities, engine information, and more. This information will all come compiled on one simple report, keeping you informed of your choices like never before. That way, you can start to narrow down your options with as much information at your disposal as possible. No more secrets, no more surprises.
4. Take a Test Drive – Then, Take Your Vehicle Home
The number one thing that still makes used car buyers pause when considering buying a used car online is the classic issue of the test drive – and fortunately, online.cars has solved that problem. Once you've decided on the vehicle that's right for you, we can bring the vehicle right to you here in Ohio, free of charge. You'll be able to head down to your nearest online.cars dealer partner and test the vehicle for yourself – no pressure, no expectations, and at no cost to you except for a fully-refundable down payment. If you decide the vehicle is right for you, all you need to do is finalize financing, with the option to set up payments instantly and using the refundable deposit as your down payment. From there, you can take your new-to-you used vehicle home and start enjoying the road ahead – one mile at a time.
Try online.cars and Try the Future of Used Car Shopping

Whatever you may be looking for and no matter how bad your past experiences shopping for a used car may have been, online.cars is here to make used car shopping easy once again. Try online.cars for yourself and see just what all the fuss is about – we're pretty sure once you've tried it you'll never want to go back to the traditional used car dealership again.
Get In Touch