Used Chevy Tahoe – Columbus, OH
Modern car shoppers expect ease and convenience when purchasing a new vehicle. As many of us know, the car shopping experience has never really been synonymous with these goals. All too often, consumers find themselves in a pressure-filled, hassle-laden environment with sales associates who have one goal in mind: closing the deal.
For years now, the team at McCluskey Chevrolet has rejected that kind of sales approach and increasingly focuses on delivering the absolute best customer service that exceeds consumer expectations. No easy feat in the automotive industry, but McCluskey makes it look seamless, especially with respect to its latest endeavor – online.cars, an online car shopping portal that defines ease and convenience.
What online.cars delivers is a streamlined, simplified shopping process, which eliminates the need for negotiation, and so, creates a haggle-free zone in which customers can quietly consider their next car purchase without pressure. No matter the make or model you're looking for, chances are, you'll find it in the online.cars inventory. New, used, or certified pre-owned, McCluskey's online.cars has it all. How does it work? We'll take you through the whole process by targeting a used Chevy Tahoe for Columbus, OH shoppers as an example.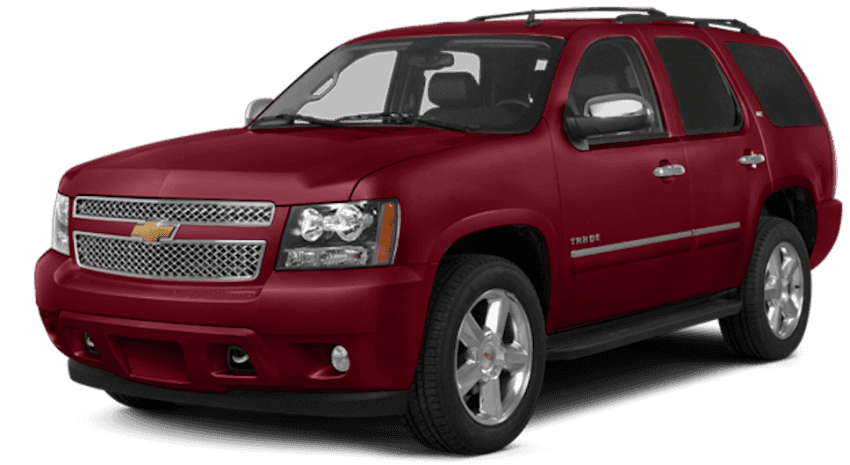 Click Your Way to a Used Chevy Tahoe Purchase
There are so many perks to buying a pre-loved SUV, particularly if you want a vehicle that combines reliability, comfort, and safety. Chevy has long been celebrated for creating some of the most dependable and secure SUVs on the road, as defined by the Tahoe. So, how do you go about securing one via online.cars?
First of all, access the online.cars website where you'll be prompted to fill out a form with required fields like make, model, and model year. Although the Chevy Tahoe has long been an American favorite, industry experts really suggest targeting the 2007-2014 model years with respect to a used purchase that offers modern amenities and serious affordability. Selecting a model year from this generation, simply input your preference into the online.cars online submission form and let the experts at McCluskey take it from there.
Once the McCluskey online.cars team receives your submission with your requested preferences, they immediately set to work tracking down the vehicle with your exact specifications. After searching through hundreds of listings provided by nation dealer-only auctions, the online.cars team will isolate the best options based on your requirements – usually limiting the choices to the best two to four options, which they will then send to you for your review via email.
Included in this email are the purchasing options available to you, which you can assess at your own pace – pressure-free. After you decide which option and financing best suits your driving needs and budget, simply respond to online.cars and give the team the green light to take the necessary steps required to bring that Tahoe you've chosen to the dealership. After that, you can arrange to have the vehicle delivered directly to your driveway.
So, why do industry insiders recommend the third generation of the Chevy Tahoe for a solidly competitive used Chevy purchase? Well, the online.cars team will tell you…start clicking to learn more and consider it practice for when you're ready to put the online.cars team to work on your next used Chevy Tahoe purchase.

Targeting the Third Generation Tahoe, Courtesy of online.cars
Boasting a complete redesign for the 2007 model year, the Tahoe was released to the market with a smoother exterior and more plush interior features. These enhancements extended throughout the third generation, only getting better with each model year. Considering that most consumers in the market for a used vehicle tend to feel more confident purchasing the most recent model year possible, let's take a look a the specs on the 2013 Chevy Tahoe. Only three years old, this bow-tied beast will feature most, if not all of today's top tech, with respect to safety, convenience and comfort. And the beauty is, the price will look like a bargain compared to its brand new counterparts.
One of the things that makes the Tahoe so versatile is the fact that it is a truck-based SUV. Available in three trim levels – the entry LS, mid-level LT, and top-tier LTZ, the Tahoe offers standard seating for eight passengers, with the option to move that number up or down based on your needs and the corresponding seating configurations. An available set of second-row captain's chairs drops the passenger accommodations to seven; while an optional 40/20/40 bench seat makes room for nine.
Splurge and Save Simultaneously with a Used Chevy Tahoe from online.cars
Considering that you're already making a budget-conscious decision by purchasing used, why not splurge a bit and take a gander at the high-end LTZ, featuring comfort, safety, and convenience amenities like a heated steering wheel, complemented by heated seats up front and across the available second row power seats that flip and fold, a power rear liftgate, power folding mirrors, optional captain's chairs, enhanced air suspension, navigation system, and a ten-speaker Bose surround sound system, complete with digital music storage capabilities. Optional equipment on the LTZ includes blind-spot warning safety function, and power-retractable assist steps.
Every Tahoe features a 5.3-liter V8, producing up to 320 horsepower and 335 lb.-ft. of torque, operated by a six-speed automatic transmission with both two and four-wheel drive configurations available. The four-wheel drive option, likely the best choice for drivers in and around the Cincinnati, OH area, comes equipped with either a two-speed transfer case or a single-speed without low-range gearing (just bear in mind this second alternative isn't available on the LTZ, if that's ultimately the trim you choose).
Performance testing returned a zero to sixty mph result of 8.5 seconds, which is expected from this class. What isn't expected, however, is the better-than-average fuel economy figures – numbers not typically expected from the SUV segment. EPA estimates return 15 mpg city, 21 mpg highway, and 17 mpg combined. For those consumers hoping to haul a small boat or trailer for weekend fun or extra equipment for a summer road trip, the 2013 Chevy Tahoe is able to tow a maximum of 8,500 pounds when properly set up.

Safety is Standard in All Used Chevy Tahoes
The Tahoe doesn't slouch on safety either. No matter which model year from the third generation you ultimately choose, all Tahoes feature standard safety features, including a range of airbags situated throughout the cabin, a tire-pressure monitoring system, four-wheel antilock disc brakes, and Chevy's exclusive OnStar emergency notification and services. The 2008 model year introduced roof-mounted head curtain airbags to the Tahoe lineup and the whole Tahoe family routinely garnered favorable safety scores from both federal safety testing and the National Highway Traffic Safety Administration.
Originally priced at the starting MSRP of $45,555, extending upwards to $57,725, depending on equipment and options, a used Chevy Tahoe for Cincinnati, OH drivers can be found at a fraction of those initial sticker prices. And that's where the online.cars team comes in. Taking the heavy lifting off your shoulders, McCluskey's online.cars team is ready to find that third generation used Chevy Tahoe at a price that exceeds your expectations.

Find Your Tahoe With online.cars
Start clicking and put the online.cars team to work for you. They'll help you "Find New Roads" in an outstanding used Chevy Tahoe faster and easier than you ever thought possible.