The All-Online Process
Admit it, spending hours and hours bouncing to and from your local dealerships isn't fun. And the additional hours you spend at the dealership when you finally purchase your vehicle isn't fun either. Thankfully, Online.cars offers a new way for drivers to buy used cars in Indianapolis, and they can do so right from the comfort of their own home. If shopping for a vehicle while you watch your favorite show on Netflix sound appealing, you'll love our dealership alternative. At Online.cars, we allow our shoppers to complete the entire car-buying process online. This includes browsing our used car inventory, getting pre-approved for financing, choosing your ideal vehicle, securing financing, purchasing your vehicle, and setting up delivery for your vehicle. For most drivers, this takes nearly all of the stress away from purchasing their next vehicle and even makes the process enjoyable. Drivers will be able to choose from hundreds of high-quality used cars and completely avoid the trip to the dealership.
However, if at any point in the process you have a question or need the help of a customer service member, our team is just a quick phone call away and will be ready to help you with anything you need to complete your purchase.
Online.cars Inventory
If you're looking for an extensive selection of high-quality used cars for sale, you'll be pleased with the inventory we have to offer at Online.cars. A variety of makes and models help make our inventory one of the most diverse options available for drivers looking to buy used cars in Indianapolis. Not sure what type of vehicle you're looking for? We can help, with our personalized sales team that can walk you through what is available and what may be best for you.
We offer vehicles from many manufacturers including used Chevys, Fords, Kias, Jeeps, Toyotas, GMCs, Hyundais, Buicks, and more. In total, we offer a diverse inventory of sedans, SUVs, and pickup trucks across numerous brands, making it easy for drivers of all lifestyles and budgets to find their ideal vehicle on our site.
Clean Vehicle History Report
At Online.cars each and every vehicle available through our site comes with a clean vehicle history report. In fact, at Online.cars we refuse to sell any vehicle that does not have a guaranteed clean vehicle history report from CARFAX. This is just one of the ways that we ensure that every vehicle in our used car inventory is of the highest quality for our customers. With Online.cars, drivers looking to buy used cars in Indianapolis can feel confident when using an online alternative to their local dealership.
Guaranteed Credit Approval
Having challenged credit can be stressful, especially when it's time to purchase a new vehicle. Many times, consumers will spend hours and hours to find the perfect car at their local dealership only to sit down with the finance department to find out they can't qualify for auto financing. However, this is never the case at Online.cars. We are proud to offer guaranteed approval for all types of credit backgrounds. Even drivers with significantly low credit can feel confident in their ability to secure a loan through Online.cars. However, if you're still worried, you can easily apply for financing directly through our site. Just by using our convenient online qualification process, we'll get you pre-approved quickly and painlessly. We also understand that applying for credit at your standard dealership can further harm your credit, however our Credit Center is designed to take care of your financing needs without harming your credit. Whether you have challenged credit or excellent credit, the convenience and flexibility of Online.cars makes financing your next vehicle stress-free.
Free Vehicle Delivery
You may be wondering if purchasing a vehicle online leads to a hefty fee for vehicle delivery, and usually this can be the case. However, at Online.cars we believe you've already paid enough for your new vehicle, so our vehicle delivery is 100% free. Drivers who purchase a vehicle through Online.cars can have their vehicle delivered to their home or office in one of our patent-pending Glass Traveling Showrooms. This showroom is specially designed to transport your vehicle in the safest and efficient manner possible, and if we're being honest, with some serious style. Your neighbors or coworkers are sure to appreciate the delivery of your new vehicle, and so will you!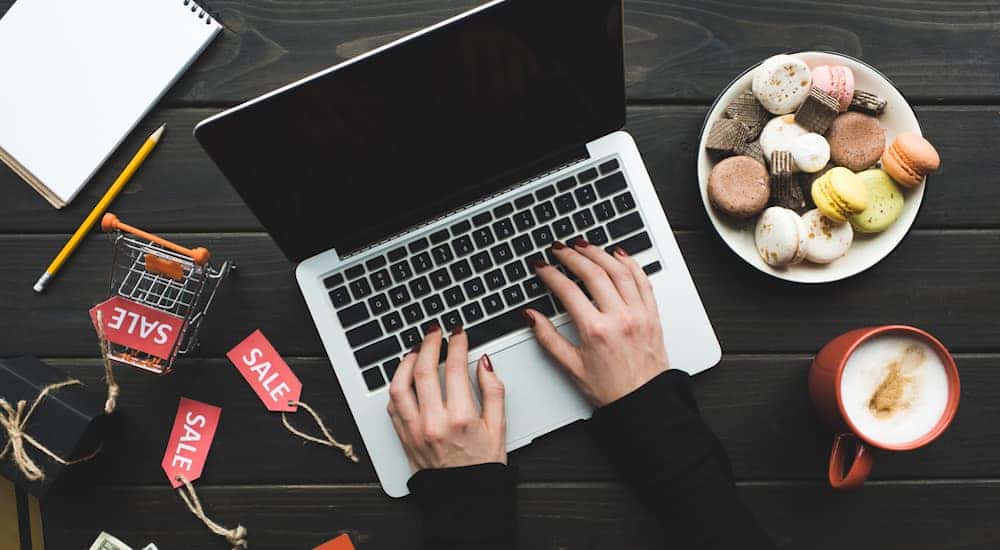 Personalized 5-Minute Presentation
If you're looking to buy used cars in Indianapolis from Online.cars but are not quite sure how the process works, it may be helpful to take advantage of our complimentary presentation. This is a 5-minute long presentation that is personalized to your interests and is scheduled at any time that is convenient to you. During this presentation you'll learn about the benefits of purchasing a vehicle with Online.cars and how the car-buying works through our site. A Market Manager will be assigned to your presentation and will gladly show you exactly how Online.cars can create an enjoyable shopping experience for you. To schedule your personalized 5-minute presentation, simply visit Online.cars and click the blue button in the top right corner. From there you'll just have to fill out our short form and choose a time that works best for you.
Additional Online.cars Benefits
There are really a tremendous amount of benefits available to drivers looking to buy used cars in Indianapolis through Online.cars. While most of the  important benefits have already been discussed, here are a few additional benefits:
At Online.cars, we are proud to offer these benefits, as we only hope that they create a convenient and more enjoyable car-buying experience for our valued customers. To learn more about these benefits, feel free to browse our website or give us a call today.

Buy Used Cars in Indianapolis The Easy Way!
At Online.cars, we've made it easy and convenient to buy used cars in Indianapolis. If you want to skip the dealership and the endless hours spent at their finance department, you'll want to choose Online.cars for the purchase of your next vehicle. As a dealership alternative you can shop from the convenience of your own home on your mobile device or computer, and the additional benefits we provide are sure to make purchasing your next vehicle even more enjoyable. So, when you're ready to begin your search for high-quality and affordable used cars, visit Online,cars. In no time at all, you'll be awaiting the arrival of your new car in one of our Traveling Glass Showrooms!