Used Cars Indianapolis
Shopping around for used cars in Indianapolis is easier said than done. Few customers want to deal with the stressful ordeal, and few buyers are actually excited when they complete their purchase. 
This clearly isn't ideal. Well, if you're looking for an unmatched buying experience when shopping for used cars in Indianapolis, then it's in your best interest to check out everything online.cars has to offer. The "dealership" provides customers with a long list of unique advantages, including financial and convenience benefits. Plus, there's practically no risk, so you won't have to worry about any preconceived notion that you may have regarding the purchase of a vehicle online.
Go ahead and dive into online.cars' various advantages for yourself. Before long, you won't be as willing to waste your timing shopping around for used cars in Indianapolis. Instead, you'll be looking forward to completing your impending purchase from the comfort of your own couch.

About online.carsView InventoryFinancing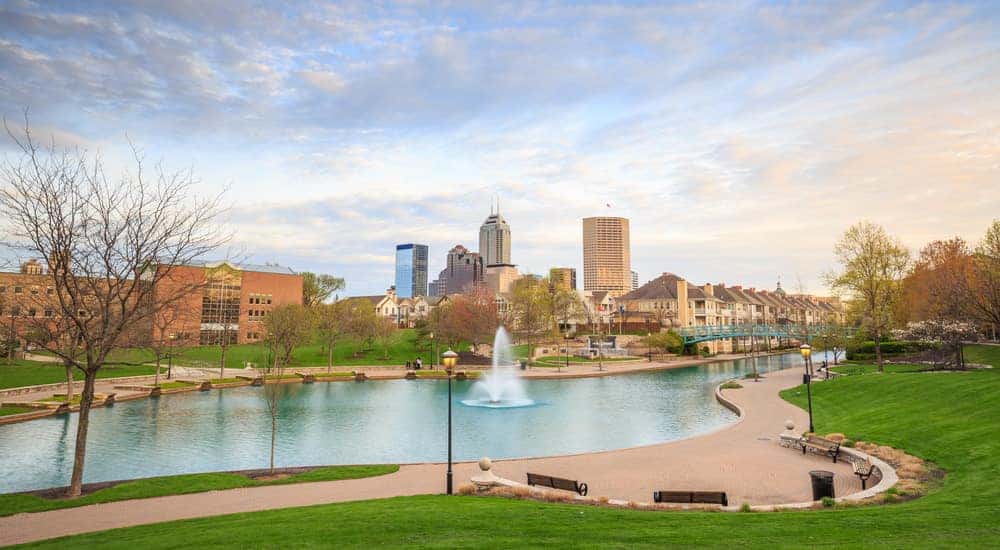 Advantages
Plenty of car sellers can tout their advantages. However, at the end of the day, these incentives aren't anything unique. In other words, you'll likely find the same benefits at any business you happen to visit.
That's not the case with online.cars, as we can provide customers with a number of incentives that are unique to this particular business. Check out everything that online.cars manages to provide to our customers. Before long, you'll understand that we should be your next stop if you're shopping around for a used vehicle.
No Risk
Nowadays, you can trust that most used car dealerships are trustworthy and reputable. However, there's still the risk that you'll end up opting for a faulty (or, *gasp*, lemon-like) car. In this situation, you're seemingly up a creek with no paddle. In other words, you will seemingly have no way to get out of your predicament, and you'll be forced to tolerate the car until you can afford a replacement. No one wants to find themselves in this financial scenario, and it's a major reason why customers tend to avoid used vehicles altogether.
Well, by opting for online.cars, you'll be avoiding many of the risks that accompany the purchase of a used vehicle. The business's options are high-quality and dependable, so you shouldn't worry about running across any worrisome mechanical issues in the future. More importantly, online.cars truly manages to separate itself from traditional car buyers thanks to our long list of customer protections.
For instance, each of online.cars' vehicles are accompanied by a Lifetime Mechanic Warranty. Best of all, this offering is completely 100% free, so you won't have to pay any extra money for this much-appreciated advantage. Thanks to this incentive, customers will never have to rely on an untrustworthy mechanic. Rather, owners can simply visit an affiliated dealership and have their vehicle fixed by a trustworthy, savvy service team. Not many car owners can take advantage of this benefit, and it's a major reason why online.cars should be your only solution when shopping for used cars.
Of course, it's unlikely that you'll run into any issues in the first place. After all, online.cars accompanies each of our vehicles with a guaranteed CARFAX clean vehicle history report. This means your vehicle will be road-ready, and there's documentation to back up this sentiment. Plus, if there were any previous issues with the vehicle, you'll already be fully aware of these potential problems before you make your purchase. 
Online.cars even eliminates the risk that you won't end up liking your impending purchase. Buying any type of vehicle naturally has its risks, as you'll never fully grasp the intricacies of the vehicle until you've driven it. This predicament is only exasperated when purchasing a vehicle online, as it's unlikely you'll get a chance to get behind the wheel before the car arrives at your doorstep. After making the purchase, you may find that you've made the wrong choice, whether it be due to underwhelming performance, unanticipated comfort issues, or any other logical reason.
Fortunately, you won't have any reasons to worry when you opt for online.cars. The business provides customers with a three-day, 300-mile money-back guarantee. That way, if you do realize that you've made a wrong choice, you won't be forced to tolerate the vehicle for the long-haul. Instead, you can easily swap out your purchase with a replacement. You'll be hard pressed to find another dealership that offers this kind of advantage, and it only emphasizes why online.cars should be your only "stop" for your next used car.
Financial
When compared to newer vehicles, the financial benefits of a used car are relatively obvious. These pre-owned vehicles are naturally more affordable than their newer counterparts, and this sentiment applies to the monthly payments, any down payments, the vicarious insurance payments, and any other payment or fee. Furthermore, a buyer won't be forced to tolerate the inevitable depreciation (after all, the original owner already dealt with this major drop in value).
However, online.cars provides additional financial incentives that go beyond the reduced price tag. Primarily, the business is willing to provide a line of credit for customers in any type of financial situation. Therefore, even if you're struggling with a poor credit score, you can rest easy knowing that online.cars won't shoo you away. Rather, we'll be more than willing to work with you to determine a fair and realistic payment plan.
Perhaps the biggest monetary advantage revolves around delivery. Normally, it'd cost a customer an arm and a leg to have their recently-purchased vehicle shipped half-way around the country. Well, online.cars recognized this financial burden, and that's why we offer our customers free delivery. That way, regardless of where you live, you can rest easy knowing that it won't cost you any extra money to get your vehicle shipped to your house. Rather, online.cars will transport the vehicle free of charge!
Online.cars even offers $250 in M-Bucks for any referrals, providing you with some extra dough for any future purchases. To top it all off, the business also offers some of the most affordable used vehicles out there, so you won't be missing out on a better deal elsewhere. The business is clearly motivated to revolutionize the entire car-buying experience, and our long list of financial incentives helps them achieve this.
Convenience

The car-buying process can be pretty stressful. Outside of having to drive around to various dealerships in pursuit of the best possible deal, you'll be stuck at a business for hours negotiating with the sales team. At the end of your excursion, we're sure you're not all that excited about having just purchased a vehicle. Rather, you're probably just relieved that the entire ordeal has come to an end.
Well, online.cars has naturally found a way to optimize the car-buying process thanks to our unmatched convenience. Customers can legitimately complete the majority of their purchase from the comfort of their own couch, as most of the transaction can be finalized online. This won't only save you a whole lot of time; rather, it will also eliminate any of the accompanying stress.
This convenience extends to other aspects of your impending purchase. The business offers guaranteed credit approval (meaning you won't have to shop around for this necessary line of money), and you can receive pre-qualified payment information on our entire stock of vehicles. The business's Patented Program somehow manages to take these advantages to a whole new level, as the service is intended to save buyers both time and money. 
Online.cars can even recondition your purchase. That way, if you find that there's a single aspect of your future purchase that you're unhappy with, you can have it remedied before it arrives at your doorstep. This is just another major way that online.cars manages to provide our customers with the utmost convenience during their pursuit of used cars… and it will also play a major role in you actually being excited about your impending purchase.

Online.cars For Used Cars in Indianapolis!
If it's not already clear, we'll emphasize it again. If you've grown tired of the traditional used-car-buying route, then online.cars will provide you with an unmatched opportunity. The business is focused on revolutionizing the entire car-buying process, and we achieve this by providing customers with an unmatched experience.
The business naturally provides our customers with optimal convenience, and our array of protections will even protect you from any mechanical issues. Despite all of these advantages, online.cars even manages to provide customers with a long list of financial incentives, meaning you won't take a monetary hit when opting for this car-buying route.
As was previously mentioned, the entire process can be completed in your pajamas. So what are you waiting for? Check out everything the business can offer you, and then schedule a presentation with our knowledgeable and helpful sales team today! You can even take a look at our available inventory, providing you with a bit of clarity before you even initiate your search.
Before you know it, you could be putting the finishing touches on your purchase agreement. Then in a few weeks time, your "new" used vehicle will arrive at your doorstep, and you'll be wondering why you didn't opt for online.cars in the first place.
Get In Touch