Used Chevy Columbus
Want a Used Chevy in Columbus? Browse, Finance, and Buy Online!
Looking for a used Chevy in Columbus but worried about spending the whole day at the dealership only to get rejected for financing? At Online.cars we guarantee financing for all types of credit situations and allow you to purchase your next vehicle directly from our website. With Online.cars, there's no need to spend countless hours at the dealership. And what makes shopping with us even better? We offer other incredible advantages! From our high-quality and extensive inventory to complimentary CarFax reports and flexible financing, we offer everything the modern driver needs. So, when it's time to purchase a used Chevy in Columbus, check out Online.cars. Still not sold? Let's take a look at some of the top benefits of purchasing a vehicle with us.

Why online.cars?Our InventoryFinancing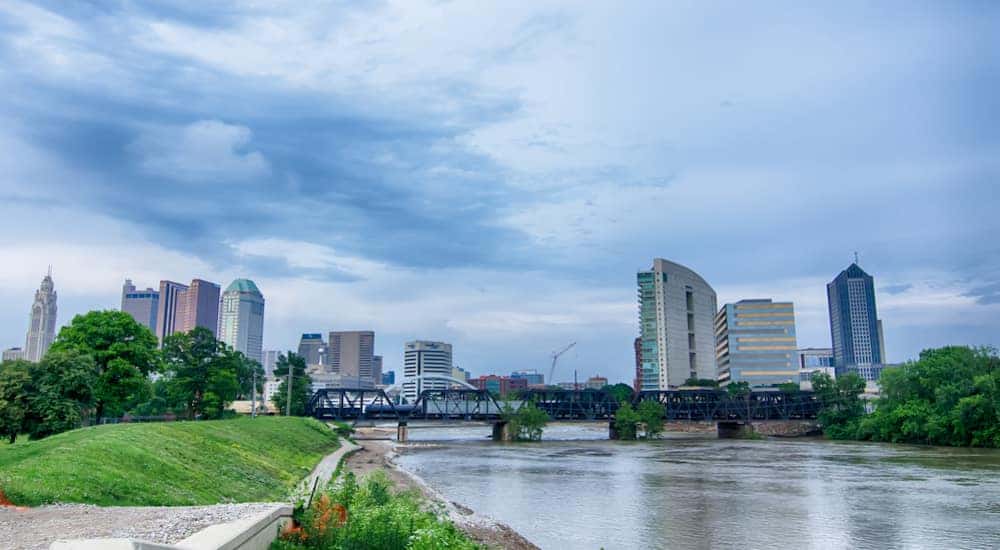 The Online Advantage
At Online.cars we are a 100% online dealership. With this territory comes many advantages and conveniences for the everyday driver and their car-buying experience. Here are a few of our customers' favorite benefits of shopping with Online.cars:
Browse Our Inventory Right from Your Home
Avoid The Dealership
Get Pre-Approved for Financing
Secure Financing Online
Purchase Your Car Online
Receive FREE Home Delivery Service
View The Carfax Report for Any Vehicle
Improve Your Credit
And Much More!
Another convenient feature of browsing for your new Chevy in Columbus online is that you can easily compare local prices and options side by side simultaneously from your computer. No need to drive from dealership to dealership! While at Online.cars we can guarantee that we offer fair and competitive pricing for every vehicle in our inventory, browsing online makes it easy to compare various vehicles.
If you're dreading spending a whole day at the dealership and would prefer to complete your car-buying process online, check our Online.cars to experience these incredible benefits. And while you're at it, stay home, get comfortable, and do so while you binge your favorite show!
Our Inventory
At Online.cars, we have an extensive inventory of used vehicles available. In fact, we have nearly 30 different brands listed and countless makes and options available. Whether you're looking for a used car, truck, or SUV, we have several options for you to choose from. From vehicles that feature premium luxury features and advanced technology, to vehicles that are more practical, we have what you're looking for. Not sure what kind of vehicle you're looking for? Here are some of our best selling brands:
Chevrolet
Ford
Hyundai
Nissan
Jeep
Dodge
If you're having trouble deciding what your ideal vehicle is, you can always call the helpful team at Online.cars and set up a personalized video presentation. We're glad to help you determine which type of vehicle is right for your budget, lifestyle, and needs, and even pick out a few possible contenders. In addition, we'll go over the advantages of choosing Online.cars and walk you through the car-buying process.

Our Most Popular Used Chevys in Columbus
Out of all of the vehicles in our extensive inventory, Chevy's are one of our most popular makes. If you're interested in a used Chevy in Columbus, we have several sedans, trucks, and SUVs available. To further narrow down your options, our Chevy vehicles can be found with a variety of unique features, colors, and price ranges. Here are a few of our most popular used Chevy models:
Chevy Silverado 1500
Chevy Sonic
Chevy Equinox
Chevy Malibu
Chevy Traverse
As you can see, our used Chevys in Columbus are available in a variety of models. However, our inventory of Chevy vehicles is so abundant that you'll even find Chevys in a variety of trim levels, model years, colors, onboard tech, and prices. Our used Chevy vehicles can be found in as recent model years as 2018 or as far back as 10+ years. So, no matter what model years and features you have in mind, you're sure to be able to view a great selection with Online.cars
Financing for All Credit Types
One of the best features of shopping with Online.cars is that we are accepting of all credit situations. Even drivers with little to no credit can get pre-approved for financing and complete their car-buying process from the comfort of their home. There is no longer any need to worry about the possibility of heading to the dealership only to get rejected for financing. With Online.cars, we believe that everyone deserves to drive a safe and reliable vehicle, and we'll help you get there.
Take Advantage of Our Helpful Website
One of the worst parts of shopping for a car with poor credit is the fear that you won't be able to secure financing. At Online.cars, we take those worries away! If you're looking for a used Chevy in Columbus but are letting this fear stop you from getting started, head to our website and get pre-approved for financing. Our pre-approval process won't damage your credit, and you won't be asked for your date of birth or social security number. While you're at it, take advantage of these other convenient features:
Value Your Trade
Shop By Payment
Use Our Payment Calculator
Once you are officially pre-qualified for the financing of your new vehicle, we're sure you'll get excited to start browsing our inventory for your next vehicle! With our payment calculator, we make it easy to plan ahead for your budget and choose a vehicle that you can afford. If you would like to trade in your current vehicle, you can get an instant quote right through our easy-to-navigate website. With Online.cars, there's no part of the car-buying process you can't do from your home!
Home Delivery
You may be thinking, "After I purchase my vehicle, do I have to go pick it up? Is car delivery a thing? If so, is it expensive?". With Online.cars, we believe in providing every convenience possible for our customers. This includes FREE home delivery with every vehicle purchase. Want it delivered at home or work? No problem! Online.cars will gladly deliver to your home or office in one of our patent-pending Glass Travel Showrooms – this is sure to make a splash in front of all your coworkers!

Choosing Online.cars for Your Next Used Chevy in Columbus
If you're in the market for a used Chevy in Columbus and looking to do so in the most convenient way possible, check out Online.cars. With our intuitive website and innovative process, you can browse used Chevys, get pre-approved for financing, secure an auto loan, purchase your vehicle, and receive free home delivery. If you need help at any point of the car-purchasing process, our customer service team is just a phone call away and is eager to help you with whatever you may need. And once you complete your purchase with Online.cars, you'll be eligible for even more benefits like:
Lifetime Mechanical Warranty for NO Additional Charge
3 Day/300 Mile Money Back Guarantee
250 M-Bucks for Each Referral
So, skip the dealership! Instead, get comfortable on the couch and start shopping for your next used Chevy in Columbus by visiting our user-friendly website, today!