Used Ford Trucks, Columbus
Looking for a Used Ford Truck in Columbus, Ohio?
Ford has a long, impressive history in the pickup truck world. From the early days of pickup trucks to the world famous F-Series to the upcoming redesigned Ford Ranger, Ford has always been at the forefront of pickup truck design and technology. And because Ford is so good at what they do, Ford drivers eagerly look forward to their next Ford pickup truck. What that means, for those of us looking in the used sector, is that there will always be used Ford trucks. Columbus, Ohio, drivers who are looking have plenty of options too. There is never a shortage of used Ford trucks in any community. At Online.cars we have a great selection of certified pre-owned vehicles, take a look below to see a few of the many pickup trucks in the Ford lineup and see which one best suits your particular driving needs.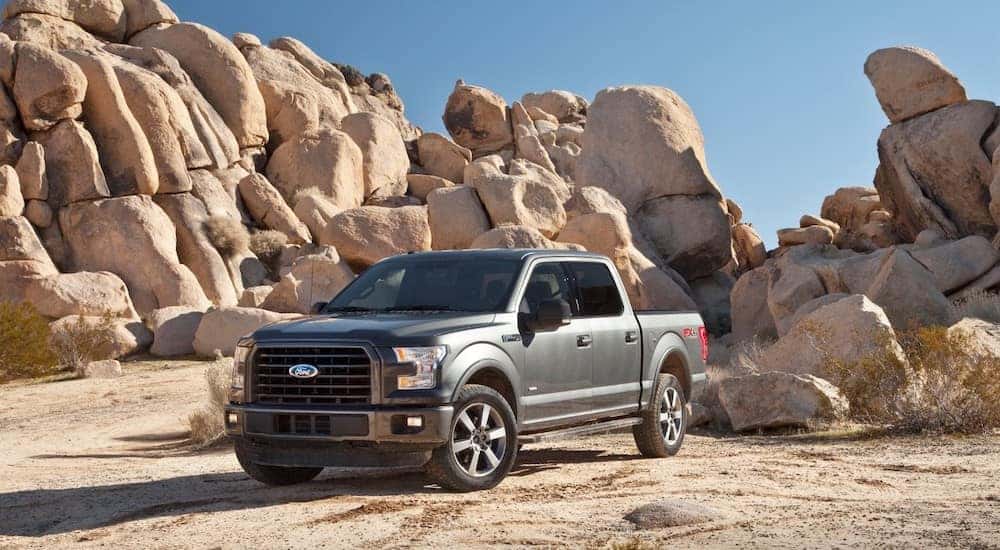 Ford F-Series
Not much can be said about the Ford F-Series that can't be said by looking at its sales numbers. It has been the best-selling vehicle in America for more than thirty years; not just the best-selling pickup truck, the best-selling vehicle, period. The F-150, in particular, is consistently among the top-selling vehicles every year. There is a reason for that. Year after year, the F-150 is a class leader in towing capacity, payload, and fuel efficiency. For those who use their trucks as work vehicles, that is the trifecta of performance.
Among the safety features and technological advancements you will find in the F-Series is a backup camera. This feature allows the driver to see behind the Ford truck clearly and efficiently. This is not only a valuable safety feature but also allows for easier access to the trailer hitch. Again, Ford shows why the F-150 and its larger brethren are ideal pickup trucks for the working man.
The Ford F-150 is plenty of pickup truck for most people. It has the power, size, and muscle to get most jobs done. However, there are some pickup truck drivers out there that need more than the average man or woman for the work site. That is where the Super Duty trucks come in. These Ford trucks are known as the F-250, the F-350, the F-450, and the F-550. As you can imagine, each truck is more powerful than the last, and each has bigger dimensions and engines than its baby brothers. Each has multiple trim levels and configurations (and some can be had as duallys, as well), making shopping for Ford F-Series a daunting task, indeed. Once you get through all the choices and find the perfect one, though, you have an amazingly powerful pickup truck that will invariably be the perfect fit for your job site.
Ford Ranger
You are not likely to find a recent year model Ford Ranger, used, as Ford just brought this classic compact truck out of retirement for the 2019 model year. If you do, it will almost certainly have next to no miles on it. However, the old Ford Ranger may still be found through used pickup truck sites and used car dealerships.
The Ford Ranger was a staple of the Ford pickup truck line for decades, beginning in 1983 until its retirement in 2011. It was among the best-selling trucks for much of that time, as well. Many consider it a perfect vehicle for light hauling and towing, as it has adequate power for easier jobs, but not near the muscle of the F-Series trucks.
Ford Raptor


In the 2000s, many Ford F-150 drivers were adding aftermarket parts to their pickup trucks to make them even more off-road capable. Ford noticed this and introduced the Raptor as a trim level of the F-150. It included a stronger axle, more supportive shocks, and an Off-Road Mode. The Off-Road Mode made taking the Raptor off-road more enjoyable and hands-on, as it turns off controls like traction control and anti-lock brakes. This puts the Raptor in the complete control of the driver.
The Raptor also sits 2 inches higher than the Ford F-150 and has a smaller cargo box. The front grille does not include the iconic Ford oval logo and many of the familiar curves of the F-150 are replaced by a boxier, more athletic look. It is still technically an F-150, but it bears little resemblance to it.
Ford Explorer Sport Trac
Although the Ford Sport Trac was discontinued in 2010 you will still easily be able to find this mid-sized truck in used pickup trucks forums.
The Ford Explorer Sport Trac, in fact, was the first ever mid-sized pickup truck made by Ford. It was in the same class as the Dodge Dakota, Toyota Tacoma, and the Chevy Colorado (this class is the same class that the new and improved Ford Ranger will be competing in). The Sport Trac was built on the body of a Ford Explorer SUV and featured moderate power under the hood. However, it was a product of the Ford Special Vehicle Team, and this team would eventually turn its attention to developing the aforementioned Ford Raptor.

Used Ford Trucks for Sale
If you choose to get a used Ford truck as your next work or even everyday vehicle, you will join a long list of satisfied Ford customers. This list can be traced back over a hundred years. While some of those early models are long gone or in a museum, Ford has sold millions of their pickup trucks that are still on the road today. And because Ford dedicates itself to longevity in its pickup trucks, many of those will still be viable for years to come.
Getting a used Ford truck is ideal for many people. Those who use their pickup trucks for work may not want to invest a ton of money into a truck that will take the necessary abuse that a work truck will. Some may want a pickup truck as a second vehicle, for taking weekend trips. Some may look into a used Ford truck as a first vehicle for a teenage driver. These trucks are large and dependable and get safer with every new year model.
For those who are a little hesitant about the uncertainty of the used vehicle market, you may want to look into Ford's certified pre-owned program. This program uses a 172-point inspection to certify that a used Ford truck is still roadworthy. Every part of a Ford pickup truck is inspected top to bottom, bumper to bumper. Once the truck is deemed satisfactory, it will be given the certified pre-owned status, which comes with not only the peace of mind that it has been inspected, but also comes with a warranty. That is not something you will find with most used cars or trucks.
Feel free to peruse the used and certified pre-owned trucks on our website and see which ones are best for you. Each truck has specifications, prices, and pictures readily available on your laptop or smartphone. You will undoubtedly find many within driving distance of your Columbus home. If you find one a bit further away, we can help facilitate arrangements for you.
Your next used Ford truck is out there waiting, so join us at Online.cars to find it. You are only a few clicks away.