Used Ford Trucks Indianapolis
Why a Used Ford Truck Should be Your Next Ride
When looking for a used truck, you shouldn't have to do too much research when it comes to the right manufacturer for your needs. Just look at the sales numbers: the 900,000 Ford F-Series pickups sold in 2018 dwarf the closest competitor's sales. The F-Series pickups have been best-sellers for decades because they're the finest trucks on the market, period. From the single-cab F-150 to the gargantuan F-450, there isn't a vehicle in the F-Series line-up that can't get the job done. When looking for used Ford trucks in Indianapolis, turn to Online.cars. Our selection and service are unmatched, and we have a solid record of satisfied customers.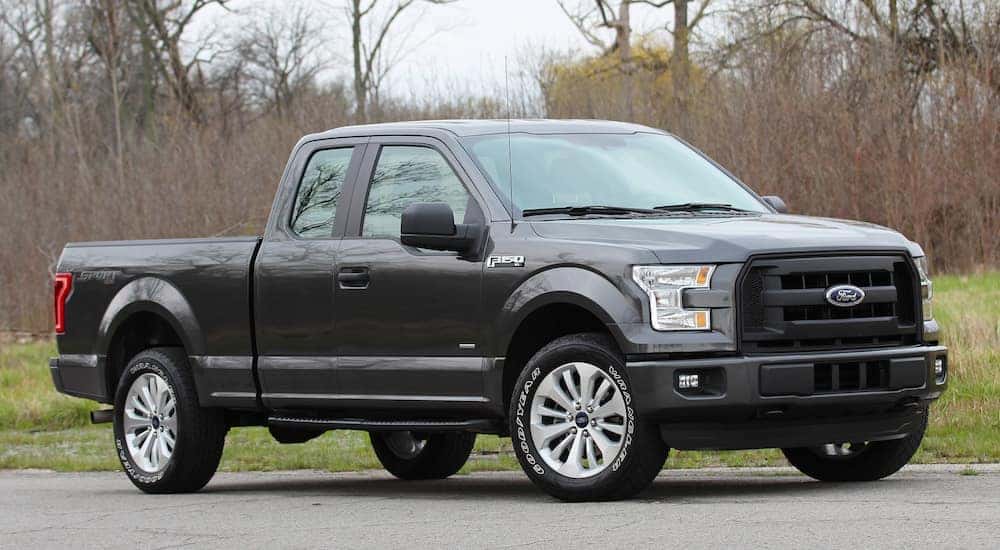 Why Ford?
Ford's domination in the truck industry is no new phenomenon. The F-150 has been the best-selling vehicle in America for over 35 years, and the best-selling truck for over 40 years. For the most part, challengers have come and gone. Before the recent downturn in sedans, it looked like the Toyota Camry would test the F-150's dominance. Many small and mid-size SUVs have looked to assume the throne as well. Even some pickups, including a couple from Detroit, have mustered a challenge. Yet through it all, the F-150 prevails. Since the most recent full redesign in 2015, the F-Series trucks have been on quite a sales streak. In 2018, the trucks crossed the 900,000 sales barrier for the first time since 2001.
While it may be easy for haters to say the F-Series trucks have succeeded on great marketing and America's thirst for trucks, the opposite is actually true. Ford consistently uses the F-Series trucks as a test case for some of its engineering department's most daring feats. From the high-strength aluminum body to the V6 EcoBoost engine that now powers the majority of F-150's, Ford has taken serious risks with its cash cow. And although Ford has certainly profited from these innovations, customers have been the beneficiaries. Ford trucks are the most efficient on the road while still managing the capability of their competitors, who are often 500 to 600 pounds heavier. To put it simply, there has never been a better time to own an F-150.
When Used is the Right Move
Growing up, everyone probably had some type of dream about getting a brand-new car; there's a reason so many game shows offer up a shiny new vehicle as their grand prize. Unfortunately, buying a new car, especially a new truck, isn't feasible for all customers. Today's trucks are safer, more technologically advanced, and better-performing than ever, but all of those advancements have also led to higher price tags. With some trucks selling for over $70,000 and many with base prices over $30,000, used may be the only option for many buyers.
Luckily, when these amazing new trucks come back onto the market, they become safest, most technology advanced, and best-performing used pickups ever. With the rise of Carfax and other history reports, you know exactly what kind of vehicle you're getting. When it comes to cost, the most value a truck will lose occurs when it leaves the dealer lot. By buying used, you avoid at least some of that depreciation and may end up getting a better return on investment than the car's previous owner.
Don't be afraid of high-mileage trucks either. These trucks, many of which have more than 100,000 miles left in the tank, often drop in price due to shoppers concerned about the many miles they've traversed. While wear and tear are certainly real, a well-maintained high-mileage truck is no dud. Buyers who stick to a strict maintenance schedule should catch problems early, while they're still easy to fix, and should be able to give their truck a great second life.
An Overview of the 12th-Generation
From 2009 until 2014, the 12th-generation of Ford F-150 models set the stage for the current production line. Their Super Duty grille design and headlights became distinctive features that set this generation apart from those that came before. If you are searching for used Ford trucks in Indianapolis, 2009 to 2014 models are great to look out for. At the beginning of this 5-year production run, the two-door cab style became standard once again. Both the manual gearbox and the FlareSide bed were discontinued in 2010, and the Platinum trim level became the top-tier model. Also, in 2010, Ford introduced the SVT Raptor, which served as a dedicated off-roading pickup for the F-150 lineup.
In 2011, Ford engineers set their eyes on boosting the overall fuel economy for these vehicles. Revamping the entire line of engines, they released two new V8 motors and two new V6 engines. One of those was labeled as the now popular Ecoboost. With the automatic transmission as the only option from here on out, they also unveiled an electric power steering system for most trim levels.
2009 Ford F-150
The first production year for the 12th-generation was well-received with its high towing capacity and various body styles. The regular cab could seat two passengers and was paired with either a 6.5-foot or 8-foot truck bed. Expanding to the SuperCab (extended cab), you could pile in four passengers and opt for a 5.5-foot, 6.5-foot, or 8-foot bed length. Finally, the largest cab style was the SuperCrew. Seating up to five people, it could be fitted with either the 5.5-foot or 6.5-foot bed. These body styles are still carried through on today's models.
Available in seven trims, each 2009 F-150 model was designed to suit specific lifestyles. The base XL came with easy-to-clean vinyl upholstery, air conditioning, and 17-inch wheels. Next, the sporty STX included an upgraded stereo with a CD player, an auxiliary jack, and body-colored accents on the grille and bumpers. The best-seller for this production year due to its affordable price tag and chrome grille was the XLT. This model got full power accessories, cloth upholstery, and cruise control.
Next is the FX4 version. This one came with 4WD, skid plates, heavy-duty shocks, and 18-inch wheels for optimized off-roading. It also got bucket seats, a leather-wrapped steering wheel, and satellite radio. Then came the upscale Lariat model. This luxurious trim offered heated leather seats, brushed aluminum and wood interior accents, automatic climate control, and the Sync infotainment system.
Even more upscale was the western-inspired King Ranch, which featured saddle-type leather seating with heating and cooling features. It also came with a six-disc CD changer. Lastly, the Platinum added 20-inch chrome wheels, chrome exterior accents, interior wood grain accents, and heated/cooled leather seating.
2010 Ford F-150

With the introduction of the 2010 Ford F-150 came two additional trims. The original seven trims remained largely the same.
New for this year was the Harley Davidson model. Equipped similarly to the aforementioned Platinum version, this one was only available in the SuperCrew cab style. It also featured larger 22-inch wheels and had a Harley Davidson motorcycle theme throughout the cabin.
The other new trim for 2010 was the SVT Raptor. Enhanced for incredible off-roading capabilities, this version offered a modified suspension, unique tires/wheels, sporty seats, exclusive styling details, and an optional 6.2-liter V8 engine that produced 400 hp.
2011 Ford F-150
By 2011, another trim was added to the F-150 lineup. The XL, STX, and XLT remained largely the same as before. The newest trim came next, and it was dubbed the FX2. Similar to the higher FX4, it varied in that it came with 2WD instead of 4WD. Both the FX2 and FX4 saw entertainment improvements with the addition of an iPod interface and satellite radio. They also both got a 100-volt power outlet. The Lariat also got a few updates includes power-adjustable pedals, lumbar support on the driver's seat, dual-zone climate control, and handy power-sliding rear window.
The new engine lineup also deserves some attention. The standard powertrain was a 3.7-liter V6 that produced 302 hp and 278 lb-ft of torque. Next was a 5.0-liter V8 motor that pushed out 360 hp and 380 lb-ft of torque. Then came the robust 6.2-liter V8 that generated an impressive 411 hp and 434 lb-ft of torque. Finally, the twin-turbocharged 3.5-liter EcoBoost V6 made its debut by the middle of the year. It made 365 hp and 420 lb-ft of torque and offered a more attractive fuel economy. Maximum towing capacities ranged from 6,100 to 11,000 pounds depending on the powertrain and body style.
2012 Ford F-150
Because all of these models are from the 12th-generation, the lower trim levels didn't see many changes. In the case of the 2012 production line, the XL, STX, and XLT remained the same. The FX2 and FX4 models both received an auto-dimming rearview mirror, a height-adjustable tilt-and-telescoping steering column, and integrated voice commands for the Sync infotainment system. The FX4 also got a retuning of its spring and shock absorbers for enhanced off-roading. The higher trims also remained largely the same.
Optional add-ons included a sunroof, rearview camera, rear parking sensors, a truck bed extender, a Sony stereo system, a rear entertainment system, and a navigation system coupled with Sirius Travel Link.
2013 Ford F-150
By 2013, Ford engineers realized that a few updates were necessary at the lower trim levels. However, only SuperCrew XL models got these upgrades, which included power front windows, an overhead storage console, power-adjustable side mirrors, and keyless entry. The SXT model remained the same except the SuperCab version got power rear windows.
Additional changes were made at the XLT level. These included foglamps, automatic headlights, a keyless entry keypad, and the voice-activated Sync infotainment system. Both the FX2 and FX4 received the trailer towing package, and the FX4 got hill-descent control. On the luxurious Lariat came the addition of MyFord Touch, dual USB ports, and driver memory settings.
The King Ranch came standard with running boards, remote start technology, the premium Sony sound system, and a rearview camera for assistance with backing out of tight spaces. For the Platinum, rain-sensing wipers were added along with a sunroof, xenon headlights, and a navigation system. Cosmetic upgrades such as red and black leather upholstery were added to the Limited model, and the SVT Raptor got fixed aluminum running boards and a shift-on-the-fly transfer case.
2014 Ford F-150
For the final production year of the 12th-generation Ford F-150, no changes were made. This was mostly due to the next generation of models that was about to be released. So, if you think you have to buy a brand new truck to get cool features, think again. You can find many advanced tech, and off-roading features on the 12th-generation used Ford trucks in Indianapolis.
An Overview of the 13th-Generation

Introduced in 2015, the 13th generation of Ford F-150 models has been nothing short of epic. Since 1948, the F-150 has cultivated a reputation for being reliable, sturdy, and hardworking. Over the years, Ford engineers have improved on the design, creating one of the best pickups on the market today. It's perfect for construction crews, folks working in agriculture, singles, and even people with kids. This well-rounded truck can do just about anything, making it ideal for people with busy lifestyles. Our experts here at Online.cars love used Ford trucks, and we know you do too. We make it easy to find the exact vehicle that you are looking for with our nationwide search feature. If you can't find the model you want locally, we can help you find it anywhere in the country. Once you decide on the vehicle, we will have it delivered to your home. Our goal is to make buying a vehicle as easy as possible. If you are considering a used Ford truck at the moment, keep reading to learn about the latest generation of F-150 models!
2015 Ford F-150
Kicking off the 13th generation of Ford F-150 models is the 2015 version. Fully redesigned, this model was produced in three body styles, including regular, SuperCab, and SuperCrew. With a trio of available bed lengths (5.5 feet, 6.5 feet, and 8 feet) and five trim levels, you can find a version of this truck that is perfect for your needs.
There are four engines to pick from, starting with the base 3.5-liter V6 motor that produces 283 hp and 255 lb-ft of torque. Next is the turbocharged 2.7-liter V6 that generates 325 hp and 375 lb-ft of torque. Then, we have the turbocharged 3.5-liter V6 that makes 365 hp and 420 lb-ft torque. Finally, the robust 5.0-liter V8 pushes out a whopping 385 hp and 387 lb-ft of torque. All of these powertrains are mated with a 6-speed automatic transmission and RWD. You can opt for 4WD as well.
The base is known as the XL, and it rides on 17-inch steel wheels. Standard features include cloth upholstery, air conditioning, and a tilt-and-telescoping steering column. The seating arrangement is a 40/20/40-split front bench seat and 60/40-split rear seats in the longer cab models. The exterior side mirrors, locks, and windows are all manual, and the infotainment system is displayed on a 4.2-inch monitor. The regular cab features a 4-speaker stereo, and the longer cabs both have 6-speakers. There are countless options that you can add at this base level as well.
Stepping up to the XLT model will add 17-inch alloy wheels, foglights, power accessories, automatic headlights, keyless entry, and a lockable tailgate. The voice-controls Sync infotainment interface has been added along with Bluetooth and smartphone integration. There is even an auxiliary jack and a USB port. Keep in mind that this trim can have the FX4 Off-Road Package added to it. This includes 20-inch alloy wheels, trailer towing mirrors, a sunroof, and a slew of safety features such as blindspot monitoring, rear cross-traffic alert, and inflatable seatbelts. It can also be equipped with navigation.
The mid-level Lariat comes with dual-zone climate control, LED bed lighting, remote engine, and a power-sliding rear window. Also included are rear parking sensors, driver memory settings, and a larger 8-inch touchscreen with the MyFord Touch infotainment system. The leather seats are both heated and ventilated for comfort all year long. They can also be adjusted in 10 different ways, and a 110-volt power outlet has been added as well.
Moving up to the top-tier King Ranch and Platinum models will get you everything but the kitchen sink. These beasts are loaded with all the advanced tech and safety features. The difference between these two models is personal style. If you love western flair, you will adore the King Ranch. If you prefer a sleek, sophisticated style, then the Platinum is the one for you.
2016 Ford F-150
The second year of production remained largely unchanged except for the infotainment interface and an extra trim level. The MyFord Touch system was replaced entirely by the Sync 3 system. This new interface was better at syncing smartphones and streaming music. The engine options and first five trim levels saw no changes.
The new trim was a top-of-the-line model known as the Limited. Rolling on large 22-inch wheels, this premium model came with all of the convenience, comfort, safety, and entertainment features. It also received the Pro Trailer Backup Assist system, which made hooking up a trailer so much easier.

2017 Ford F-150
For the production year of 2017, there weren't too many changes. The base 3.5-liter V6 engine was redesigned and fitted with a smooth-shifting 10-speed automatic transmission. The rest of the engine lineup remained the same.
Another change to the lineup was the addition of the Ford F-150 Raptor. Since the aforementioned FX4 Off-Road Package was so popular of the 2015 and 2016 XLT models, Ford decided to release a new tire level that was solely focused on enhancing off-road driving. This version came with 4WD, a reinforced frame, a modified suspension for better handling, skid plates, and fender flares. It also included 17-inch wheels with off-road tires and a unique interior design that features a combination of leather and cloth upholstery.
2018 Ford F-150
By 2018, it was time for a mid-cycle redesign. Ford unveiled the latest design at the 2017 New York International Auto Show, and fans were loving it. Not only did Ford show off the SuperDuty lineup, but it also displayed the new grille design. What used to be a 3-bar style was trimmed down to only 2 bars.
A 2.7-liter Ecoboost V6 was added to the engine lineup. It generated 325 hp and 400 lb-ft of torque. Start-Stop technology was introduced to the powertrain lineup, and a PowerStroke diesel motor was added as well. All of the trim levels remained largely unchanged and still included the XL, XLT, Lariat, King Ranch, Platinum, and Raptor models.
2019 Ford F-150
With the 2018 mid-cycle refresh being so recent, the 2019 F-150 models didn't see many changes. The only real notable difference was that safety features like forward collision warning and emergency braking became standard. The engine and trim lineups remained very much the same.
2020 Ford F-150
Still, currently in its 13th generation, the latest F-150 model gets a 4G LTE Wifi hotspot for all trim levels. It also gets new appearance packages for many of the mid-level trims.
Find Your Perfect Match
With so many available configurations, it can be difficult to find the exact F-150 model you are looking for. That's why you should take advantage of our Nationwide Search feature to locate the truck of your dreams!

Debunking Used Myths
There are plenty of old wives' tales that you've probably heard or seen as you look for a used truck. Let's take a second to debunk some of these anecdotes.
With no warranty, you'll spend loads of time and money at the auto shop.
If a warranty is important to you, you can add an aftermarket warranty to your vehicle at any time. While it won't be rolled into the cost of your vehicle or "free" like with a new car, it can offset the financial burden if expensive repairs are needed. Also, used Ford trucks have shown to be incredibly dependable with proper maintenance. Yes, it may be annoying to deal with getting your truck serviced, but consistent upkeep can prevent disasters down the road. Those who prefer to go under the hood themselves will reap the rewards of owning a Ford when they visit the auto parts store. With so many other Fords on the road, odds are any part you need will already be in-stock. If a part needs to be ordered, it will probably be domestically sourced instead of having to be shipped from aboard. Although wear and tear are unavoidable, a well-maintained vehicle will give you years of great driving.
If you have bad credit or no credit, good luck getting anything better than a clunker.
Nothing could be further from the truth. The key for drivers in this situation is preparation. Getting pre-qualified or pre-approved will help you set a budget and give you an idea of the loan terms with which you'll be complying. No credit and bad credit buyers also need to make sure they stick to a budget; a sensible truck with low payments will pay off in the long term.
You can't get all the features you want in a used vehicle.
Anyone who is cynical enough to believe this needs a reality check. Used trucks, especially those less than three-years-old, have many of the same features as their new counterparts. If there are certain features that you want to make sure you have, it's best to check when the vehicle's last refresh or redesign took place. All vehicles receive minor updates every year, but major safety and tech equipment are unlikely to change frequently. The F-150 was overhauled in 2015 – it stands to reason that a 2015 truck may have many of the same features seen in a 2017 or 2018 model.

Looking for Used Ford Trucks in Indianapolis? – Online.Cars!
Online.cars provides a number of incentives for those seeking used Ford trucks. The business will pre-qualify any prospective buyers, and we also promise guaranteed credit approval. No matter your current financial situation, you can still take advantage of Online.cars' various incentives.
Furthermore, we provide our customers with a number of protections, so you'll never have to be wary of your decision to opt for a used ride. The lifetime mechanical warranty assures that the seller will always have your back, although each of our vehicles is already equipped with a clean Carfax history report (ensuring their road-readiness). Online.cars even has a three-day, 300-mile money-back guarantee! That way, in the event that you discover that you may have made the wrong decision, we can easily swap your used Ford truck for another.
Tired of spending your days going from dealer to dealer looking for a used Ford pickup? Give Online.Cars a try. You could buy your truck in your PJ's and have it delivered directly to your door. There's never been an easier or more convenient way to purchase a used vehicle.
Get In Touch