Used Ford Trucks Indianapolis
Why a Used Ford Truck Should be Your Next Ride
When looking for a used truck, you shouldn't have to do too much research when it comes to the right manufacturer for your needs. Just look at the sales numbers: the 900,000 Ford F-Series pickups sold in 2018 dwarf the closest competitor's sales. The F-Series pickups have been best-sellers for decades because they're the finest trucks on the market, period. From the single-cab F-150 to the gargantuan F-450, there isn't a vehicle in the F-Series line-up that can't get the job done. When looking for used Ford trucks in Indianapolis, turn to Online.cars. Our selection and service are unmatched, and we have a solid record of satisfied customers.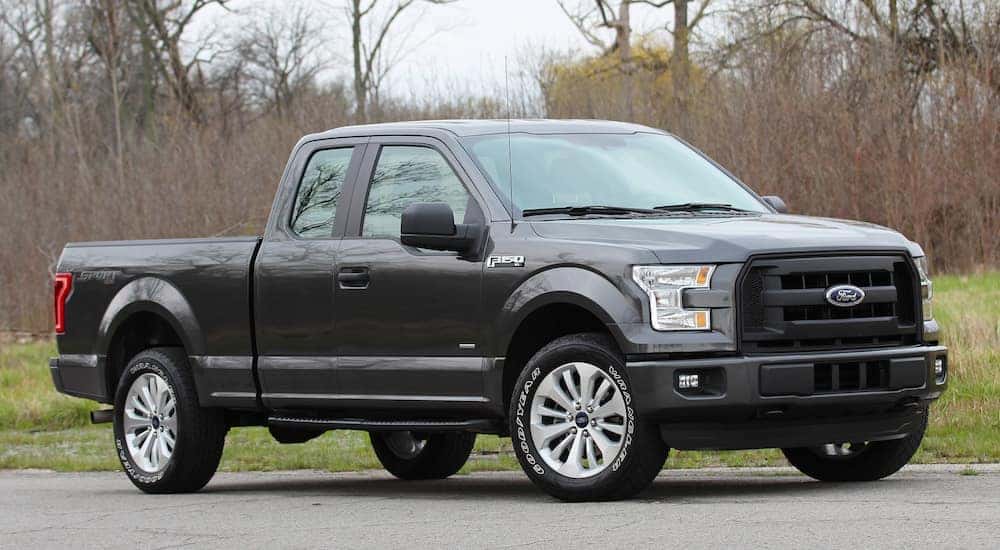 Why Ford?
Ford's domination in the truck industry is no new phenomenon. The F-150 has been the best-selling vehicle in America for over 35 years, and the best-selling truck for over 40 years. For the most part, challengers have come and gone. Before the recent downturn in sedans, it looked like the Toyota Camry would test the F-150's dominance. Many small and mid-size SUVs have looked to assume the throne as well. Even some pickups, including a couple from Detroit, have mustered a challenge. Yet through it all, the F-150 prevails. Since the most recent full redesign in 2015, the F-Series trucks have been on quite a sales streak. In 2018, the trucks crossed the 900,000 sales barrier for the first time since 2001.
While it may be easy for haters to say the F-Series trucks have succeeded on great marketing and America's thirst for trucks, the opposite is actually true. Ford consistently uses the F-Series trucks as a test case for some of its engineering department's most daring feats. From the high-strength aluminum body to the V6 EcoBoost engine that now powers the majority of F-150's, Ford has taken serious risks with its cash cow. And although Ford has certainly profited from these innovations, customers have been the beneficiaries. Ford trucks are the most efficient on the road while still managing the capability of their competitors, who are often 500 to 600 pounds heavier. To put it simply, there has never been a better time to own an F-150.
When Used is the Right Move
Growing up, everyone probably had some type of dream about getting a brand-new car; there's a reason so many game shows offer up a shiny new vehicle as their grand prize. Unfortunately, buying a new car, especially a new truck, isn't feasible for all customers. Today's trucks are safer, more technologically advanced, and better-performing than ever, but all of those advancements have also led to higher price tags. With some trucks selling for over $70,000 and many with base prices over $30,000, used may be the only option for many buyers.
Luckily, when these amazing new trucks come back onto the market, they become safest, most technology advanced, and best-performing used pickups ever. With the rise of Carfax and other history reports, you know exactly what kind of vehicle you're getting. When it comes to cost, the most value a truck will lose occurs when it leaves the dealer lot. By buying used, you avoid at least some of that depreciation and may end up getting a better return on investment than the car's previous owner.
Don't be afraid of high-mileage trucks either. These trucks, many of which have more than 100,000 miles left in the tank, often drop in price due to shoppers concerned about the many miles they've traversed. While wear and tear are certainly real, a well-maintained high-mileage truck is no dud. Buyers who stick to a strict maintenance schedule should catch problems early, while they're still easy to fix, and should be able to give their truck a great second life.
Debunking Used Myths

There are plenty of old wives' tales that you've probably heard or seen as you look for a used truck. Let's take a second to debunk some of these anecdotes.
With no warranty, you'll spend loads of time and money at the auto shop.
If a warranty is important to you, you can add an aftermarket warranty to your vehicle at any time. While it won't be rolled into the cost of your vehicle or "free" like with a new car, it can offset the financial burden if expensive repairs are needed. Also, used Ford trucks have shown to be incredibly dependable with proper maintenance. Yes, it may be annoying to deal with getting your truck serviced, but consistent upkeep can prevent disasters down the road. Those who prefer to go under the hood themselves will reap the rewards of owning a Ford when they visit the auto parts store. With so many other Fords on the road, odds are any part you need will already be in-stock. If a part needs to be ordered, it will probably be domestically sourced instead of having to be shipped from aboard. Although wear and tear are unavoidable, a well-maintained vehicle will give you years of great driving.
If you have bad credit or no credit, good luck getting anything better than a clunker.
Nothing could be further from the truth. The key for drivers in this situation is preparation. Getting pre-qualified or pre-approved will help you set a budget and give you an idea of the loan terms with which you'll be complying. No credit and bad credit buyers also need to make sure they stick to a budget; a sensible truck with low payments will pay off in the long term.
You can't get all the features you want in a used vehicle.
Anyone who is cynical enough to believe this needs a reality check. Used trucks, especially those less than three-years-old, have many of the same features as their new counterparts. If there are certain features that you want to make sure you have, it's best to check when the vehicle's last refresh or redesign took place. All vehicles receive minor updates every year, but major safety and tech equipment are unlikely to change frequently. The F-150 was overhauled in 2015 – it stands to reason that a 2015 truck may have many of the same features seen in a 2017 or 2018 model.



Looking for Used Ford Trucks in Indianapolis? – Online.Cars!
Online.cars provides a number of incentives for those seeking used Ford trucks. The business will pre-qualify any prospective buyers, and we also promise guaranteed credit approval. No matter your current financial situation, you can still take advantage of Online.cars' various incentives.
Furthermore, we provide our customers with a number of protections, so you'll never have to be wary of your decision to opt for a used ride. The lifetime mechanical warranty assures that the seller will always have your back, although each of our vehicles is already equipped with a clean Carfax history report (ensuring their road-readiness). Online.cars even has a three-day, 300-mile money-back guarantee! That way, in the event that you discover that you may have made the wrong decision, we can easily swap your used Ford truck for another.
Tired of spending your days going from dealer to dealer looking for a used Ford pickup? Give Online.Cars a try. You could buy your truck in your PJ's and have it delivered directly to your door. There's never been an easier or more convenient way to purchase a used vehicle.

Get In Touch